The Fight to Fly
Lindsey Van talks about the new film Ready to Fly and her struggle to get women's ski jumping into the 2014 Winter Olympics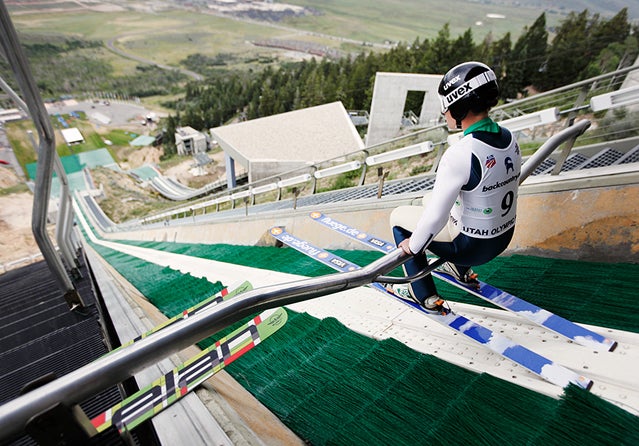 Heading out the door? Read this article on the new Outside+ app available now on iOS devices for members! Download the app.
World champion ski jumper Lindsey Van, 27, is the subject of Ready to Fly, a new feature-length documentary about the struggle to bring women's ski jumping to the Winter Olympic Games. Van's efforts were rewarded last April when the International Olympic Committee put her sport on the schedule at the 2014 Olympics in Sochi, Russia. Brad Rassler caught up with Van to find out how her life has changed since the decision.
Last year the IOC gave ski jumping the thumbs-up for Sochi after something like 13 years of appeals. What happened to change their position?
I think they finally felt the pressure to do it. People were saying, 'It's time, why isn't this happening?' And they were having other issues with gender equality in the Olympics. They let women's boxing in, and maybe they felt it was time to get ski jumping off their plate. Or maybe they had just scheduled it all along for 2014. It's hard to tell. The IOC is a very private organization. They said we finally met their "technical requirements," whatever those might be.
In 2005, Gian Franco Kasper said that ski jumping was not appropriate for women from a medical point of view.
I'm not sure what he was talking about. Maybe he thought it was unsafe for our reproductive organs. He changed his tune when people called him out on it. I think when people called him on it, he realized he was wrong. Or maybe that's what he believed. For someone in his position, I'm amazed that it actually came out of his mouth.
What's changed for you since the decision?
Well, I can enjoy the sport now, whereas before I felt a lot of stress to be a political spokesperson. It's a lot more relaxed environment.
You walked away from ski jumping in 2009. In the movie, there's a scene of you skinning up a slope in Alta, backcountry skiing. What drew you back into the world of ski jumping?
It was my love of flying. I couldn't get that feeling doing anything else. Once I was able to take a step back and put the political stuff aside, I realized that I really wanted to do the jumping. For a while I couldn't jump without feeling negative about the sport. I just couldn't separate it. But the feeling of flying keeps me going.
Sarah Burke had to lobby to get her sport included in Sochi, too.
She definitely had a similar battle, and had to compete against guys. Same thing with a lot the women at Women's Sport Foundation–many have pioneered their sports
Early in the film your friend (Norwegian jumper) Anette Sagen said she'd break her legs if she jumped more than 100 meters.
She was just joking. She was jumping really well, and it was kind of a smaller hill, so she was saying she'd jump so far she'd break her legs or something.
That she would out-jump the slope?
Yeah. And she did.
Do guys get weird when you out-jump them?
Not usually. I don't really pay attention to that. I've been in the sport a long time, and I've always been jumping with guys, so I guess I'm used to the way they act.
Have you had enough of being introduced as Lindsey Vonn?
Yeah. I'm over that. I don't like getting confused. We do totally different sports and we just happen to be on the same team.
Have you thought about asking her to use her maiden name after her divorce?
I'm not sure it's an appropriate time to say, 'Hey, you should go back to your old name, now that you've made this one famous.'
So what's the bigger story here? What are people going to walk away with?
I hope people walk away feeling they can make a change. Not just thinking that you're one person and can't do it. You definitely can. It takes time, it takes a lot of energy. It sounds so cliché, but not to give up on what you really believe, because if you really believe it, you can definitely do it. 
At the movie's premier at Outdoor Retailer, you slipped out of the theater before the lights came on. Why?
I really had to go to the bathroom.