Float Trip
What are those chubby things? Shane McConkey unveils his freaky new powder skis.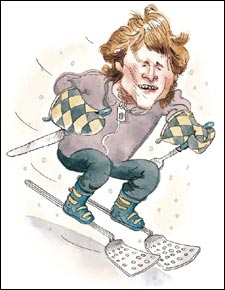 Heading out the door? Read this article on the new Outside+ app available now on iOS devices for members! Download the app.
LAST WINTER, when freeskiing ace Shane McConkey started publicly testing the new set of powder skis he was developing, reactions varied from head scratching to guffaws. Among other oddities, the planks had a reverse sidecut—meaning they were widest in the middle, not narrowest—an idea that went against a century of ski evolution. Was this the next brilliant idea from McConkey the forward thinker, who popularized fat powder skis in the mid-1990s, or a stunt by McConkey the jester, who once sailed off a ramp with his feet strapped to a couple of El Camino car bumpers? Toronto-based ski maker Volant, for one, took the 33-year-old seriously enough to put a design team on the project. The result, the 186-centimeter Volant Spatula, debuts this month in stores across the country (visit www.volantski.com for a sneak peek). While today's most popular powder skis have at least some sidecut and a camber that presses tips and tails into the snow, the Spatula is fattest—125 millimeters—at its center and has a reverse camber, meaning the ski bows gently upward. McConkey borrowed these elements from surfboard and water-ski designs to provide extra buoyancy. He admits that the ski isn't made for carving, and it delivers a dismal ride on groomed snow and ice. In soft pow, though, it offers great control.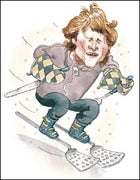 Illustration by Barry Blitt

"I was just blown away by the float," says ski-film maker Scott Gaffney, 34, one of the few to have actually tried the Spatula. "You can carry a lot more speed and decelerate at a moment's notice."

What remains to be seen is whether skiers will embrace another expensive specialty tool—Spatula skis sell for $899 a pop. "Give the mountain a chance," chides extreme skier Glen Plake, 38, a gleeful Luddite whose favorite ride is still a pair of skinny 212's. "If it kicks your ass some day because you don't have the right skis on, then welcome to the frickin' sport."

But McConkey is not about to back down. "If they don't want to believe it, fine," he says. "I won't wait for them at the bottom."