Norway Has Discovered the Future of Snowmaking
As ski resorts struggle with warmer, shorter seasons, a team of Norwegian researchers is rolling out new snow machines that help cut back on planet-warming emissions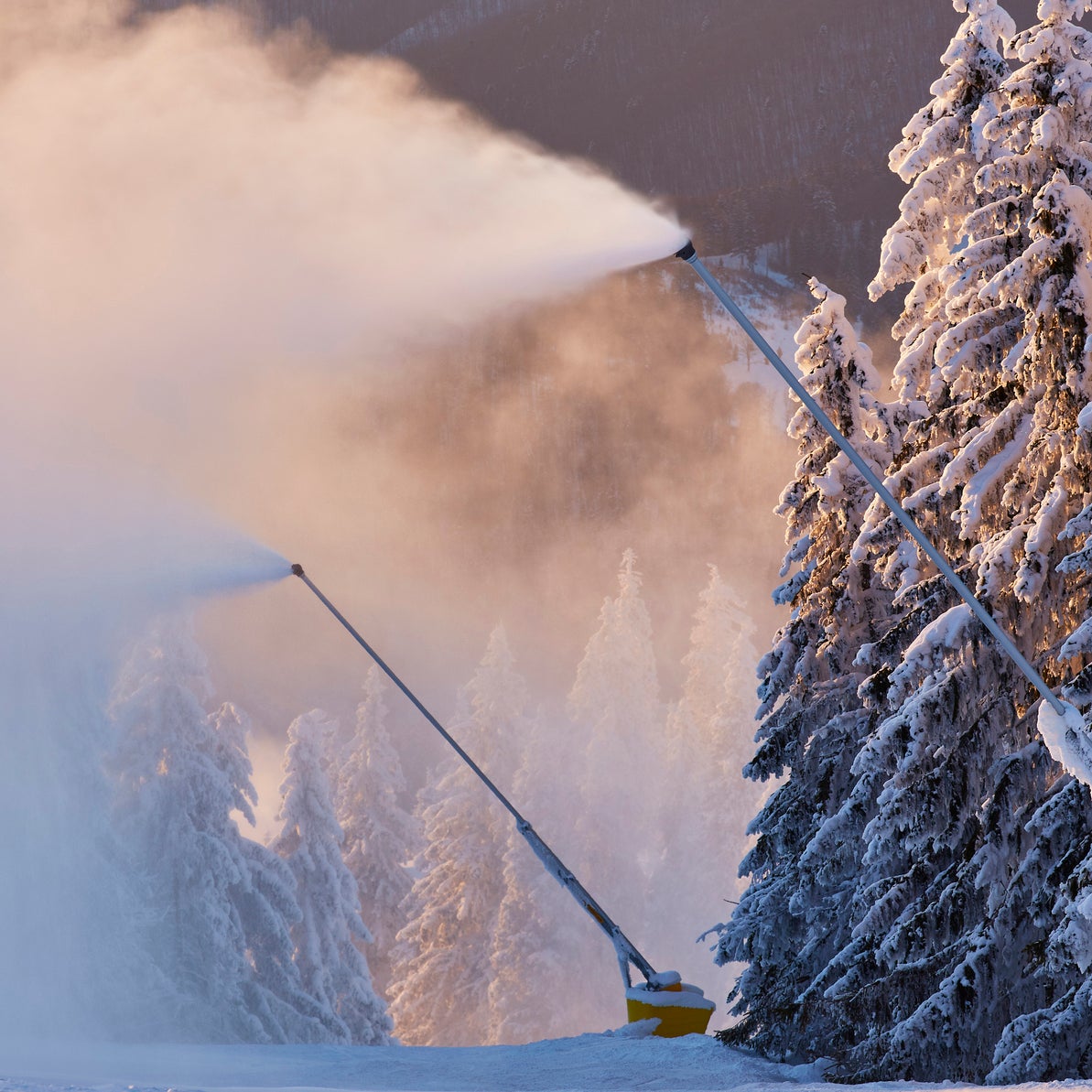 Heading out the door? Read this article on the new Outside+ app available now on iOS devices for members! Download the app.
If you've skied recently, chances are you carved through snow created not by nature but by humans. Nearly all East Coast resorts keep their snow machines running all fall and winter now in a desperate effort to get snow on the slopes for the Christmas holiday. In California, before the drought's spectacular absence this winter, Heavenly Mountain Resort alone employed three dozen people and 66 fan guns just to keep its runs open through the cold months. Even the towering Rockies are struggling: snow cover has declined 20 percent in the last 30 years, and lower-altitude resorts have become dependent on snowmaking.
Climate change is ravaging the $12 billion ski industry. The Natural Resources Defense Council estimates reduced snowfall has cost businesses a full $1 billion in the last decade. Snow machines, as a result, have become a necessary stopgap. But manmade snow is a bankrupt solution for this anthropogenic problem. Not only is the process weather-dependent—temperatures must be freezing for machines to work—but, critically, the thousands of snow machines that buzz all winter long use a tremendous amount of energy. Up to half of all the energy consumed by ski resorts now goes to making snow, NRDC estimates.
So, in other words, ski resorts are spewing out tons of greenhouse gases even as climate change threatens their existence. Can the cycle be broken?
A team of Norwegian scientists think so. A consortium led by researchers at the Norwegian University of Science and Technology and SINTEF, Scandinavia's largest independent research institute, are working on a machine that can produce snow even if the temperature is above freezing. More importantly, the process would be sustainable, too, says Trygve Eikevik, a professor of energy and process engineering at NTNU. Winter sports are a central part of Norwegian life, Eikevik says, and climate change is taking that away. Snow machines shouldn't add to the problem. "If you make such a machine, you should certainly make an environmentally friendly one," he says.
The snow machine would work a bit like your refrigerator, Eikevik says. The machine, essentially an enormous heat pump, would cool water inside an internal refrigeration plant, then shoot out frigid snow. But the process, which is familiar to anyone with a freezer, produces a significant amount of hot air. It's here, however, that the machines can be made sustainable, researchers say. Instead of blowing the hot air outside the machine, Eikevik says his team will aim to achieve "100 percent heat recovery," which could then be used to heat nearby buildings and facilities. A single snow machine, which produces an industry standard 200 cubic meters of snow per day, could provide enough heat to warm between 50 and 100 homes, he estimates. With enough machines, you could heat whole resorts and neighborhoods. "Our first project is near a ski area—there will be several buildings that could take all this heat for heating, including a sports hall, office buildings, a research facility," he says.
The team says they should have a prototype ready next year, but they've got a bigger short term goal, too: to bring the World Ski Championships to Norway in 2023. That's because despite the hard science, Eikevik's project is funded by Norway's Ministry of Culture. Snow and skiing is such a critical part of Scandinavian culture—5,000-year-old rock paintings in Norway depict proto-Vikings on skis—that the Ministry decided to get behind the proposal. "When you apply for the championship, you have to give a guarantee that you will have snow," he laughs. And the fact that funding is coming from the government's cultural coffers doesn't seem strange in the slightest to Eikevik, either. "Winter sports are culture," he says.
Officials for the project say their work can save Norway "as a skiing nation" and "can be exported to other skiing destinations." That's an especially tempting idea for American ski resorts, which, despite a strong winter, know all the trend lines point toward muddier springs in the near future.
Lead Photo: Getty Images/iStockphoto