Gate Crasher
Bode Miller has everything you could want in a World Cup ski racer. He's fast, fearless, and frequently out of control. He can drink like a sailor and swear like a snowboarder, and he's got the talent to take it all from those grim Austrian cyborgs. Most amazing, he's American. Can we make this guy a hero already?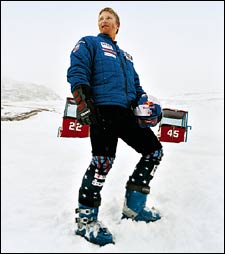 Jake Chessum
Heading out the door? Read this article on the new Outside+ app available now on iOS devices for members! Download the app.
COMING INTO THE FIRST TURN, it's clear that Bode Miller is carrying way too much speed. He's on a tight, treacherous course, with a lot of chatter and no room for error. Blow this corner and there's a thousand-foot tumble to the sheep pastures below.
Bode Miller in Austria

Bode Miller in Sölden, Austria, for the World Cup opener last October

Bode Miller in Sölden, Austria, October 2003

The unbearable lightness of skiing: Miller rests up in the lobby during the World Cup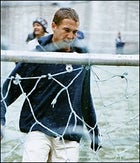 Blowing off postrace steam; Miller hits the soccer field.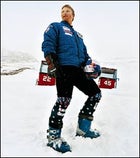 King of Kitzbühel: Daron Rahlves, at the Sölden World Cup course
Miller does the natural thing: He hits the gas and cranks the wheel hard to the left, throwing his rented Subaru into a four-wheel power slide around a muddy hairpin curve.
It's a sunny August afternoon, and the 26-year-old Miller is blitzing down from the Treble Cone ski area, on New Zealand's South Island, where he and the rest of the men's U.S. Ski Team have spent the morning training in the snows of austral winter. Treble Cone is one of New Zealand's largest and most developed ski areas, but it can be reached only by a snaky mountain road that turns from asphalt into dirt before switchbacking the last five miles up to the base area. Riding down with Miller after practice, I understand now why none of his teammates wanted to come along. As the Subaru slides toward the edge, it's starting to look seriously like Miller's 2003-04 ski season—which many believe could erase any doubt that he's the world's best alpine racer—might end before it starts. But just then the wheels catch, pulling the car to the inside. Miller countersteers expertly, straightening out, and guns it down the next pitch.
"These bumps suck," he mutters.
Maybe he should try organized rally driving, I suggest through clenched teeth.
Whooooosh. He pulls another power slide, this time to the right. "Naw," Miller says. "If I were a rally driver, you'd be shitting your pants."
And with that he rails the last turn, a gravelly sweeper on the flats, shoots past a carload of startled teammates, and hits the pavement flying.
A FEW HOURS EARLIER, I was standing slopeside at Treble Cone with John McBride, 39, the men's speed coach for the U.S. Ski Team. Miller had just blown by us on a slalom training run, leaning back on his tails, arms flailing in the air, his legs whipping back and forth like a marionette's—an unorthodox, go-for-broke style that's become his signature. But he only looked out of control. McBride pointed out twin crescent-shaped incisions that Miller's edges carved in the snow, a mere handbreadth from the base of a blue gate.
"Not many guys can ski that line," he said. Proving his point, the next U.S. skier, 23-year-old Bryon Friedman, cut the blue gate just as close, and then blew out of the course three gates later.
In the hypercompressed world of alpine ski racing, where the distinction between immortality and obscurity can come down to a fraction of a second, the line is everything. Push it too tight and you'll hook a gate, getting ripped violently off track. Ride it too wide and you'll never stand on a podium. To hold the perfect line requires an elusive combination of strength, timing, and unflappable concentration, all working in sync as the skier roars down the hill. That ability is the hallmark of the legendary racers—Jean-Claude Killy, Alberto Tomba, Hermann Maier—whose skills are often testament to well-oiled national ski programs run by coaches who understand precisely how to turn talented youth into champions.
Though the U.S. has produced some great racers—Phil and Steve Mahre, Bill Johnson, Tommy Moe, Picabo Street—not since Phil Mahre took first in the overall World Cup standings back in 1983 has America served up a skier who can consistently dominate, and doesn't crack at big events like the Olympics—an athlete who isn't sniffed at in Austria, a ski-mad nation that produces medal winners the way Mercedes churns out cars. Over the past two decades, when Americans snagged a rare win, the Europeans just shrugged. They were lucky, people said. It was a fluke.
Until, that is, right now.
Last year, despite completing only four of eight World Cup slalom races, Bode Miller finished second in the overall World Cup standings (taking home two golds and a silver medal from the World Championships), behind Austrian Stephan Eberharter, 34, an Olympic medalist. In October, Miller kicked off the current season with a bang, nailing a win in the giant slalom at Sölden, Austria, by more than a second—a huge margin. It was Miller's best start yet, and many believe he's still a year or two away from hitting full speed, particularly in the downhill and super G, which he started skiing regularly in 2001. Just as important to those banking on Miller's breakout potential, he has started to capture a devoted audience in the U.S., which traditionally pays attention to skiing only during the Olympics. The draw is Miller's talent, his attitude, and his breakneck style. "Nobody knows what's going to happen when he skis," says teammate Scott Macartney, a 26-year-old downhill and super-G specialist. "He'll either win by a second and a half or go into a fence."
Indeed, one of the most heart-stopping moments during the last Winter Olympics was Miller's near catastrophe in the alpine combined, in which skiers compete in a downhill in the morning, followed by two slalom runs. Three-quarters of the way through the downhill, he lost an edge and wound up sliding on his hip at 60 miles an hour toward certain disaster. At the last possible moment, he somehow found his feet, sprang around the next gate, and finished the race to clinch a silver medal.
A second silver followed, in the giant slalom, but it was the stunning recovery that made him a hero. It also didn't hurt that Miller had a great back story: the untethered kid who'd been raised by hippies on a sprawling farm in Easton, New Hampshire, in a rustic home with an outhouse. He can be charmingly unpolished with the media, spouting off about everything from a bad ski performance to the war in Iraq. He not only wins races; he's making ski racing cool again.
Miller's success has brought with it the usual wampum—a pair of signature Bode One skis from Rossignol, a $500,000 endorsement contract with Barilla, the same Italian pasta company that signed up Tomba, and several other handsome sponsorships, including deals with Chevrolet and Charles Schwab. He's already a celebrity in Europe, but he's beginning to show the kind of stateside recognition that allowed Lance Armstrong to transcend the fringe sport of cycling, prompting media outlets like OLN to up their coverage (see "World Cup Fever," page 64).
If Miller continues to excel in his World Cup specialties of slalom and giant slalom, plus super G, downhill, and the combined, insiders are speculating that he will not only nab the World Cup overall title from Eberharter, but could medal in five different events at the 2006 Winter Games, in Turin, Italy, an unprecedented achievement for any skier.
If that happens, "Bode will be the story of 2006," says his agent, Lowell Taub, of SFX Sports Group Inc., "both because of his results and because of who he is."
"He's gonna be bigger than the sport," adds his manager, Kenneth Sowles. "But it depends on how much he wants to work it. He could be the greatest skier of all time, or he could quit after next year and go play golf."
Miller already seems to be losing patience with the demands that stardom brings, the endless interviews and annoying travel. "You're always being scooted around," he says. Follow him after a race or at training camp and you're likely to catch him in a bar downing Red Bull-and-vodkas with adoring babes (he recently broke up with his girlfriend of two years) rather than glad-handing sponsors and the press.
"He thinks the medals and awards and ceremonies are a pain in the ass. He just wants to go skiing," says Phil McNichol, 40, the U.S. men's alpine head coach. "He's approaching this rock-star status. And we have seen that completely derail someone's career."
IN NOVEMBER 1997, in the first run of his first World Cup race, a giant slalom at Park City, Utah, Miller finished in 22nd place. This was considered an amazing result for a 20-year-old American skier, but especially for a rookie who'd been given the unenviable starting placement of 69th. Only the top 30 first-run finishers qualify for the second run, and at the time, the Americans usually watched that from the bottom of the hill.
"It was like, 'Oh, my God, he's qualified!' " Miller recalls, rolling his eyes as he mimics the reaction of his coaches and teammates that day. "They were all, 'Just, like, go slow this run. You'll get World Cup points no matter what. Take it easy.' "
"I was like, 'You guys gotta fuckin' chill out.' I didn't want to be 30th. I wanted to be fuckin' top 15 that first race. So I went just as hard, and ended up 11th. And everyone was like, 'Ho–ly shit.' "
It was the best result for the U.S. men in a long time, especially on the team's long-suffering "technical" side, the slalom and giant slalom. The speed guys could sometimes pull off a decent result in downhill or super G, but the entire American squad got skunked at the Nagano Olympics, in 1998, and talented skiers like Jeremy Nobis and Erik Schlopy had fled the whole scene. (Schlopy would return; Nobis now performs in extreme-skiing movies.) Even Tommy Moe, the downhill gold medalist at the 1994 Lillehammer Olympics, had retired at the end of the '98 season, worn out at the grizzled old age of 28.
"I hate to say we weren't a professional team five years ago," says retired downhiller Chad Fleischer, 32, now an OLN commentator, "but we really didn't have a frickin' clue what we were doing. We didn't know how to train for skiing. We lifted the wrong weights, and a lot of other stuff we did was wrong."
The team atmosphere was tense, with the technical squad pitted against the speed specialists in competition for scarce resources, which seemed to materialize only during Olympic years. Like World War I generals, the coaches threw talented but inexperienced young skiers into the trenches of the World Cup, where they'd get machine-gunned by the Austrians, Swiss, and Norwegians. Not surprisingly, a lot of guys burned out on the diet of constant defeats. "It was like, 'That sucked! Now go up and do it again,' " says Fleischer.
Then Miller came along. "And here's this guy," says McNichol, "a long shot, who skis out of the sixties to 11th place. For him it wasn't a big deal. It was, 'Of course I'm gonna do well!'"
Miller didn't see the top 15 for the rest of the 1997-98 World Cup season, completing only four out of 18 races, but that first performance showed that a new face had arrived. Miller skied with a hell-bent bravado, and he brought the team much-needed confidence, even if it was embodied by a precocious kid with scant results to back it up.
"Bode's got a deeper conviction about his ability than most people," says Mike Kenney, Miller's uncle and a former pro skier who worked with him during his junior racing days, in the early nineties. "Sometimes, he can seem like the most clueless optimist who ever lived."
FOR YEARS, MILLER'S MENTORS called him "uncoachable," an undisciplined, irresponsible prodigy. But today, at the family-owned Tamarack Tennis Camp, a 45-student operation that his grandparents started as a ski lodge back in the 1940s, he's demonstrating another of his apparent contradictions. He is a superb, patient teacher, though, as one might expect, his methods can be unconventional.
I'm hanging around the camp's 11-court tennis complex on a private-lesson day; Bode has paired off with two students, Matt and Adrian, who are both 13. While other instructors are busy demonstrating their power serves, Miller tries to show the kids what comes so naturally to him, an awareness of his body and what he's doing, as if he were constantly watching himself on video.
"Don't do it Oompa-Loompa style," he tells Adrian, who's practicing his ball toss. Adrian, who's French, looks at him quizzically. "Like this—straight up and down."
Adrian's next serve bloops over the net, but his toss is perfect.
"Yeah!" Miller says. "That's what I'm talking about!"
Suddenly there's a commotion from another court. It's John, a curly-haired, round-faced kid in glasses, who comes stomping down a hill to Miller's court. "He threw his racket," his instructor yells. "I made him run twice, and then he came back and FU'd me."
"You said my serve sucked!" John screams, hot tears streaming down his red face.
"I never said that!" the counselor shoots back.
"OK, OK," says Miller. "John, you go over to the other court, and I'll practice some serves with you later on." Mollified, John saunters across the lawn to wait for his moment with Miller.
"My grandfather used to talk about how there was magic in this area," Miller tells me later. "Like, somehow kids could come here and be the most pain-in-the-ass kids, and they'd find shit here that would help them change, help them be who they wanted to be."
In Europe, not surprisingly, Miller is immensely popular with little kids, who follow him around in herds. Here at camp, he's like the biggest kid of all. "He is a kid," Phil McNichol says. "I don't mean to say that he's a child or anything, but the way he carries and handles himself is very childlike. He plays and explores. He doesn't respond well to authority. He doesn't care about what people think. These are all the traits of a young person."
After lunch, the counselor comes up to Miller and asks, "So, what did you do about John?"
Well, nothing, it turns out. "You gotta understand: He's a super-unique kid," Miller explains. "He's not like other kids. And he felt like you weren't watching him. So he was pushing your buttons, but you were also pushing his buttons."
Amazed, the counselor stands there, looking like he's just been hit by a Bode Miller serve.
Miller has a particular soft spot for "super-unique" youth who have a penchant for tweaking authority. When he was 18, he failed to graduate from Carrabassett Valley Academy, in Maine, the private school known for turning out national-caliber skiers, because of a run-in with his English teacher over a 20-page final paper. The paper was fine, but he didn't turn in his outlines and notecards, as required. She was only too glad to fail him, he believes, because he'd already pissed her off by wearing Teva sandals to a school dance.
"She was one of those chicks you do not want to mess with," he says. Now, the school is practically begging him to formally graduate. But he's not a big fan of doing what he's told.
"It's like if you're gonna go out and mow the lawn, but then your brother or sister says, 'Hey, go mow the fuckin' lawn,' " he says. "Then you're like, 'Fuck you—I'm not gonna mow the fuckin' lawn!' "
This attitude almost got him kicked off the U.S. Ski Team after a year, for what Mike Kenney calls "nonconformity." But he stayed, and those older coaches are mostly gone. "Everybody saw the talent early on," says McNichol. "Otherwise he wouldn't be here. He's way too much of a rebel."
WHATEVER REBELLIOUS IMPULSES Miller possesses, they evaporate when he gets on snow, replaced by a calm, easy focus. This is his greatest strength: the ability to block out the rest of the world and ski with monklike concentration.
I get a chance to observe this one day at Treble Cone, on an early morning that's colder than the inside of a frozen potato, with visibility to match. A thick, icy fog smothers the top half of the hill, coating the lifts with frozen rime, and the racers can barely see past the fourth gate on the full-length giant-slalom course that McBride has laid out. Word has it that the bottom half is extra tough, with the gates tightening up relentlessly. At the start house, Miller looks typically relaxed, while his teammates are gripped with anxiety.
"Are you kidding me?" asks 28-year-old downhiller Jake Fiala, peering into the mist. "Are you A. J. shitting me?"
This is a critical year for the U.S. team, and the coaches are pushing everyone to make some noise on the international stage. Big hopes have been pinned on Miller's friend Erik Schlopy, a slalom specialist with whom Miller shares an apartment near Innsbruck when they're racing in Europe. Like Miller, Schlopy was a young prodigy—a national champion at age 19 in both giant slalom and super G. But a horrific crash in downhill training in 1993, in which he broke his back and bit off half of his tongue, left him struggling. Schlopy eventually worked his way back to the U.S. Ski Team and stepped up to take bronze in the giant slalom at the World Championships last year, in St. Moritz—a scant four-hundredths of a second behind Miller's gold-medal-winning time. Miller has long claimed that his teammates are better than their results indicate, but his only other real American rival is downhill star Daron Rahlves, 30, who finished sixth overall in the World Cup last year. Rahlves's season included first place in the notorious Hahnenkamm downhill, in Kitzbühel, Austria. With its 80-mile-per-hour fall-away turns, it's arguably the most difficult and dangerous course on the circuit.
No American had won the Hahnenkamm since 1959, and the Tahoe-bred Rahlves surprised everybody by coming on so strong after his disappointing performance at the Salt Lake Games, where he was supposed to emerge as the hero. Rahlves floated into Salt Lake on a flood tide of publicity, appearing on the Today show as well as in Sports Illustrated, USA Today, and People, which dubbed him "King Slalom Man," even though he almost never skis slalom.
But race day was a disaster. Rahlves mistimed the first jump on Snowbasin's Grizzly course and sailed into the air, he recalls, "like a human pop fly." The flub cost him a full second, and he never got it back, finishing a humiliating 16th, 1.71 seconds off the pace. He managed eighth place in super G, but it might as well have been 88th. In the end it was Miller who got to schmooze with Jay Leno, post-Olympics, two shiny medals around his neck.
AS I STOOD NEXT TO JOHN MCBRIDE later on that foggy day, watching skier after skier negotiate his course, it was clear the racers were struggling. The snow was fast but the light was flat, and I watched Schlopy attack the run, grunting with every turn, taking a couple of gates to the face; at dinner, he'd have a fresh cut over one eye. Then came Rahlves, chattering through a transition and blowing out two gates later and punching the air in frustration. But he tried again and, on his next run, skied the course perfectly.
Finally came Miller, who already seemed to be in form. "I feel great on skis," he'd told me earlier. He'd even poached the Austrians' GS course one morning—they were training on a neighboring slope—much to the annoyance of Hermann Maier, who'd been having a difficult time of it that day. For the past few years, the U.S. coaches have been training the team with or near the Austrians, in Europe and New Zealand and South America, for just this reason: to show the Americans that the "blockheads" (so nicknamed, Rahlves told me, because "they're so straight and square") are human, too, and therefore can be beaten.
McBride's radio crackled to life after Miller blew by. "Night and day," said a coach who was watching the practice run farther downhill and helping evaluate any improvements. Miller was testing a radical new boot, which he designed and which Rossignol built for him, against last year's Nordicas, which served him pretty well. So far, the Nordicas were winning, but a layperson would be hard-pressed to notice. Gunning for every gate, Miller charged past us so fast you could practically hear a sonic boom roll across the valley below.
The microflexion of a ski, the slight tilt of a knee, a few more pounds of pressure on a thin metal edge at precisely the right moment to convert inertia into speed—these are the quantum mechanics of elite ski racing, and they hardly seemed the kind of thing a talented slacker would obsess over. But Miller understood how thin the margins could be, how small details in a boot or skis could mean dramatic results.
"If you're pushing only 89 percent or even 99 percent, that can make you lose four-hundredths of a second," Miller told me after the run. "So it's not really a fluke. There's fluky shit involved—there's wind, there's all kinds of things—but in the end that's part of the equation. That's why it's cool to win by that amount, because I feel like my extra effort made the difference."
ONE AFTERNOON DURING the New Zealand training camp, someone starts a pickup soccer game on the hotel lawn, three on three and then four on four. Below them, Lake Wanaka sparkles in the sunshine, while in the distance loom the snow-frosted peaks of Treble Cone, where the team has spent a hard morning training.
Everyone is already tired, but that doesn't seem to matter: It's one of those days when you play to the point of exhaustion and then keep on going. By the time Miller shows up, fresh from the golf course, the original players are long gone, but the game is still going, pausing only when the ball flies into the bushes or skitters out into Ardmore Street, the main drag of the mellow ski town of Wanaka.
The new arrival pushes things into another zone. All semblance of teamwork vanishes, perhaps because everyone else is too tired to run anymore, and the ball simply gravitates to Miller's feet. It's exhibition time, and off he goes, dribbling around, over, and through his opponents—all except one.
Time after time, he comes up against Rahlves, who's in warm-up pants and a Red Bull cap. It doesn't seem to matter that Miller towers over him like a wookie over a hobbit. Miller was an all-state soccer player in high school and still dreams about turning pro, while Rahlves hardly ever plays. But Rahlves always seems to get a piece of the ball. It's almost a point of pride.
"Dude," Miller gasps after one extended bout (through a flowerbed), "you've, like, got this extra lunge. Most people, you beat 'em and you're like, 'Nyah-nyah'—but you can lunge again." Finally their shins meet and they both stagger backward, clutching their wounds. A coach looks alarmed, briefly, until it's clear that nobody's limping too seriously. But the game's over. It's almost sunset, tomorrow's another long day, and it'd really be a bummer to ruin what could be the best season in U.S. skiing history over a game of pickup soccer. In a way, this is just a continuation of what started on the hill, Miller playing himself into shape (he already seems fitter and more agile than when he first hit camp), dazzling everyone with his natural physical gifts, inspiring those around him, especially Rahlves. He lives to play, and plays to live, and it doesn't much matter if it's pickup soccer, a round of golf, or a World Cup race.
Which brings us back to the paradox of Bode Miller: He wants, more than anything, to be recognized as the best skier in the world, if not the best who ever lived. Yet he's a pure sportsman, one who doesn't necessarily measure success by trophies and medals and the hopes that others hang on him. "Sports have never been fun for me because other people get to watch," he says. "They're fun because I get to do 'em."
"It's almost a religious, or emotional, kind of thing for him," says Mike Kenney, who probably knows him best. "He performs out of inspiration. He doesn't perform because he's goal-oriented. He performs because he loves expressing himself athletically."
During one of our conversations in New Zealand, Miller drove home the point. I asked him to pick his best race of last season. He thought for a moment and said, "Super G at Val Gardena. It was fuckin' awesome. I just killed it. I made mistakes, but I made sick recoveries. I won a section, where it's like three shoop-de-doos, you're like turning all through it, and it's dark as shit. I won that section, starting in the pitch-black."
But the higher-ranked skiers got to pick later start numbers, and when the sun came out, the course got faster and Bode's time drifted down the scoreboard. "If I'd started later, I would have won," he shrugged. "But it was one of the best races I've ever had."
He finished sixth—off the podium, out of the headlines, and more than satisfied.