How can I communicate with my ski partner if we get separated?
My girlfriend and I like to ski the steep trees inbounds and out. Naturally, as we seek out and destroy helpless powder stashes, we often become separated. Two-way radios are ineffective because of their line-of-sight requirement and yodeling is often obtrusive. Is there a GPS system that monitors the position of multiple transceivers and communicates their relative positions to each other? Mark Aspen, Colorado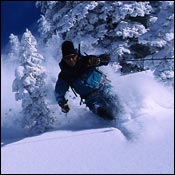 Heading out the door? Read this article on the new Outside+ app available now on iOS devices for members! Download the app.
This is great! What you're looking for is a little GPS unit with a color screen that shows a map of the terrain on which you're skiing, and indicates with a little digital pony-tailed figure where your girlfriend is located, and with a manly figure your present location, and that also gives you the speed, rate of descent, and direction of travel of your girlfriend, while sending the same information to her. And maybe you can even talk to each other!
Skiing the Trees
Skiing the Trees
And, of course, you can have such a thing. Simply enlist in the 10th Mountain Division, part of the U.S. Army. Because of that elite unit's specialized training and the advance state of electronics gear used by the military, you surely will have a chance to ski with equipment of this sort. Along with, of course, a 60-pound pack, Kevlar helmet, and an M-16 rifle. But life is full of tradeoffs.
As for walking into your local electronics store and buying it, alas, no. The technology clearly exists, but it's simply not practical at the level of ordinary people. You can have a GPS that knows exactly where you are and displays that location on a screen, and she can have the same. Now, how do you get that information into BOTH units? That's the hurdle. Communication couldn't be based on line-of-sight radio transmission, for reasons you already have delineated. So one GPS unit would have to beam its position to a GPS satellite through some sort of continuous transponder unit, such as what airliners use to beam their location to air-traffic controllers, then transmit that signal to a specific second unit, not the entire freakin' world. Not easy.
I'm afraid, for now, you're stuck with yodeling.
You've got your winter gear, now get outside and use it. Away.com's ski and snowboard guide makes it easy to find nearby slopes just begging for fresh tracks.