Kevin Connolly Will See You Now
At 25, he has a pair of X Games medals, a blossoming photojournalism career, and a well-received memoir. But no legs.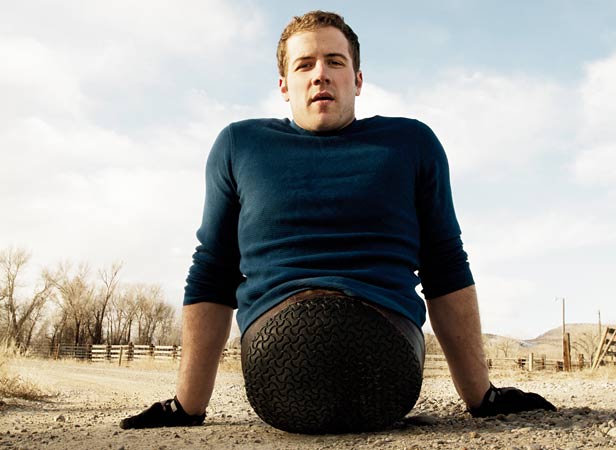 Paolo Marchesi
Heading out the door? Read this article on the new Outside+ app available now on iOS devices for members! Download the app.
Daybreak cracks like a runny egg against Montana's Spanish Peaks as the Cyborg steers his rig toward the slopes.
Kevin Connolly

Connolly preparing to light up Big Sky on his custom mono-ski
Kevin Connolly
Connolly preparing to light up Big Sky on his custom mono-ski
The Cyborg is thrilled. When his truck rounds a bend obscuring Big Sky's Lone Peak, he leans toward the windshield. He wants to ski, sure, but by now you've spent enough time with the Cyborg to know there's something else in that eagerness. He is looking forward to crushing you on the mountain today. This isn't strictly because he has something to prove, though perhaps he does just a bit, the way any guy born without legs could reasonably be expected to have something to prove. What's more true is that the Cyborg is all guy, and—let's face it—the favorite pastime of twenty-something guys is gutting the confidence of the other members of the pack. Today the rest of the pack is you.
The resort's parking lot rolls into view, and he drives his specially equipped Toyota RAV4—with hand controls that allow him to work the gas and brakes—to the front. He parks beside the lodge, then gropes on the floor for his blue HANDICAPPED placard. Yesterday when he did this, the Cyborg cackled and said something under his breath: the private joke of someone pulling a fast one on the universe. You see, for the Cyborg, alias Kevin Michael Connolly, leglessness isn't much of a handicap. But that hardly means Connolly is about to give up the perks of fate—such as the choicest parking spot at one of North America's best resorts when the December skiing is fine.
He climbs down from the driver's seat and walks on hands and butt to the rear of the truck. He opens the latch and unloads today's machinery: a carbon-fiber-and-titanium mono-ski complete with a snowmobile piston that looks as if it could have come from the Terminator's closet. Connolly designed it last year with help from a Bozeman company that specializes in bindings for splitboards. He straps himself into the carbon-fiber bucket seat and clicks the whole getup into a fat-ass Atomic powder ski, and the Cyborg is ready: half man, half machine, all ripper.
You are about to learn just how much he rips. You ride the lifts to Big Sky's summit, where you lean down to buckle your boots. It's a mistake. Connolly is gone in a puff of white. He takes the snowfield below in one gulp. Like the best ski racers, he actually seems to accelerate through his turns, leaning so aggressively that he nearly scrapes his bucket seat on the snow. He leaves behind a single deep, calligraphic arc.
You fancy yourself a decent skier and try hard to keep up. But soon you are alone on the mountain, legs as rubbery as licorice twists, ski tips crossing disobediently in the snow. For a brief moment, you find yourself envying the legless skier waiting far below.
When you finally reach him, you double over. "My thighs are burning," you sputter.
"Not the Cyborg," hoots the Cyborg. It's part hoot, part cackle.
"Ready for round two?" he asks. Then the Cyborg pushes off and snakes through the trees, beating you to the bottom.
EVERY DAY, babies are born with what the medical community often calls "limb deficiencies." Approximately one in every 2,000 newborns worldwide pops out missing a finger or, say, a bone in one arm. Children born without an entire arm or leg—a condition known as amelia—are significantly rarer. One recent study by Spanish researchers found this cruel trick of nature in just 15 out of 1.3 million births—roughly one in 100,000. But to be born with both legs missing, for no apparent reason? It's so rare that the medical establishment doesn't really know the odds. You might reasonably say a kid like that is one in a million. Maybe that's generous. Maybe he's one in ten million.
And here we come to the remarkable case of Kevin Connolly, who has accomplished more without legs by age 25 than most folks with two good stems manage in a lifetime. Perfectly healthy otherwise, Connolly has skied in the Winter X Games five times for fun, winning silver in 2007 and bronze this year in the MonoSkier X race, which is skiercross for the disabled. Last fall he published a well-received memoir, Double Take, with HarperCollins; it's now out in paperback. A globe-trotting documentary photographer, he's had his work featured at the Smithsonian Institution and the Kennedy Center. He's currently plotting a new photo project—a round-the-world search for people with disabilities who have dreamed up their own MacGyver'd solutions. The combined income from his writing and photography, plus fees for speaking engagements, adds up to a pretty decent living for a ski bum.
It would be easy to think that Connolly has achieved success by stubbornly "overcoming" his condition, but that isn't quite right. What he has done is turn a brutal handicap into an asset. His photos from his 2007 project, The Rolling Exhibition, stand out because they are literally confrontational: They challenge the viewer with the public's reaction to a man with no legs on a skateboard—the startled glances, the horrified gasps, frame after frame of confused stares.
"Kevin's never wanted assistance in anything," says Kevin Jardine, the former head of the U.S. Disabled Ski Team. "He's probably more able-bodied than most people, just because of the way he approaches life."
I FIRST MET CONNOLLY on a warm afternoon in October. He was visiting Manhattan and suggested an Afghan restaurant in Midtown. He was already seated when I arrived. To sit across from him is to notice nothing out of the ordinary. First, there is a wide smile beneath a big Slavic forehead. Then he says "Hello" in a room-filling voice. He comes off as a well-spoken and mature guy. And he looks six feet tall. When we shook hands, I noticed that he had a pipe fitter's forearms and palms so callused they felt like a catcher's mitt. Grime was practically inlaid in them from a use I didn't yet comprehend.
After lunch, I suggested coffee elsewhere, not entirely with pure motives: Connolly's photos and his memoir are about a life constantly subjected to the gaze of others. I wanted a glimpse of that life.
He leaned over, placed his skateboard on the restaurant's floor, and lowered himself onto his ride. Suddenly he was simply not there. Or, rather, he was down there—all three feet and one inch of him.
The restaurant went quiet. The Middle Eastern men at the next table stopped drinking their dogh mid-sip. Even though this was New York—where people have seen it all, where your business is your business—they furtively looked. They couldn't help it. The guy on the skateboard was no longer just Kevin Connolly, one of Manhattan's eight million but My God, look at that guy with no legs! His sawed-off-edness is the only thing you see. He seems a magic trick.
Connolly pushed on his hands toward the door and the bright rectangle of a Manhattan noon. He knew what they were thinking, because he's heard it all before. They were thinking, Iraq? Afghanistan? Shark attack? Thalidomide? They were thinking, Does he dream of running? Does he love?
On the sidewalk, Connolly found his stride. He moved quickly, stroking the pavement, left then right then left again, like a man paddling out to a surf break. This, I realized, was the source of the grime.
At 55th Street and Broadway, an Eastern European man tapped me on the shoulder, looking down at Connolly. "How did he come to be this way?" he asked.
I stammered, "Uh, born this way."
If Connolly noticed, he didn't show it. He pointed his sunglasses straight ahead, like a celebrity inured to attention. As he rolled east, a guy leaned out of a cable-TV van and yelled, "You da man!"
Connolly paddled ahead, searching for an outdoor café. He was thirsty, but not for coffee. It was a warm fall day—beer weather. "Let's do some people-watching," he said. He was not being ironic. Not at all.
THERE'S NO INSTRUCTION manual for raising a kid without legs. None of the doctors at Helena, Montana's St. Peter's Hospital could tell Brian and Marie Connolly why it happened that August day in 1985. But once Kevin showed up halved, the "why" no longer mattered.
As they carried their first child home, the only thing the Connollys knew for certain was that they wouldn't coddle him.
"We tried to do things as normally as possible and adapted as minimally as possible," says Marie, a fifth-generation Montanan and a former paralegal who now works for the state bar association.
When young Kevin didn't like his prosthetic legs, his parents decided to let him "walk" around by pulling himself with his arms and scooching his butt after him—the way he often gets around today. "What my parents saved on shoes, they lost on pants," Connolly quips in Double Take.
"I was hard on him," says Brian, who worked as a Frito-Lay deliveryman for much of Kevin's childhood. "I didn't pick him up. I'd make him walk across the parking lot."
Kevin and his two younger sisters, Meagan and Shannon, spent their afternoons playing with their pet golden retriever in the big yard of their three-bedroom home. He went through Helena's public school system, first getting from class to class on his hands and later using a wheelchair. Except for one vicious elementary school beating by a bully, there was surprisingly little teasing. "The novelty died quickly," says Kevin.
Humor helped, too.
"I'm the only guy with 2.5 children," Brian still likes to crack.
"Yeah," his son fires back, "Dad's pretty proud of hitting the national average."
In the fourth grade, Kevin begged to join the East Helena Wrestling Club. His parents relented—on the condition that he couldn't quit after signing up. Kevin suffered through the entire season, wearing a unitard with the leg holes sewn up, not winning a single match.
Wrestling didn't stick, but skiing did. One January day not long after the wrestling fiasco, Brian took ten-year-old Kevin to the adaptive-skiing program at Bozeman's Bridger Bowl. Kevin was just supposed to get an escorted ride in a toboggan. But that first run struck a chord, and Connolly took to the sport hungrily. By age 13 he had his own mono-ski. By 14 he was the overall U.S. disabled junior alpine champion, a title he'd hold for three years running.
Skiing is a sport of angles. It's about driving the hips to get a clean edge on the snow. It's about drawing an arc with the inside toe. Connolly doesn't have hips, never mind toes. So how'd he get so good? His strength helped. By his sophomore year of high school, Connolly could bench-press 300 pounds and had twice the bone density in his shoulders of his peers, power he could call forth when pushing or steering with his outrigger-like pole-skis. To further hone his skills, he played cat-and-mouse at Big Sky with former competitive speed skier Ben Langguth.
"He probably carves the best turns of anybody I've ever seen—anybody," says Langguth, 44. "I don't see him as disabled. I just see him as short. That just means he gets better face shots than me on a powder day."
Throughout high school, Connolly spent his winters on the adaptive-ski-racing circuit, Dad driving all night from Helena to Vermont to Aspen, Connolly studying in the front seat and winning race after race. The general consensus among Connolly's peers is that, had he gone all in on skiing, he'd be a star on the U.S. adaptive team, medaling in the Paralympics.
But Connolly preferred to keep his hobby a hobby. (He says he competes in the X Games "for fun.") He had other interests, like the wilderness. The summer after his freshman year of college, Connolly took a solo backpacking trip through southwestern Montana's rugged Tobacco Root Mountains. For nearly two weeks Connolly hauled himself by his hands, gaining four miles a day and wearing a .38 Special in case any peckish mountain lions showed up. "He's a tough little shit," says his father.
In 2004 Connolly, who was prom king at Helena High, won a full academic scholarship to Montana State University, in Bozeman. He studied film and wrote what he calls "a terrible screenplay." And he took the trip—the trip that changed everything.
IN DECEMBER, I visited Connolly in the Boze­man duplex he shared with two graduate-student roommates. (He has since moved to a studio apartment.) His bedroom-cum-office housed a futon and two hulking computer monitors set at his eye level. There, Connolly turned on his computer and brought up images from his photo show, The Rolling Exhibition.
Here's a road worker in Sarajevo, arms resting on a shovel, brows furrowed as he watches Connolly skateboard past. A Chinese woman and her daughter in Tiananmen Square are frozen in their stare. An Eastern Orthodox priest standing on a curb in Romania juggles a worried look and a cell phone pressed to his ear. What's amazing is how similar all the faces are—there's concern in their pinched lips, curiosity in the whites of their eyes. Even the dog Connolly photographed in Paris seems to consider him with that same mix of worry and wonder.
During college, Connolly went abroad to study film at New Zealand's University of Canterbury and to travel the world atop a skateboard. Just before leaving home for MSU, he'd discovered that on a skateboard he was fast and independent—and that zooming past the butts and mutts on the sidewalk was a helluva lot more fun than the more traditional alternatives. (His prosthetic legs now occasionally hold dip at parties.)
Once he left Bozeman's protective bubble, however, Connolly found that people looked at him differently. Hopping from wheelchair or prosthetics to skateboard—becoming the Cyborg—was a transgressive act. Depending on where he traveled, he became a beggar, a saint, or a sideshow. In Kiev a woman stuffed 200 hryvnia into his camera bag. Another woman grabbed him in the subway and swore out prayers in Yiddish. A dwarf in a Greymouth, New Zealand, bar challenged him to fight. When Connolly agreed, the dwarf vanished.
Fed up one day in Vienna, Connolly decided to exact revenge and fired off a photo of a gawker. It was a "miniature catharsis," he writes in Double Take. "I'd used my own form of staring." That shutter click started an addiction. During that trip and a subsequent journey around the world, Connolly would take some 33,000 photos—always furtive, always of people's reactions to the legless kid. The photos are, technically speaking, fine. But virtuosity is not their point. They're urgent. Like all good documentary work, they shake you out of your normal mode of observation.
The photos launched Connolly. He returned to MSU in his senior year, scheduled a slide show on campus, and packed the house. One month later, ABC's 20/20 called. Less than a year later he had a book deal. Since then, Connolly's images have appeared in the Smithsonian and the Kennedy Center and in galleries from Mexico to England to the Czech Republic.
"Connolly's photography is hard to forget—that level of honesty in observing curiosity and human difference," says Stephanie Moore, former director of visual arts for VSA, a nonprofit affiliate of the Kennedy Center that showcases the work of artists with disabilities. "He has taken photography in a new direction—modified it to capture a new viewpoint."
The fact that Connolly's device—holding up a mirror—is obvious doesn't diminish its impact. A typical post on his Facebook fan page:
"For a photographer—truly inspiring. For a biped—truly humbling. Thanks for sharing your travels and your perspective. (Great video of Dubrovnik! You certainly have the advantage of speed—has the Travel Channel been in touch yet?!)"
"This project says that you can't not stare," says Connolly. "Everyone, to a man, woman, or child, did the same thing. At some point people create a story for how you got the way you are, and that's when they get into trouble. So in Sarajevo you have people crying and throwing money at you, and in Montana you have people asking you if you still wear your dog tags."
CONNOLLY HAS fielded calls from Dr. Phil, Ellen DeGeneres, and Oprah. He's been offered multiple cable TV series. He's declined. The talking heads all wanted the same thing: a cripple with a halo. That doesn't interest Connolly.
"I like doin' stuff," says Connolly. "I'm an active guy in my twenties." He goes on dates. He drinks beer. He shaved a mohawk into his own head not long ago, after one too many of those beers. He chafes when people call him an inspiration for doing what comes naturally—skateboarding, skiing, or traveling the world and snapping photos.
He's currently planning his second photo project. Tentatively titled Low Lifes, it will take Connolly to places like India and Afghanistan, where he will search out people who are unique and effective in their modes of transport. "It's Diane Arbus for tech-heads," he says.
Connolly doesn't plan to travel by skateboard this time. He's working with a product-design-and-development company in Bozeman on a modified version of South African sprinter Oscar Pistorius's Cheetah legs. A spring would sit under Connolly's butt, and he'd use spring-like crutches to propel himself.
"What if a legless dude could sprint across a parking lot faster than someone using a bipedal gait?" asks Connolly. "That's fucking cyborg!"
Anybody else born without legs might reasonably spend his days shaking his fist at God. Connolly instead wonders what gates his condition will open next. As he told me once, with a smile, while preparing to blow me off the mountain at Big Sky, "it's a pretty rad time not to have legs."