What It's Really Like Inside the Olympic Village
Now that it's all over, gold medalist Kikkan Randall gives us an inside look at the games' HQ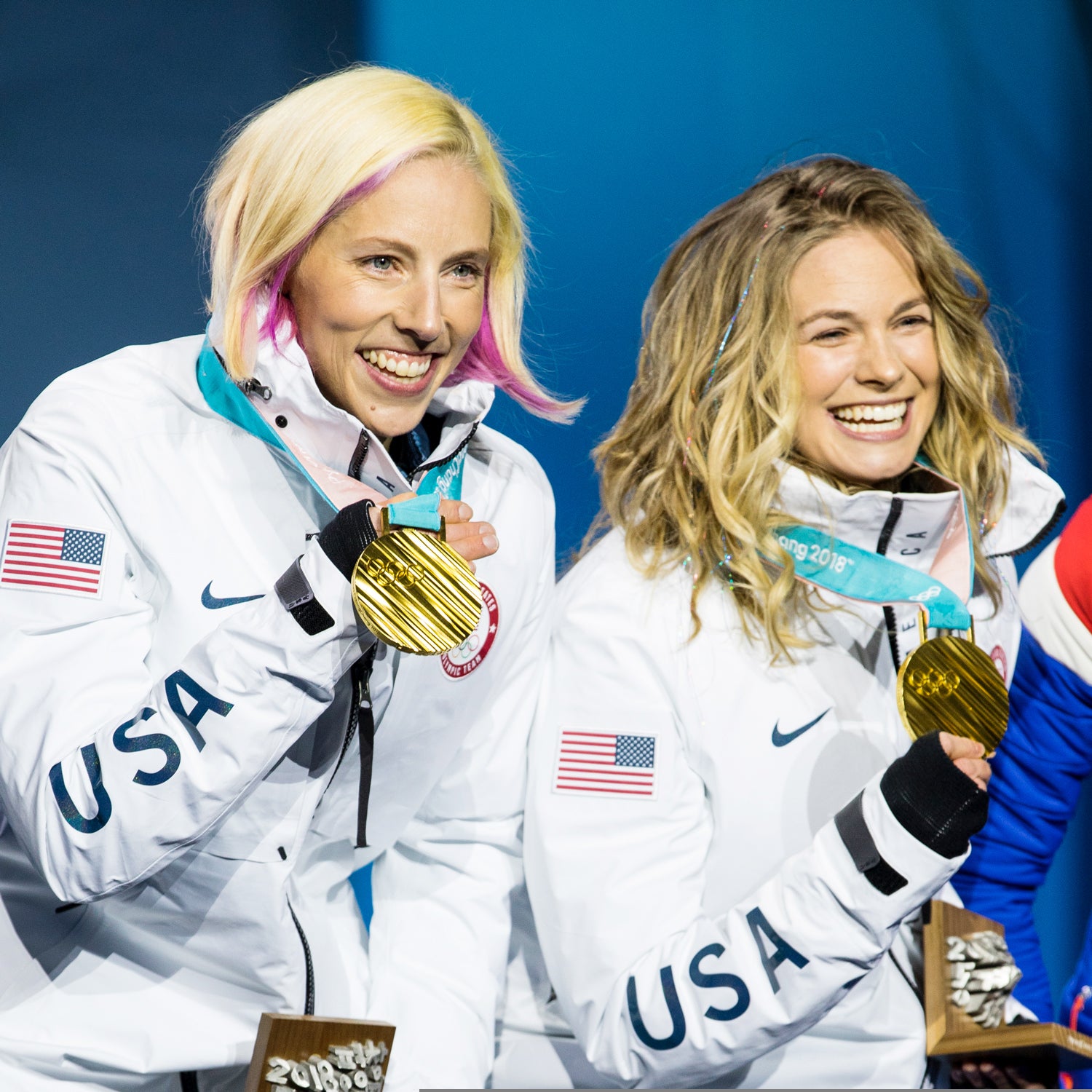 Heading out the door? Read this article on the new Outside+ app available now on iOS devices for members! Download the app.
The time leading up to the Olympics is nuts. There's so much anticipation, focus, and preparation that it's easy to forget you're about to compete on the world's biggest stage.
At least that's what happens to me. Typically, it really doesn't hit me until they're putting out the Olympic flame at the closing ceremony. Seventeen days of fierce competition (not to mention the years leading up to it) seem to have gone by in a flash, and it's a sobering realization that it will be another four years before this all happens again.
My experience in Pyeongchang was especially profound since this was my final games. Even knowing that, it still went by way too fast. I left South Korea just over a week ago, and I'm slowly starting the reentry process into post-Olympic life (for good this time). Given that, I thought I'd memorialize the experience and share a little glimpse into what it's really like to live, breathe, and compete as an Olympic athlete.
The Swag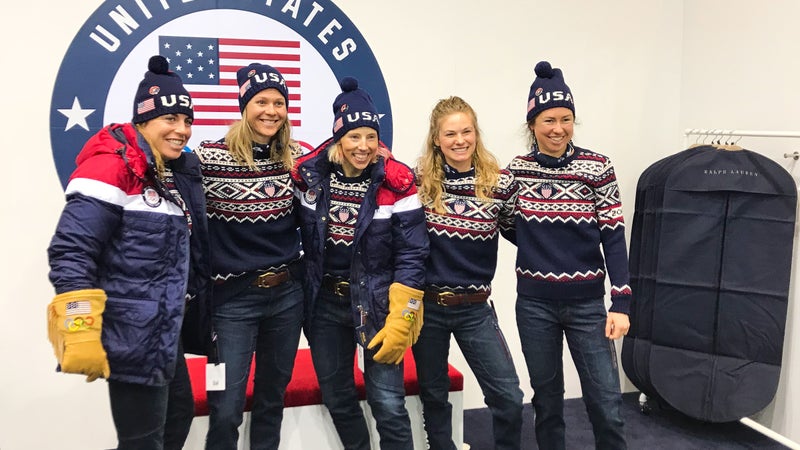 We arrived in South Korea and were immediately suited up with all our Team USA uniform, attire, and gear. So. Much. Stuff. Two duffel bags' worth, not counting competition wares we had already brought with us. And it didn't stop after day one. Everywhere we went, people would give us things—a new phone, a comforter, souvenirs, pins, gift bags, etc. By the time the closing ceremony rolled around, I was at a loss for how I would transport everything back, especially since I'll be traveling and racing for another month before finally settling in at home. Thank goodness for a mom and coach who were willing to pay the extra bag fee and take my new belongings with them!
Olympic Village
One of my favorite parts of the Olympic experience is the athletes' village. I love seeing athletes from all sports and all nations come together and rub elbows. From the gigantic bobsledders to the featherweight ski jumpers, you see different preparations, different body types, and different mentalities for each sport. Olympic Village is like its own mini-city, complete with a mayor, post office, hair salon, laundromats, and medical clinic. I had never ventured to the hair salon in my previous Olympics, so I decided to give it a try this time. While the language barrier added an interesting twist, I was very satisfied with my updated 'do!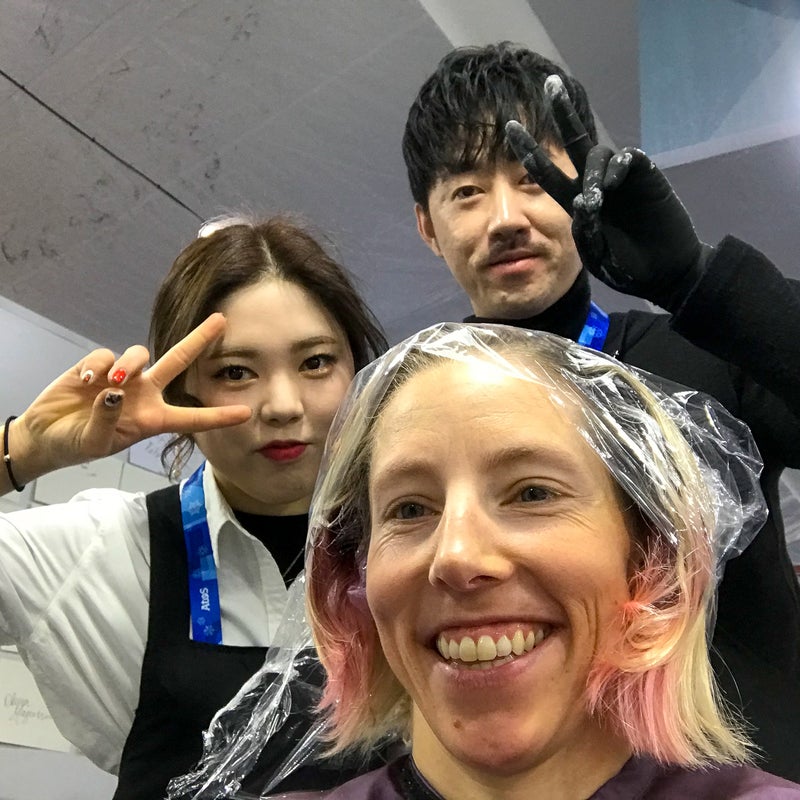 We stayed in Mountain Village, one of the two boarding areas within the athletes' village. In it were eight residence towers with 15 floors each. Many of the buildings were decorated with the flags and banners of the residents' nations, which made everything feel both festive and a little competitive. Team USA took up an entire tower, but there was only one elevator in the entire building. While that meant that we were able to chat with athletes we might not get to know otherwise, it also made timing travel anywhere pretty tricky. Sometimes it would take so long to catch the elevator that I'd have run down the 14 flights of stairs instead to make sure I could catch the shuttle. Totally fine in theory, except the stairways weren't heated, so occasionally a thin sheet of ice formed on each of the landings. A little risky!
Our accommodations in the towers were interesting, to say the least, as organizers needed to keep the new apartments in good condition so they could be sold at the end of the games. Temporary walls and flooring were installed and the kitchen was covered in corrugated plastic, which unfortunately meant we had no access to the appliances. Basically, they didn't want us touching anything so it felt a little bit like we were squatters.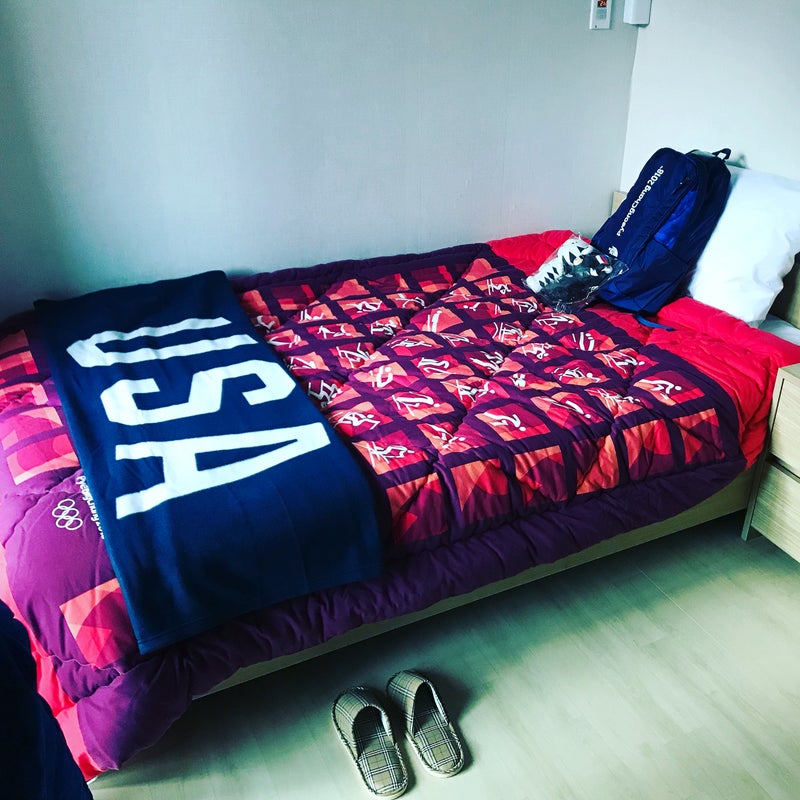 Then there were the beds: They were surprisingly firm. To remedy that, the U.S. Olympic Committee (USOC) provided some padded mattress covers for us, and I brought my own pillow from home. Some of my teammates put extra comforters under their sheets. It took me a few days to adjust to the firm mattresses. With sleep being so important for recovery, you'd think beds would be a top priority for these apartments, but these were very basic. That said, I ultimately ended up sleeping very well throughout the entire seventeen days. 
Laundry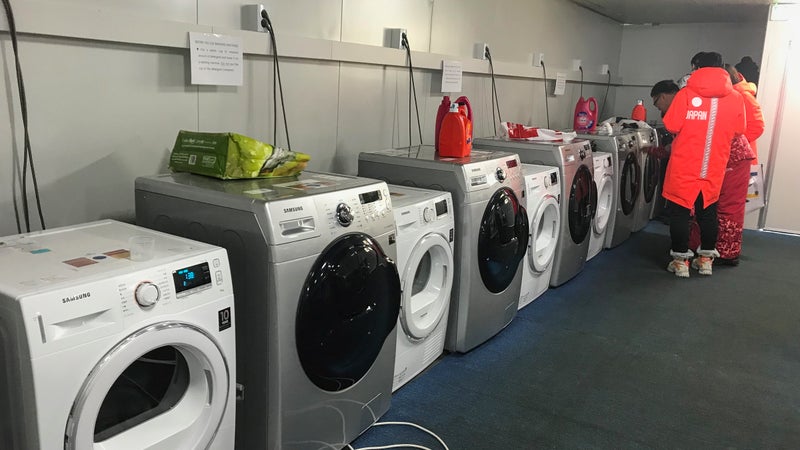 Another good way to meet other athletes was waiting for your laundry to finish at any of the three residence centers. Finding an open machine was the first test, and then selecting the right cycle was a gamble, because all the instructions were written in Korean. A few times, I had to move someone else's laundry into a basket to get mine started, so who knows how many gold medalists' underwear I may have accidentally touched.
Fitness Center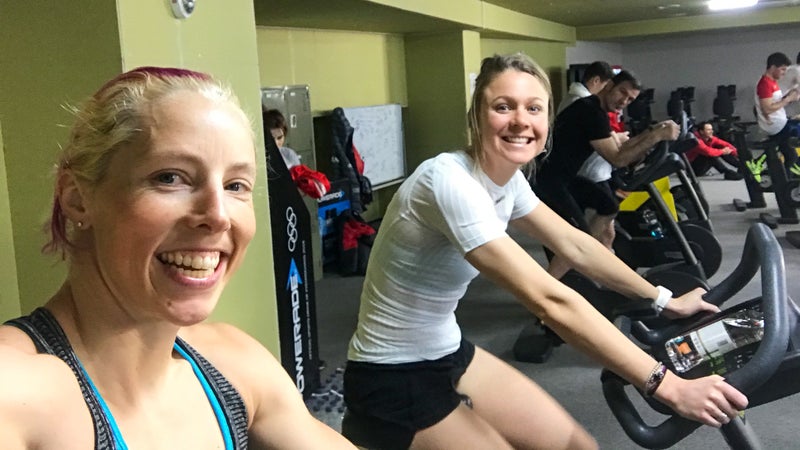 One part of the village that I always get a kick out of is the fitness center. This year, it was located in the basement of one of the towers, spread through multiple rooms filled with equipment. One room was dedicated to cardio (treadmills, spin bikes, recumbent bikes, and rowers) and another was full of lifting equipment (squat racks, platforms, and so many contraptions that I could never even imagine lifting). What I failed to realize until halfway through was the entire room dedicated to mobility! Shoot.
At any hour, every treadmill and spin bike was in use, superjacked bobsledders were throwing huge weights around like it was the lifting championships, and people were stretching and rolling and turning their body in every which way. I guess such frenetic energy is bound to occur when a bunch of highly motivated athletes are all asked to exercise in one place before the biggest competition of their lives.
Photo Stations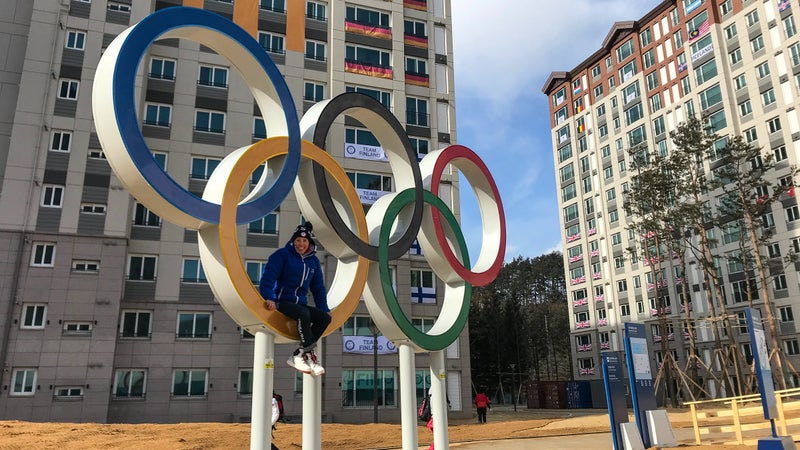 Athletes, myself included, love the oversized Olympic rings. They're iconic, so you can't help but take a picture with them. Soohorang, the Pyeongchang mascot, was also around for pictures, and he got plenty of attention from people wanting photos.
Shuttles
Another thing you do a lot at the Olympics is ride on shuttles. Shuttles to the race venue, shuttles to the media center, shuttles to meals. It's a great system, but it takes up a surprising amount of the day. Pyeongchang is very compact relative to other Olympic venues, and the shuttle access made it especially easy to get around to see other venues and competitions. While waiting in line for rides, I also did some important trading of country pins, which make for awesome souvenirs to bring back home.
Sleep Schedules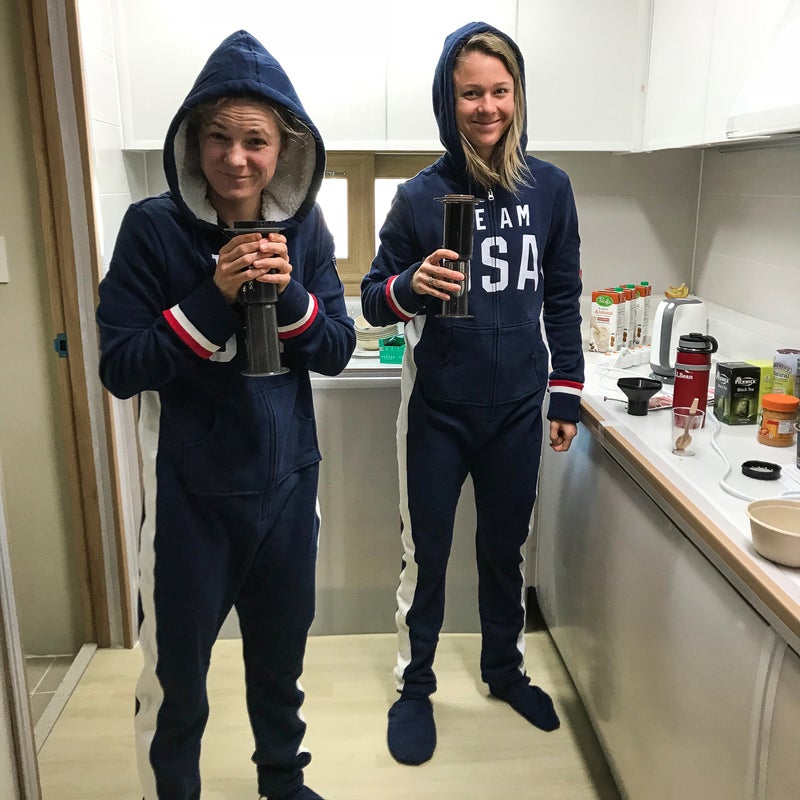 One particular challenge of the Pyeongchang Games was the time difference to Europe and North America. Our Nordic team had been in Austria beforehand, which is eight hours behind Korea. Our initial plan was to intentionally avoid adjusting to the new time zone by staying up late and sleeping well past our normal wake-up call. Most of our competitions were in the late afternoon or early evening, so we needed to be on a later schedule anyway. It took me a while to not feel guilty staying up past midnight every night, but I found a little bit of rebellious joy in sleeping past 10 a.m., especially when I could make a case for it helping my performance.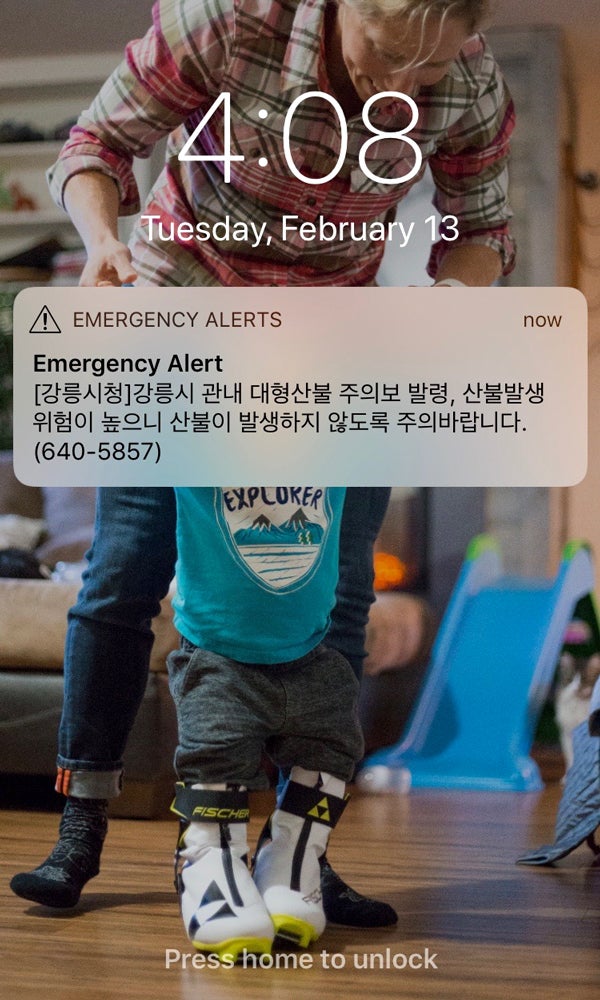 One morning early in the games, however, I awoke to an alarm going off on my phone. It was an unfamiliar ringtone, and it stirred me out of a pretty deep sleep. When I looked at my phone, the first thing I saw was "EMERGENCY ALERT," and the rest of the message was in Korean. I immediately jumped out of bed and ran into the hallway of our apartment. All the other girls came stumbling out of their rooms at the same time as we tried to figure out what it meant. We eventually figured out how to use the Google Translate app to decode the message, and thankfully it had nothing to do with the nuclear threat that we had all assumed it was. It turned out to be a warning about high winds and dangerous fire conditions in another South Korean region not even close to us.
Nutrition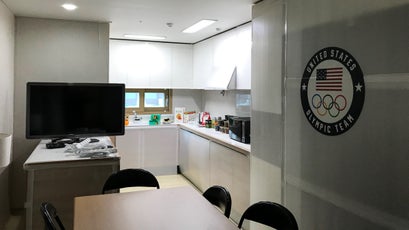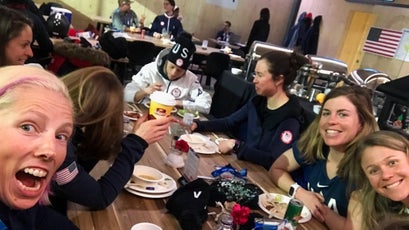 Eating is something you do a lot of during the Olympics. Top-tier athletes are used to eating a lot to fuel training and racing, but throw in all the additional energy spent on media presentations and nerves and you have an appetite that's out of control. Staying healthy is always the biggest priority, so USOC had some special strategies for the athletes. The first recommendation was to make breakfast in our rooms to avoid the germ-filled dining hall and control the food we were eating. That severely limited what we were able to cook, though, since there was no full kitchen or full pantry. Ultimately, I wasn't able to prep food with sufficient carbs and electrolytes, which I think contributed to my struggles with cramping in the first race. After a few days, I decided to just go to the dining hall for breakfast. To help us control our food, the USOC had also set up an off-site restaurant just for competing U.S. athletes, called the Haven—and it was just that. It became a great place to ensure we were fueling properly in a clean environment while also avoiding the hustle and hype. They ran an excellent shuttle service, and it was just ten minutes from the athletes' village. So, even though it made for an extra trip, it became a mainstay in my nutrition plan.
Bottles, Bottles, Bottles!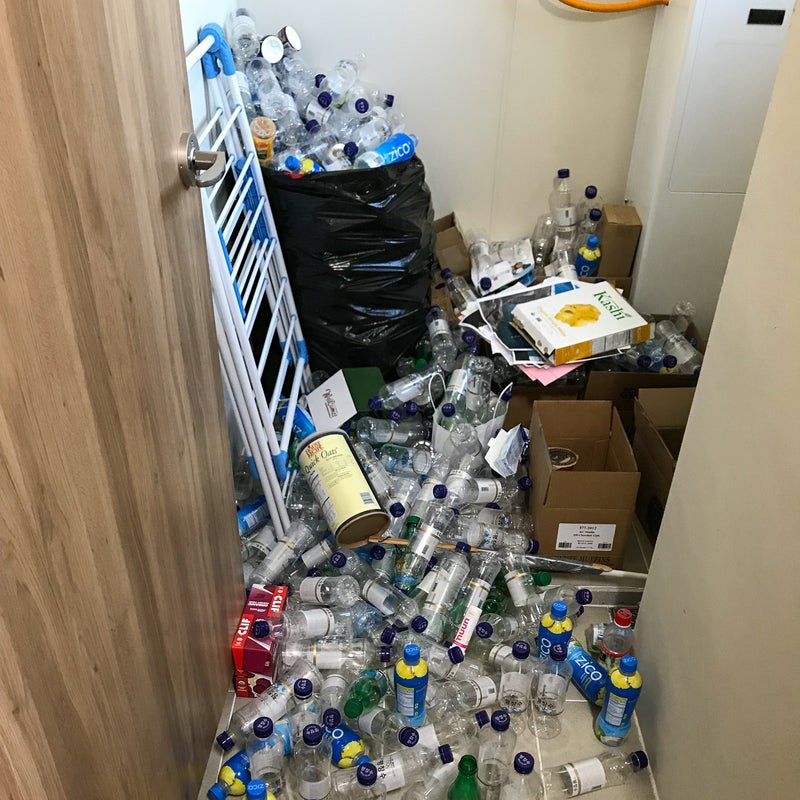 Just to be safe during the Olympics and avoid any contamination, my teammates and I drank an insane amount of bottled water. Coca-Cola sponsored the team, so we were able to get free drinks at any vending machine around the village. Several times a day, we would hit up the machine in the foyer of our tower and load up a whole tote bag with bottles of water. We meant to take the bottles to the recycling bin daily, but we kept putting it off while we stored the bottles in a closet. By the end, it was a little out of hand.
Voting
Every games there is an election for the IOC Athletes' Commission, the body that represents the athletes within the Olympic movement. Voting takes place during competition, and all athletes are encouraged to participate in electing two new members. The voting booth was right at the entrance of the main dining hall, which made it nearly impossible to go for a meal without getting asked to cast your ballot. Every athlete who did vote in the election received a black knit hat or mittens emblazoned with the Olympic rings. In the end, 84 percent of all the participating athletes cast their votes—the highest-ever turnout for the Winter or Summer Olympic Games (and even higher than we get for presidential elections!). It was powerful to see so many athletes walking around in their black Olympic hats as a sign that we are all united by the Olympic movement, rather than divided by our individual countries. It's also very telling that so many athletes voted, showing that we are more engaged in our rights and our future than ever before.
The Ceremonies
Opening and closing ceremonies have always been a highlight of my Olympic experiences, and Pyeongchang did not disappoint. Even though I was racing the day after the opening ceremony, I just couldn't miss the chance to get all dressed up in our team outfit and march into the stadium with my team. It's such an amazing feeling. Team USA looked great in our blue jeans, mountain boots, and suede cowboy gloves. The battery-powered heater in the jacket—the first time we've had such high-tech help—made hanging out in the cold totally doable.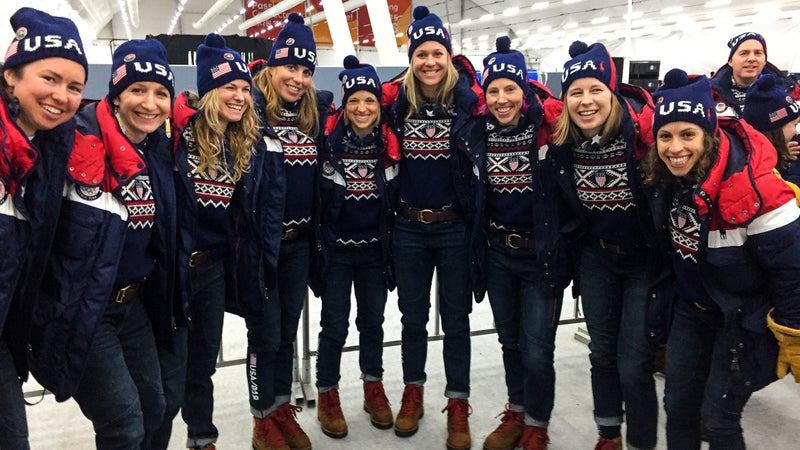 For the first time ever in my five Olympic trips, I had the privilege of standing on the medal podium on behalf of Team USA. We wore our special Team USA podium outfit, which I had not dared take out of the bag until my final competition was done, and we received hair and makeup service in the staging area before our turn on the stage. The ceremony chief prepped us on ceremony protocol before it started. We were to wait until our country had been called out in three languages (French, English, and Korean) before stepping onto the podium. When we got out there, however, I got a little excited and started to step up after I heard our name in English—whoops! We did a little dance on the podium, and then had the medals draped around our necks. I almost stumbled forward because I didn't expect the medal to be so heavy! I kept my cool until they raised our flag, and I saw my family and teammates in the crowd watching—then I couldn't help but get choked up. It was more incredible than I could have ever imagined.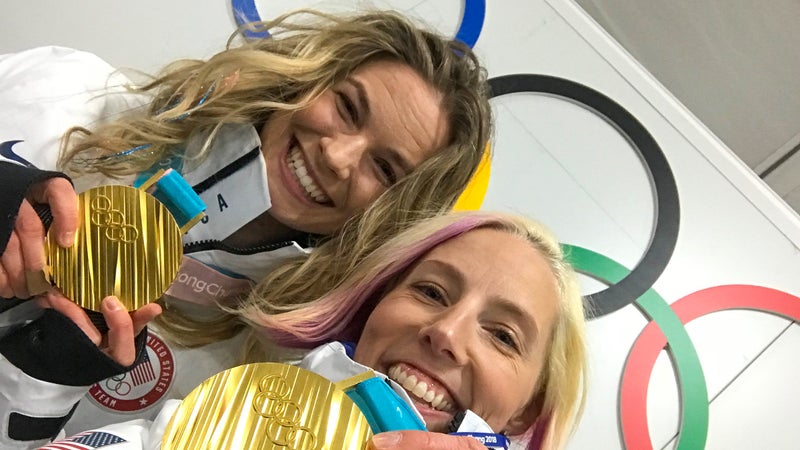 The days following the gold medal ceremony were a total whirlwind. After a couple full days of media interviews and finding out that I had been elected to the IOC Athletes' Commission, it was suddenly the closing ceremony. This time, all the teams walked in together, and it was fun to pose for pictures and high-five my friends from other countries and some of the new friends I had made during the games. Another first: I got to play a small role in the closing ceremony, helping thank the volunteers on behalf of the athletes. The rest of the evening was a great chance to recap the previous 17 days and look forward to the future. I love it when the IOC president says, "I now call on the youth of the world to assemble four years from now." Though I am winding down my career, I'm so excited and optimistic for the future of the Olympic Games and their power to do good in the world.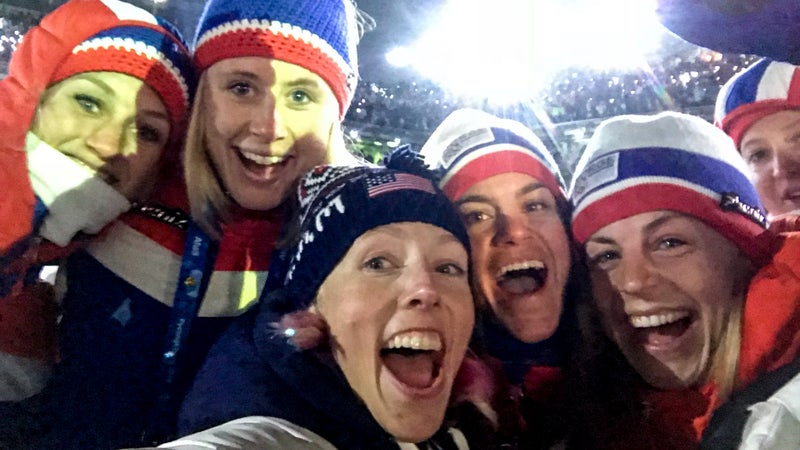 With the extinguishing of the Olympic flame, my Olympic journey as an athlete has officially come to a close. I can't believe 16 years have gone by since my first games in Salt Lake City. It's been such an incredible ride. While it's bittersweet to be moving on, I have so many amazing memories and lifelong friends. Like the founder of the modern Olympics so eloquently said, "I have taken part, and for that I am better for it."
Lead Photo: Courtesy USSA