Kilian Jornet Breaks the 24-Hour Uphill Ski Record
The Spaniard posted an absurd 78,274 feet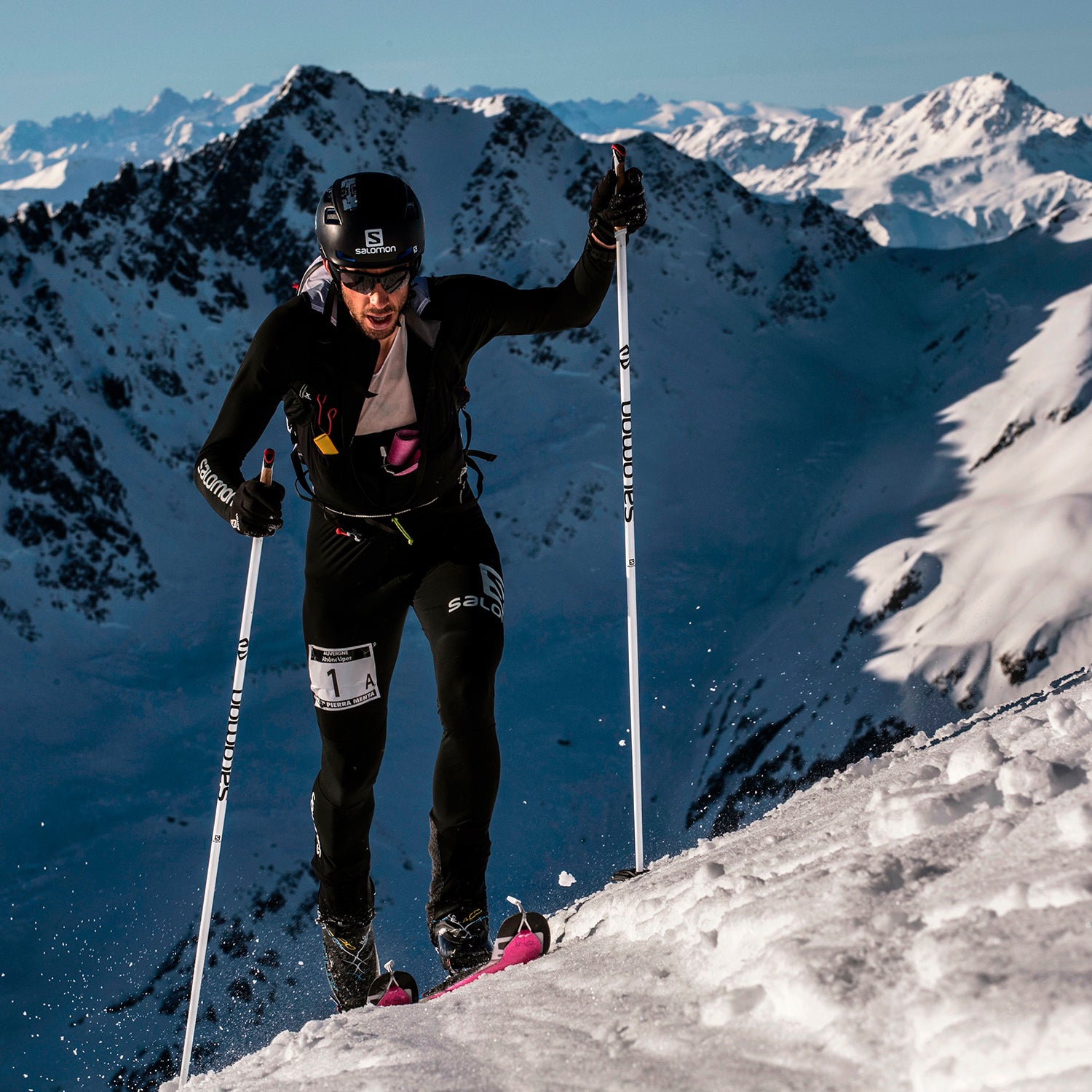 Heading out the door? Read this article on the new Outside+ app available now on iOS devices for members! Download the app.
When news began circulating on Saturday, February 9, that gravity-defying Spaniard Kilian Jornet had posted a new 24-hour uphill-skiing record—23,864 meters—I had to do some quick math. I knew the figure was impressive but not quite how impressive until my imperial-system brain put it into feet: 78,274. That's more than two and a half trips up Everest from sea level. In 24 hours. Or, as was the case, 51 blazing laps on lighted slopes at the Tusten ski area in Molde, Norway.
Jornet is the mountain-running and ski-mountaineering superstar who, among other things, has set fastest known times up some of the world's tallest peaks including Denali and the Matterhorn, dominated World Cup skimo racing, and won grueling ultramarathons like the Hardrock 100 and the Ultra Trail du Mont Blanc (UTMB). In fact he's already ascended the real Everest twice, though it took him a week. I stopped being surprised by Jornet's feats of mountain athleticism after writing a profile of him in 2018, but that hasn't diminished my admiration.
The 24-hour uphill record is an obscure milestone that stood unassailed for a decade, since Austrian Ekkhard Dorschlag notched 60,000 feet in 2009. In March 2018, American Mike Foote nipped that mark with a 61,200-foot effort at Montana's Whitefish Mountain Resort. Foote's effort was surpassed in May by Norwegian Lars Erik, who skinned a total of 68,697 feet; that same month, fellow Norwegian Malene Blikken Haukoy set a women's record of 50,656 feet.
As Jornet himself has pointed out, he doesn't consider his accomplishment a record but rather a test to "see how his body will perform." (Um, pretty good?) Technically, records need to be conducted following the same rules regarding location and specifics like gear, support, etc. Still, informally, the endurance community tends to treat them as records, much like FKTs, so long as they can be reasonably verified. (Jornet posted this effort on Strava.) Similar 24-hour endurance tests aren't uncommon in cycling and mountain running (in Italy, one such contest allows runners to take a lift down between laps), but the personal challenge may be what matters most. "How many push-ups can I do in a minute? How long can I hold my breath? How far can I ski in a day?" says Foote. "In the end, it's all arbitrary and contrived, but it gets people to ask, What am I capable of?"
On Friday morning, Jornet ate a modest breakfast of two small cinnamon rolls before he and his partner, Emelie Forsberg, drove to the ski area, not far from their home in Norway. They met a small support crew, including a few friends and members of the local Romsdal Randonee Ski Club. Jornet blasted off at 10:05 A.M. He was kitted out in ultralight skimo race gear, including Salomon's Minim ski with Pierre Gignoux Ultimate Bindings, and Gignoux race boots, rotating through four pairs of skins.
Jornet lapped the same circuit at the ski area for the duration of the event, a mostly groomed run that climbs 1,804 feet over 2.7 miles. (During the night he shortened the loop slightly to 1,404 vertical feet and 2.2 miles.) The weather was mostly clear and cool, with temperatures hovering in the low thirties. Jornet, who is known for how little he eats during long endurance events, maintained a steady intake of around 250 calories an hour, consisting largely of sports gels (40 total) but also including a couple slices of pizza, some mashed potatoes, "a portion of a cheese sandwich," and water mixed with blueberry syrup. He peed four times but didn't poop once. (Time saver!)
In an email, Jornet told me that he felt great for almost the entire 24 hours, though he got sleepy during the night. He'd prepared a playlist on Spotify—some Hendrix, AC/DC, Kings of Leon, and others—to get him through the dark hours but didn't turn it on. "I was focused on small goals, so never had that long period of boringness," he wrote, "and I was accompanied [by other skiers] all night."
By just after 10 A.M. on Saturday morning, Jornet had sustained an overall pace of 978.8 meters (3,211.3 feet) per hour. A numbers nerd, he points out that if you subtract transitions and downhills this comes to a startling 1,065 meters (3,493 feet) per hour. I thought about how this compared with my PR at my local hill, where I recently managed to ascend 1,700 feet in about 35 minutes. Once. And it almost killed me.
Jornet is skipping the World Cup skimo racing season this year to stick closer to home. He and Forsberg are expecting their first child in March, and Jornet says he'll focus on less travel for the relatively short World Cup events in lieu of a few longer races, like Italy's Mezzalama. That is, "If the baby allows," he says. A whole new kind of endurance challenge awaits. I'll be surprised if it slows him down.
Lead Photo: Jeff Pachoud/AFP/Getty