Lindsey Vonn's Last Olympic Downhill Medal
At 33 years old, she became the oldest woman to medal in alpine skiing—thanks to smart, restrained racing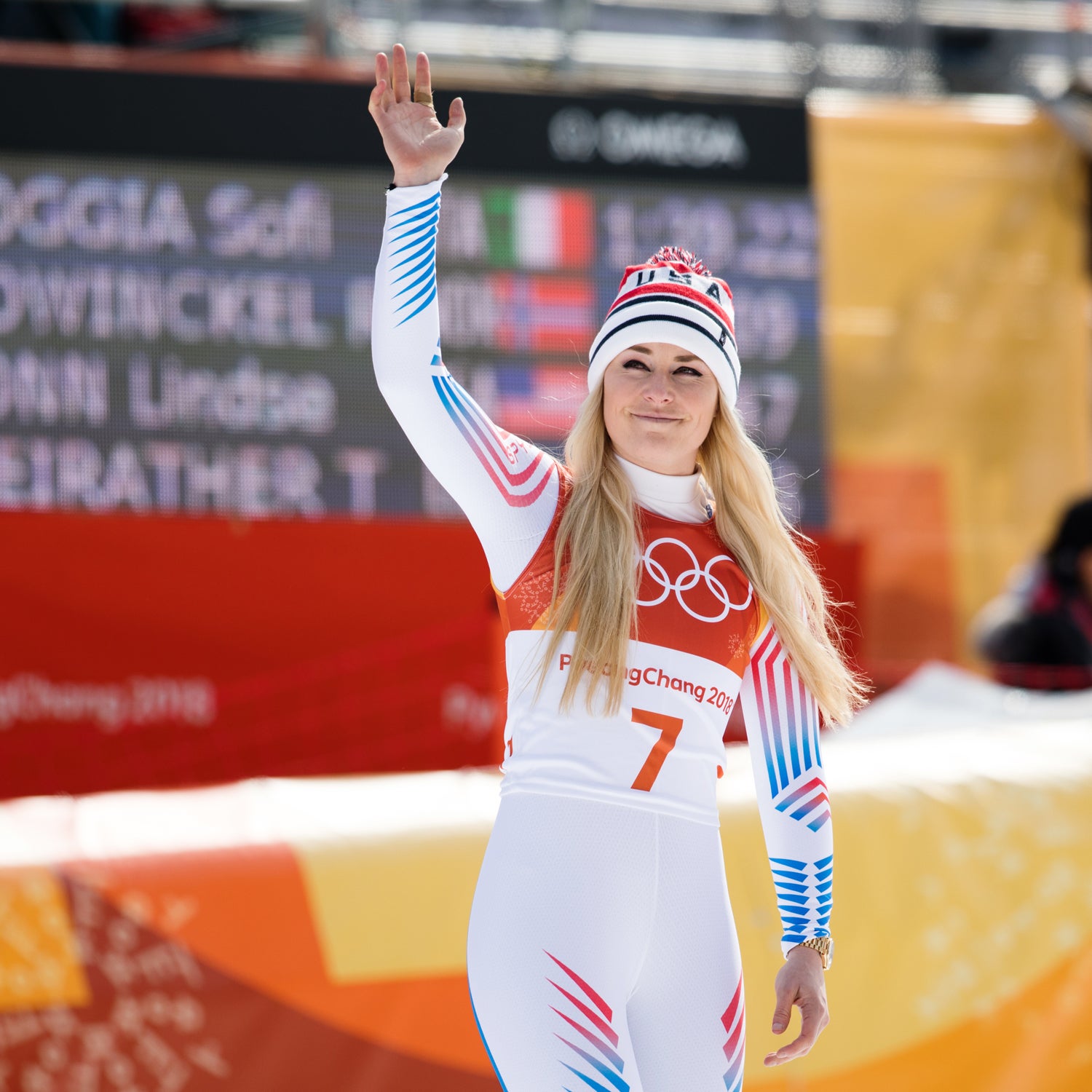 Heading out the door? Read this article on the new Outside+ app available now on iOS devices for members! Download the app.
As Lindsey Vonn stood in the start gate in Pyeongchang yesterday, waiting to race her final Olympic downhill, NBC declined to show the racer then on the course, Germany's Kira Weidle, instead keeping the camera locked on Vonn. She took a series of quick, short breaths, and stamped her feet. Bode Miller, commentating for NBC after retiring from racing last fall, grimly noted her isolation. "There's no one who can help you. You're alone, at that point," he said. (Weidle, omitted entirely from the primetime broadcast, finished 11th.) Vonn gave a tight smile, pumped her right hand, and, a minute later, pushed out of the start gate.
Vonn's run wasn't flawless. Needing to ski aggressively through the course's choppy upper section, she played it safe, and lost a tenth of a second to Sofia Goggia, the 25-year-old Italian who sat in the lead. "She's not taking risks with the line," Miller said. Vonn thrashed through the next three gates, trying to straighten out, but the momentum was lost and she skied into second place, four tenths behind Goggia. Twenty minutes later, Norway's Ragnhilde Mowinckel would bump Vonn down to third, where she remained. Behind Vonn, Americans Alice McKennis and Breezy Johnson finish fifth and seventh, in surprising and strong races. Vonn's bronze medal goes with her 2010 gold, and the distinction—at age 33—of becoming the oldest woman to medal in alpine skiing.
After the race, in an interview with USA Today, Vonn's formerly estranged father Larry Kildow confirmed Miller's assessment. "She needed to go for it a little bit more,'' Kildow said. "She needed to risk more.''
Well, perhaps. Except that Vonn's career has been defined to an extreme degree by going for it, and Vonn knows better than anyone what going for it does to a body. On Tuesday, the New York Times published a graphic detailing Vonn's injuries, which include concussions, torn and broken knees, and fractures to her ankle, wrist, left pinky, and right arm. Several of the downhill's top contenders in Pyeongchang, including Switzerland's Lara Gut and Italy's Federica Brignone, missed gates or crashed out before reaching the finish line, and Vonn may have judged the risk appropriately. Third is better than another knee surgery. In the aftermath of an Olympic build up that has featured inevitable media hype and also the death of her grandfather and a vicious right-wing troll campaign, Vonn could be excused for wanting to make it off the mountain without calling for a medevac. (Again, not an idle concern.)
Vonn missed the Sochi Olympics due to injury, and has kept her career alive to train for Pyeongchang and chase the overall World Cup wins record. At 81 victories, she's six short of the record, and plans to ski one more season to capture it before retiring. Speaking to NBC after the race, that finality seemed to set in. "I worked so hard, and I tried my butt off," she said, in tears. "It's sad. This is my last downhill. I wish I could keep going, you know? I have so much fun. I love what I do. My body just can't, probably can't take another four years. But I'm proud."
Lead Photo: Courtesy Sarah Brunson/USSA