The Price of Free-Heel
He is the undisputed king of an immensely grueling sport. So why must Reid Sabin shovel dirt just to get by?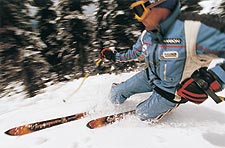 Heading out the door? Read this article on the new Outside+ app available now on iOS devices for members! Download the app.
IF YOU THINK it's glamorous to reign as the top-ranked telemark ski racer on the planet, talk to Reid Sabin, a two-time World Cup champion who travels to Slovenia this month to compete for his third consecutive title. Free-heel skiing is a popular alternative to alpine skiing, but as a spectator sport it's more obscure than luge. There are no prize purses, no endorsements to speak of, no ESPN specials, and (at least until 2006) no chance of Olympic status.

So darned fun: Sabin makes short work of the fresh at Big Mountain, Montana.

Consequently, even the greats must scrounge. Sabin once sold raffle tickets to raise money for competitions. While his wife Kirsten works at the local phone company in Kalispell, Montana, he spends summers installing lawn sprinklers. And when Madshus, his ski sponsor, comped him a few sets of free sticks, he hawked them, slightly used, on the Net and used the proceeds for hotels and airfare.
Oh, well—cash isn't the only motivator around, and Sabin, now 30, reaps his rewards on the slopes. In his first championship season, 1999-2000, he became the first American to win telemarking's World Cup, and by the following winter he'd cleaned up in 11 of 21 cup-circuit races. In Slovenia, he'll be doing what he does best: making the competition quake and scratch their heads. Even the Norwegians—the longtime masters of a sport that meshes the suicidal speeds of downhill racing with the brutal aerobic demands of cross-country—are worried. "Some Norwegians don't think they can ever beat him," says Marius Möbius, the 1996 overall World Cup champ. "He's a very focused guy."


It took Sabin years to get to this point. As a teenager living near Tacoma, he was a promising alpine racer, but distance from the slopes forced him to leave that destiny to the resort brats. It wasn't until 1993, when he went off to college in Missoula, Montana, that he first laced up a pair of $12 leather telly boots. Before long he'd sold his Subaru to buy a pair of Scarpas and moved to nearby Whitefish, home to seven of 11 members of the national men's and women's telly teams. After a top-15 finish in a 1998 World Cup race, Sabin gave himself an ultimatum: "I was either gonna do it and win," he says, "or not do it at all."


His success owes much to his love for telly's signature race, a brutal steeplechase known as "the classic" that features slalom gates and a banked berm that spits skiers out of the steeps and into grueling uphill skating portions. Sabin is adept at each phase of the classic, but it's the way he churns through the skate as if immune to pain that earned him the nickname "Die Maschine."


Ask Sabin and he'll tell you that the closest he comes to machinery is the backhoe he operates in Whitefish to make ends meet. And that suits him fine. "A lot of people say, 'You've got nothing out of it, it never gets any easier,'" says Sabin. "But I would do it all over again, because it's so darned fun."