Sarah Burke Surgery Successful
In an interview from Sarah Burke's bedside, friend & fellow ski star Kristi Leskinen gives Grayson Schaffer the prognosis.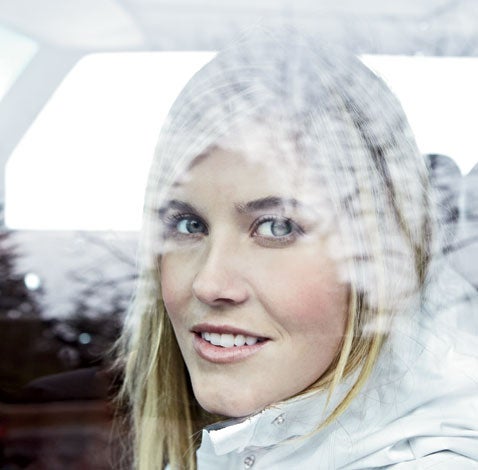 Heading out the door? Read this article on the new Outside+ app available now on iOS devices for members! Download the app.
A friend of critically injured half-pipe skier Sarah Burke has spoken up. Burke's close friend and fellow competitor Kristi Leskinen talked to Outside's Grayson Schaffer to report that Burke's surgery to repair a torn vertebral artery was successful, but that doctors are keeping her sedated and under close watch. According to the latest press release from the family, issued yesterday morning, Burke is still listed in critical condition.* Burke has been unconscious since a fall, Tuesday, in the Park City superpipe, in which she landed on the back-left side of her head.
OUTSIDE: Any update on Sarah's condition?
Leskinen: It's a very serious situation, and she's fighting. Surgery was a success and that's a massive step in the right direction, but with head injuries, you don't know much.
Is she at all responsive?
She's in an induced coma, so she's totally unresponsive. She's had quite a lot of swelling on the brain. The coma is to keep her heart rate down and prevent any further swelling of her brain. Her surgery yesterday was pretty major and lasted several hours.
Do the doctors have any idea of how her recovery's going to look?
It's hard to say with a traumatic brain injury, but she's doing well. I know people are saying this, but it is true, she is the most resilient person I've ever met. I've seen her bloodied and bruised and broken, and said, "How're you doing?" and she always says, "I'm fine!  I can't even tell you how many times I've been with her—and she's taken some bad crashes—and you say, Sarah, that was a bad one. You're bleeding. And she'll say, I'm fine. If strength, heart, and toughness play any role in her recovery, she's going to be absolutely fine.
Does she have a history of concussions?
I don't know of any concussions. I had a brain hemorrhage in 2005. I'm aware of a lot of her injuries, and I'm not aware of her ever having a concussion.
Do you know who was with her at the time of the incident?
It was a big crew of guys: the Monster Energy ski team was up there, and there were a lot of people at the pipe. The Park City crew and staff were also there—Jeremy Cooper [the Park City terrain park manager] was the first one on the scene.
What happened?
From what Jeremy told me, the crash was sort of uneventful—it wasn't a crash where you go, that was awful! The kind where you start running before they hit the ground. As far as I know the eventful part was that she clearly wasn't moving once she hit the ground. It was immediate. When I had my head injury, I didn't get knocked out immediately, but her condition was serious from the start. She's been unconscious since.
Where did she take the hit?
The back left side of the head. The doctors say they repaired her vertebral artery.
How was the emergency response?
I think it's important to applaud Park City because they were on it instantly. Life Flight was called within minutes.
A lot of the reports are saying, Park City, Utah: same pipe as Kevin Pearce—drawing a correlation.  
I think all this media attention has been misdirected. This story was on Good Morning America this morning—but where was all this media attention when she won four X-Games gold medals?
It was last week that they aired a special on Nightline about Kevin Pearce's return to snowboarding [after a similarly life-threatening crash in late 2009]—and then this happened, and all that media attention is turned from Kevin to Sarah. The unfortunate part is, that they only report on this stuff when things goes wrong. So, things always seem to be going wrong.
What would Sarah think of the media attention?
One major thing I know she wouldn't like is the media painting a picture of this sport as too dangerous to participate in, because we're all aware of the risks.  You never expect this to happen, and you certainly never expect it to happen to you. I think it's very unlucky that this accident looks so much like the one that Kevin Pearce had—in the same half-pipe—and that's what the media is jumping on. But I know that Sarah wouldn't want the media to be bashing the sport as too dangerous. She loved every minute of it.  
It hasn't snowed in Utah for a while.  Would manmade snow make the pipe less forgiving?
Not really. When you build a pipe, you churn it up so much with snow cats that it's all the same. What makes a difference is the freezing and thawing—when you have warm temperatures and then cold temperatures. That's what we've had this year, and that would cause conditions to be harder than normal.
Is the 22-foot half-pipe too high?
I don't think so. The thing you can control in half-pipes is how big you go.  Whereas, on an eighty foot jump, you have to clear eighty feet, in the half-pipe, you can choose not go above the lip. Or you can go a foot above the lip—you can take baby steps.
These things happen, and no, they're not freak accidents, because there is danger involved, but they're few and far between. She wouldn't want to be bringing the sport a massive amount of negative attention.
* A change was made to this article on January 13. The use of the term stable was removed after a press representative for Sarah Burke's family mentioned Kristi has not been in direct communication with the doctors
Trending on Outside Online