Taking Ski Lessons As an Adult Helped Me Excel on the Hill
An Outside editor discovers it's never too late to learn how to ski better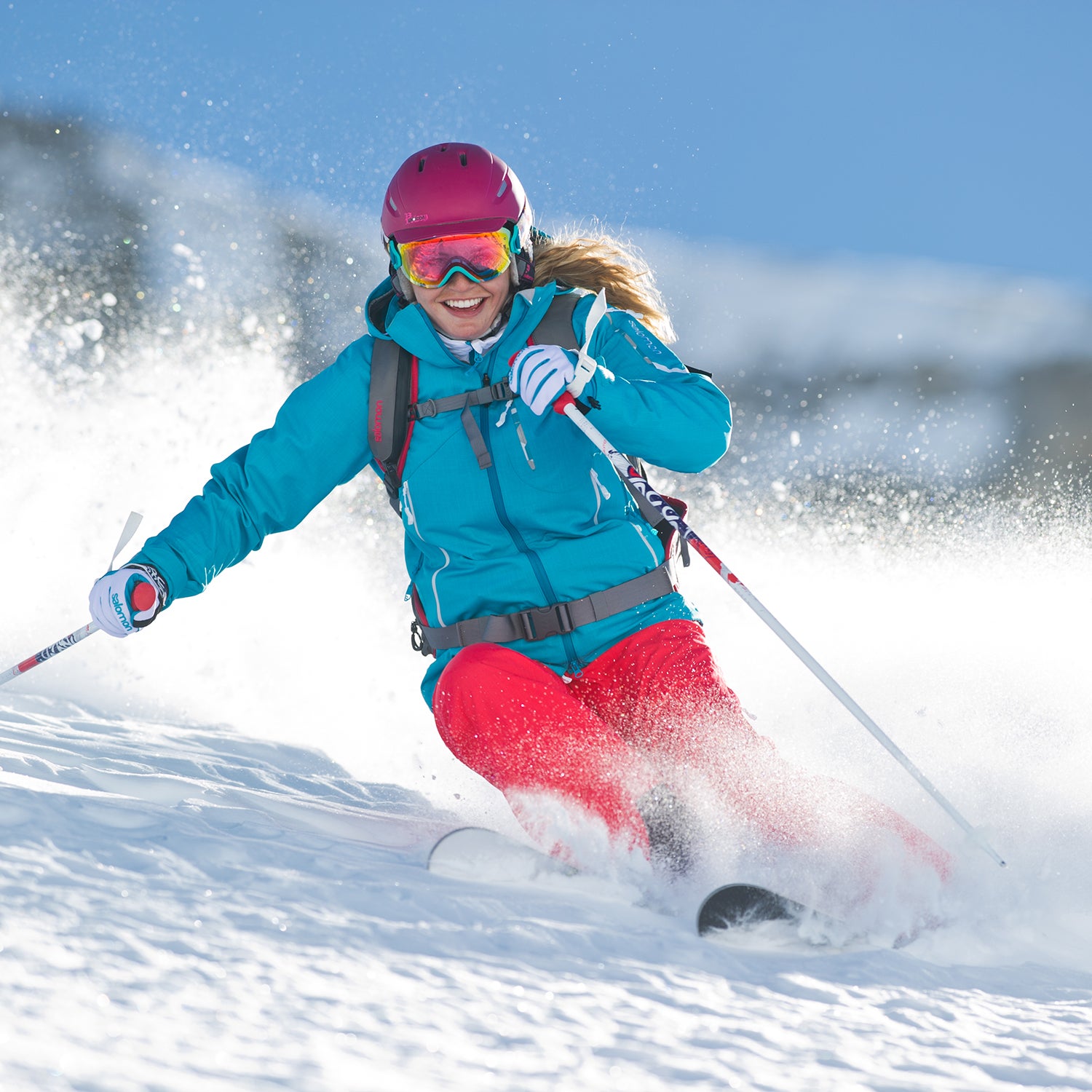 Heading out the door? Read this article on the new Outside+ app available now on iOS devices for members! Download the app.
I allegedly learned to ski when I was three years old, though I don't remember my first days on the snow. There is a photo that documents my initial forays on the hill: I'm stuffed inside a multicolored, very nineties onesie and sandwiched between my mom's tele skis, taking my very first run down the bunny slope at Colorado's Eldora Mountain. These days I can vaguely recall maneuvering through the trees, which I know was my favorite part of being out there, and my mom putting my ice-cold toes directly on her bare stomach (in an effort, I'm sure, to stave off a meltdown and salvage the remainder of a ski day).
In the intervening 23 years, I really should be a lot better at this by now became my ski-season mantra, a self-admonishment repeated under my breath as I side-slipped after friends and coworkers (a statistically improbable percentage of whom are former ski racers or sponsored shredders) down narrow backcountry runs and icy in-bounds bumps. Although technically I was having fun, I was also gripped, stressed, and out of my depth. I definitely was not having as good a time as my companions, who whooped, hollered, and yoo'd their way down the hill far ahead of me. Stuck at a level somewhere above intermediate and below advanced, I spent my ski seasons enviously regarding my friends' ease and comfort on the slopes.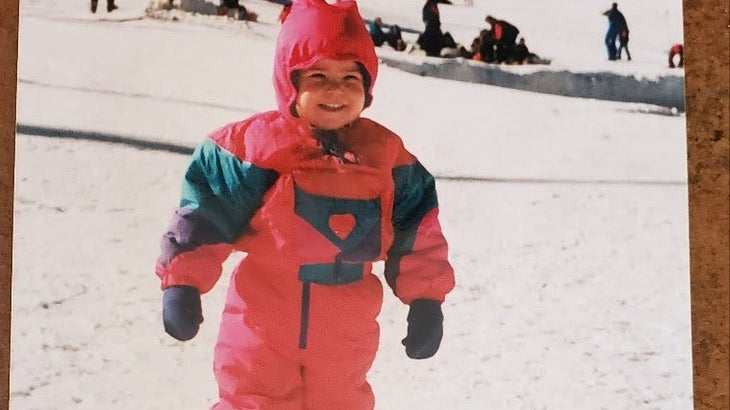 Why did my skiing plateau? Let me count the excuses. Skiing is expensive. I spent ten years in high school and college almost entirely away from snow, and neither school had a ski team. I didn't have my own gear, and then when I did, it wasn't the right gear. And finally, I never took a single lesson. 
But now, in adulthood, those excuses have largely fallen away. I budget to make sure I can afford a pass every year. I live close to several resorts. And while it's too late for me to join a team, I have plenty of pow-hound friends. I bought myself some honest-to-goodness shred sticks, so I can't gripe about my gear anymore. 
At the start of this season, the only excuse that stood between me and what I was sure was steezy ski glory was my objective dearth of technical skill, built on two decades of repeating the bad form I developed as a toddler. So when Taos Ski Valley, my favorite nearby mountain in New Mexico, announced its annual locals' clinic early this winter, I signed up immediately.
Ski lessons, on trend with the rest of the sport, can be extremely expensive. At Taos, a half-day lesson with up to four people costs $550 total. By comparison, the locals' clinic—which offers six comparable lessons for just $300 per person—is a steal. (Many resorts offer something like this; check out your area resorts for similar deals.)
My first lesson was held the second Saturday in January. We met at a lodge midway up the mountain and lined up for a one-by-one ski-off that would sort us into groups. I was so nervous that, on my try, I took one turn, caught an edge, and ended up on my butt. 
I recovered quickly, but my first fall on a groomer in years was a less than inspiring start to my season. Despite my wipeout, I managed to end up in a group of six intermediate-to-advanced skiers—my instructor, Tom, called it Bumps and Beyond. And right away, we were off. By the end of that first day, we'd taken drops and detours I never would have attempted alone. I survived a double-black-diamond run I'd taken a day-ending spill on the previous season. And I had a lot to think about: between laps on expert terrain, Tom also reviewed the basics, making me consciously analyze what, exactly, was happening when I leaned into my habitually messy turns. 
Each week got progressively harder and more fun. We explored almost every corner of the mountain and worked on a range of skills, from body positioning to edge control and pole planting to moderating speed in bumps. We ended runs with rounds of pole clicks and expressions of stoke. Sometimes I even thought these lessons were actually right on time, rather than decades overdue: I contemplated my technique in a way that I'm sure would have gone far over my head as a child, and adult me has had the drive to practice until the lifts close—a determination that mini me lacked. 
Just a couple lessons in, Tom pointed out that my problem was not necessarily a lack of skill, like I'd always thought; rather, it was a lack of confidence to commit to my turns. And of course, he was right. Forced to choose between committing to a steep turn or side-slipping over a bump, I'll usually choose the latter. The problem with this revelation is that confidence is much harder to develop as an adult than as a child, as anyone who has seen a little ripper rocket blindly down technical terrain can attest.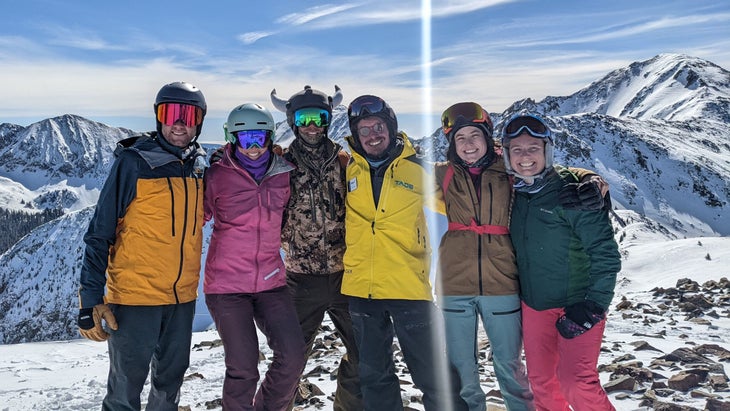 As the weeks passed, however, my confidence improved. Now, having completed the course, I can drop into challenging terrain without hesitation, catch air without panicking, and look at a trail sign bearing two black diamonds and feel glee rather than dread. I'm sure this is partially a result of simply spending more time on skis, but having an instructor show me the line was reassuring in a way that following my sandbagger friends down sketchy runs never was. Though Tom occasionally took us into thin cover that earned me a couple of base scratches (remember: tools, not jewels), I trusted that he wouldn't lead our group into anything we couldn't handle.
I had my final lesson in early February. For our last run, my class headed to Kachina Peak—the very top of Taos (its lift line is littered with "No easy way down" signs). We posed for a picture, wide grins on our faces and the sun in our eyes, before stepping into our bindings and following Tom into another of his many top-secret powder stashes, so well-kept that it was still untracked at 11:30 on a Saturday. We shouted joyfully all the way down the mountain, taking occasional breaks to click poles and marvel at how good the day was. Tom told us he was impressed by how much we'd all improved and remarked that while my confidence had definitely seen big growth, I'd also fine-tuned my technique. As we parted ways at the base, I realized that over those six weeks, my ski-season mantra had changed. Now it's: Damn, that was fun. Let's go again! 
Sick of feeling like a mediocre skier who struggles with bumps, steeps, and speed? Check out our How to Break Through online course on Outside Learn, where Outside+ members get full access to our library of more than 50 courses on adventure, sports, health, and nutrition.
Lead Photo: Scott Markewitz/Getty