Truth and Justus
A freeskier graduates from the Ivy League to avy country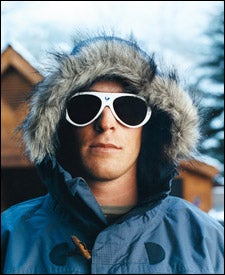 Heading out the door? Read this article on the new Outside+ app available now on iOS devices for members! Download the app.
While the rest of his Harvard classmates migrated to Wall Street and Capitol Hill, Justus Meyer, 25, moved to Jackson, Wyoming, and became one of the hottest upstarts in the world of freeskiing. But Meyer isn't banking on schussing to retirement. Like his financier father, Jack, who managed the Harvard endowment from 1990 to 2005, Meyer's got a business itch. Grayson Schaffer has words with skiing's smaht kid.
The Bottom Line
Guidelines to make the most of winter: »
The outside edges of an uncontrolled lift line move faster.
»
Score discount lift tickets on eBay,
slidingonthecheap.com
, and liftopia.com.
»
Tracking vertical feet is so pedestrian; the true measure of a good day is air time. Silva's Air Pod (0;
silvausa.com
) measures how long you spend above the lip or over the terrain park.
»
How many telemarkers does it take to screw in a lightbulb? Four—one to do it and three to say, "Nice turn."
»
Snowboarders? Four—one to do it and three to film it.
Justus Meyer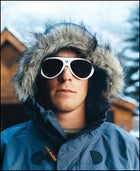 OUTSIDE: How did your pro ski career start?
MEYER: The day after high school graduation, I went to Jackson and stayed for a year. It was like being in college without having to go to class. Some of the Teton Gravity Research film crew showed me the backcountry, and beyond that we learned about avalanches through trial and error.
Error?

My friend Jeff Annetts started an avalanche in view of the resort. We kind of got in trouble for that one. People on the chairlift don't like to see that stuff.
So you had a full year of just skiing and partying between high school and Harvard?
No. My parents wanted me to make my own living, so I worked as a cook in the evenings.
Your dad's a successful financier. How does he feel about the way you're making your living?

If anything, he thinks having this on my résumé will distinguish me when I try to get a real job.
How did you settle on psychology for a degree?

I started out in environmental science and public policy but switched because I was interested in the monkey lab. We did social-cooperation studies to see if monkeys would share their food.
And then you graduated and moved into a coed house in Jackson with ten other skiers. Sounds like more of the same.
There was more than food sharing going on there.
Care to expand on that?

No way.
Where are you in the arc of your ski career?
I'm in transition between competition and movies. Everyone wants to do movies. Landings in the backcountry are much softer than in competitions.
What's next?
At some point I want to go to business school. But I'd like it to feed me into something outside—clothing, a film company… Hey, I should go. I'm at the top of the Jackson Tram, about to take a paragliding flight.