War and Piste
Bamiyan, Afghanistan. Home to the best unexplored ski terrain on the planet, occasional town-crushing avalanches, and only a hint of Taliban presence. Saddle up for an intrepid boot-packing expedition deep into the Hindu Kush.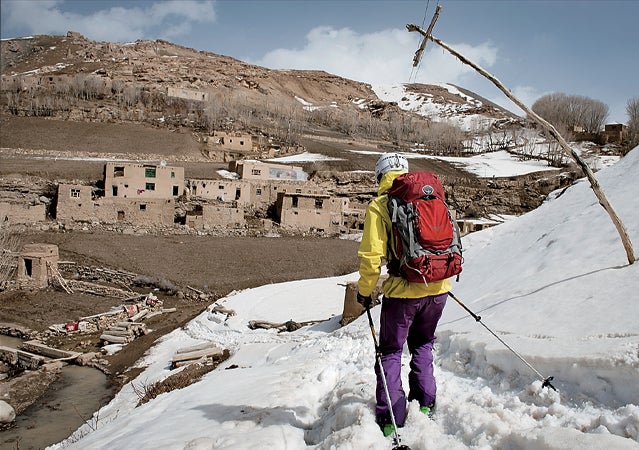 Elliott D. Woods
Heading out the door? Read this article on the new Outside+ app available now on iOS devices for members! Download the app.
As we made our way uphill, kids trickled out of mud-brick houses and fell in behind us, scarves wound around their wind-burned cheeks, thick wool socks under their flimsy plastic shoes. Before long there were two dozen of them, ages 10 to 15: Afghan boys carrying homemade skis—wooden planks with rubber foot straps on top and scrap aluminum nailed to the underside. I kicked the toes of my boots into the frozen mud beneath the snow, making stairs on the slippery ridge. To my left rose a gently sloping alpine face called Kasa Dugh, or the Yogurt Bowl. Across the valley, I could make out a crevice flanked by two steep snowfields. Locals call this the Open Book, for its resemblance to a Koran on a reading stand. Towering above the ridge to our south was the 15,500-foot summit of Mir Shah Khoja.

Fifteen-year-old Rajab riding outside of Jawzari.

Hussein Dad.
Hussein Dad, at left, with a group of Afghan porters on the long uphill walk from Jawzari to Sar-e Chapdara.

Mike Libecki and John Trousdale wisely descending after kicking off two avalanches.

A stream rushes through the Dukani Valley south of Yeti Mak.

Alishah Farhang, the top ski guide in Bamiyan.

Rajab made his snowboard by nailing metal from cooking oil cans to a plank from a tree that he cut down himself.
It was a bluebird March day on a treeless 12,000-foot ridge just outside Jawzari, a farming village of a hundred or so families scratched out of a rocky valley in central Afghanistan's Bamiyan Province. As we progressed up the slope, the boys kept coming: a rosy-cheeked kid with freckles and a threadbare army jacket; a teenager with a wisp of a beard carrying blocky wooden skis and poles made from whittled branches. Some bore wide wooden squares with two rubber foot straps—snowboards. Skiing was new here, introduced only in the past decade, but the social hierarchy of winter sports seemed already to have found its way to Afghanistan. The boarders strutted, lording their coolness over their two-planked brethren.
I was halfway into a three-week backcountry ski trip in Afghanistan's Koh-e Baba range with a childhood friend, John Trousdale, 31, a Durango, Colorado, sports videographer who spends his summers skiing 10-foot-wide couloirs in the San Juan Mountains, and Mike Libecki, 39, a Utah-based climber who recently completed solo first ascents in Kyrgyzstan and Urumqi, China, and who signs email with phrases like "Why ration passion?" We were here for the powder. Bamiyan, an area the size of Connecticut that's easily the safest region in Afghanistan, holds a series of finger valleys with untouched 12,000-to-15,000-foot peaks that are blanketed in snow six months a year. The plan was to explore the nascent alpine-sports culture, which has been growing since 2010, and score some first tracks in an extremely unlikely place.
But the snow was disastrous, Bamiyan's worst in recent memory, thanks to a severe winter drought. Making matters worse, the springtime thaw-and-freeze cycle had turned the subsurface snow into dangerously unstable layers of frozen crust. On top of that, most of the terrain is above tree line, so there are no natural obstacles to slow avalanches—only man-made ones, many of them homes. In early March, a small slide buried two people on a road not far from Jawzari. Just three days after our arrival in Afghanistan, a monster slide in Badakhshan, near the northeast border with Tajikistan, knocked out an entire village, killing about 50 people.
But our new friends weren't deterred by town-burying avalanches. As we made our way up the narrowing saddle toward the high point, the kids sprinted ahead and soon came whipping by on either side of us, crashing and giggling in heaps of secondhand clothes. A 15-year-old named Rajab with a fixed scowl came tearing down on a snowboard made from a tree he'd felled himself, throwing up a vicious rooster tail.
We summited the 12,000-foot ridge. Far to the north, we could see haze-blanketed Bamiyan town, a provincial capital of 60,000 people. On the cliffs beyond, we could make out two enormous black holes shaped like bowling pins—scars left in 2001 when the Taliban demolished two giant, 1,500-year-old Buddha statues. There was no horizon to be found on any side, only the jagged skyline of the Hindu Kush fading into the distance. Beyond those peaks, the war.
The skiers hiked back up to us. One by one, they dropped into the Yogurt Bowl, heading for smoke-filled homes and warm cups of tea. Rajab lingered while Trousdale and I took turns on his surprisingly nimble little snowboard. I'd heard rumors in town that some of the elders in the region were anti-skiing, because they saw it as another example of Western culture corrupting the youth. I asked Rajab about this.
"The only ones who don't like it are the ones who can't do it," he scoffed. "Khuda hafiz," he said, waving goodbye. A moment later, he was a black speck in the bowl beneath us.
IF YOU ARE LOOKING for a ski destination with few creature comforts, zero infrastructure, proximity to an active war zone, and absolutely stunning, empty mountains, you'll love Bamiyan. The province is the cultural bastion of the Hazaras, a minority ethnic group thought to be descended from the Mongol invaders who laid waste to Central Asia in the 13th century. Under the Mongols, Bamiyan flourished as a way station on the Silk Road. These days it's the ninth-poorest of Afghanistan's 34 provinces. That's saying something in a country that consistently ranks near the bottom on global development indexes. Bamiyan's 5,473 square miles contain only a few miles of asphalt roads. Aside from generators and NGO-supplied mini hydroelectric turbines, there is no electricity. Water for the villages is carried by hand from creeks or the languid, garbage-strewn river that seeps through Bamiyan town.
Although international donors have spent an estimated $60 billion on development projects in Afghanistan since 2001, the gravy train has largely skipped Bamiyan, for a simple reason: the place is safe. Development projects are a key part of NATO's counterinsurgency strategy in Afghanistan, so donor funds flow mostly to the insurgent-riddled Pashtun provinces in the east and south, such as Kunar and Kandahar, where foreign forces are trying to erode Taliban influence. It's common knowledge among aid workers in Afghanistan, including a United Nations official I spoke with, that safer provinces like Bamiyan get the shaft. From a counterinsurgency standpoint, there's no reason to spend money there: the Hazaras already support the government. Further complicating matters is the fact that the Hazaras have little sway in Kabul. They make up less than 10 percent of the population and have a long history of oppression by the Sunni majority.
From a tourism standpoint, though, there are plenty of reasons to spend money in Bamiyan. At least that's what the Aga Khan Development Network thinks. The AKDN is the Paris-based, charitable arm of the Ismaili faction of Shia Islam. The organization's stated mission is to "work to improve the welfare and prospects of people in the developing world." The bulk of its $625 million budget comes from international donor agencies like USAID and the United Nations, though significant funding also comes from private donations and the current Aga Khan himself, the Ismailis' billionaire spiritual leader. The AKDN has dozens of for-profit development initiatives, including the high-end Serena Hotels chain, which operates in eight countries in Asia and Africa. The AKDN's efforts are not limited to Muslim communities, but the organization does take a special interest in Bamiyan, because many Hazaras are Ismailis. The network began pushing tourism here in 2008, training tour guides and helping hoteliers set up shop to accommodate the wave of visitors they hoped would come.
"Bamiyan's economy is based entirely on agriculture, but with the harsh climate and constant water shortages, there's only one growing season, so it's not very productive," Amir Foladi, the AKDN's eco-tourism coordinator in Afghanistan, told me. "We believe that tourism can be the backbone for development and that all other sectors of the economy can be linked to it."
Believe it or not, there's a precedent for this. In the 1960s, Western tourists streamed through Bamiyan every summer on the "hippie trail," camping by the six cerulean lakes that now comprise Band-e Amir National Park and stopping in Bamiyan town to get blazed on primo Afghan hash. The place is saturated with ruins, from the ghastly mound of Shahr-e Gholghola, a thriving city sacked by the Mongols in the 13th century, to the hundreds of Buddhist caves that perforate the valley's limestone escarpments.
Suffice it to say, there aren't many hippies traipsing through Bamiyan these days. Since the late 1970s, Afghanistan has known little peace. First came the Soviet invasion of 1979, and when the Soviets finally withdrew, in 1989, the various Afghan mujahideen factions turned on each other, igniting a vicious civil war that ended with the rise of the Taliban. American long-range bombers arrived in 2001, signaling the beginning of NATO's lengthy war in Afghanistan. Thirty years of conflict has left Bamiyan's tourism industry as dead as the Silk Road. But Foladi thinks the area's adventure-sports potential could change that. As he told me, "We saw that winter was a challenge for Bamiyan, so we tried to convert that into an opportunity. We believe Bamiyan can be a four-season tourism destination: spring through fall for trekking and winter for skiing."
Sledding on serving trays, an activity called yakh molak, has long been a favorite pastime in Bamiyan, but no one was crazy enough to stand up while careering downhill until a few years ago. In 2010, a young Bamiyani named Gull Bayzadah, an early protégé of the AKDN's tourism program, raised about $4,000 from friends and family to open a ski lodge in Bamiyan town, which has become the base of the AKDN's winter-sports program. Since then the AKDN has hired five Westerners to spend several months a year in Bamiyan, training a small cadre of local would-be ski guides and leading the occasional foreign tourist. So far no Bamiyanis are ready to lead tourists, but the number of visiting skiers has grown from five in 2010 to 70 this year. This is thanks in part to two Montana skiers, husband and wife development workers Chad Dear and Laurie Ashley, who explored the Koh-e Baba backcountry in 2010 and wrote a guidebook based on their trip, which was funded by the AKDN.
The book, the impressively thorough Ski Afghanistan: A Backcountry Guide to Bamyan and Band-e-Amir, describes a smorgasbord of terrain. In spring, it's possible to drive deep into the finger valleys, gaining access to a near infinite array of sprawling powder bowls and 2,000-plus-foot vertical descents. This I had to try. In 2011, after a reporting trip during which I briefly visited Bamiyan, I met with Trousdale in Durango. Our fathers served in the Navy together, and after I showed him photos of Bamiyan's soaring, treeless ridges, I asked, "What do you think those would look like in winter?" He replied, "Our dads are gonna kill us."
A DOUBLE PROP PLANE flew us from Kabul to Bamiyan's tiny airstrip on a cold, clear Wednesday morning. We loaded our gear into a minivan and rumbled over a 500-yard expanse of potholed earth to the Gholghola Ski Lodge with Gull Bayzadah, 28, the lodge's entrepreneurial owner. A converted family compound in the hills above town, the lodge houses a dozen local guide trainees and a rotating cast of eccentric foreign skiers. Sitting on the concrete-slab porch, we found three well-heeled Europeans—one German, two Swiss—reading newspapers and picking at scraps of eggs and saucisson. More Europeans and Australians soon emerged from the interior, decked out in alpine couture all the way up to their Tom Ford sunglasses. It was the largest gathering of foreigners I'd ever seen in one place in Afghanistan, outside of military bases and Kabul's cloak-and-dagger expat bars. I took it as proof that Bamiyan's ski tourism was on the up-and-up.
We soon met a crunchy, compact 29-year-old brunette from Ohio named Chelsea Leven, who was running the AKDN's guide-training program. Back in the States, Leven, who holds a degree in geology from Amherst College, works as a guide on small tour vessels in Alaska. This was her first trip to Afghanistan, and she had high hopes for the ski-guide program. "They've already come a long way, and they're all so excited to be here," she told us cheerfully. "They love skiing."
They also love the lodge, which is by far the hippest place in Bamiyan because it has a diesel generator. Bamiyan is a sleepy town. During the day, the main drag is full of vendors selling spices, produce, and bottles of gasoline. Men on balconies fan grills laden with kebabs; Chinese motorcycles buzz around in swarms. A large lot at the center of town holds piles of coal and wood—the only source of heat and fuel for most households. Then, after sundown, with no electricity, the bazaar goes completely dark. When I say there is no nightlife, I mean that in the literal sense. But at the Gholghola Ski Lodge, guides and guests update their Facebook pages on the office computer, sip Alokozay tea, and chat well into the night under the blue glow of fluorescent tube lights—a big night in Bamiyan.
Our first evening at the lodge, Libecki put in a call to his friend Hussein Dad, 28, a mustachioed potato farmer and part-time tour guide from the nearby village of Saeedabad. Hussein Dad worked with Libecki on his two previous climbing trips to Bamiyan and would be our fixer, guide, and translator. Early the next morning, Hussein Dad rapped on our window, a huge smile on his ruggedly handsome face. He's a soft-spoken guy who, during the 1998 Taliban invasion of Bamiyan, saved countless lives by trekking back and forth over 12,000-foot mountains to bring food and medical supplies to isolated refugees. Now he makes his living guiding summer tourists to Silk Road highlights like Band-e Amir, and he hopes to supplement that income guiding skiers.
He was understandably leery of the Taliban. With war-weary NATO countries, including the United States, looking to exit Afghanistan posthaste, insurgent groups are poised to reassert themselves. It'll be up to the fledgling Afghan army and the notoriously corrupt police to protect the Bamiyanis, and that hasn't always gone well. In June 2011, just a month before the Afghan government's security forces took over operations in Bamiyan from NATO, assassins kidnapped and murdered the provincial council chief, Jawad Zahak. Many residents understood the murder as a chilling message from the Taliban to the Afghan government: We're still here.
"If the U.S. leaves tomorrow," Hussein Dad said, "the Taliban will take over even in Bamiyan. Already two districts are controlled by the Taliban." He pointed out the dangerous districts on a wall-size Soviet map of Bamiyan. They were well north of Bamiyan town, and as we plotted our valley-to-valley ski tour, we made sure to avoid them, picking out a string of villages to the south of town.
"We can go to all of those places?" I asked. I've taken five reporting trips to Afghanistan in the past three years, often embedding with U.S. troops, and am used to traveling with a price tag floating over my head. The idea of moving around with such freedom was a shock. "No problem," Hussein Dad said. "I know people in all of these villages."
Our ski guide would be Alishah Farhang, 20, the son of shepherds from remote Kushkak village and the star of the AKDN guide-training program. When we first met Alishah, he was rocking an electric blue Arc'teryx soft shell, shiny black Oakleys, and a brand-new Tissot watch. The timepiece was his prize for winning an event in the second Afghan Ski Challenge, a downhill race that began in 2011. "I'll probably sell it," he said, holding the watch up to the light coming in through the window. "I could use the money to buy a motorcycle." Libecki recognized a kindred spirit in the blossoming ski bum, and it was only a matter of days before Alishah could be heard around the compound uttering Libecki-isms like "Life is sweet!"
AFTER FIVE DAYS AT the lodge, it was time to ski. We wanted to check out a high ridge above the Dukani Valley, but first there was the matter of getting there. Our mode of transport was a Toyota 4Runner piloted by a taciturn man in an ivy cap named Abdullah, whose attention was always divided between the road and the DVD player he'd mounted on his dash, which played a steady stream of Shakira videos. This was our second trip with Abdullah; the first had ended with the 4Runner buried in a five-foot snowbank. We were reluctant to hire him again, but Hussein Dad insisted. He and Abdullah were neighbors, and in Afghanistan you can't just fire your neighbor. So Hussein Dad, Alishah, Libecki, Trousdale, and I piled in, Abdullah cranked the DVD player, and we set off, dusty fields giving way to snow and mud as we climbed higher into the narrowing valley.
We passed 19th-century qalats that looked like fairy-tale castles made out of mud, complete with turrets, moats, and 30-foot walls. Soon, the mountain road was barely wider than a goat track, and there was nothing but air between our 4Runner and the valley floor a few hundred feet below. On the little screen, Shakira gyrated to "Hips Don't Lie."
Trousdale saw the sheep-size boulder in the road first. "Abdullah, watch out!" he yelled.
Hussein Dad didn't have time to translate, Shakira continued to shake it, and Abdullah crashed into the boulder, shredding the right rear tire clean off the rim and stopping us dead in our tracks. Half an
hour and one spare tire later, we reached the end of the road, a tiny village of two or three cliffside qalats called Yeti Mak. We stepped out of the Toyota, shouldered our gear, and hiked over piles of donkey dung to the top of the village, where we could see a wide snow bowl ringed by rocky ledges. It was about 40 degrees out. We pulled our skins onto our skis and pointed them upward.
We knew conditions would be rough because of the drought and warm temperatures. Still, we hadn't expected this. Beneath us was a two-foot layer of ice pellets covered by a frail crust. Trousdale, who skis the Colorado backcountry as often as some people walk their dogs, said, "These are the worst conditions I've ever seen." We set out cautiously, postholing through the crust. Every so often, I'd hit a patch of snow that was hard enough to support me. I would sigh with relief, only to drive my skis three feet deep on my next stride. I heard the whump of massive snow settling beneath my feet.
"No way I'd even consider going out in conditions like this back in Utah," Libecki said.
Alishah, however, was unfazed. As we marched upward, slowly breaking ice, he tacked back and forth with the long, graceful strides of a Swiss mountaineer. "I'd be cruising like that, too, if I weighed 50 pounds," Trousdale said. A child of the oxygen-starved Koh-e Baba mountains, Alishah's aerobic endurance on the climb came as no surprise. Going down, on the other hand, was another story. It turned out he'd never been this high before. Alishah, shining light of the AKDN's ski-guide program, was hardly an expert. He'd been at it only two years, and almost all of his runs had been on low-grade backcountry bunny slopes. But what Alishah lacked in experience he made up for in enthusiasm. The sun was directly overhead when we caught up to him. Trousdale was concerned.
"Maybe we should go back down from here," he suggested.
"Yes, we go down, soon will be very dangerous," Alishah replied. He then promptly formed a textbook snowplow, swung the tips of his skis downhill and, with his arms thrust out to his sides, bombed down with all the control of a greased infant on a waterslide. A few seconds later, he somersaulted and face-planted directly into the ice.
THE SKIING WAS ATROCIOUS, but something remarkable happened up in those mountains: Hussein Dad delivered on his promise to introduce us to locals on their own turf. The day after our debacle in the Dukani Valley, we connected with Rajab and his merry band of teenagers on a full-day trek to the village of Jawkar. By night all five of us—Hussein Dad, Alishah, Trousdale, Libecki, and I—were crashing in the home of the village chief, a wire-thin man named Abdul Ghani who kept a steady stream of green tea and chewy naan coming our way. We spent that evening and the next drawing pictures with village kids and listening to Abdul Ghani's and Hussein Dad's war stories around the bukhari, the uninsulated woodstove in the center of the eight-by-10 reception room.
Abdul Ghani, who at 48 had already bested the average Afghan life expectancy, told us in his gravelly, matter-of-fact Dari about the 1998 Taliban invasion. The insurgents had taken Kabul in 1996, but they didn't storm Bamiyan town for two more years. The Bamiyanis, including the residents of Jawkar, fled into the highest passes of the Koh-e Baba, where the Taliban wouldn't follow.
"We went over the mountains you were on yesterday," Abdul Ghani said. "We abandoned our homes and didn't come back until October. Everyone had to escape. While we were gone, they burned some of our houses and smashed our windows and doors." In the barren alpine terrain, the villagers barely survived on wild plants and livestock. "Some people were so hungry they were eating grass," Abdul Ghani said. Then he passed the tea.
All of this was nothing short of extraordinary. Opportunities to visit Afghans in their homes are extremely rare because of security concerns. During the five trips I've taken to a dozen provinces since 2009, I have been invited into an Afghan's home only a couple of times, and then only for an obligatory cup of tea. It's simply too dangerous for Afghans in most parts of the country to be hospitable to foreigners; doing so invites the potentially lethal curiosity of the insurgency. Forget a beer in a hot tub—I'll take tea at Abdul Ghani's any day.
Which is why I cringed at the high-pitched whine of a voluminous fart in front of the bukhari on the second night. All of our stomachs were roiling after two helpings of greasy rice and beans, and the tea kettle was making its way around. I was stretched out on a cushion along the wall, basking in the heat of the bukhari, tired from skiing and a rough bout with a parasite, wondering if I'd have to squash any more scorpions like the one that had just crawled down the wall toward my head. A dozen or so curious kids had trickled in to gawk at our gear and hear Abdul Ghani's stories. He was only a few feet from Libecki, discussing his hopes for Bamiyan's tourism potential. The rumble was loud; Abdul Ghani certainly heard it.
Here I should note that flatulence is no laughing matter in Afghanistan. In fact, it's among the highest offenses in the local culture, on par with asking about your hosts' wives or talking about sex or showing up drunk to the mosque. I can't count the times I've heard Afghan men say, "If I ever farted in front of one of my friends, I would have to kill myself." Afghan soldiers regularly complain that their American partners fart too much, something they find humiliating. There are even legends of flatulence-induced massacre. In one story, a wealthy warlord invites a dozen elders for a feast. After the meal, the host reclines on a cushion, regaling his guests with tales of valorous combat against the infidels. In his relaxed state, he accidentally rips one. Rather than endure lifelong humiliation, the warlord orders his sons to slaughter the guests on their way out. We'd all been scrupulously avoiding the indiscretion thus far, but accidents happen.
"Sorry," Libecki murmured. It was obviously not intentional. I felt his pain: my own guts were in full revolt, and I was barely hanging on. Of course, Abdul Ghani and Hussein Dad were too polite to even acknowledge they'd heard it, and the conversation rolled on as if nothing had happened. Abdul Ghani showed us brochures from a United Nations program that was helping villagers like him turn their traditional high-alpine summer grazing camps, called ailaqs, into destinations for tourists. "There aren't any other jobs," Abdul Ghani said. "Of course the people are interested in tourism."
Now Abdul Ghani had a question for us: he wanted to know why Bamiyan had received so little aid. He said he had discussed Bamiyan's need for a new school—the current one was a tent—with representatives of the provincial government and a NATO reconstruction team. "We hear through the media that a lot of money is being spent in other provinces, but none of the roads in Bamiyan have been paved," he complained. "No new schools have been built. Nothing has happened. Why do they make such promises and not keep them?"
I told him what I knew—that Bamiyan has been neglected by the international community because of its safety. I didn't share my conviction that Afghanistan is perched on the edge of absolute disintegration. If Bamiyan's modest dreams seem overly optimistic today, they will be laughable in the post-American security vacuum.
Abdul Ghani and his brother Kareem flipped on a battery-powered DVD player and lost themselves in Tajiki slapstick. Libecki and Trousdale, looking drugged, curled up on the cushions where they sat. I dragged my sleeping bag out into the cool vestibule, away from the musty, smoldering heat of the bukhari, and went to sleep.
THE NEXT MORNING WE said goodbye to Abdul Ghani and his family and piled into Abdullah's 4Runner. Miraculously, we made our way back to the Gholghola Ski Lodge without incident. At the lodge, a staffer caught me up on the news: that morning, March 11, while we were sleeping at Abdul Ghani's house, an American soldier had gone on a solo rampage through a Kandahar village, murdering 16 Afghan civilians in their beds. The peace I'd felt by Abdul Ghani's bukhari was replaced by a creeping sense of guilt. We were putting ourselves in danger in pursuit of a thrill, one that not many other Westerners were likely to experience. I was perhaps one of the first and last American tourists who would be hitting the slopes of Bamiyan, despite the hopes of Alishah, Abdul Ghani, and Hussein Dad.
NATO is scheduled to complete its hand-over of security operations to the Afghan government by the end of 2014. In the absence of tens of thousands of foreign military personnel, the flood of aid and development money into Afghanistan will likely dry up, and the shrinking funding and spiraling insecurity will drive the NGOs away. Amir Foladi promised that the AKDN will stay for the long haul, but without any pleasure-seeking humanitarians to bolster Bamiyan's tourism industry, it's unlikely that the newly trained guides will have much business. When Alishah told me, "I want to be a professional skier, and I hope someday I will be able to compete globally and make Afghanistan proud," there was not much to say.
OVER THE NEXT FEW days, we made several more attempts to ski, but the season was over. There was nothing but walls of thawed and refrozen snow primed to slide. On a ridge near Kushkak, Alishah's native village, we boot-packed up the bare, muddy southwest-facing side of the slope, then traversed to the north side, where the snow was still several feet deep. Trousdale and Libecki dug an avalanche pit and broke off huge blocks from the upper layers—a sure sign that the hill would break free if we tried to ski it. Just for fun, they decided to cut a rectangle of snow called a Rutschblock, which showed just how easily the layers would separate and slide. As Libecki gingerly sidestepped toward the pit, we heard the sickening sound of the snow settling. A fracture line raced from Libecki's feet across the face we'd considered skiing. Two separate avalanches, each 100 yards wide, broke away from the fracture line and slid to the bottom. We packed up our avalanche gear and walked back down.
Two days later, Trousdale and I decided to make one last attempt to ski, with six of the guide trainees and Leven. Before we loaded into the lodge's four-wheel-drive minivan, Leven went through a safety checklist with her pupils, making sure they had their shovels, goggles, and gloves. Alishah and a couple of the other second-years helped her check the battery charges on the new guides' avalanche transceivers. A few of them struggled to turn on their beacons. This, combined with our knowledge that Alishah was the best skier of the lot, did not inspire confidence.
Our destination was once again Kushkak, Alishah's hometown, where we had triggered the massive slides. Things felt sketchy from the moment we piled out of the van. As we made our way along the skin track below steep inclines to our left, there didn't seem to be any attempt at pacing, to make sure that no more than one person was in the danger zone at a time. Trousdale and I were at the tail end of the column, with a half-dozen skiers ahead of us, and soon we were skinning on a choppy track parallel to a precipice that was settling with every step. A fracture line ran directly between my skis all the way to Leven and the trainees, who were 100 yards uphill.
Trousdale and I decided to start a new skin track on a more direct route up a saddle to our right; if we triggered a slide, at least it would break to one side or the other instead of coming directly down on us. Trousdale had almost reached a flat point in the saddle when a chasm opened in the snow above him. The slide broke right, away from him. A wave of snow 50 feet wide rolled in a slow creep toward the valley floor, making a noise like distant thunder. The avalanche a few days earlier had been big, too, but we were at a safe point on top of the hill when it slid. This time we were directly below a shelf of hang fire. We called to Leven, who corralled the trainees.
"Alishah!" she yelled into a walkie-talkie. "There's been an avalanche. Tell everyone to come back down."
Then, without pause, all six of them dropped into the most dangerous face of the bowl, laughing, face-planting, and flopping around as they tried to recover. From our comparatively safe point, on a shallow patch of snow with grass sticking through, Trousdale and I shook our heads in disbelief. But it was hard not to laugh. The trainees were having the time of their lives. They bombed by, one by one, and as he passed us, Alishah shouted out, "Why you go a different way? I know you are professionals, but sometimes it is better to trust the ski guide!"   
Elliott D. Woods (@AsgnmntAfghnstn) is a contributing editor at the Virginia Quarterly Review.