What the Worst Winter in 60 Years Did to Ski Resorts
2018 was one of the driest seasons on record. How many resorts can survive another like it?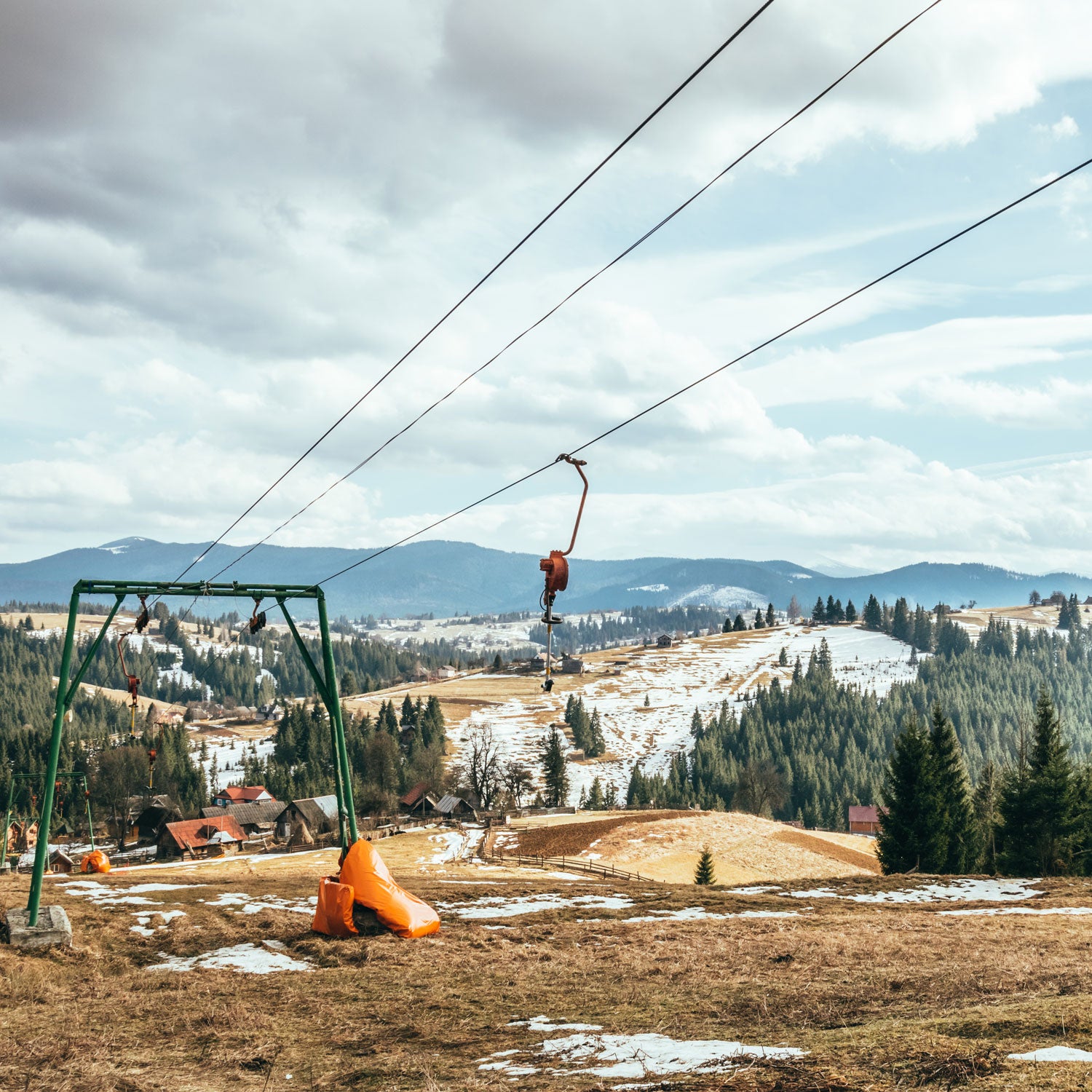 Konoplytska/iStock(Photo)
Heading out the door? Read this article on the new Outside+ app available now on iOS devices for members! Download the app.
This winter was the third-warmest on record for U.S. ski resorts. Consider the data:
Tahoe's Squaw Valley saw 367 inches, down from 669 the year before.
Colorado's Crested Butte Mountain Resort saw 145 inches of snow, down from 335.
Telluride saw 159 inches, down from 294.
Vail saw 171 inches of snow, down from 215.
New Mexico's Taos Ski Valley saw 78 inches of snow, down from 192.
Ski Apache saw 27 inches of snow, down from 43.
A single down season isn't rare, but this year should still be a harbinger. While precipitation has remained flat in recent years, the snowpack at ski resorts is shrinking. Temperatures are warming. The Climate Impact Lab, a research institution with scientists all over the country, released an analysis this year showing that if warming trends continue, resorts should expect to lose a month of the season within the next two decades.
Resorts are reacting as expected to the dismal ski season—and as they have in the past. They're revamping snowmaking and grooming, building snow fences to harvest windblown snow, installing extracurricular activities to entertain guests when the snow isn't cooperating, and growing summer amenities. They're also expanding into different regions and selling season passes that have skiers shouldering some of the financial risk of a down season. Mostly, they're hoping somehow next year is much better.
That might not be enough for some resorts, like those in New Mexico. Visits to the Land of Enchantment's nine downhill areas fell 29 percent this season, from around 750,000 to 534,000. That's a ten-year low and a dip that likely cost the state close to $100 million. And it's almost definitely to blame on the weak snowfall, which at 55 inches was nearly 90 inches below the five-year average.
"I'd say the biggest message from this for all our ski areas is that snowmaking is vital, and they are putting more money into that, trying to curb the possibility of not having tons of snow," says George Brooks, director of Ski New Mexico. "We are also recognizing that the days of having a ski area open five, six months and then shut down for the rest of the year, those days are gone. It's not just looking at a winter season and a summer season, either. It's about a winter, spring, summer, and fall."
James Coleman, the investor who is transforming Durango's Purgatory ski area alongside a quiver of southern resorts in New Mexico and Arizona, had a rough season on paper. All his resorts suffered record-setting weak snowfall. But Coleman says visits didn't reflect that dryness.
"What are you if you have the ability to solve a problem and choose not to?"
Thanks to his snowmaking crews and groomers, runs were open and skiing well. It wasn't powder, but then not all vacationing skiers are hunting face shots. "Purgatory had a fantastic product almost the entire year, but the perception wasn't great, and perception is reality," Coleman says, noting that Purgatory's 120 inches of total snowfall ranked as the worst in 41 years and the second-worst ever. "People were happy, but when they went to town and told their friends that the skiing was good, their friends would say, 'I don't believe you.'"
The odd thing is that at Arizona Snowbowl, Coleman says that despite the area suffering the fourth-worst snowfall season in its history, visits were among the top three highest. This might have something to do with its elevation, which at 11,000 feet ranks with many of Colorado's famous resorts.
When the weather is warm, skiers often go higher. That seemed to be the case for much of Colorado, which suffered its fourth-worst snowfall season on record yet still did OK, thanks to pass sales. Vail Resorts, which owns Vail, Breckenridge, Keystone, and Beaver Creek, reported that the season showed a slight downturn in visits across its continental network of resorts but an increase in lift-ticket revenue, largely due to sales of its popular Epic Pass. And winter sales tax revenues from eight Colorado resort towns hardly indicate that snowfall was less than abundant.
What sales don't change is the clear lack of snow on the hill. Analysts who spend time studying the long-term trend, like Auden Schendler, vice president of sustainability at Aspen Skiing Co., say emergency tweaks such as greater snowmaking capacity and better grooming won't solve the bigger problem. "I think the industry has fundamentally acted as if they were defending their image versus defending the climate," Schendler says. "I think there's a core of management in the ski industry that still hasn't said this is a priority."
The ski industry actually has a real opportunity, Schendler says. The nonprofit climate-change organization Protect Our Winters recently published a report that totaled up the ski industry as a $72 billion economic powerhouse with 695,000 employees.
"We are the people who can bring attention to this problem and help solve it," Schendler says. "The outdoor industry is huge, bigger than Big Pharma, and we have wielded absolutely no power. What are you if you have the ability to solve a problem and choose not to? The outdoor industry and the ski industry can be the NRA on climate. We have to be."
Lead Photo: Konoplytska/iStock
Trending on Outside Online