The Debate Over Jet Skis at Maverick's Continues
Heading out the door? Read this article on the new Outside+ app available now on iOS devices for members! Download the app.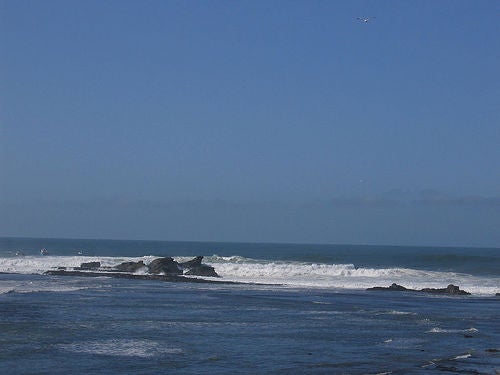 Maverick's surf break. Courtesy of Flickr
A recent drowning at the California surf break Maverick's has rekindled the debate over the use of motorized personal watercraft, or jet skis, in the area, according to the Santa Cruz Sentinel. The debate concerns the safety of surfers, the fragility of tidal ecosystems, and the biodestruction inherent to using jet skis.
Maverick's lies within the Monterey Bay National Marine Sanctuary, managed by the National Atmospheric and Oceanic Administration, and the use of jet skis at surf breaks within the sanctuary is highly regulated to minimize their damaging impact. Other than for search and rescue operations, jet skis are currently allowed at Maverick's only when NOAA issues a high-surf warning, which it does about ten times a year, and only from December to February. Jet skis do nothing to promote a healthy marine ecosystem, and NOAA, therefore, would prefer to see their operation in the sanctuary limited to an as-needed basis.
On the other hand, when a big swell rolls into Maverick's and surfers there beg at the gnar, a jet ski can prove handy for inter-wave rescues, sometimes meaning the difference between life and death. About two months ago, surfer Jacob Trette nearly died while surfing Maverick's but was rescued by a jet ski illegally operating in the area. The jet ski operator was fined $500.
"If that sled wasn't on my jet ski, Jacob wouldn't be alive," Skindog told the San Mateo County Times, according to Surfline.com. "The fact that he survived is worth $500 to me."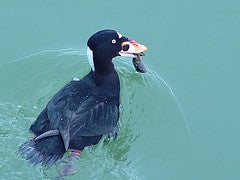 Two people have died surfing Maverick's. About ten days ago, Hawaiian big-wave surfer Sion Milosky drowned, and in 1994, surf pioneer Mark Foo died at Maverick's. In 2007, Peter Davi died at the nearby Ghost Trees break. In both Milosky's case and Davi's, jet skis were in the area but unable to provide succor. 
–Will Grant
At right: A Surf scoter on the California Coast. Not a fan of jet skis. Courtesy of Flickr.