Archipelago-Go
7,100 Islands: One For Each Day of Your Next 19 Years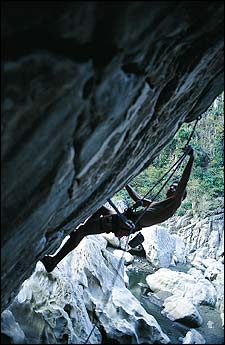 Heading out the door? Read this article on the new Outside+ app available now on iOS devices for members! Download the app.
Once the land of pirates and explorers, the Philippines are now luring thrill seekers of an entirely different ilk: Western adventure-travelers in search of a new Shangri-la. With 85-degree weather year-round (beware the July-through-September monsoon season), 34 national parks, 580 bird species, and some 7,100 islands where you can surf, swim, snorkel, dive, kayak, hike, climb, and sweat, the Philippines certainly offer up the goods. And unlike many other parts of Asia, the Philippines make staying healthy easy: Malaria, dysentery, dengue fever, and other tropical woes aren't widespread. Even the tap water's potable in all but a few places. Transportation? It's a matter of hopping a bus, jeepney, ferry, or moped to almost anywhere in the country for the price of a date to the movies. And when you arrive at your destination, a beachside bungalow will rarely cost more than $10 a night.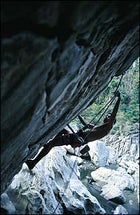 Cliff hanger: a 5.12 at Wawa Gorge in Montalban.
Of course the news from the Philippines lately has been disconcerting, to say the least. Don't ignore the warnings, but know the difference between danger and paranoia. Statistics show you are more likely to be eaten by a shark or die in a car wreck at home than be a victim of terrorism in the Philippines. There are isolated places, like Jolo and Basilan, where you simply shouldn't go. "But should you write off travel to the Philippines altogether?" says Malcolm Nance, chief consultant for Real World Rescue, a company specializing in high-risk-travel security advice. "Absolutely not." Here's what you shouldn't miss:

Siargao
The Philippines' best break, Cloud 9, off the tiny teardrop-shaped island of Siargao 500 miles southeast of Manila, suddenly appeared on radar screens around the world when an international surfing competition was held there in 1996. But the crowds are still zilch and the tempers as smooth as the beer back at Snag Miquels beachfront bar in the town of General Luna. The swell remains constant August through March, when waves come cruising in off the open ocean, slam into the shallow reef, and jack up into a green pipeline.
If the risk of splattering yourself across Cloud 9's reef sounds less than dreamy, try the Jacking Horse break, about a ten-minute paddle north of the Cloud 9 curl. The waves—mostly rights—are half the size of those at their more famous neighbor. On those rare days when the surf isn't up, ask around for Pirate Pete, a raucous Aussie, and join him on his daily sail to the surrounding isles. He'll charge you $12 for the entire day.
SEAir now offers direct flights two times a week from Cebu City to Siargao for about $40 one-way (011-63-2-891-8708; www.flyseair.com). Once you're there, head to the town of General Luna, where you'll find the Drop Inn, a five-minute walk from Cloud 9. The surfer hangout has comfortable rooms with bamboo-mat ceilings, patios overlooking a lush garden, and hot showers (doubles, $15 per night; 011-63-32-424-9565).
Cebu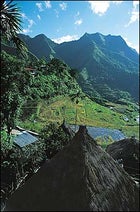 Scenes from Shangri-la: the rice terraces of the Philipinnes.
Cebu island, a 20-by-140-mile strip of mountains and coral-sand beaches an hour's flight south of Manila, offers diving at dozens of world-class sites, rappelling down misty river canyons, and hiking through mountains arrayed like a verdant sheet of bubble wrap.
Moalboal, a quaint one-dirt-road hamlet on the Ta–on Strait, is at the epicenter of outdoor activity here, especially diving. Expel the air from your BCD at the House Reef, a coral shelf 200 feet straight off the town beach—swim out and sink into a world of pulsating sea clams and nudibranchs radiating in nuclear hues. On Pescador Island, a federally protected marine park a ten-minute boat ride from Moalboal, walls of sheer coral plummet more than 100 feet.

Pass the time purging all that residual nitrogen by heading into the hills east of Moalboal. Here, several gorges await, including Tison Canyon. Spend a day working your way down the Tison River by jumping off 25-foot-high limestone cliffs into azure pools and rappelling down 100-foot waterfalls. Or avoid the water altogether and hike five miles through valleys of coconut palms and guava-laden jungles to Osmena Peak, at 2,300 feet the highest on the island. When you return, dine at one of Moalboal's dozen open-air seaside restaurants, where $5 will get you a feast of fresh lapu-lapu, sweet-and-sour shrimp, and a couple bottles of San Miguel beer.
The Savedra-Great White Dive Center (011-63-32-474-0014; www.savedra.com) in Moalboal is a PADI five-star outfit that offers at least three dives a day, including night dives, to sites like the House Reef and Pescador Island for $25 per dive including transportation and equipment. Karl Epp, Savedra's 37-year-old German owner, will also arrange canyoneering and hiking trips and will send someone to pick you up in Cebu City for the one-hour ride to Moalboal ($42 one-way). He can reserve rooms for you at places like the Cabana Beach Club Resort, where seaside doubles overlooking the House Reef and boils of jacks cost $70 a night.
Luzon

A skull-capped Ifugao villager.
Slightly bigger than Kentucky, Luzon is the largest island in the Philippine archipelago and home to more than 30 million people, a third of whom live in metro Manila. Ditch the city and you'll find an abundance of mountains, limestone cliffs, active volcanoes, whitewater rivers, and tranquil bays, which make Luzon a no-brainer for adrenaline-starved travelers.
The current pulse of the country's climbing community beats around Montalban, a dirty but friendly little mining town two hours by jeepney northeast of Manila. Here you'll find bolo-sharp 300-foot limestone walls and the frothy Wawa River. Most of the 50 or so routes are bolted and range from 5.1 to the upper 5.12 region. Test your balance and pocket pulling up the classic Redemption (5.10), the first sport route established in the country. The best guides are Jong Narciso and his pals from Estor Pang Outdoor (011-63-2-438-4059; jongnarciso@hotmail.com), a gear shop in northeast Manila. They're happy to show experienced climbers the local scene for free (or sell their new guidebook for $4), but be sure to donate some climbing gear, a commodity far more valuable than cash.

Ten hours by bus southeast of Manila, you'll find a half-dozen islands in the Albay Gulf, where, with a month's notice and about $600 per person, Gulf Marine kayaking guides Bem Redito and George Cordovilla will put together a custom sea-kayaking adventure to the islands of Cagraray, Batan, and Rapu-Rapu. The price includes five days of paddling, food, guides, transportation, and—get this—a kayak that's yours to keep. Bem designs his own molds and can whip out a fiberglass boat in a matter of days. If you don't want the hassle and expense of toting the boat home, use one from Bem's modest collection, which reduces the five-day total to $100 per person. Either way, you'll paddle under the smoking, 8,000-foot Mayon volcano, glide over coral banks, spot kingfishers and dolphins, and camp near nipa hut settlements. Gulf Marine can arrange for you to spend your first night at the Villa Amada Hotel (011-63-52-245-5121) in Legazpi, where rooms with air-conditioning and lukewarm showers go for $12 a night. Bring your own camp stove, tent, spray skirt, and paddle, as these items are scarce (George Cordovilla: 011-63-919-862-6543, pinangat2001@yahoo.com; Bem Redito: 011-63-919-752-8359, nis_red@onebox.com).
The 2,000-year-old rice terraces of the Ifugao people, in the region of Banaue in northern Luzon, are billed as the eighth wonder of the world—especially since, unlike their seven counterparts, they were built without slave power. Trek from one village to the next atop these thin, curvy terrace walls—fall uphill and you'll land in the mud, fall downhill and you're in for a long tumble. Start in the village of Banaue, where you'll find guide Peter Gatik, a local legend, who can arrange a multiday trek from Banaue to any number of villages beyond. Be prepared for warm beer as your sole amenity in some of the smaller villages ($50 per night, food and gear included, except sleeping bags; contact AsiaVenture Services, 011-63-2-526-6929; www.asiaventureservices.com).
Palawan and the Calamian Group

Water beds: High tide at Kubo Sa Dagat lodge in the town of Coron, Busuanga Island.
Unspoiled beaches, impressive snorkeling, and towering limestone cliffs jutting out of the sea make up the Philippines' Last Frontier, as Palawan, the long slender island 100 miles west of the main archipelago, is often called.
The Bacuit Bay Marine Reserve in northern Palawan just west of El Nido is a treasure map of tiny islands—23 of them, about a half-hour's boat ride from one to the next. Bring a waterproof flashlight and swim through a small hole at low tide on Inabuyatan island's western side to find a surreal freshwater lagoon full of stalagmites, -tites, and columns. Or paddle a banca along the swampy Manlag River to the south, where mangrove snakes dangle passively in the branches above, and orange fiddler crabs feast on the muck below. Off Sumisu island in the middle of Bacuit Bay you can poke around among soft and hard corals and large schools of bright fish, while Cudugman Point a few minutes south of there has a vaulted cave 100 feet high where swiftlets buzz around in an avian blizzard.
The Malapacao Island Retreat and Spa, about a half-hour boat ride south of El Nido, is the spot to stage your island-hopping adventures (011-63-48-433-4829; www.malapacao.com). Owner LeeAnn Cruz, a soft-spoken expat Australian, offers seven-, ten-, and 14-day package stays for $760, $1,000, and $1,320 respectively. Rates include daily snorkeling trips, two massages or mud bakes a day, all meals (fantastic fish curries, calamansi juice, coconut-marinated banana-flower salad), round-trip flights from Manila to El Nido, airport transfers, and stays in an exquisite open-air bamboo cottage with private bath and hammock. Cruz also has a small fleet of two-person bancas and sit-on-top kayaks for exploring the bay on your own ($6 per day).
The waters off the town of Coron, on Busuanga Island, farther north in the Calamian Group, harbor superior diving, for which we have World War II to thank. On September 24, 1944, Admiral William "Bull" Halsey launched the longest-yet carrier-based air raid, against retreating Japanese naval forces. The result: Fourteen wrecks lie between 15 and 130 feet of water, most of them still loaded with jeeps, bulldozers, and weaponry. Scuba Venture (011-63-919-463-3408; www.scubaventure.com) in Coron offers two days of diving (two or three dives per day) for $45, including equipment rental, lunch, kayak, and snorkeling gear. Stay at Kubo Sa Dagat, a labyrinthine guest house built on stilts over a small rocky isle that's exposed only at low tide. The inn offers unlimited boat access and fresh meals of crab and shellfish on an open-air deck directly over the water. Rates are $60 per person per night, including all meals and use of kayaks and motorized bancas (011-63-2-526-6929; www.asiaventureservices.com).
Trending on Outside Online