Backdoor to the Bahamas
Fresh off an empty island in the tropical Atlantic, our intrepid travel expert gives the inside scoop on the Bahamian adventures you never knew were possible.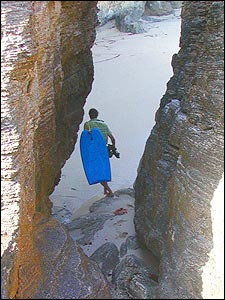 Heading out the door? Read this article on the new Outside+ app available now on iOS devices for members! Download the app.
It's a hot December day in the Bahamas and Neil Aberle is walking down a small cut through the limestone cliffs when he suddenly turns left, takes a few steps, and disappears into a small slit. "OK, coast is clear," he shouts back. "Hurry before the next set comes."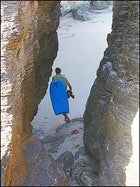 This way to solitude: Slipping through the cut to Smuggler's Beach

I peak through the fissure and see a patch of sand swirling in the chaos of the last group of breaking waves. There are only about ten feet between my toes and the sand so I'm through the notch quickly. And there, lo and behold, is a secret beach—a 100-yard horseshoe of white sand and blue-green sea held back by an amphitheater of 30-foot-high cliffs. There isn't a single footprint. Welcome to the unmolested bounty of Eleuthera, a 110-mile-long, mile-wide spit of sand, rock, turpentine trees, caves, and coves that scarcely a tourist ever steps upon. Of the Bahamas' 700 some islands, most folks readily know Grand Bahama, Harbour Island, Paradise Island, the Abacos—all places girded with famous hotels, casinos, and beautiful beaches. But the majority of the country's dry land (and its true soul) remains on "out islands," places like Eleuthera, just south of Harbour Island, where you'll find no cruise ships, no $19.99 shrimp scampi, and no tourism infrastructure. Just miles and miles of empty coastline, 350 beaches, a few fruit stands stocked with papayas and plantains, and some of the best island adventuring in the tropical Atlantic.


The problem has always been that to get to secret beaches like this one you had to, one, know about them, and two, find a way to get there. That meant hiring a taxi, lugging gallons and gallons of water on your back, bringing a tent, sleeping bag, cookware, fuel, food, and not forgetting your sunscreen or to arrange for someone to come pick you back up (and then hoping they remember where they left you).


Not so now. Aberle and his financée, Rachael Thomas, have opened Bahamas Out-Island Adventures, a homegrown outfit with two experts born and raised in the Bahamas at the helm. The couple arranges all manner of affordable day and multiday excursions on an island that is, for all practical purposes, one huge natural park.


By the end of my four-day stay, Aberle and Thomas had taken me snorkeling along underwater cliffs, camping on a lonesome beach with two perfect crescent-moon coves, swimming in tide pools, kayaking to a hidden grotto, surfing over a forgiving reef break, and exploring a series of caves. They also arranged for me to spend a day scuba diving with the two affable owners of Ocean Fox Diving along canyons of elkhorn and brain corral packed with barracuda and Christmas tree worms.


If you're looking to share your sand with scores of sun-pickled tourists jockeying for the bronze and don't mind evening meals next to Thurston Howell III, head to "Paradise Island." There are plenty of secret beaches on Eleuthera alone to keep the rest of us busy.