The Best North American Beginner Surf Spots
The best beaches for practicing your moves offer gentle waves and a no-pressure atmosphere. Here, over 20 of the best beginner breaks in the country to get your feet wet.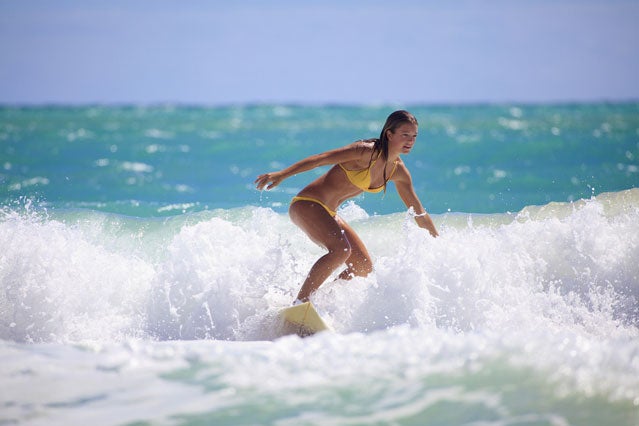 Heading out the door? Read this article on the new Outside+ app available now on iOS devices for members! Download the app.
The tombolo at Frank Island in Tofino, British Columbia. The sandbar at Cowell's Beach in Santa Cruz. Miles and miles of easy, rolling waves in Central Florida and Virginia Beach. The warm, sandy surf of the Wall in Hampton, Rhode Island.
What makes a great beginner surf spot is the natural alchemy of a soft, sandy ocean bottom that creates gentle, almost perpetually rolling waves and allows for mistakes and recoveries. Access is important: lots of parking, surf shops nearby for rentals and instruction, and an easy route out to the peak for those learning to paddle. Safety and security are important to, for in this crowded world, the best beginner spots provide protection from the tyranny of the elements and better surfers.
Scattered around North America, every couple hundred miles or so, are beaches and reefs perfect for beginning surfers. We polled surfers, surf instructors, and surf shop owners around the country and chose these spots based on setup, reputation, access, safety, and security. If you want to catch a wave, these are the places to get your feet wet. 
Hawaii
Waikiki-Hawaii
Surf Report: Warm and sunny, with consistent waves year-round (but best in summer). Try Canoes, an easy right break near the Royal Hawaiian Hotel.
Scene: Touristy. But in the water, it's pure "aloha."
Bonus: In winter, watch the pros go big at Pipeline, on the North Shore.
Wax Run: Hans Hedemann Surf Rentals, 808-924-7778, www.hhsurf.com
Hanalei Beach- Kauai, Hawaii
Surf Report: The North Shore of Kauai is best from early winter to late spring and offers a variety of breaks for beginners on up to World Champions. Next to the Hanalei pier, where veteran big wave surfer Titus Kinimaka holds his surf classes is the best spot for beginners.
Scene: The view from the water to the mountains could suck the stress out of the U.S. Congress. The North Shore of Kauai is one of the most localized surf spots in the world, but beginners generally stay in beginner spots, while the experienced surfers prowl the outer reefs.
Bonus: Up the beach a ways is Pine Trees, where Bruce and Andy Irons learned to surf and where they hold their Annual Irons Brothers Classic for up and coming Kauai surfers.
Wax Run: Hanalei Surf Co., 866-HANALEI, www.hanaleisurf.com; Titus Kinimaka Surf School, www.hawaiiactivityworld.com/kauai/surfing_lessons
Launiupoko State Wayside Park-Maui, Hawaii
Surf Report: Just south of Lahaina, Launiupoko State Wayside Park has long, rolling, easy reef waves that are perfect for beginners. This corner of Maui is protected from big winter swells and sucks in south swells. The outer reef breaks up the energy into waves perfect for beginners. Just be careful on the reefs. The coral and the vauna (urchins) are a little sharp so booties may be required.
Scene: Just like Old Polynesia: Everyone surfs, from grommets to grandma, with occasional Maui surf stars such as Buzzy Kerbox, Dave Kalama, and Laird Hamilton giving lessons to friends and family. Fun, friendly, and occasional bursts of true aloha.
Bonus: Great snorkeling when the surf is flat, great views to Kahoolawe and Lanai. Restaurants and nightlife are just up the road in Lahaina. The park has a children's wading pool, restroom, and showers.
Wax Run: Honolua Surf Company, 866-HONOLUA, www.honoluasurf.com
Northeast
Robert Moses State Park—Long Island, New York
Surf Report: The break near the Field 5 parking lot is newbie-perfect in summer.
Scene: Gothamites escaping the heat (you're just 48 miles from Manhattan) and, in August, hundreds of (mostly) benign jellyfish.
Bonus: Great angling for striped bass.
Wax Run: Bunger Surf Shop, 800·698·7873 www.bungersurf.com
Sea Isle City—New Jersey
Surf Report: Seventy-five miles from Philadelphia, off the Garden State Parkway, and over the marshlands on Route 625, Sea Isle City looks southeast into the Atlantic Ocean, soaks up whatever energy is out there, and spreads it over long, sandy beach breaks that are perfect for beginners.
Scene: Bustling all summer, with visitors from Delaware and Pennsylvania banging rails with the local rogues. Lots of accents, people, and attitude.
Bonus: Sea Isle is one of the only shore communities to establish a surfing beach every block or so. With several surfing beaches spread out throughout the town, crowds aren't as much a problem.
Wax Run: Heritage Surf and Sport, 609-263-3033, www.heritagesurf.com
Nantucket—Massachusetts
Surf Report: There are 14 miles of beach breaks on Nantucket's south-facing shore that pick up any hint of south windswell when much of New England is flat. The surf is easy, with rolling beach break waves along the south shore, and proximity to the Gulf Stream means water temps close to 70 in the summer.
Scene: Think of the beaches in the movie Jaws, (no, not the shark attack part). Kind of like that, but 30 years later and a lot more surfers. Beautiful girls in the summer and the occasional celebrity or two at the beach.
Bonus: Check out the local surf video Horny for Surf to see Nantucket at its best, year around. Fine dining all around the island and all the charm it's known for.
Wax Run: Force 5 Watersports, 508-228-0700, www.force5watersports.com; Nantucket Island Surf School, 508-560-1020, www.surfack.com; Nantucket Surfari Surf Camp, 508.228.1235, www.nantucketsurfari.com; Indian Summer/Upper Deck, 508-228-3632
Coast Guard Beach, Cape Cod National Seashore—Massachusetts
Surf Report: Nearly 400 years ago, the Mayflower crew first sighted land here after 65 days at sea. Now it's a family beach that fills with visitors at the height of summer. Onshore and sideshore breezes during bouts of hot weather push temps as high as 70 degrees and the waves tend to be mushy and forgiving. If the wind blows hard offshore, cold water is pulled from the deep and temperatures can drop to 50 degrees overnight.
Scene: Beginners, longboarders, spongers, skimboarders. Restrooms and showers are available but no food. In season regular shuttles make the one-mile run from the Little Creek parking lot to the beach. Bonus: Intermediate surfers can head just one mile north to Nauset Light Beach for faster, more hollow waves.
Wax Run: Pump House Surf Co., 508-240-2226, www.pumphousesurf.com; Nauset Sports, Orleans, MA, 508-255-4742, www.nausetsports.com
Narragansett Town Beach—Rhode Island
Surf Report: Only seven miles from the University of Rhode Island and 14 from Newport, Town Beach is a beautiful stretch of white sand backed by a wildlife refuge. Local instructor Peter Pan has been teaching surfing since 1978 and recommends the easy-breaking, mostly sand-bottom rights and lefts. Facing southeast, Town Beach is protected from the wind and there is almost always something to ride. Ideal for beginners: long, rolling waves with a fairly-easy-to-paddle-out lineup.
Scene: Narragansett Town Beach is the mecca of New England surfing. No real localism at all. Surfers come from three surrounding states to catch waves here.
Bonus: Lots of room to spread out. Relief from intense inland summer humidity, typical to New England with enough local flavor to give you a complete New England experience.
Wax Run: Gansett Juice Surf Shop, 401-789-7890, www.gansettjuice.com; Surf Line: 401-789-1954; Warm Winds Surf Shop, 401-789-9040, www.warmwinds.com; Peter Pan Surf Lessons, Available at Gansett Juice Surf Shop, 401-575-0003, bicsurf@hotmail.com
North Beach—New Hampshire
Surf Report: The Wall on Hampton's North Beach is so-called because of the 1.5-mile-long concrete seawall that extends from Boars Head north to Plaice Cove. With a wide, sandy bottom, the beach has a few exposed rocks at low tide and gets washy at high tide, but the waves here are generally long, easy, and forgiving-ideal for beginners.
Scene: New Englanders cherish summer and make the most of every hour of every day and that makes for a jumping beach scene. More experienced surfers go elsewhere, so the Wall is set aside for beginners.
Bonus: During winter storms, "Wall-Nuts" risk drenching and death putting the Wall between them and massive waves that batter the coast.
Wax Run: Cinnamon Rainbows Surf Company, 603-929-7467, www.cinnamonrainbows.com
Ocean City—Maryland
Surf Report: Situated on a barrier island in the middle of more than 100 miles of beach breaks from Assateague Island, Virginia, in the south to Rehoboth Beach, Delaware, in the north, if you can't find your own peak here, you might want to take up snowboarding. During summer months, the pacified Atlantic offers small and easy rolling waves up until hurricane season.
Scene: A tourist town packed with people from June through Labor Day. Learning to surf in Ocean City can be intimidating at times due to the crowds, so making the 15 minute drive south to Assateague Island is well worth it if you catch the right tide.
Bonus: There is always something to do if the waves are flat. Great fishing, boating, wind surfing, jet skiing, parasailing. Surfing continues to grow through the area, and there are a growing number of locals who can rip.
Wax Run: K-Coast Surf Shop, 410-723-3330, www.kcoast.com; 24-hour surf report 410-524-SOUL; O.C. Groms Surf School, 443-880-0905
Southeast
Corolla Beach—Corolla, North Carolina
Surf Report: Here on the northern end of the Outer Banks, you'll find warm water and mellow surf from spring to late summer.
Scene: A relaxed hot spot for East Coasters from Maine to Miami. Bonus: Scuba diving at hundreds of offshore shipwrecks.
Bonus: Scuba diving at hundreds of offshore shipwrecks. Hang gliding and hiking at the East Coast's tallest natural sand dune in Jockey's Ridge State Park.
Wax Run: Corolla Surf Shop, 252-453-WAVE, www.corollasurfshop.com
Cocoa Beach—Cocoa Beach, Florida
Surf Report: Picnic Tables, north of Patrick Air Force Base, churns out gentle rollers year-round.
Scene: Novices from Tampa and Orlando; seasonal snowbirds.
Bonus: Watch rockets launch at Cape Canaveral while practicing your own take-offs.
Wax Run: The Goods Surf & Skate, 321-723-5267, www.thegoodsshop.com
Virginia Beach—Virginia
Surf Report: Veteran instructor Jason Borte takes his surf classes to 5th Street, which offers a user-friendly break and a two-block surfing area that is rarely used. The general setup at Virginia Beach is shorebreak, then deeper water leading out to sandbars. These sandbars are always in flux, so any stretch can be good or bad for beginners.
Scene: Although the local ordinances have eased up a bit in recent years, Virginia Beach is notoriously anti-surfer and threatens fines for surfing either without a leash, too close to the pier, or in a restricted area. Better surfers hang out at the First Street Jetty, while beginners flock to Camp Pendleton and all over the North End.
Bonus: Nightlife, good times, occasionally good surf. If you get good, the Outer Banks are only two hours south-potentially epic.
Wax Run: 17th Street Surf Shop, 757-422-6105; Wave Riding Vehicles, 757-422-8823; www.waveridingvehicles.com; Billabong Surf School by Jason Borte, 757-965-9659, www.billabongcamps.com
Folly Beach—South Carolina
Surf Report: Twelve miles south of Charleston, Folly Beach's summer windswell kicks up enough surf for beginners, and waves are almost always 20 to 30 percent bigger than any of the other beaches accessible by car in the area. Folly is soft and sandy, and the surf is just right for learning the basics.
Scene: A kickin' time. Good old boys and coeds from the college in Charleston getting loose.
Bonus: The bar and nightlife scene in Folly Beach and Charleston in summer is jumping, but if someone walks up to you and asks if you want to shag, be very careful how you respond. Down here, the shag is a dance, which came out of a local "Beach Music" scene going back to the 20s.
Wax Run: Ocean Surf Shop, 843-588-9175, www.oceansurfshop.com; McKevlin's, 843-588-2247, www.mckevlins.com
Wrightsville Beach—North Carolina
Surf Report: Top East Coast pro Ben Bourgeois learned the ropes in this area of the country. Facing southeast into the Atlantic, and tucked behind the Outer Banks, Wrightsville's soft, sandy beaches are the perfect venue for beginners and perfectly warm in the summer. Great for beginners, but a little frustrating for anyone beyond that.
Scene: Packed in summer with tourists, locals, inlanders, and students from nearby University of North Carolina, Wilmington.
Bonus: Non-stop socializing from Wrightsville to Wilmington and back. And if you want to move on to higher education, road trip-the Outer Banks are only four hours away.
Wax Run: Sweetwater Surf Shop, 910-256-3821, www.sweetwatersurfshop.com
Northwest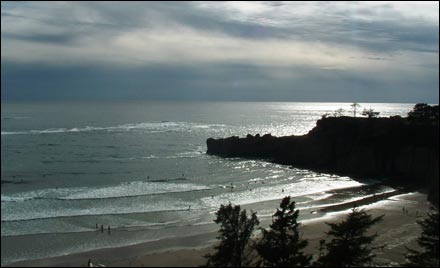 The Devil's Punchbowl State Natural Area—Otter Rock, Oregon
Surf Report: One hundred and six miles from Eugene and 123 miles from Portland, Otter Rock is an exception to Oregon's rocky, craggy, windy coast. With water temperature hovering between 48 and 52 degrees Fahrenheit over the course of the year full wetsuits, boots, and gloves are a must. A huge headland protects the beach from wind and giant swells.
Scene: Known as the "Waikiki of Oregon" more people have probably learned to surf here than anywhere in the state. A ton of beginning surfers, tourists, families, body boarders, and skim boarders. Family friendly with zero bad vibes.
Bonus: A beautiful, mostly undeveloped coastline, so it's just you and the waves. There are public rest rooms and outside showers for day use and Beverly Beach Campground is just two miles down the beach.
Wax Run: Ossies Surf Shop, 541-574-4634, www.ossiessurfshop.com; Otter Rock Surf Shop, 541-765-2776, www.otterrocksurf.com; Lincoln City Surf Shop, 541-996-7433, www.lcsurfshop.com
Frank Island—Tofino, British Columbia
Surf Report: On the south end of Chesterman Beach on the west coast of Vancouver Island is one of the best beginner breaks in North America. Cold in the winter, cold in the summer (this is Canada, after all so pack your wetsuit).
Scene: Tofino is the Surf City of Canada, a shockingly beautiful hamlet that gets 118 inches of rain per year, so it's craggy like Ireland, quaint like New England, and as green as Hanalei, Hawaii. Beach fires and family BBQ's line these sandy beaches, the smell of fresh cooked salmon wafting into the line-up most summer evenings. Tofino is a mellow scene that some say is similar to that of California in the 60s. It's an out of the way place very popular with Canadians and tourists from all over. Snow covered glaciers and 1,000-year-old cedar trees form the backdrop. Don't forget to look ahead for black bears when walking down the beach trail. This part of the world gets huge surf half the year, but Frank Island knocks down all that fury allowing beginners to splash away like baby ducks on either side of the tombolo (spit of land) that connects the island to Vancouver Island.
Bonus: Great stream, lake, and ocean fishing; kayaking by river, fjord, and open sea; and sight-seeing that is a little bit New England, a little bit Viking, a little bit Paul Bunyan. A place most people don't even know exists, but is one of the best, most unique beginner spots north or south of the border because of that weird little tombolo.
Wax Run: Surf Sister, 1-877-724-SURF, www.surfsister.com Live to Surf, 250-725-4464, www.livetosurf.ca
Southwest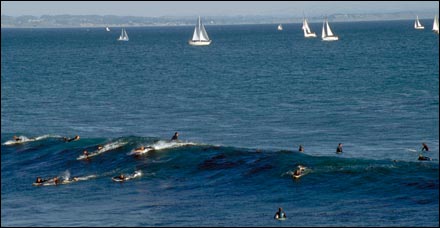 Malibu

Surfrider Beach is nestled next to a lagoon where the Malibu Creek meets the sea.
Cowell's Beach—Santa Cruz, California
Surf Report: Waist-high sets that break 200 yards from shore; nippy, 55-degree water (wetsuit required) in summer.
Scene: Packed with locals, but the most welcoming spot in Santa Cruz.
Bonus: Après-surf, play pinball at the Santa Cruz Beach Boardwalk.
Wax Run: Cowell's Beach Surf Shop, 831-427-2355, www.cowellssurfshop.com
San Onofre State Beach—San Clemente, California
Surf Report: Long lines of whitewater for boogie boarding and longboarding. Find low, slow-breaking peaks at Dogpatch.
Scene: A family-friendly mecca since the 1930s-with a few RVs and beer bellies.
Bonus: Cameos by longboard legends like La Jolla native Joel Tudor.
Wax Run: Rip Curl Surf Shop, 714-422-3600, www.ripcurl.com
Linda Mar Beach—California
Surf Report: Half an hour south of San Francisco, Pacifica's Linda Mar is one-mile-long beach that picks up swell from every corner of the Pacific. Colder in the spring than any other time of year and generally foggy all summer and clear all winter, Linda Mar is extremely popular with beginner to intermediate surfers. It always has something to ride.
Scene: Packed every weekend and every swell with beginners, longboarders, shredders, valley kids, and city guys, this place is popular, but there is more than enough room from the Boat Dock break on the south end to the Round House break on the north end.
Bonus: Fast food within 50 yards of the surfline. World-famous surf spot Mavericks is less than an hour away.
Wax Run: Nor Cal Surf Shop, 650-738-WAVE, www.norcalsurfshop.com; Surf Camp Pacifica, www.surfpacifica.com
Mondos, Pitas Point—California
Surf Report: In Ventura County, south of Santa Barbara, Mondos, on the inside of Pitas Point, has long and gentle waves over a sandy bottom, with a lot of room for everyone. The beach lacks massive swells because it's tucked away and shadowed by Santa Cruz Island so beginners can splash and crash on the inside without getting in anyone's way.
Scene: Some Ventura surfers consider Mondos a secret spot, although it's visible to the whole world from Route 101. Generally friendly on the inside, but don't get in anyone's way.
Bonus: Mondos faces south and gets summer swells that flow under Santa Cruz Island. Get good at Mondos and go nuts on all the classic points and reefs of Santa Barbara and Ventura counties.
Wax Run: Patagonia Great Pacific Iron Works, 805-643-6074, www.patagonia.com
Malibu—California
Surf Report: Thirty minutes west of Los Angeles, along 27 miles of beaches known as the 27 Mile Miracle, Surfrider Beach at Malibu is home to the original perfect wave. First Point is the most popular spot for beginning to intermediate surfers and some of the world's best longboarders. Best in summer, when the water is warm and the south swells are running.
Scene: A great beginner break but crowded with ravenous surfers. Learning here is a bit like playing hockey on the freeway. Collisions happen every couple of minutes. Beginners should stay inside and close to the point and ride the wild whitewater.
Bonus: Surf Malibu all day, party in Hollywood all night. Dolphins in the lineup. Plenty of sunshine. And that guy who dropped in on you without looking back just might be Adam Sandler.
Wax Run: Pro Surf Instruction, Learn to surf from John Philbin, the actor who starred in North Shore and Point Break and taught Kate Bosworth how to surf for Blue Crush. www.prosurfinstruction.com; Zuma Jays Surf Shop, 310-456-8044, www.zumajays.com; Malibu Surf Shack, 310-456-8508, www.malibusurfshack.com
Galveston Beach—Texas
Surf Report: Forty-five minutes from Houston, Galveston is the best beginner spot in Texas, with four piers and miles of un-crowded beach breaks. The waves here are gentle and rolling, and the Flagship Hotel/Pier is the best spot to get started. Jetties on both sides of the long pier protect the swell from chop and currents and help with paddle-outs during larger swells.
Scene: Tens of thousands of tourists will flock down to Galveston on any given summer weekend from cities like Houston to enjoy some gulf shrimp, a little sand between their toes, and some longboarding.
Bonus: Access to the surf spots is easy, with parking all along the seawall that stretches for miles. And if the ocean isn't cooperating, you can always go ride the tanker wakes for miles over the shoals in the Galveston Channel.
Wax Run: Surf Specialties, 409-763-1559, www.surfspecialties.com; 24-hr. Surf Reports: 409-763-2115
Midwest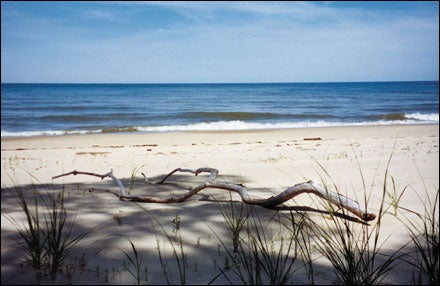 New Buffalo—Lake Michigan
Surf Report: Nearly 1000 miles from the ocean and an hour east of Chicago, New Buffalo, Michigan, is a one-stoplight town on the southeast corner of Lake Michigan. The Great Lakes can get surprisingly good surf, but that's usually in the winter. In the summer, New Buffalo gets wind waves from local high pressure systems that push dribbly one to two footers along the shore. June and July have a few decent days, but August is when it starts to fire up. Fall is best with head-high waves and the remnants of summer provide air and water temps in the 70s.
Scene: The public beach and harbor are popular in summer. Kids on skimboards, boogies, and surfboards are common. A prime lake resort destination for city folk, New Buffalo has become Surf City Central as thousands of visitors rent boards and wetsuits.
Bonus: More experienced surfers can be found at the south jetty, where north, northwest, and northeasterly swells wrap into a clean beach hidden from the wind. Check out the Great Lakes surf movie Unsalted (www.unsalted.tv) by Vince Deur and be shocked by the kinds of waves a short fetch can produce-and how determined these guys are to ride them in rain, snow, sleet, or hail.
Wax Run: Third Coast Surf Shop, 269-932-4575, www.thirdcoastsurfshop.com
Trending on Outside Online