The Daily Rally
Elizabeth Madin Surfs for Her Family
The marine biologist and mother was struggling to find time to nourish herself. Then she found a community of wave-riding moms.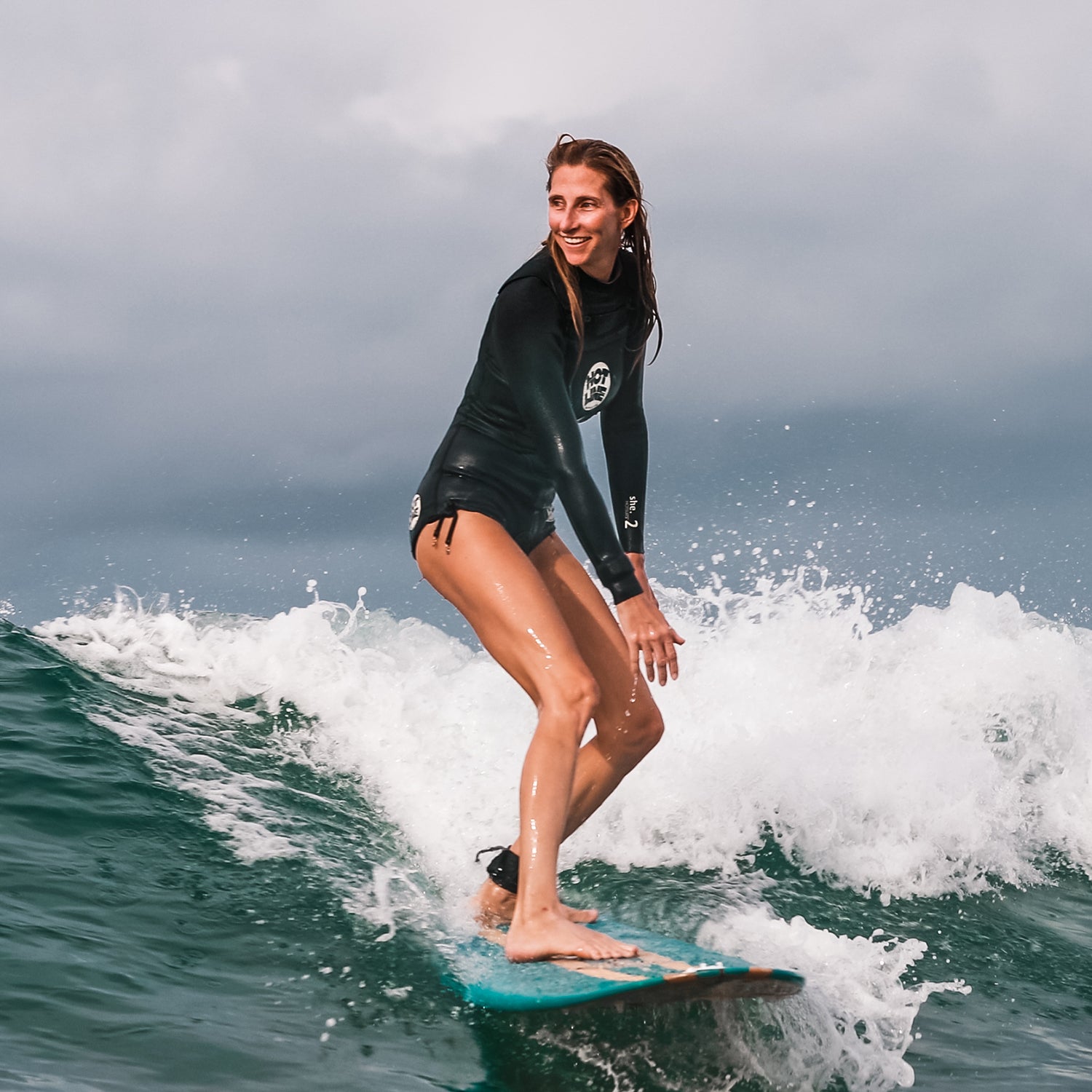 Heading out the door? Read this article on the new Outside+ app available now on iOS devices for members! Download the app.
Elizabeth Madin told her story to producer Sarah Fuss Kessler for an episode of The Daily Rally podcast. It has been edited for length and clarity.
So I went to get the board off the car, and I remember I was so nervous from all these different things that my hands were shaking. And I thought, Wow, get a grip.
Everything in my life revolves around the ocean, I guess you would say. I grew up in landlocked Kentucky, so there wasn't much in the way of beach time at home. But every summer my grandparents and my aunt would take us to the beach in Florida, and we'd also spend some time in New Orleans where they lived. So I got a lot of water time then.
Eventually I learned how to SCUBA dive. I ended up spending a semester in the Turks and Caicos Islands in the Caribbean. That's when I really fell in love with what is now in my field, marine ecology, which is the study of how marine organisms interact with themselves in their environment.
I was a late comer to the surfing game. It was on our honeymoon actually. My husband got really sick the day we got there and so he said, "I'm going to stay in the hotel room and just recover, I'll see you in a little while. So I thought, OK, I guess I'll go and hire one of those boards and try to learn how to surf. I took a lesson with a guy at Waikiki who was very patient and understanding. That first time I stood up, it was just so amazing. I mean, when you're on an 11-foot board, it's hard not to stand up if someone's pushing you in waves, which the kind gentleman was doing for me. But I remember standing up and riding along on the face of a wave, or I should say the whitewater of a tiny wave, and it was so exhilarating. I think I just thought, I've gotta keep doing this.
Surfing had been a big part of my life. My husband and I lived in Sydney, Australia, where my husband's from, and all of our children were born there. I didn't realize how much I missed surfing, until probably our second child. I just had kind of lost what made me, me, I think to some extent.
I used to paint, and I didn't have time to do art very much. And a lot of the outdoor activities— surfing, rock climbing, stuff I'd done in the past—just really weren't happening. And I think my husband was feeling pretty similar, because we're very much both invested and co-parent the children. We made a conscious decision at that point. We loved the friends we had in our inner city neighborhood. But we realized we didn't really want to raise our children in a concrete world, and that's kind of what we were having to do.
So, we just picked up shop and moved to the little beach town of Avalon. We were a block from the beach. It just really fit our lifestyle of wanting to be outdoors and in nature.
There were two issues though. One was that I was too nervous to paddle out into what can be quite an intense surf break when it's really firing. I felt like a beginner starting all over again. I'd lost all my confidence in my ability, and how to deal with waves, and how to be safe in the ocean. So that really felt like just going back to square one.
And also, I didn't have anyone to look after the kids. Which meant that it was six months that we'd been living there, and I still hadn't surfed at the break that was a two-minute walk from my house.
A friend then who wasn't a surfer herself said, "Oh, I heard about this group that's starting. It's called Surfing Mums." They were gonna meet down at Narrabeen, which was about a half an hour away. One parent will be paired up with another parent, and you look after their children and your own children while they surf. Then, after about an hour, they come back from surfing and you swap. I thought, Oh, that sounds intriguing, but I bet they're all really good and way better than me, and I'm gonna be totally out of my league. But nevertheless, I made myself go to that first meetup.
That first day I remember I was so nervous. My one daughter was with me, and she was about one. I thought, I'm not even gonna get the board off the roof because I'm not gonna surf.
I remember then I met them, and they were so nice. Kristy, who started the group, said, "Oh, yeah, yeah, it's, it's fine. I mean, if you don't want to go out, that's fine. But I'm really happy to look after your daughter." And I thought, Oh, should I, shouldn't I? I just met these people. Leaving my child with total strangers at a beach I'm not familiar with in waves that are probably a little too big for me.But anyway, I made myself do that.
I went out for a pretty short sesh, came back. My daughter was still happy and alive, and everyone else there was happy to cheer everyone else on. And it really felt liberating to know that now I'd solved the equation of how I'm gonna be able to surf while being a part-time marine biologist, and a mother and, and everything else.
I ended up thinking, OK, yes, I've gotta do this every week. They met every Friday. So I basically rearranged my meeting schedule. I asked a friend if she could help get my older daughter to school, so that I could get there on time.
It just really gave me a new energy and a new dimension to my life that I realized at that point really had been missing.
There are all these benefits, such as the children getting time outdoors with other children, just playing on the beach, playing in nature. The network of support that it builds among the parents. Within about three or four months, we were taking surf trips, like moms-only surf trips, to other places. And that really cemented that whole feeling of, yeah, this is a tribe of women that are there for each other and want to help each other get what they need, which for all of us, the commonality was time in the ocean.
In order to be the best parent, I found that I really did have to fill my cup as well. And Surfing Mums did that for me.
Fast forward four years or so, my husband and I both got offers to be faculty at the University of Hawaii. And as much as we did not want to leave that community, these were our dream jobs. This opportunity wasn't gonna come along again anytime soon.
So, when we got to Hawaii, I just followed what we did in Australia. A couple of people showed up that first day, and it just built from there.
And now if anyone is interested in finding a group or starting a group, we have a website. We have more than 20 groups around the country, from New Jersey to California, to Texas, to now, I think there's one in Oregon. So it's really exciting and it's grown amazingly well. What's really made it grow has been this team of women that all have phenomenal skills and intellect and passion for what they do, and for helping other women and families grow their villages of support centered around surfing.
My advice for anyone who's in a similar situation where they have maybe young children, or any children, and they want to get back to outdoor activities is, the Surfing Moms model is not unique to surfing. It can be applied to just about anything that can be done in about an hour or so. It only takes one other person to show up on a given week, and you can do that thing.
It could be rock climbing moms. It could be, I don't know, hang gliding moms. But, certainly, anything like that people like to do and they need help to look after their children, the model applies.
Elizabeth Madin is a mother of three, an associate professor of marine biology at the University of Hawaii, and the founder of Surfing Moms.
You can follow The Daily Rally on Spotify, Apple Podcasts, Stitcher, or wherever you like to listen, and nominate someone to be featured on the show here.
Lead Photo: Tommy Pieruki/Candace Stalder