The Daily Rally
Lori King Knows That the Terror Is Worth It
An encounter with sharks taught the open-water swimmer that getting through fear leads to beauty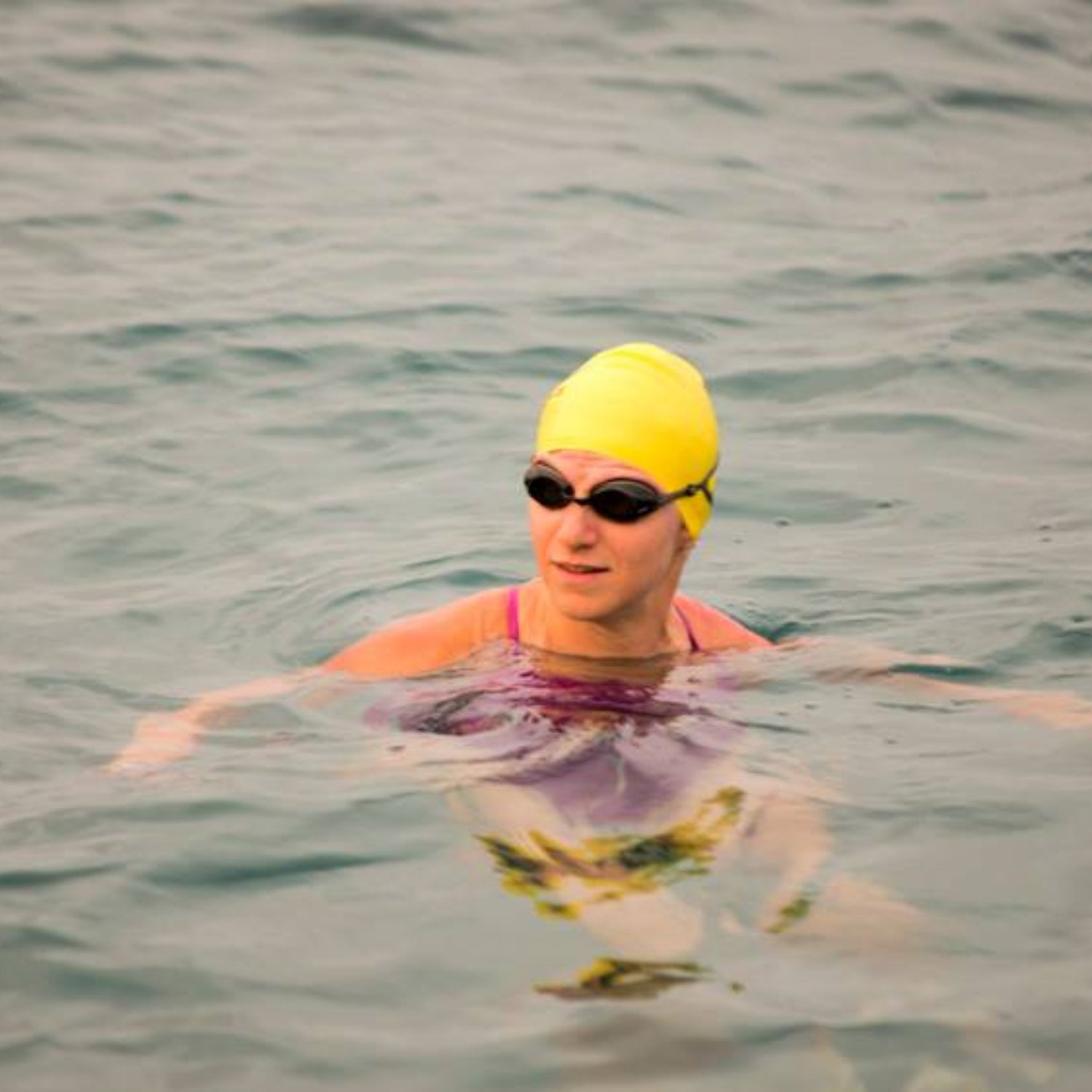 Courtesy 297 Sports
Heading out the door? Read this article on the new Outside+ app available now on iOS devices for members! Download the app.
Lori King told her story to producer Sarah Vitak for an episode of The Daily Rally podcast. It has been edited for length and clarity.
I swam over to the boat, and my coach was like, "You did an amazing job, but you gotta, you gotta get on the boat." And I was like, "Well, what do you mean?" I'm trying to ask, "What's going on?" And then, she's like, "You gotta get on the boat."
My name is Lori King. I do not have any nicknames, but I have a mermaid name, which is Lorelei. I'm in Long Island, New York, and originally from Pennsylvania. I moved to New York once I met my husband. And, you know, the rest is history.
I'm a mom first, a wife, and a public health researcher. And I swam Division I in college. I had performance anxiety in college. Some people, maybe if they have nerves and they overcome it, they really love the thrill of the competition. That's not me. My times in practice were where they should be. Then I would get into race day and I would fall apart. I would focus on worrying about my goggles and whether my goggles were gonna fall off or leak. There was definitely pressure I put on myself and expectations that you feel. But I loved it. I just didn't love the race part.
I had taken time off after college. I really didn't want to look at the water again. I had gone as far as I could, and it took a lot out of me, physically and emotionally. And I was OK. I was content.
Then, after about seven years, I just felt like I needed to get back in. I wanted to get back in. I was missing something that was a huge part of my life.
So, I started swimming at this YMCA in New York City. This group of swimmers would jump in with me. One of them happened to say to me, "You should come swim open water with us." Uh, OK, I don't know what that means, but sure. That's kind of how it started.
It took several years before I actually competed in my first open water event. Anywhere from 18 to 22 mile races or channel swims, that's typically what I do. That is the ultra-marathon. I was doing a swim in Tampa Bay. It was my first really long swim. I was told that it was a really good training swim, because there's not much to look at, and It could be not the best swim as far as the conditions.
The thing that I can't stand is that whole beginning part, where there's a ton of swimmers standing around and everybody looks like they could kick your ass. There's a lot of training that goes into these events. There's a lot of sacrifice that my family deals with, and I don't want to let them down. But at some point you just stop being nervous about all of the hoopla of the beginning and you can really just focus on settling in and finding your rhythm. I like the longer stuff because it feels less of a competition and more about why I do it, which is, seeing if I can finish the swim.
When we started, it was kind of gloomy, but I mean, we were also starting at 7:30 in the morning. But that gloom never went away. It was choppy, raining, off and on, and the water was all churned up the entire time. I don't know how many people total were in the swim, but more people dropped out than finished.
It was just a fight. The whole swim was a fight. But there was an Olympian, Brooke Bennett, who was doing it, and she finished. And it was me and another guy left in the water. I think at the time, if I had known that I was swimming for 12 hours and still not finished, I probably would've started breaking down. But in my mind, I don't know, it could have been eight hours, right on schedule.
You feed every half hour. You're not allowed to be touched and you can't hold onto anything. So what they do is they throw a water bottle out to you. Mine's usually on a rope. Or, if you're going to eat something solid, they'll throw it out to you in something.
I had just fed, and the whistle blew, and I thought, that's weird. I just did a feed, and my kayaker started making his way to the boat, and I was like, "Where's he going?" So I swam over to the boat and my coach was like, "You gotta get on the boat." And I thought that because the weather was so crappy that it was an in-water finish. I thought, Oh, maybe we finished, or there's lightning. And I was like, "Well, what do you mean?"
And then they just grabbed me and pulled me up, and I knew once you're touched, you're done. They had told me that there were two juvenile bull sharks that at first came up to the boat, and then they were swimming around me and my kayaker. The boat pilot said, "Now they're showing fins. They're exhibiting behavior that the next thing is they're gonna start just going in." Because they were literally circling. He just apparently turned white and was like, "She's done."
I don't know why, I just got emotional there. It still bothers me. When I got pulled, and they told me it was sharks, my first reaction was, "So I can't get back in?" I was three miles from the finish. So I was at mile 21 of 24.
The next day I went to breakfast by myself. I told my husband and my coach, "I just wanna be by myself". I was a mess. It was utter disappointment.
I really questioned whether I should have gotten pulled. I've been stung by a Portuguese man o' war and it's a terrible, horrible feeling. But I could survive that. The sea life doesn't scare me, but being derailed because of sea life scares me. Not being able to be in control of a situation scares me. If it were up to me—and this sounds so reckless, and as a mom, too—I probably would've tried to chance it.
My friend shared with me a part of a poem by Rilke. It says, "Let everything happen to you: beauty and terror. No feeling is final, just keep going."
I feel like that's kind of how my open water swim experiences are. But I would reverse it. The terror always comes to me first. But to get to the beauty part, I have to experience that terror and overcome it.
The terror is completely worth it, and there's always a lesson. The next swim I might do something slightly different that kind of changes things so there's slightly less fear, but it's still there.
Everything that you worry about, the feeling, the finish, the achievement. When you have it, you want that again. I would say that's kind of what helps me through it.
I'm going to do what we set out to do and hope for the best.
Lori King is an open water swimmer, a mother, a wife, and a public health researcher from New York. You can learn more about her at lorikingswimming.com.
You can follow The Daily Rally on Spotify, Apple Podcasts, Stitcher, or wherever you like to listen. Subscribe to our newsletter and nominate someone to be featured on the show.
Lead Photo: Courtesy 297 Sports
Trending on Outside Online