The Dangers of Surf Tech
New rescue technology is emboldening surfers to take bigger risks than ever before. Which means epic rides—and wipeouts.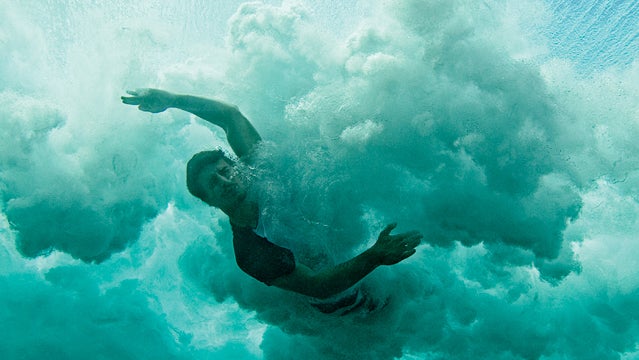 Heading out the door? Read this article on the new Outside+ app available now on iOS devices for members! Download the app.
On January 5, big-wave surfer Danilo Couto arrived at Mavericks, the legendary California surf spot near Half Moon Bay, to find a hectic scene. A 15-knot wind was chopping up the surface of 30-foot waves, and a helicopter circled above the water, filming scenes for Chasing Mavericks, Hollywood's latest take on surfing. Camera boats and jet skis swarmed just out of reach of the waves, while a stunt coordinator tried to manage a crowded lineup filled with elite pros like Greg Long, Peter Mel, and Shawn Dollar.
It was the first time Couto, 37, had surfed Mavericks in nearly a year. His previous visit, in March 2011, had not gone well. Sion Milosky, 35, a friend of Couto's, had been buried by a huge wave and held under. When Milosky finally surfaced, a jet ski raced him to shore, where attempts at CPR failed to revive him as Couto looked on.
Still, in January, Couto felt confident, because this time he carried a secret weapon—an inflatable wetsuit invented by surfer Shane Dorian. The Billabong V1, or Vertical Ascent 1, allows a rider driven deep underwater to pull a shoulder-mounted rip cord, causing a CO2 cartridge to inflate an air bladder capable of rocketing the wearer back to the surface.
When a huge wave formed on Mavericks' west bowl, Couto paddled like hell, but after he stood up his board hit some chop. The wave blasted him 30 feet under and drove the air from his lungs. He reached for his rip cord but couldn't find it. A second wave sent him deeper. Finally, Couto grasped the cord, pulling so hard that it broke off in his hand. "But the thing worked," he says. "It's hard to say what would have happened if it hadn't."
As Hollywood does its best to sell big-wave riding to the masses, new technology is enabling surfers to tackle ever more massive waves. In addition to the V1, at least two other inflatable vests should hit the market soon, and surfers have begun carrying canisters of emergency air. On one hand, this is a good thing: surfers are getting their answer to the ABS air bag and the AvaLung, life- saving tools that have revolutionized backcountry skiing. But some worry that these devices will impart a false sense of security, especially to aspiring big-wave heroes pumped up by Chasing Mavericks, which is very loosely based on the short life of the late Santa Cruz phenom Jay Moriarity, who died in a 2001 freediving accident.
"When we surfed the outer reefs in Hawaii, you parked at the beach and paddled alone for half an hour. There was no safety backup," Couto says. "We can't have the new generation of guys come in and just say, 'Well, I don't have to be so ready, because all I have to do now is pull a cord.'"
"Mediocre preparation for 40-foot waves is not going to be bolstered by spare air or an inflatable wetsuit," adds Jeff Clark, who pioneered surfing at Mavericks in the '70s and '80s and is designing his own CO2-equipped vest.
Early big-wave surfers like Greg Noll relied on nothing more than strong limbs. It wasn't until around 1970 that wetsuit inventor Jack O'Neill's son, Pat, marketed the first surfboard leash—a length of surgical tubing attached to a wrist or ankle. In the '90s, surfers like Laird Hamilton started equipping jet skis with rescue sleds, which could be used to pull injured surfers out of turbulent water. Sturdy, passive flotation vests soon followed, but they offered no guarantee: Milosky was wearing one the day he drowned.
Despite concerns about a proliferation of unqualified surfers, the new safety technology is especially needed at Mavericks, where, since 2008, the National Oceanic and Atmospheric Administration has allowed rescue jet skis only on the biggest days. (One was used to retrieve Chasing Mavericks star Gerard Butler last December when he wiped out during shooting.) Dorian designed the V1 for his own use, following a near fatal wipeout in 2010, but since it went on sale to a select group of pros in late 2011, the wetsuit has generated remarkable interest. On a big day at Maui's Jaws last year, more than half of the 40 surfers wore the $800 suit.
But while the V1 has received the most attention, a competing device may be the real game changer. For the past decade, Terry Maas, a retired California oral surgeon and prominent freediver, has been working on a computer-activated inflatable vest called the SRV, which functions as an unconscious rescue system, as Maas puts it. Whereas the V1 requires an able-bodied surfer to pull a rip cord, Maas' vest will bring even an unconscious rider to the surface. The user programs the computer to trigger inflation at a certain depth or time spent underwater—say, 30 feet or 60 seconds.
Before long, the Mavericks lineup could be made up of surfers in inflatable vests and suits with oxygen canisters strapped to their chests.
"I feel like a bit of a cheeseball out there with all that shit on," says Dollar. "But what's going to happen when Mavericks goes 70 feet and people try to paddle it? Because we will. Human beings cannot fall on a wave that big and live."