The Evolution of Whitewater Kayaking
Whitewater's brightest stars are launching bigger drops than ever. But it'll take more than sweet photos to right this fading sport.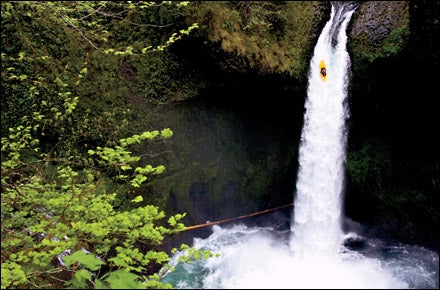 Heading out the door? Read this article on the new Outside+ app available now on iOS devices for members! Download the app.
"THE IMPACT WAS HEAVY," says 23-year-old Montanan kayaker Tyler Bradt of his 80-mile-per-hour entry into the pool at the bottom of eastern Washington's 186-foot Palouse Falls this past April. "I took a huge hit to the chest, which knocked the wind out of me and jackknifed me against the back of my boat. I had so much adrenaline going through me, I didn't know if I was hurt or not."
Since March, kayakers have broken world waterfall records three times, raising the takeoff height an astounding 78 feet and making a serious media splash. After his plunge, Bradt appeared on Anderson Cooper 360o . The previous month, Brazilian Pedro Oliva, 26, debuted footage of his March 4 run over his home country's 127-foot Salto Belo on the Today show, where Ann Curry touted "the growing popularity of extreme kayaking." On Mother's Day, Christie Glissmeyer, 30, of Hood River, Oregon, launched off 108-foot Metlako Falls, setting a new women's record. At least a dozen others—including Brendan Wells, who's 15—have now broken the 100-foot mark.
Ask any of these huckers the obvious question—um, why?—and you get everything from "For my personal progression" (Bradt) to "It was close to my house" (Glissmeyer). Given all the press coverage, it's tempting to agree with Curry that the sport is booming, but in fact just the opposite is true. White­water kayaking is in serious decline, with American paddlers spending some 50 percent fewer days on the water than at the beginning of the decade, sponsorship dollars drying up, and the once-raging pro freestyle tour all but gone. For elite athletes, launching huge waterfalls may be the new frontier, but it's also one of the few remaining ways to scratch out a living in a boat.
It's been a long, hard fall for a pursuit that used to define adventure-sport cool. The boom cycle really took off in 1997, when designers at kayak manufacturer Wave Sport popularized a radical new boat, the X. It had a flat-bottomed hull, like a surfboard, and it enabled paddlers to spin and slide sideways on river waves. Freestyle river rodeos began drawing huge crowds and big-money sponsors like Subaru and Nike. In 2001, Outside put then-19-year-old kayaker Brad Ludden on the cover, teasing a story about the dream life of pro paddlers: "Take two hotdoggers, hand them the keys to a brand-new Subaru, stock it with boats and cash, and send the lucky bastards off with two words: Find water. Wouldn't you want to be a rodeo kayaker?"
Yes, please!
Mike Steck, who ran Dagger Kayaks' Team D from 1996 to 2005, remembers bidding wars with Wave Sport for elite athletes, who were stringing together sponsorships amounting to more than $100,000 per year. High schools like the roving World Class Kayak Academy sprouted to hone the country's top talent. It was all going so well. Then it wasn't. According to the research firm Leisure Trends Group, whitewater kayaking hit its peak in 2002, with 3.9 million paddlers spending 14 million days on the water. By 2004, the last year before LTG changed its survey methods, kayaker days had fallen by half.
"The industry really messed things up," concedes Jim Moss, a board member of the Trade Association of Paddlesports. As Steck puts it: "Whitewater went in the shitter."
So what happened? The half-dozen athletes and industry insiders I spoke with had many theories, but three things came up again and again. First, kayak manufacturers pushed R&D so hard and so fast that they choked on their own ambition. From 1996 through 2002, each year's new designs were significantly better than the last. "If you didn't innovate, you were dead," says Steck. Paddlers bought new $900 boats every year, then unloaded them at the end of the season for peanuts. In the short term, this fueled a rapidly expanding business, but the discarded boats—built to last—would come back to haunt their makers. When the technology finally plateaued, around 2003, the dam broke and old boats flooded the market.
"I don't know anybody who's bought a new boat in a long time," says Moss. Indeed, many top kayakers acknowledge using models that are now five years old.
The industry also undercut itself with a rash of mergers, acquisitions, and new ventures. In 1998, Watermark, a holding company, bought Dagger and Perception. Confluence, another holding company, then bought Wave Sport from its colorful founder, Chan Zwanzig, in 1999. Two key players at Perception, Woody Callaway and Shane Benedict, helped start Liquidlogic in 2000. Wave Sport ace Eric Jackson splintered off from Confluence in 2003 to start Jackson Kayak, and in 2005 Confluence bought Watermark's watersports division. Today, Dagger and Wave Sport are the same company, Perception has dropped its whitewater line, and Jackson is quickly overtaking them all.
The athletes blame the mergers for placing non-kayaking managers at the helms of the companies, while industry types like Steck say the startups as well as foreign imports sliced and diced the kayak market's "fragile pie." In either case, plummeting new-boat sales combined with smaller market shares forced companies to slash their budgets and disband their salaried teams and—Poof!—nobody wanted to be a rodeo kayaker anymore.
Making matters worse, the dominant marketing strategy during the boom period was to sell kayaking as extreme. It made for some gnarly catalog covers but likely drove away a large crop of weekend warriors put off by the idea of drowning upside down in a tiny boat.
For elite kayakers coming of age in the past few years, the meltdown led to tough times even before the recession struck. Bradt and other recent graduates of the World Class academy, like Rush Sturges, Lane Jacobs, and Ian and Evan Garcia, feel like they missed out on the party. "Athletes were getting paid lots of money," says Bradt. "I came in on the tail end of that. When I was 17, Dagger gave me a few thousand bucks and four kayaks, which is more than anything I'm getting now."
Which brings us back to those waterfalls. With no viable pro events tour, the alternative is to produce and sell your own footage. Bradt and his cohorts use what little sponsor money is available to buy plane tickets and film themselves inventing new moves on remote rivers—and, of course, making insane waterfall drops, the sport's equivalent of the slam-dunk contest. It's gone well enough so far—nobody has died launching a 100-plus-foot fall since Jesse Sharp tried to run Niagara Falls in 1990—but the one-upsmanship will likely end soon, perhaps tragically.
Meanwhile, kayak companies have a decidedly less frightening plan to dig themselves out of their hole. The rebuilding effort, say many company leaders, depends on spread­ing the message that paddling can be a safe and easy activity. "For Teva, pushing the envelope means greater accessibility," says Joel Heath, the river-footwear company's marketing director. "It doesn't mean hucking your meat bigger." Heath points to the ski industry, which focuses on groomed cruiser runs, as a good model, and notes that one benefit of kayaking's boom years is the resulting dozens of urban whitewater parks. And there are still the classic Class III floats through the wilderness.
On that score, even Bradt agrees: "We just got off the Middle Fork of the Salmon and had a killer time."