How to Grow an Adventurous Family
What compels a couple to spend months at sea with their four young children? A burning desire to do something different.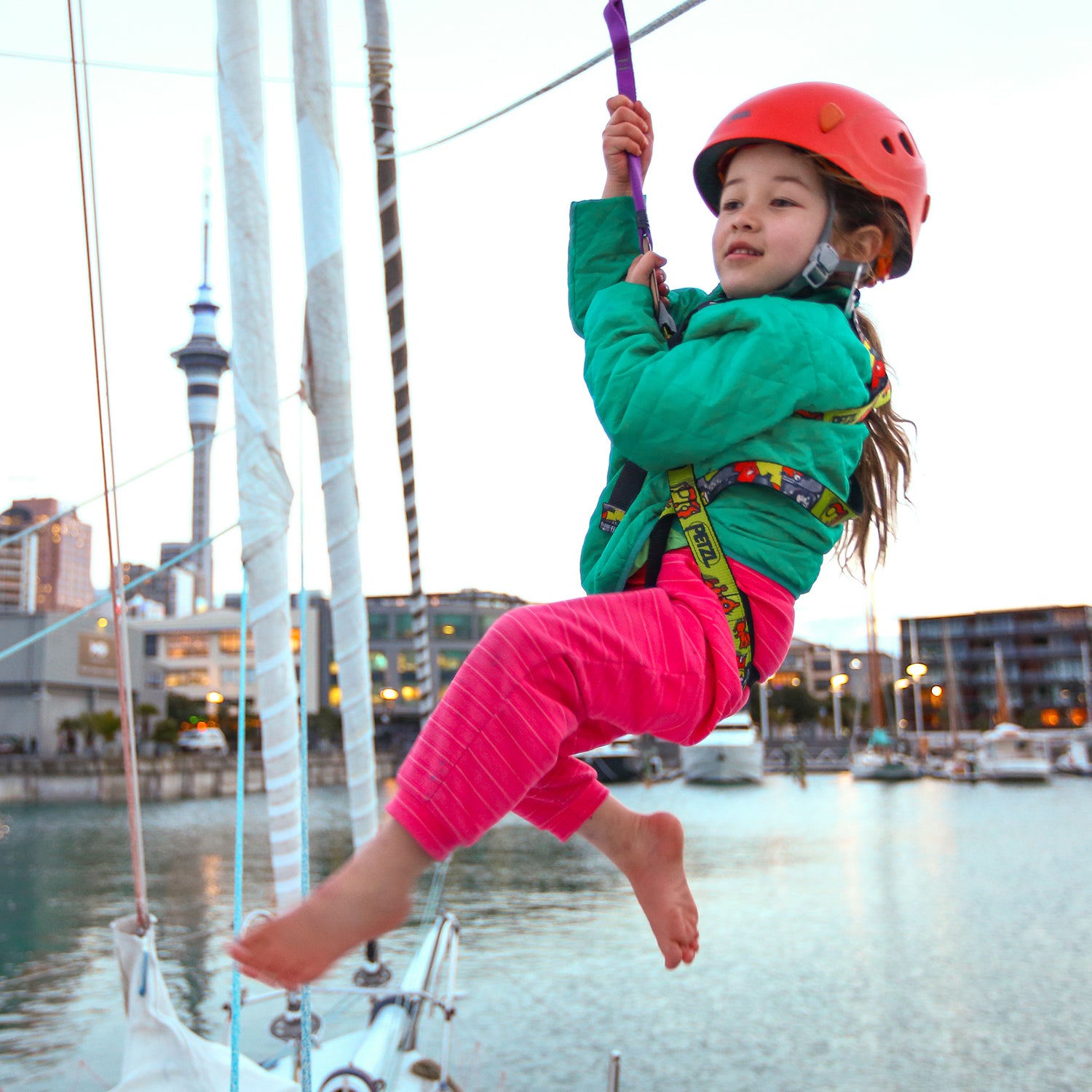 Somira Sao(Photo)
Heading out the door? Read this article on the new Outside+ app available now on iOS devices for members! Download the app.
In June 2011, with a nine-month-old and a two-year-old in tow, photographer and writer Somira Sao and her husband, James Burwick, a mountain guide, professional skipper, and marine consultant, set sail aboard their 40-foot carbon-fiber racing boat Anasazi Girl to cross the Atlantic from Maine to France. They did it—and then kept on going, adding two more members to their family as they sailed around the world over the next six years.
Sao had fled Cambodia as a two-year-old with her family in 1979, during the Khmer Rouge regime, and eventually settled in Maine. She says she wants their children—Tormentina, ten, Raivo, seven, Pearl, five, and Tarzan, two—to see that "the world isn't so big after all." Aside from being dismasted by a rogue wave off the coast of Chile during one particularly stormy passage, their years at sea were filled with invaluable family time. They completed their circumnavigation of the globe in May 2017.
This June, the family relaunched Anasazi Girl in the Caribbean. Sao, who is expecting their fifth child in December, says they are considering selling the boat and switching to a catamaran to sail Polynesian style—just a paper chart, the stars, and a few simple navigational tools. She spoke with Outside by phone from a dock on Grenada.
---
"When we got pregnant, we said to each other, 'Let's keep the adventure going. Let's not settle down.' After I gave birth, I did not have that nesting feeling. This traveling, changeable lifestyle with the kids became a natural extension of how we were already living.
Before our Atlantic crossing in 2011, we had never even gone on a day sail with the kids. We figured that if everyone was miserable, we could pull into port in Canada. We had an amazing trip—21 days nonstop to France—and realized that this lifestyle was much better than living in a van. All of a sudden, we were eating baguettes and Camembert. No looking for hotels, no searching for a place to camp.
I wouldn't encourage novice sailors with no experience to go sailing with their kids, but I do feel like parents should be able to do what their skill and comfort level allow. James had 32 years of experience as a professional captain and a solo circumnavigation under his belt. I felt very familiar with the boat from helping him prep for his solo voyages. We didn't see it as endangering our family.
The kids have learned adaptability, understanding, problem-solving, and risk management. They know what it takes to accomplish a really big project. They have a broad knowledge of the world and many different cultures. We involve them in every step of the voyage—making lists, maintaining the boat, working on the mechanical, electrical, plumbing, sails, lines, and rigging, using navigation instruments, provisioning, and prepping safety gear. They have an understanding of limited resources, that fresh water, power, fuel, and food are not available endlessly at sea. What they don't have is a set idea of what's expected in life. A lot of kids grow up with this assumption that you're going to go to school, go to college, get a job, get married, buy a house, have kids, raise them, and then retire.
In 2014, on day 21 of a passage from New Zealand to France, a gigantic rogue wave knocked us down and broke our mast in three places. Nobody was hurt, but we were stressed. We stayed calm and did not panic. We were 13 gallons short of diesel fuel to make it into port. After about 48 hours, a Chilean navy ship picked us up, and the captain offered to tow the boat into Puerto Williams, so we didn't have to abandon ship.
When we're on our boat, we're not just on a two-week vacation visiting a foreign country. We're actually living in different places around the world together, making long-term friendships beyond what a short trip can allow. I wouldn't trade any of it—not even the experience of getting dismasted.
The longest passage we've done is 32 days, from the Cape Verde islands across the equator to South Africa. The kids make a lot of art, do origami, play games. We read books out loud and watch movies. It's a different type of reality when we're at sea. All that stimulation from land is gone, and you are left with the basics of nature—sunrise, sunset, subtle changes in light, clouds, and sky. They notice the changes in wind, sea, all the elements.
Many people we've met while sailing and traveling have become our kids' teachers: biologists, engineers, doctors, naval architects, professional sailors, professional athletes, sailmakers, filmmakers, musicians, actors, artists. These world-class leaders and innovators are who we want our children to learn from.
Making a big passage may seem overwhelming to some, but for our kids, these seemingly hard problems are not that difficult to accomplish. They've learned that whatever you want to do, it's possible to break it down into smaller, more manageable pieces to accomplish the big goal.
We're looking for clean air, clean water, clean dirt. A lot of the voyages that we did, especially in the Southern Ocean, allowed us to be in very remote and wild places that people never get to see, and to show the kids that these untouched places still exist.
Each port we're in, we say, 'OK, is this working for the family?' If not, then we make a change.
Anasazi Girl is a boat designed for one person, so it's always too small. But you know what? When it's nice out, it's fine. We live mostly outside. With boat life, there's a closeness that I don't think most families who live on land ever experience.
You never know what your family's adventure fit could be. There are no rules. It's all about making the choice to try something different from the norm.
Right now we don't have the financial security of having a house or a big savings fund for college. In my mind, that's not really investing in a child's future. I believe the time we invest in our kids now is what is important."
Lead Photo: Somira Sao
Trending on Outside Online