Infinite Range
Get lost in Alaska's Wrangell--St. Elias: It's six Yellowstones' worth of icy lakes,anonymous meadows, and peaks you won't find on any map.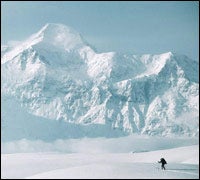 Heading out the door? Read this article on the new Outside+ app available now on iOS devices for members! Download the app.
"MAYBE WE COULD get the pilot to stay over with us," Dad says, looking up from his copy of Bear Attacks: Their Causes and Avoidance. "I bet he'd have a gun."

Denali Jr.: fresh May snow below 18,008-foot Mount St. Elias.
The old man and I are careening down the McCarthy Road, a 61-mile stretch of chuckholes and dust (WORST ROAD IN ALASKA, boasts a local sign) that leads to Wrangell-St. Elias National Park and Preserve, the largest national park in the United States, and one of the least visited. At 13.2 million acres, Wrangell-St. Elias is less a park than a semiautonomous wilderness territory. To imagine its size, combine New Hampshire and Vermont and kick everybody out. Raise four mountain ranges, including the nation's second-highest peak—18,008-foot Mount St. Elias—and eight of the 16 next-highest mountains in the country. Sprinkle liberally with black bears, grizzlies, Dall sheep, and ravens. And add huge rivers of ice: the park's Malaspina Glacier is bigger than the state of Rhode Island.
The sheer vastness of Wrangell-St. Elias flusters even old Alaska hands. "The only way to see this place is to get a bush pilot to fly you," advises George Herben, a 70-year-old photographer and writer who's lived near the park for nearly half a century. "I'd start…" he says, then trails off in frustration. "Well, I don't know where you'd start. You could go stony broke flying around here."
My father and I were last in Alaska during the pipeline boom of the mid-1970s, when our family moved to Anchorage and I cross-country skied to elementary school. Back then Wrangell-St. Elias National Park didn't exist; Jimmy Carter created it in December 1980 as part of the Alaska National Interest Lands Conservation Act. Combined with Glacier Bay National Park to the south, the Yukon's Kluane National Park to the east, and British Columbia's Tatshenshini-Alsek Wilderness Provincial Park to the southeast, this is the world's largest contiguous protected area—a total of 24 million acres. But while Denali and Glacier Bay attract busloads and boatloads of Lower 48ers, Wrangell-St. Elias has remained something of a locals' secret.
Some blame it on the name. "Sounds like an accounting firm, doesn't it?" says Bob Jacobs, the 49-year-old owner of St. Elias Alpine Guides, who's run his service out of an old copper-company electrical plant in the town of McCarthy for nearly 25 years. First ascents are his stock-in-trade. "When we came here in the late 1970s, there were hundreds of unclimbed peaks," he tells me. "We climbed most of the named mountains, then moved on to the unnamed ones. There're only a couple of us who know which named ones are still waiting for first ascents. And we're pretty tight-lipped."
Dad and I used the excuse of his 60th birthday to get back in touch with the land that got in our blood and never left. For both of us, those years in Alaska have become a touchstone, the greatest adventure of our family's middle-class suburban life. Five years ago, we took on Mount Rainier together. This time, I promised, no climbing. We picked a blank wet spot on the map—Upper Tebay Lake, in the Chugach Range, with no trail in or out—and arranged to have a bush pilot drop us off with camping gear, a couple of fishing poles, a compass, and a prayer for good weather.
AFTER AN eight-hour drive from Anchorage (the last three hours of it on the McCarthy Road), Dad and I finally arrive in McCarthy to find the trees hunched under a low dishwater sky. "We're socked in," says Gary Green, the proprietor, pilot, and chief mechanic of McCarthy Air. "Nobody's going anywhere for a while." Dad and I drop our packs and wander into town.
As Alaskan bush towns go, McCarthy makes the old Northern Exposure burg of Cicely look like Normal Junction, Iowa. The town's summer population of 75 dwindles to a core of about ten hardy souls in winter, when the mercury plunges to 35 degrees below zero. In high season (late May through August), temperatures climb into the sixties and McCarthy fills with globe-trotting mountaineers, world-renowned ecologists, groovy Park Service seasonals, European backpackers, stoic bush pilots, and, of course, your run-of-the-mill Alaskan eccentrics. When the season ends, in September, it really ends: The town—a handful of buildings, including three restaurants but nary a gas station—virtually shuts down after Labor Day
By early afternoon, the lid has lifted, and we load our gear into Green's silver Cessna 180. Only when we reach cruising altitude does the scale of the park and the folly of our fallback plan—to hike out should something go wrong with our scheduled pickup in three days—become apparent. Between the two Tebay Lakes and McCarthy winds the Chitina River, wild and milk-silty, braiding uncrossable channels across a half-mile-wide bed, with eerie pools of turquoise and antifreeze green. The country in between is scrubby and wet, sequined with hundreds of ponds too small for the map. There will be no hiking out of here for us.
Green lands the Cessna on an open meadow at the western edge of Upper Tebay Lake. "Should we be worried about bears?" Dad asks him as we dump our gear.
"Nah," says Green. "They'll be too busy eating berries to be concerned with you."
We are worried about bears.
The moment the plane takes off, turning us into food-chain silver medalists, we take a survey of our surroundings and then set up our tent in the dead-smack center of the widest open field within five miles. Granted, we're pounding stakes into a meadow of blueberries and mossberries—camping, in essence, in the middle of Big Boy's dinner plate. But at least we'll see him coming.
LIKE CHAMONIX before the French arrived: That's what I'm thinking when the clouds finally slip their moorings to reveal a range of glaciated shale and sandstone peaks rising 5,000 feet from the lakeshore. Six, eight, ten, a dozen spectacular mountains, offering everything from aggressive hiking to technical rock and ice climbing—and who knows they're here? Some of the peaks aren't even indicated on the contour lines of my map.
The Tebay Lakes were named after Dall sheep—debae in the Ahtna language of Alaska's Athabaskan culture—by a young cavalry officer named Lieutenant Henry T. Allen, who led a ragtag expedition up the Copper and Chitina Rivers in 1885. Following the precedent set by earlier explorers, Allen named Mount Blackburn (16,390 feet) and Mount Drum (12,010 feet) after high-level government functionaries. Once you're out here, you begin to understand the lieutenant's impulse. After a couple of day hikes over anonymous hills and hidden valleys, Dad and I begin christening the peaks in an effort to make the landscape a little less frightening, a little more our own. Behind us rose symmetrical triplets, the Three Pyramids; their northern neighbor became Little Rainier; the emerald highland beyond: Scottish Peak.
There's a famous photograph of the Duke of Abruzzi, the turn-of-the-century Italian explorer, taken on his return from the 1897 first ascent of Mount St. Elias. The face of the 24-year-old Duke, who would later pioneer K2's famous Abruzzi Ridge, bears witness to his 50-day ordeal. His eyelids are heavy, his burned skin is peeling, and he looks kind of, well, puffy. Out there among the ponds and tussocks, you understand why. The bugs must have eaten the poor Duke alive.
"Is it my imagination, or are they going for me more than you?" I ask.
Dad studies the brown tornado swirling around my head. "Yeah," he says. "You kinda look like Pig Pen. Must be something you eat and I don't."
"What? What could I possibly eat that would turn me into a one-man Day of the Locust?"
"Pass the bug juice."
We're having some quality father-son time, irritating the Tebay trout with some ridiculously whorish spinners. We have a single bottle of deet between us and as much as I love my father I swear if he spills it there's only one of us flying out of here alive.
"IS THAT HIM?"
"Nope. Floatplane."
"Y'spose he'll show today?"
"Dunno."
The Cessna is late. Twenty-five hours, 13 minutes late.
"You heard him say 'We'll see you Monday,' right?"
"I think so."
So it's Tuesday afternoon and the snow level has been creeping down for two nights, leaving ever deeper dustings on the hills around us. We've abandoned our hiking—the tussocks grow in big caps around here; it's like walking across a giant bumper-pool table—and focused on hooking fish. The bad news is, the boys ain't biting and it's getting colder by the hour. The good news: the cold's keeping the bugs down.
"Maybe it's engine trouble."
* "If it is, I don't want to know about it."
We are becoming accustomed to Wrangell time. A half-day wait for weather, an extra day in the bush—standard fare.
When Green shows up, it's no big deal. "Couldn't get out of McCarthy," he says. "How's the weather been here?" High and clear, which made the wait all the more frustrating. With so many big peaks, a clear sky in McCarthy can turn to heavy cotton a few miles away. A pilot may be able to get up but not down, or vice versa.
That night, after a hearty steak dinner at the McCarthy Lodge, I wander down to a one-room spruce cabin where George Herben and his wife, Pat, are reading by the light of a propane lantern. I'm itching to tell George about the mountains I've seen. He seems unfazed. "One day I sat down with an inch-to-the-mile map," he tells me. "And I started counting a 35-by-35-mile area. I counted 27 mountains over 10,000 feet. You know how many had names? Three."
Like a lot of longtime locals, Herben will worry your ear about how the old place has changed. McCarthy's not the same, the Wrangells aren't the same. More people, different attitudes. "I want the Alaska I had as a young punk, when it was still a territory," he tells me. A few years ago Herben published a book, Picture Journeys in Alaska's Wrangell-St. Elias, and since then he's had second thoughts about letting too much information slip into the outside world. "Sometimes I'd wonder if I was cutting my own throat, putting out a book like that."
I know the feeling, George.
The town of McCarthy is the park's main hub. Kennicott, five miles north, was once home to a booming copper-mining operation, and the miners regularly visited McCarthy for its saloons and various forms of, ahem, recreation. Buses shuttle visitors from McCarthy to Kennicott ($10 round-trip) for tours of the abandoned copper mill and treks on the Kennicott and Root Glaciers.
Getting There:
It ain't easy. McCarthy is 315 miles east of Anchorage—an eight-hour drive via the Glenn (Alaska 1), Richardson (Alaska 4), and Edgerton (Alaska 10) Highways and the teeth-chattering, unpaved McCarthy Road, which runs 60 miles from Chitina to the Kennicott River, about a mile west of McCarthy. You'll have to leave your car at the end of the road (parking is $5 per day), cross the river on a footbridge, and walk the last quarter-mile or so from there. Or fly in: Glennallen-based Ellis Air Taxi (907-822-3368; www.ellisair.com) offers regular service between Anchorage and McCarthy on Wednesdays and Fridays ($400 round-trip per person).
Where to Stay:
The McCarthy Lodge (907-554-4402), built in 1917, offers rustic double rooms with shared baths for $130 per night. Have supper in the lodge's dining room; the steaks are big enough to choke a griz. Double rooms are $180-$265 per night at the Kennicott Glacier Lodge (800-582-5128; www.kennicottlodge.com), which overlooks the Kennicott and Root Glaciers. Kennicott River Lodge and Hostel (in McCarthy, 907-554-4441; www.ptialaska.net/~grosswlr) has dormitory-style beds for $25 per night, private cabins for $85 to $130. Or camp at the National Park Service camping area on the west side of the McCarthy footbridge (free, no facilities; 907-822-5234).
Park Basics: Wrangell-St. Elias National Park and Preserve is open year-round and admission is free. Backcountry permits are not required. For more information, contact the park's headquarters in Copper Center (on the Richardson Highway, about ten miles south of Glennallen; 907-822-5234; www.nps.gov/wrst).
Getting Around the Park:
To do it right, you'll need a bush pilot. In McCarthy, Gary Green's McCarthy Air (907-554-4440; mccarthyair.com) and Kelly Bay's Wrangell Mountain Air (800-478-1160; www.wrangellmountainair.com) offer fly-in, fly-out service to almost anywhere in Wrangell-St. Elias for $120 to $450 round-trip.
Ramp up, Bucko: Wrangell-St. Elias is rugged, cold, and unforgiving. Always carry a compass and topographical maps, pack extra gear and provisions, and consider hiring a local guide. Here, five sporting ways to get out there.
Backpacking You won't find a maintained trail anywhere in Wrangell-St. Elias, but the park is laced with hikeable game paths. Kennicott-McCarthy Wilderness Guides in Kennicott (907-554-4444; www.kennicottguides.com) and St. Elias Alpine Guides in McCarthy (888-933-5427; www.steliasguides.com) lead hikes and backpacking trips throughout the park. A challenging, 11-day outing in Chitistone Canyon, 45 miles northeast of McCarthy, includes a traverse of 5,820-foot Chitistone Pass, between the Wrangell and St. Elias ranges, via the 25-mile Goat Trail (from $2,495 per person with St. Elias Alpine Guides, including round-trip airfare from McCarthy). Or try a half- or full-day trek on the Root Glacier near Kennicott ($50-$90 with Kennicott-McCarthy Wilderness Guides). Keep an eye out for mountain goats, bears, and caribou.
Mountaineering St. Elias Alpine Guides and Kennicott-McCarthy Wilderness Guides (see above) can take you up any mountain in the park; popular climbs include 16,390-foot Mount Blackburn and 16,237-foot Mount Sanford (7-21 days each; $3,000-$5,750 per person; basic mountaineering skills required). And with the wealth of unclimbed peaks in Wrangell-St. Elias, first-ascent expeditions are yours for the asking (from $3,000).
Whitewater Rafting Alaskan rivers are big and unruly—and damn fun to run. Copper Oar (McCarthy, 800-523-4453; www.alaskan.com/copper_oar) offers Class II-III wilderness rafting on the Kennicott and Nizina Rivers ($45-$225 per person for day trips; $1,225 per person for a six-day trip on the Nizina). St. Elias Alpine Guides (see above) offers three-day floats through spectacular glaciated valleys on the Class I-III Kennicott, Nizina, and Chitina Rivers (from $900 per person, two-person minimum), or a 13-day source-to-sea expedition from the terminus of the Kennicott Glacier to the Gulf of Alaska (Class I-III; $2,500-$2,950 per person).
Fishing The park's lakes are teeming with rainbow and steelhead trout, silver salmon, and arctic grayling; king and red salmon run from June to August. You'll need your own equipment; there are no rental shops near the park. Fly-in, fly-out service to the Tebay Lakes runs $150 per person (two-person minimum) on McCarthy Air (907-554-4440; mccarthyair.com). Fishing licenses (nonresidents, $30 for seven days) are required; buy one from the Alaska Department of Fish and Game's Web site, www.admin.adfg.state.ak.us/license, or call 907-465-2376.
Sea Kayaking From June through August, a few intrepid paddlers dodge icebergs in the fjords of Icy Bay, near 18,000-foot Mount St. Elias on the park's southern coast. Discovery Alaska offers ten-day kayaking and hiking trips in the region (June and August; $2,250 per person; 800-586-1911; www.akdiscovery.com).