Kelly Slater's Wave Pool Is Coming for Coachella Valley
A new Southern California resort will feature the same tech—and waves—as the prototype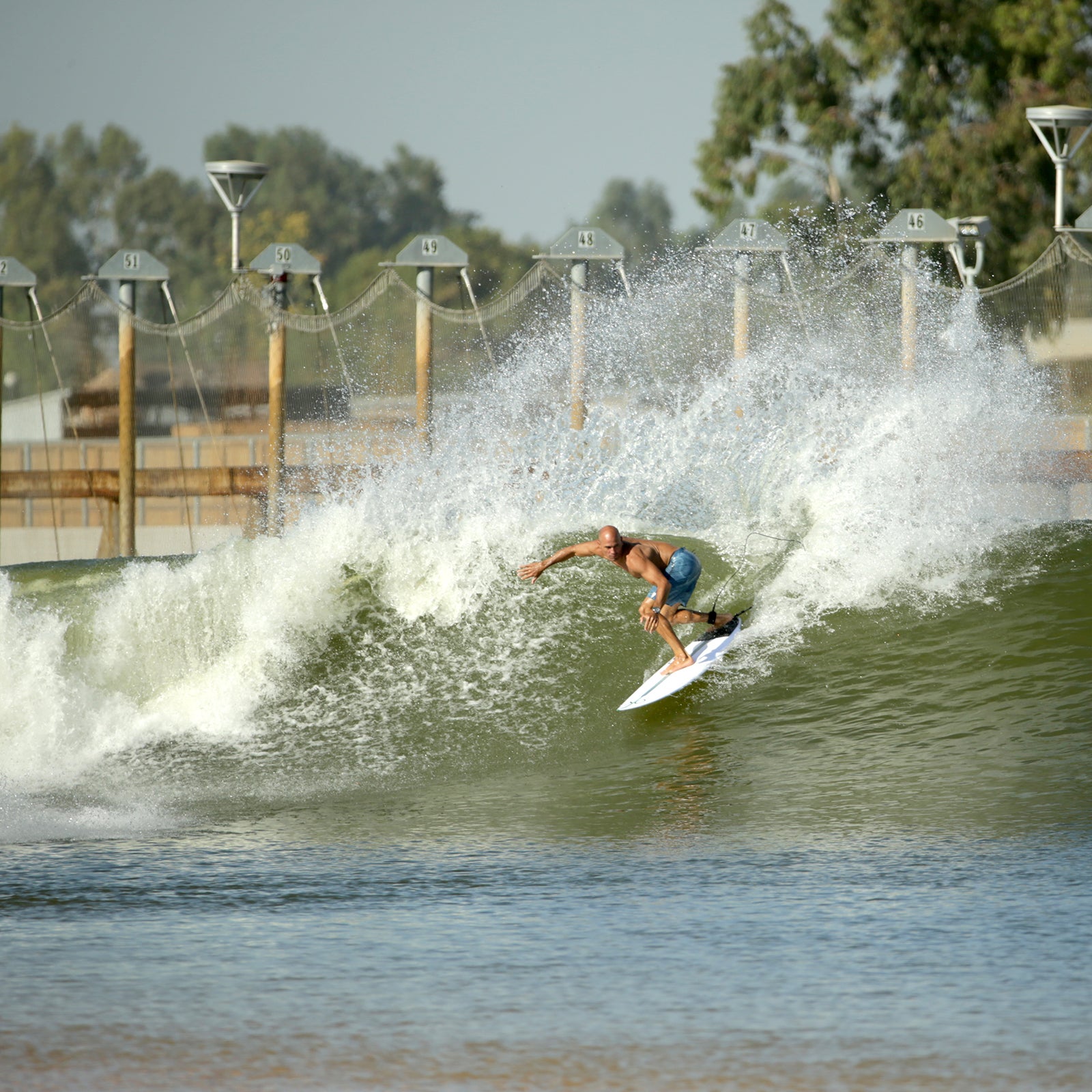 Jeff Gross/Getty(Photo)
Heading out the door? Read this article on the new Outside+ app available now on iOS devices for members! Download the app.
If you're a surfer, you've dreamed of riding Kelly Slater's perfect—and private—man-made waves in Lemoore, California. A steady stream of highlight reels and competitions have been run at the protype of the 15-million-gallon pool since its unveiling in 2015, and, despite a seemingly constant arms race of wave-pool technology across the world, it is still widely considered the best man-made wave on the planet. 
The only way to ride the waves at Lemoore is by invitation through the World Surf League, the sport's professional governing body, which bought the facility in 2016, or by renting the entire place for a full day for $50,000, according to Stab Magazine. To date, only a small fraction of the surf world has gotten a crack at the barreling, nearly one-minute-long waves. To say that demand is high is an understatement: most surfers would drown their best friend for a chance to try one of the ruler-straight waves.
Well, you may finally get your shot (without drowning your buddy). On February 25, plans were revealed for a $200 million development in California's Coachella Valley called Coral Mountain. The new facility will feature Kelly Slater Wave Company technology but will be used for a bigger, 18-million-gallon pool and what many outlets have reported as the "world's largest man-made wave."
The new project is backed by Meriwether Companies and Big Sky Wave Developments, the latter of which is a real estate development company started by Michael Schwab, son of Charles Schwab, who is also a surfer and who "originally invested with Kelly in 2013 for [his] own personal surfing progression," according to the Associated Press.  
Meriwether Companies partner Noah Hahn says the pool's surf will be very similar to that found at Lemoore, and that reporting of the "largest man-made wave" has been inaccurate. The basin and ride time (2,000 feet and about 50 seconds, respectively) will be close to the same as the prototype, but there will be extended pools at the ends of the basin for secondary—and easier-to-ride—waves to form.
Hahn says the basin will be able to handle a capacity of 25 surfers at a time. This seems like it might be a stretch. I surfed in Lemoore with four people and wouldn't have wanted any more than that. The capacity will largely depend on what those end pools look like and the quality of those waves. Most likely they will feature softer reform dribblers more suitable to beginners than advanced surfers.
The 400-acre site in the town of La Quinta, a two-and-a-half-hour drive from Los Angeles, will feature a 150-room hotel and up to 600 homes for sale, ranging from $1 to $5 million dollars, according to the AP. The development will also include ponds for paddleboarding, mountain-bike trails, a climbing gym, and skateboarding runs, according to Hahn. 
Access to the pool and these other facilities will be exclusive to those staying at the site's hotels and to members, residents, and their guests. In other words, if you're not a member or homeowner, you'll have to rent a room in the hotel and then pay for the wave by the hour. 
"The analog for this is a golf course with a hotel and private membership," Hahn says. "We want our messaging to be inclusive as opposed to exclusive. There's not enough capacity to open it to the public for day use, but if you stay at the hotel, you can get on the wave."
Hahn said they're not ready to comment on what it would cost to rent a room or surf for an hour, but if the prices of the homes are any indication, it will still be quite costly for the average surfer. And with only 25 surfers allowed in the pool at a time, I'd bet that the coveted spots will sell out faster than you can pop up on a wave. 
Construction is slated to begin in 2021, with its opening planned for 2022. According to the Desert Sun, that makes Coral Mountain one of four wave pools currently under development in Coachella Valley, two of which are backed by other well-known pro surfers like C.J. Hobgood and Kalani Robb, albeit using different technologies. 
The exclusive nature of Slater's wave technology will certainly play into the new development's demand. His wave is created by a giant hydrofoil (imagine an underwater wing) pulled along by some 150 truck tires. As it moves forward, it pushes water ahead of it and onto shallow portions of the basin, where the wave then breaks. The wave is long and nearly flawless—but the machine only makes one every four minutes. One right, then one left, then one right, and so on for a day. That's only 15 waves an hour, or 120 in eight. 
Dsrt Surf, one of the other pools being built just up the road in Palm Desert and slated to open in 2022, will use Wavegarden technology, which already powers facilities in Europe and Australia. That tech can create up to 1,000 waves an hour, with rides of up to 16 seconds (still far longer than an average ocean wave). These pools can host far more surfers, with far more on-wave time and, as a result, will likely be less expensive. But they're still not the best man-made wave in the world. 
Four wave-riding facilities moving forward in one valley is interesting but not surprising. Given the proximity to the L.A. sprawl and its economy, plus Southern California's vibrant surf culture and its crowded lineups, it was only a matter of time. There's a reason the greater Palm Springs area has over 100 golf courses: it's sunny more than 300 days a year and there's plenty of accumulated wealth within driving distance. Now it looks like this slice of desert will be a surf destination for those who like their waves chlorinated.
Lead Photo: Jeff Gross/Getty
Trending on Outside Online