The Horror Vault
The Last Voyage of the Cúlin
John Long was living the greatest adventure of his life, sailing home from San Francisco to his native Ireland. But when his beaten and bruised body was found floating off the lawless, empty coast of Chiapas, it was a scene that sailor and author David Vann knew all too well.
Heading out the door? Read this article on the new Outside+ app available now on iOS devices for members! Download the app.
According to villagers, John Long's boat sailed itself all night before crashing onto the beach, a ghost ship with all its lights on. They were afraid to approach because of the giant waves rolling in off the Pacific, but in the morning, when the tide went out, they found gold rings and bracelets in the sand and American dollars everywhere, the beach littered with riches. They said they found keys made of pure gold ancient sailors' keys for opening chests.
Everyone gathered, until eventually there were nearly 100 people standing on the beach, worried that a family might still be trapped inside the hull. Perhaps it was not a ghost ship at all but a ship of death.
Local fishermen said they found the body near the mouth of the Río Cahoacán a white corpse as large as two men, with no clothes and a light beard, mouth open as if it might speak. Villagers went to find the judge, because he was the only one with a phone, and he called officials from larger towns to come take the body away. This village was only a few palapas made of sticks and bamboo, with palm-frond roofs.
It was like a story from Gabriel García Márquez: the carnivalesque scene on the beach. The sea that brings gifts of the First World, conquistadors, and death. This body floating naked and larger than life John Long, literally a big man, now become legend. But this tale is real. It happened in February in the village of La Cigüeña, on the west coast of Chiapas, seven miles from Mexico's border with Guatemala. Long, a 78-year-old Irishman who'd spent his adult life in California, had dreamed of this voyage for 16 years. He'd left San Francisco three months earlier on his 48-foot ketch, Cúlin, heading south to the Panama Canal and then home to his native Ireland.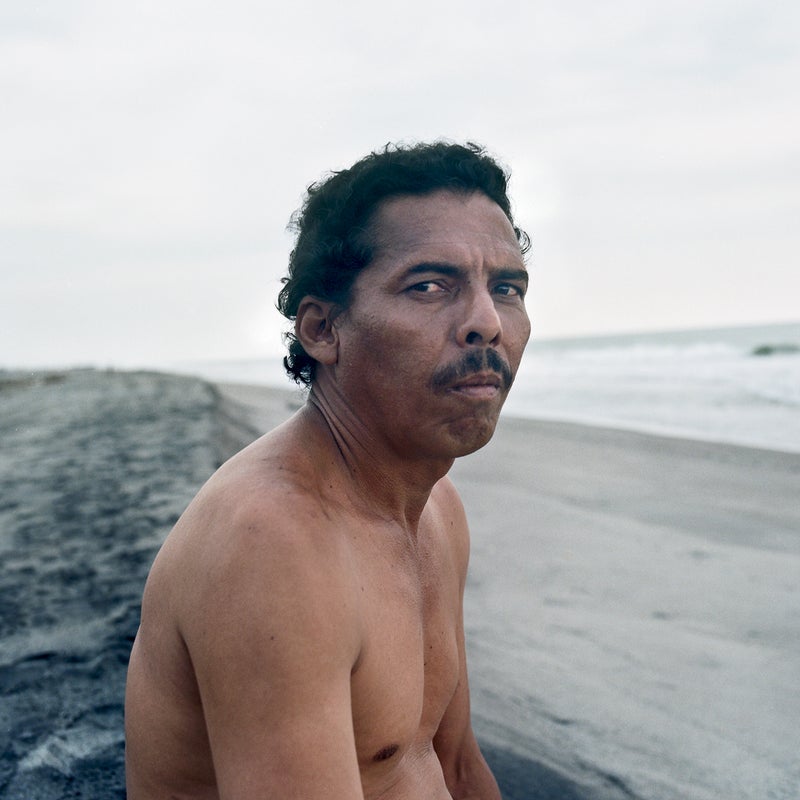 Long's EPIRB, or emergency position-indicating radio beacon, went off at 12:49 a.m. on February 2. And contrary to all the colorful stories from the villagers, with their invention of gold and claims of finding the body, the Mexican navy actually discovered Long's corpse around 11 a.m. the next morning, floating two miles offshore near the town of Puerto Madero, seven miles north of La Cigüeña. His body was naked and bruised, with cerebral hemor­rhaging, broken ribs, and a broken neck.
Long's story was disappearing even as it was happening, and soon legend would be all that was left. I know this because his story is a version of what could have been my own. Ten years ago, I ran into trouble in these same waters.
---
My sailboat was a 48-foot ketch, just like Long's, and in the late fall of 1997 I hired another captain to deliver it from San Francisco to Panama while I finished a semester of teaching at Stanford. My plan was to pick up the boat in Panama and continue to the British Virgin Islands, where I would run winter charters. This boat, Grendel, was my business and my home.
But the captain I'd hired, an accomplished sailor in her thirties, took on some bad diesel in Acapulco, diesel with water in it, and limped into the town of Puerto Madero on a bit of wind. For some reason, she waited a week before calling me. Then the cook took off on another boat for la pura vida in Costa Rica, and took my $2,000 in emergency cash with him.
None of this made any sense, of course, and it was the beginning of the most outrageous four months of my life. I arrived in Puerto Madero figuring I'd be on my way in about a week. But soon enough, I was the center of attention in the town's backwater shrimp port, a tiny village of its own, without a name. I'd fallen down the rabbit hole, into a place where, everywhere I turned, I heard newer and less believable stories, and they were all about me. 
My sailboat was large and broken, tied to the one crumbled chunk of concrete on the shoreline, visited by rats, snakes, begging children, prostitutes, the police, the navy, drunken fishermen, and the crooked port captain's men. At first I tried to have the engine fixed, but a mechanic with a disco shirt, gold chains, and a group of thugs at his shop held the high-pressure injection pump for ransom, demanding $900 instead of $100 for the repair. So I tried a new tack, spending $3,500 to buy a used engine and have it trucked down from California. This engine was stolen before it ever arrived, only to reappear mysteriously months later, a 500-pound hunk of metal dumped on the beach in the middle of the night.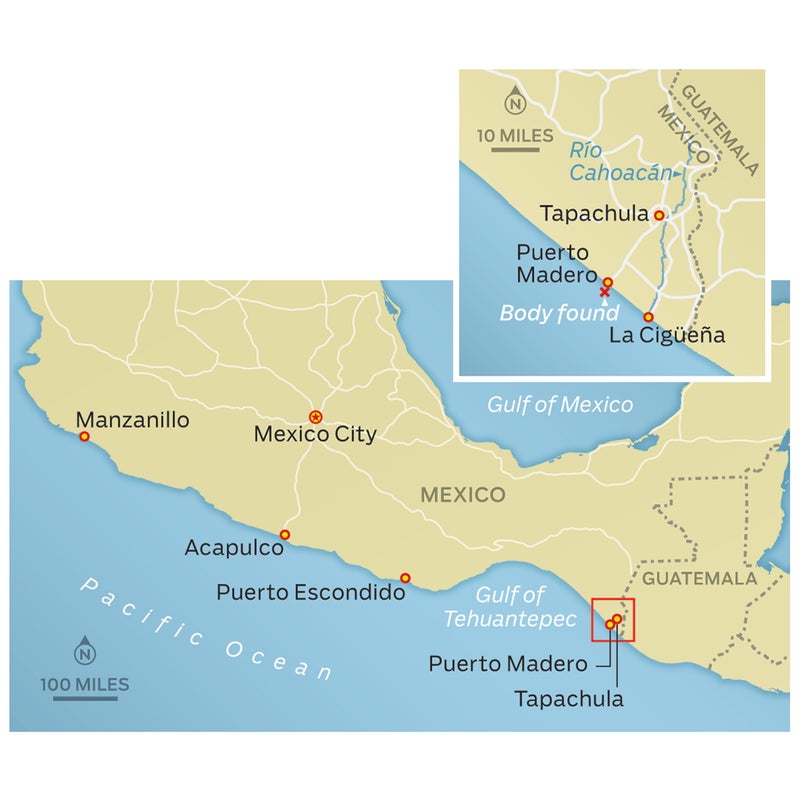 The outboard engine for my dinghy was also stolen, a theft I came to believe was arranged by my one friend in port, a young Guatemalan named Santiago who was also my interpreter. When I alerted the port captain, a formal and evasive man in his sixties, he told me I could report my stolen engine officially or unofficially. Officially meant he'd have six agencies come strip-search me. Unofficially meant he'd do nothing, even though I could tell him who'd stolen the engine and where it was being kept.
As a week turned into a month, I started paying protection money to Gordo, a Buddha-like crime boss, but even then I was threatened by his own toughs, who beat a prostitute nearly to death right in front of me. I was harassed constantly by a Nicaraguan guy who had an imagined rivalry with me over a waitress at the port's only restaurant, a misunderstanding based on one nervous smile. Almost every day at dawn, a Mexican navy captain came aboard to search my boat and give me advice on how to do my hair, which was already so short it was almost military. One morning, his men bound my hands and beat me as he looked for drugs.
Ultimately I spent four months in Puerto Madero, out of options and out of money. I was referred to locally as "the ATM machine," bleeding cash, on the edge of ruin. Even when I'd take a taxi from Tapachula, the larger city 15 miles inland, the drivers knew who I was and every detail of my story. They knew the mechanic and his men. They knew what I paid Gordo. They knew who had my outboard. They knew I had tried to escape once, putt-putting away at one knot on a broken diesel engine belching black grime into the water, and that pirates in pangas had rammed my boat and threatened to board it for drugs. They knew I had sailed straight to sea that night like a coward with my lights off, then limped back into port to go through it all again.In other words, I became familiar with Puerto Madero. By the time I finally left, I was enraged and terrified. Ten years later, when I heard about Long, I knew I had to go back, as much to resolve my own story as to find answers to his.
---
John Long was three months into the biggest adventure of his life. He'd loved boats and the sea since his childhood, on the coast of Ireland, and now he was on his way home, planning to finish his voyage at the oldest sailing club in the world, the Royal Cork Yacht Club, in Crosshaven, a few miles upriver from his native Myrtleville. "If you sail into Crosshaven, you'll die a happy man for having made it," his brother, Michael, told him when he left San Francisco. "And if you die along the way, you'll die a happy man for having tried."
Long and his wife, Julia, had come to America in 1965 on their honeymoon. They didn't intend to stay, but Long saw that he could make good money as a carpenter, so they decided to stick around long enough to earn the cash to buy a Volkswagen van back in Ireland.The momentum of a life is something few of us can control, however. The Longs ended up raising their three sons Aaron, Philip, and Jason in California, and John never missed a single day of work. His was a good life, a rich life, but in his retirement, the dream of this yacht, Cúlin, and the dream of this voyage took over.
"It became an obsession, almost an obligation," says his youngest son, Jason, a 35-year-old English professor in Merced, California. In 1992, Long bought a bare hull made of Cor-Ten steel and used his skills as a master carpenter to finish out the interior in teak and other hardwoods. He and Julia were separating, though the family would still spend holidays together, and Cúlin was a labor of love after all those years of steaming and bending, carving and fitting.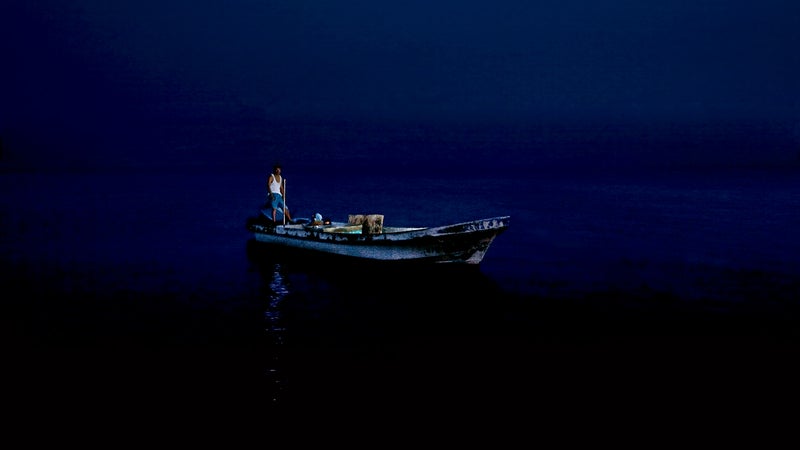 Then there were his half-dozen attempts to make the voyage. Long was delayed over the years by family events, such as the birth of a granddaughter, but also by having to turn back many times. Though he'd served in the merchant marine as a young man, sailing around the world delivering bananas and coffee, he didn't know navigation or his boat's equipment very well. On his first attempt, he sailed north instead of south after he left San Francisco Bay. The next trip was the same; he ended up near Tomales Bay, more than 40 miles up the coast. The next time Long tried, he found himself out in the Farallon Islands, almost due west.
Each time, he'd say he was done. "I'm sick, I'm tired, my hand is hurt," he said after the Farallones. "I'm done with this. This is it."
Then, the next day, there would be another voice mail, saying he knew now what had gone wrong and how to fix it. "I think I can do this."
When Long left on his final voyage, on October 14, 2007, there was no party. No one sawhim off. Sailors at the dock had ridiculed him for years, and his family had lost faith. For the early attempts, they gave going-away parties. After a while, though, they stopped believing he would ever really go more than a few miles outside the Golden Gate. Jason hoped he might just sell the Cúlin and get a condo and season tickets to the Oakland A's. "We felt OK," he told me, "because we thought he would never go."
But this voyage had become, to some extent, a grudge match against the naysayers. This time, Long had taken classes. He knew navigation and his equipment, and he surprised everyone by making it down to Santa Barbara to visit his oldest son, Aaron, a business student. He was on his way. He was anxious to continue on, sailing for Mazatlán within a week.
"I've got my sea legs back," he said. "I'm feeling good. I'm going."
---
I never thought I'd set foot in Puerto Madero again, and arriving back in town is disorienting. The small port area, where I was stranded, has been renamed Puerto Chiapas, and the government has put in a cruise-ship dock, which Holland America is using for its Panama Canal trips. On the surface, Puerto Chiapas is an innocent place of coffee and fruit and friendly people, with a tremendous fake pyramidal marketplace and a pool. But the pangas are still here, and the fishermen, and I suspect things haven't changed all that much.
I've got a letter from Jason Long giving me full authority to try to salvage or sell the Cúlin. Armed with this, I take a taxi to the harbor, to the small port captain's compound, and go inside. The old port captain has passed away, the secretary tells me. The new one, Captain Andres Ordaz, a good-looking man in his forties, is a bit slicker but seemingly up to the same games. He claims Long was sailing north from Central America, had never been in Mexico (he says he confirmed this with officials in Manzanillo and Mazatlán), and was cooking some fish on deck when he tripped overboard. He even claims that parts of the dinner were found.
My sailboat was large and broken, tied to the one crumbled chunk of concrete on the shoreline, visited by rats, snakes, begging children, prostitutes, the police, the navy, drunken fishermen, and the crooked port captain's men.
I have only a few facts, provided by the Longs before I left: a photo of the Cúlin taken a few days after it hit the beach, showing all three sails up; the U.S. Coast Guard's report of when and where the EPIRB went off; directions to the spot where the Cúlin is beached; and a summary of the autopsy report provided to the Longs by the U.S. consulate in Mexico City.
Trying to match these facts with the port captain's account creates a fairly preposterous scene: It's 1 a.m. and Long is on deck, with his three sails up. The jib is back-winded, though, held out on the wrong side, which stops the boat dead in its tracks, like a giant air brake. Yet somehow the Cúlin has been able to defy the laws of physics, sailing hundreds or even thousands of miles north from Panama or Costa Rica or wherever Long teleported to after he left California. To celebrate this miracle, he is fixing a lovely fish dinner in the middle of the night, naked, but suddenly trips overboard, managing to hit his head so hard that his brain hemorrhages. Midair, the abrasions on his left cheek, described in the autopsy, have time to quickly scab. He breaks his neck and ribs and instantly stops breathing, so that when he hits the water none of it gets into his lungs.
I'm guessing the port captain's fable is a fair preview of what I'll find as I try to follow the local investigation, if there is one. So I decide to go directly to the boat.
The last few miles to La Cigüeña are down a narrow dirt road through low plantain trees, unspoiled and remote but also a little spooky, given what happened to Long. The village is beautiful, though, when it appears, a collection of bamboo-and-wood huts stretched along the slow Río Cahoacán. No garish paint, no abundance of concrete. The few attempts at that were wiped out in 2005 by Hurricane Stan. There are goats and pigs and dogs in the road, and when I get out of the car everyone stares. The first man to offer help is a drunken fisherman in a yellow shirt. His name is Israel, his eyes are marbled, and he's full of claims. He'll take me to the boat.
"Hay un problema?" he keeps asking. Do we have a problem? And then he answers himself in English, "No problem, my friend."
We walk through the village to where the river turns north and divides the jungle from a long beach and the sea. Israel's two sons have a small wooden canoe they've built by hand. It's narrow and tippy, with yellowish bilge water and a blue crab huddled inside the bow. I board and squat low. The Cahoacán is known for its crocodiles, but one of the boys walks beside the boat in waist-deep water, pulling the bow.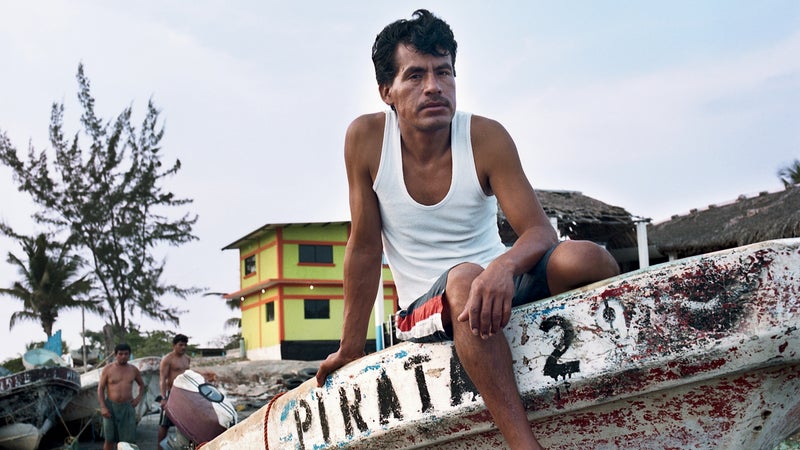 It's late afternoon, the air warm and humid but not hot, not stifling. There's a light breeze coming from the ocean, and a few fishermen throw hand-nets into the water. Small, thin fish skip across the surface to escape us. There are trees overhanging to our right, driftwood like sculpture on the beach to our left. It's lovely here, like parts of Puerto Madero ten years ago, and it doesn't feel dangerous at all. We land on the beach side and walk 100 yards across sand to the Pacific, where slow rollers are coming in.
After a few minutes, I see the Cúlin ahead. The boat is only a hull, more than half buried, lying on its side. A group of men are standing on her cabin, bent over, perhaps removing something. They're several hundred yards away, and they remind me where I am, what this place is capable of. As we come closer, they see us and immediately leave, walking away fast. I can't tell whether they're carrying things or not.
Up close, the boat is heartbreaking. Waves washing over it, everything stripped and carted away. I had wanted to help Long's family salvage something, but there's nothing left.
---
From Acapulco south to the Guatemala border lie hundreds of miles of yellow-sand beaches, from the surf towns of Puerto Escondido and Puerto Ángel to the undeveloped coast of Chiapas, where you might see a few palm-frond-roofed palapas and then another 100 miles of nothing. Conventional sailing wisdom advises keeping close to land here as you pass through the enormous Gulf of Tehuantepec: They say the "Tehuantepeckers," 60-knot winds that scream across the narrow, flat spit of land separating the Gulf of Mexico from the Pacific, can blow you 300 miles to sea. This is myth, in my experience, but the sailing world is full of myths, and this one puts every yacht in close to shore, where it becomes a target= for pirates.
The pirates of southern Mexico don't quite merit the name. Those off the coast of Somalia have .50-caliber machine guns and rocket-propelled grenades. They operate out of a country that hasn't had a stable government in more than a decade, so they are in fact much like the 17th- and 18th-century pirates of the Caribbean, powerful enough to capture entire ports and operate out of them untouched. The pirates of most of the world, though, and certainly the Central American coast, would never think of themselves as pirates per se; they are merely opportunists, poor fishermen and petty thieves. A passing yacht can be worth a hundred times what a Mexican fisherman will make in his lifetime when I was here ten years ago, the average wage was $25 a month. 
Add in the fact that this coast sits right on an active smuggling route. Acapulco lies between the Colombian port of Buenaventura and California, and with crackdowns in the Caribbean, smugglers have moved out into the Pacific, its vastness hiding merchant ships towing submarines full of cocaine, cigarette boats running fast and invisible to radar in the dark, semisubmersibles riding low, only their periscopes sticking up. In October 2007, Mexican law enforcement seized 23.6 metric tons of cocaine from a ship docked in Manzanillo, a record seizure on land or at sea. It was just outside Manzanillo that Long had his first brush with pirates. He'd made it all the way down the 1,100-mile coast of Baja California and stopped for a few repairs in Mazatlán. But just north of Manzanillo, at sea, at night, his electrical system died. His alternator was out. He also had a recurring mechanical problem: The prop shaft would slip back and jam against the rudder and make him go in circles.
It was just outside Manzanillo that Long had his first brush with pirates. He'd made it all the way down the 1,100-mile coast of Baja California and stopped for a few repairs in Mazatlán. But just north of Manzanillo, at sea, at night, his electrical system died.
Long set off his EPIRB, which alerts rescue agencies by satellite. This is a serious piece of equipment, an international cry for help that should not be set off unless the boat is sinking or there's some other life-threatening emergency. Problems with an electrical system don't usually qualify. But Jason says his father was worried that without power, he wouldn't have lights or radar and was in danger of collision.
The Mexican coast guard came out immediately. They'd been watching Long, because sitting there in one place with his lights off, he looked as if he were on a drug rendezvous. The officers boarded with machine guns and made him leave his boat. Then they sped away, leaving the Cúlin drifting, and stopped and waited. Pirates were tracking the boat, apparently. "It was kind of left as bait for a while," Aaron says. The coast guard watched on radar, but the pirates had radar too, and they could see the coast guard waiting, so they turned back. The officials returned Long to his boat and gave him a free tow into Manzanillo, and there he began an ordeal of repairs and scams and paperwork that lasted more than a month.
When Long finally left Manzanillo, in January, he planned to sail straight to Panama. He continued to have mechanical and electrical problems, though, so Aaron thinks he may have been looking for a port to pull into for repairs. He was hugging the shore, sailing no more than a few miles out, avoiding the Tehuantepeckers. This put him right in the drug route, not only for big loads to Acapulco but also for local traffic making quick trips over the Guatemala border. He presented an opportunity to everyone.
The ironic thing is that Long had built the Cúlin specifically to withstand pirate attacks. He'd placed his helm inside and could lock himself behind a massive sliding steel door and windows of thick bulletproof glass. All his lines to control the sails ran inside as well. I've never seen or heard of another sailboat quite like this. Most sailors just hope they won't run into pirates, but Long was prepared.
---
The truth may be elusive in other places, but here in Puerto Madero and La Cigüeña, I believe it never actually exists. Even as events occur, they immediately become something else. An outsider can never know anything for certain, and this is partly because we are mythological creatures, born of conquistadors and sitting on our mountain of gold in El Norte. We aren't believable ourselves, even our existence, so we're told stories, and every story is about one thing: money. It made perfect sense for everyone to try to take my boat. And it makes perfect sense now that Long's story should be buried.
I have to admit, I still feel a bit of the old fear as I walk through the palapas along Puerto Madero's waterfront to the fishing area, where the pangas line the beach. I never saw any fish brought into port ten years ago, but this time I actually see a few, and the man cleaning them suddenly calls my name and smiles. It's my old friend Santiago.
It's difficult to know the nature of this place. I like Santiago, and he still feels like a friend. He has the nicest house in town now, cement and tile, painted a light blue. He tells me what happened to all the people I knew from before. Gordo was killed a year after I left, he says, picking up drugs over the Guatemala border. At least four others were killed, too. Santiago shows me who he says the drug runners are now, a row of identical pangas with new 115-horse outboards. He says they run small loads along the coast, usually to Acapulco but sometimes all the way up to California.
Listening to Santiago very nearly got me killed ten years ago. I tried to recover my stolen outboard engine from his friend's house at night and found a Glock in my face, cocked. It was right here along the slough where these pangas are kept. But I decide to trust him now, because I have few other options.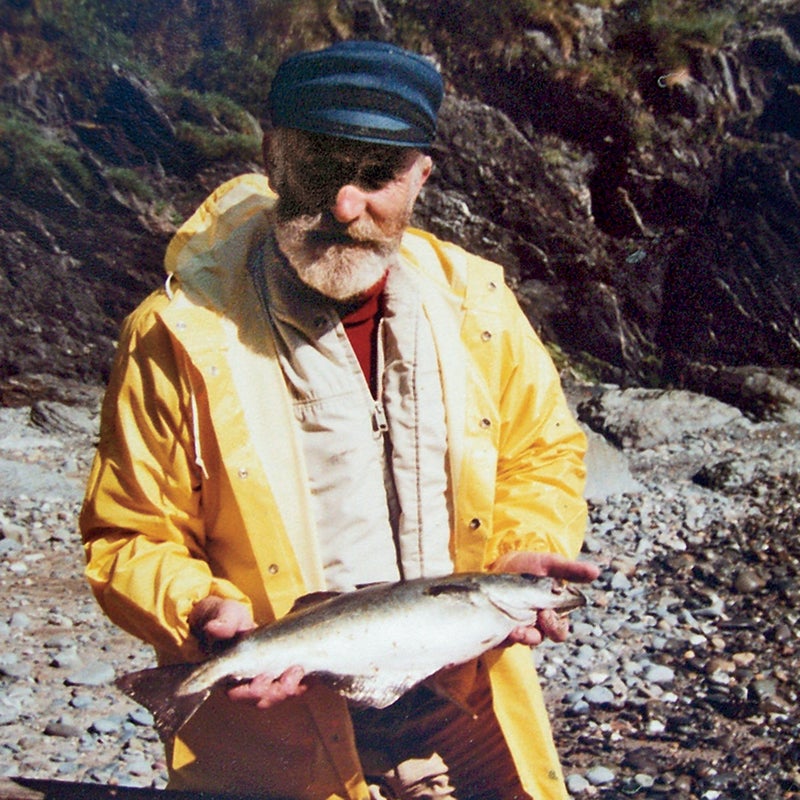 Santiago says yes, he will go to La Cigüeña and ask around. I pay him generously for this, in advance, which is a mistake. The next day he tells me he's found someone there who will tell him the truth and even cross into Guatemala to find out what he can, since the pirates, Santiago says matter-of-factly, are Guatemalan. This extra day means more money, of course, and I feel all the old scams revving up. But Santiago does go to La Cigüeña the next day, and then, the day after that, I go with him.
It turns out his contact is Israel, the fisherman who originally took me to Long's boat. He isn't drunk this time, but his version of things keeps shifting. First he says he saw Long's boat at 4 a.m., sailing with the lights on, and that it crashed ashore around 5 a.m. The waves were huge, the winds high, and he had to wait several hours for the tide to go out before he could try heroically to get to the boat to rescue whoever might be trapped. Then, a few minutes later, his story is that the boat hit the beach at about 8:30 a.m., and the waves weren't very high at all. There was money on the beach, or no money, or just two dollar bills and a ten. He didn't take anything, of course. The guys who did this are from Guatemala, and then they're not. Drug traffic here is constant, he says, or maybe there's no drug traffic at all. The pangas only go out with gas to refuel larger drug boats.
Talking with Israel is like talking with the new port captain in Puerto Madero. But I'm hoping I'll learn more from the Mexican navy. They recovered the body, and they had divers in the Cúlin for an hour, looking for other victims. They must know something.
The navy base is in Puerto Chiapas, opposite the new cruise-ship port. They take my passport and misunderstand that I'm part of Long's family. Nobody can read my official letter, as it's in English, but the existence of a signed document in multiple copies means everything here. Half a dozen guards melt away.
I wait in an air-conditioned lobby, and Lieutenant Jorge Castillo Hurtado finally comes out. I ask where the body was found, and he refers me to the police. I ask what might have happened, and he refers me to the police. I ask about the EPIRB, but he says the navy has no information about an EPIRB.
Hurtado is a tall man, in a beautiful white uniform. He remains consummately polite, even when I push with questions. The funny thing is that I like him. The whole show works. And as he walks me out to the taxi, he actually opens up a bit. Their force is too small, he says. They're not a big base, like Manzanillo, and they're overwhelmed, unable to deal with all the local drug trafficking. Sure enough, several months later, the Mexican newspaper El Universal will report that the coast of Chiapas has become so dangerous the navy has "initiated a land, sea, and air operative," mobilizing helicopters, airplanes, and blockade ships in search of boats running drugs up from Central America.
---
My own experience with pirates on this coast came a week or two after I'd arrived, when I left Puerto Madero in desperation on my broken engine. I knew it was stupid, but my friend Julie had come down as crew, and she'd be leaving if I didn't try. We made it 50 miles, going slowly along a beautiful and abandoned coastline, before we saw two pangas coming at us from the Puerto Madero direction.
"Great," I said. "Visitors."
Julie looked nervous. "I'm going below," she said. "If anyone asks, I'm not here."
"Ha," I said. "Can you look around in the cabinets above the chart table and find the two flare pistols, please?"
"Are you kidding?"
"No, I'm not kidding. Please get them quickly. And cartridges."
The pangas came right for us. Julie found the flare guns just in time to slide them to me and disappear again below. I put the pistols on deck, loaded, down low where the guys in the pangas wouldn't see them.
They came up fast, one on each side, 75-horse outboards roaring. They crossed behind my stern, circled back, and throttled down to my speed, which was no speed at all.
"Coca," one of the men shouted, pushing a finger into a nostril, tilting his head back. He had no fish on board, no fishing gear. Just gasoline and cervezas. The man was drunk and possibly on drugs, weaving a bit as he stood braced against the throttle arm of the outboard.
On my other side, the driver of the second panga was making the same gesture, poking his finger into his nose.
"No tengo," I said. "Lo siento." I was trying to sound polite. I glanced down the companionway at Julie, who had one hand to her mouth and was hiding behind the stairs. She looked terrified. I felt the enormity of how stupid I'd been. I know it sounds crazy, but despite my experiences in Puerto Madero, I hadn't even thought about piracy.
"Cerveza," the man on the starboard side said. He made a gesture of drinking. He was wearing a bandanna, his face beat up. I knew without a doubt that if he climbed onto my deck, I was going to shoot him.
I wanted to just toss him a beer, but I didn't have any beer, or cocaine. "No tengo," I said. I tried to gaze ahead, hoping they'd leave us alone.
The guy on my right zoomed off a few hundred feet and circled around to come up fast behind me. He rammed into the stern, which luckily was rounded, so that his bow glanced off. The other driver saw this and circled around to do the same thing. Like sharks bumping.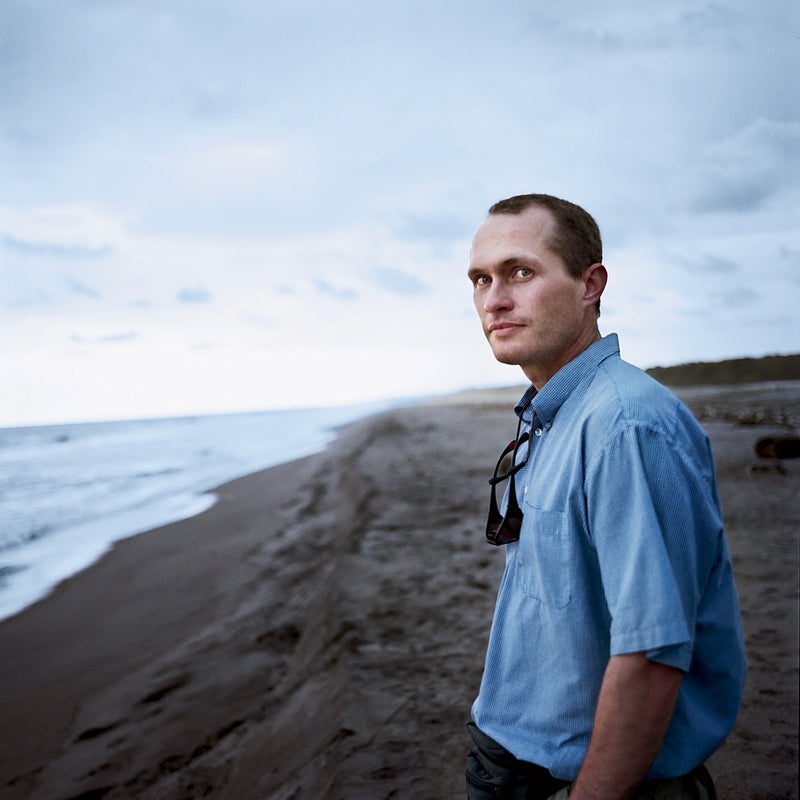 "Get on the VHF," I told Julie. "Try calling the coast guard."
Julie opened the cabinets and grabbed the mike. She held it up and started gesturing wildly. She had no idea how to use a VHF radio.
The guy on my port side came up close. "Coca!" he yelled. I put my hand on the pistol on that side. He was climbing partway out of his boat to hook an arm on my rail.
I heard the other man behind me, so I turned around to look, and then I realized my back was to the first man, and they were going to get me.
But they didn't take the opportunity. In a high falsetto, pretending to be a woman, the leader sang out to me, "En la noche. I come back for you. Con armas," which meant with guns. Then as quickly as they had arrived, they were gone, and Julie and I motored straight out to sea, sails down and lights off, and hid all night.
---
The police in Puerto Madero keep Long's case in a homicide folder, on a messy front desk littered with other homicide folders. Public-ministry lawyer Teofilo Esteban Perez Sala takes me over, then hands me the police report. I'm so shocked, I can't speak. I finally manage a "Gracias."
Perez says Long's injuries were so extreme that his entire skull was basically "pushed over" to the side. I ask whether I can photocopy the file, and to my amazement he says yes. It turns out there's absolutely nothing useful except the full autopsy but I'm in the right place, finally.
The only problem is that there was never an investigation. We should know, for instance, whether there were any traces of blood on the boat. The injuries happened somewhere, and there must have been evidence before looters literally sawed it off the boat and carted it away. But even Perez, with his homicide folder, caves in to the official line and says he thinks it was an accidental death.
When I leave Puerto Madero after a week, I have little more than the facts I arrived with. But here's what I believe happened to John Long. He was sailing sometime before midnight, only a few miles from shore. Despite what his son Aaron says, I don't think he was planning to go into Puerto Madero for repairs. If that had been his plan, he would have been wearing clothing, and he would have furled his sails.
But Long was flying full sail, including main, mizzen, and his largest jib, in light air and small waves, making probably four or five knots. It was hot, so he may have been naked as he rested or tried to sleep below, and he had his pilothouse door all the way open for breeze.Close to Puerto Madero, he heard a panga roaring up, heard its outboard over the sound of water against the hull. And he most likely had already experienced this a dozen times, day and night, pangas coming up asking him for things all along the coast. So he turned on his deck lights and climbed out his side door to tell them to scram. The pirates could have come aboard quickly, easy to do from the bow of a panga.
According to Jason Long, his father was no longer very physically able; even climbing bleachers at ballgames had become difficult. And his guns, which were illegal in Mexico, were too far away, stored not in the pilothouse but in the lower section of the boat.
Long was hit hard on the left side of his head by a blunt object, perhaps a club used for killing fish. He had cerebral hemorrhaging, a broken neck, broken ribs, a bloody nose, and large bruises on his right thigh and stomach, one of them a foot and a half long. His skin wasn't cut, however, so it's possible he was stripped before being thrown overboard.
The truth may be elusive in other places, but here in Puerto Madero and La Cigüeña, I believe it never actually exists. Even as events occur, they immediately become something else. An outsider can never know anything for certain, and this is partly because we are mythological creatures, born of conquistadors and sitting on our mountain of gold in El Norte.
I think it's fair to say there's no chance that Long's was an accidental death. The boom swinging over on an accidental jibe could fracture a skull and break a neck, but all of Long's controls were below: During a tack or jibe, he would have been in his pilothouse. He also can't have fallen from a mast, because he had no mast steps. He can't have been deploying his dinghy, because all his sails were up. It's hard to imagine he simply fell, because he moved slowly and his injuries were so extreme.
The Cúlin's EPIRB went off briefly at 12:49 a.m. and again at 12:59 a.m., then went silent. Its position was where the boat lies now, on the beach. But the navy recovered Long's body two miles out to sea. I think it's most likely that looters set off the EPIRB while fiddling with the buttons.
Long's body would have drifted at about half a knot per hour south, so my guess is that he was killed around 10 p.m., within a few miles of Puerto Madero. After an hour or so, his boat must have turned toward land. Even if the malfunctioning autopilot had been turned on, the boat could have slipped off course, toward the beach. At that point, the Cúlin became a true ghost ship, sailing itself into La Cigüeña, its captain lost at sea.
---
At the end of my own saga, after finally installing that replacement engine and escaping north to Ixtapa, I had to change the propeller on my boat. I was in the water with mask and snorkel and wrench, the underside of the hull a hairy, green, shadowy thing in water that was murkier than I had expected.
I adjusted my mask and was about to dive down to try to loosen the old propeller when I happened to glance across the surface of the water behind the boat. I don't know why I took that glance, but I saw the bumpy end of a snout cruising toward me, just barely breaking the surface, creating only the smallest wake, and behind it two prehistoric eyes. It was a crocodile, a big one, nearly invisible, coming after me.
I somehow managed to leap vertically onto the dock. That's the way it seemed anyway. One moment I had been in the water, about to die, and the next moment I was safe. There was no transition that made any sense. The crocodile was in very close, only a few feet away, much larger and heavier than I would have dreamed, and then it was gone.