Mick Fanning Wasn't Really Attacked by That Shark
We asked a great white expert to explain the pro surfer's terrifying encounter at Jeffreys Bay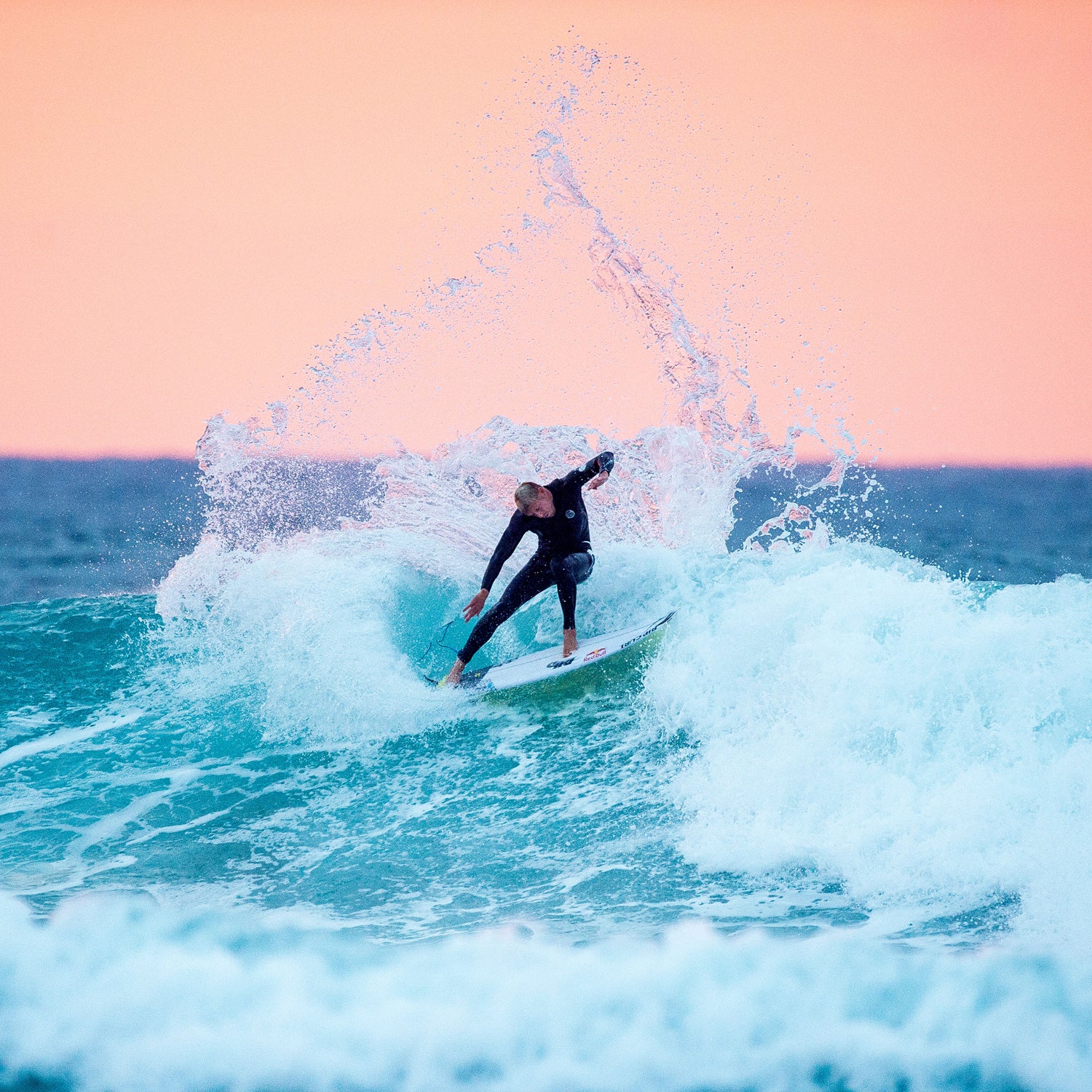 Heading out the door? Read this article on the new Outside+ app available now on iOS devices for members! Download the app.
Pro surfer Mick Fanning's public scrape with a shark at the J-Bay surf contest Sunday played out like a scene from a horror flick. Viewers saw a large dorsal fin appear behind the three-time world champ and violent thrashing as Fanning appeared to fight off the beast, before a wave blocked the view for a terrifying ten seconds. In what seemed like a miracle, Fanning escaped from the encounter unscathed.
But the key to understanding this incident may be knowing what happened off camera, says shark expert Andy Casagrande. "I wouldn't say it was an attack," says the longtime underwater cinematographer, who focuses on great white sharks and has filmed for National Geographic, BBC, and Discovery Channel's Shark Week. "It could have resulted in one, but he got lucky."
In an interview after the incident, Fanning said he felt the shark tangle with his leash before he saw the dorsal fin. This, Casagrande says, may have saved Fanning's life. "I've seen this time and time again working with sharks," says Casagrande. "When they touch a rope—tethered to a cage you're in or an anchor line—they react immediately. It's like someone pouring cold water down your back. You want to get away."
https://youtube.com/watch?v=xrt27dZ7DOA
Casagrande thinks Fanning's leash touched the shark's face or gills and the fish thrashed violently to untangle itself, likely bumping Fanning off his board in the process. "The fact that is, Mick's leash probably saved him life or limb," Casagrande says. "If [the shark] had circled around maybe one more time or adjusted, even an investigative bite could have gotten him in the back of the thigh, the femoral artery."
There's been speculation regarding the type of shark that was in the water with Fanning. Judging by the dorsal fin, Casagrande says the shark was most likely a great white between eight- and ten-feet long— not quite full grown, but not a juvenile either. (Juvenile sharks prey on fish and stingray, while adult great whites target bigger prey on the surface, Caseagrande says.) And while Casagrande says the attack may have looked like "Mick was having the lower half of his leg removed," the shark was likely investigating whether Fanning was edible prey—not going in for the kill. 
"If it was a kill attempt, they come at speed from below and they either go for the head or the tail," Caseagrande says, citing the sort of high velocity breachings made famous by Planet Earth. "They remove propulsion or the cognition of their prey."
Furthermore, the fact that the shark aborted its encounter after hitting Fanning's leash proves to Casagrande that it was likely just examining Fanning. "The reality is, if the shark is in true predation mode it wouldn't have cared about being tangled by a leash," Casagrande says. "When they rocket up from the depths, they're committed."
All that said, great whites do not intentionally prey on humans. There were only 59 white shark attacks in South Africa between 1960 and 2013, according to the International Shark Attack File. That's just over one attack per year, on average, in a country with thousands of surfers and more than 1,700 miles of coastline. Jeffreys Bays, on the Cape of South Africa, is one of the best-known point breaks in the world, and it stands out as a relative hotspot, having experienced at least eight shark attacks in the last 20 years. After the Fanning incident, officials in the town are now considering using drones or spotters to check for sharks at the point periodically.
The timing of the comp this year didn't help either, Casagrande says. In addition to surfing in primo white-shark hunting ground, the competition was held during a sardine run, a migration of billions of small fish that draws hundreds of sharks to South Africa's coast during the summer. "It's like you're holding a rugby game in the Serengeti National Park during the great migration."
Lead Photo: Ryan Miller/Red Bull Content Poo