Ocean Rowing Takes Off
Ocean rowing, once an adventure sideshow, is on the rise thanks to new technology that has made record-setting crossings easier—and high-stakes rescues inevitable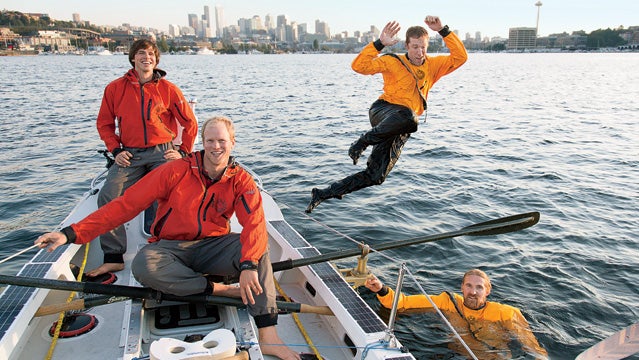 Heading out the door? Read this article on the new Outside+ app available now on iOS devices for members! Download the app.
During its previous voyage across the Atlantic Ocean, in 2006, OAR Northwest, a Seattle-based team of four former college rowers, encountered 30-foot swells, stared down sharks, and narrowly dodged a freighter. But their toughest challenge came two weeks into the 3,200-mile trip, when they realized they had drastically underestimated how much food they would need. So the group rationed for the next 56 days, collectively lost 147 pounds, and still managed to become the first team to row from the United States to mainland England.
"Day 16 rolls around and we're told we don't have enough food," says OAR's captain, 30-year-old Jordan Hanssen. "It occurred to me that the most dangerous thing we brought on board was ourselves."
In December, OAR Northwest sets off across the Atlantic again with a different goal in mind: the first unassisted rowboat crossing from Africa to North America—Dakar to Miami—1,000 nautical miles farther than the standard Atlantic row, from the Canary Islands to the Caribbean. This time they're bringing enough food, and odds are good that by March the team will own another world record.
The niche sport of ocean rowing is booming. More than 450 teams have set off across the world's seas since 1997, nearly nine times as many as in the rest of the 20th century. The allure of grabbing firsts or setting speed records is one reason. In the past two years, Brit Roz Savage, 45, became the first woman to row solo across three oceans, and Leven Brown, also British, led a team of four that broke the speed record for crossing the North Atlantic. This summer an American team claimed the first nonstop row across the Arctic Ocean.
The rush is on partly because improved boat and communications technology allow modern rowers to avoid the kind of dangers faced by pioneers like John Fairfax, who made the first solo Atlantic crossing in 1969 in a wooden rowboat. These days the sport is open to anyone with a strong body and the willingness to suffer.
"It's easier now," says Chris Martin, co-founder of the Association of Ocean Rowers and a member of the first team to row across the North Pacific, from Japan to San Francisco, in 2009. "You have satellite phones. You have water makers. You have freeze-dried food. I ordered flowers for my fiancée from the middle of the ocean."
The surge in interest has also caught the attention of outfitters. Recently, enterprising adventurers have organized pay-to-row catamarans that allow amateurs to sign onto a captained boat for about $10,000 per trip. One company, Roc Expeditions, has upcoming rows across the Pacific and the Caribbean. Candidates don't need seafaring experience—they should just be "fit and team players," according to captain David Davlianidze.
Of course, more people setting off into the big blue means more risk—and more rescues. Most rowboats are self-righting when capsized, but an improperly secured hatch can result in an SOS call. When that happens, the rule of the sea is that the nearest boat responds. But rescues can be an enormous expense for the nearby ship or, if the Coast Guard gets involved, taxpayers. According to the Ocean Rowing Society International (ORSI), the London-based adjudicator of records for the sport, about a third of all excursions have ended with a pickup. That includes experienced adventurers like Sarah Outen and Charlie Martell, both of whom were rescued by the Japanese Coast Guard this summer after contending with 50-foot storm waves.
"A lot of people decide that they're in an uncomfortable position and hit an EPIRB"—an emergency position-indicating radio beacon—"which activates a rescue and costs someone a lot of money," says Kenneth Crutchlow, executive director of the ORSI. "There's serious debate about whether so many people should be doing this."
"We want to avoid encouraging inexperienced rowers from thinking they can get up from the couch and cross the ocean," says Paul Newman, recreational-boating safety specialist for the 11th Coast Guard District. "But the ocean is a pretty good leveler. You don't get far unless you're prepared."
For its part, OAR has taken precautions. Hanssen overhauled his crew, signing on three new members: Adam Kreek, 32, a 2008 Olympic gold medalist; Pat Fleming, 29, a former college rower; and Markus Pukonen, 30, a veteran endurance athlete. The custom 30-foot fiberglass-and-kevlar boat, the James Robert Hanssen, has an unprecedented satellite communication system that can stream live video. The team also hired an ER doctor, a navigation expert, and a meteorologist, who will be on call during the expedition. Nothing's certain when you're paddling through 30-foot waves and living in a boat the size of a dorm room for three months, but the group are optimistic.
"Biking in Seattle is probably more dangerous," says Fleming. "I'm not saying we're unstoppable. There's just nothing that sticks out to me that is super dangerous about this."