Sweat Science
How (and Why) to Execute the Perfect Canoe Portage
Our Sweat Science columnist takes efficiency very seriously in the backcountry. Here are his secrets for a flawless canoe trip.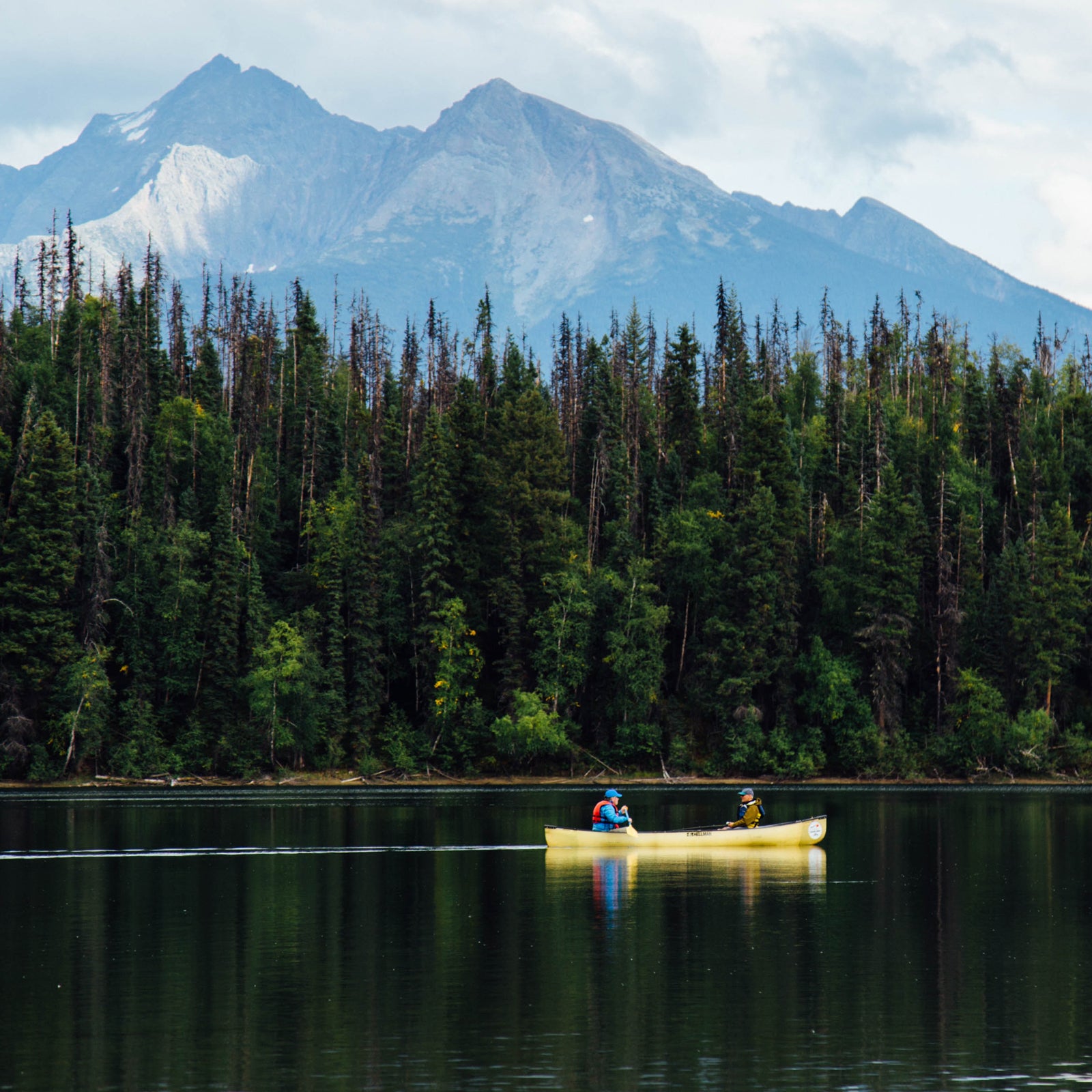 Gabrielle Mustapich/Unsplash(Photo)
Heading out the door? Read this article on the new Outside+ app available now on iOS devices for members! Download the app.
You may think that flatwater canoe trips are the car camping of backcountry travel options. After all, they're so… accessible. Pretty much everyone has paddled a canoe once or twice. What could be simpler than loading one up with a tent, seven backpacks, and a few coolers, paddling over to a nearby island, and lighting a really big fire? There are worse ways to spend a weekend.
But it's also possible to approach a canoe trip more like a backpacking journey, covering ground as efficiently as possible in order to penetrate the deep wilderness. For reasons that I've never quite managed to fathom, that's the way I like to do it, and that's what this column is about: 100 percent pure opinion, unadulterated by objective facts or evidence, on how to run a canoe trip if you're the kind of person whose ideal vacation involves avoiding crowds, seeking robust but not gratuitous physical challenges, and optimizing the details (i.e., the typical Sweat Science reader, as far as I can tell).
Most of my canoe travel has been in the rock-and-pine Canadian Shield terrain of my home province of Ontario. The landscape is pretty similar to what you'd find in Minnesota's Boundary Waters Canoe Area Wilderness: more lakes and portages than rivers and rapids. So the advice below isn't about whitewater trips or truly remote exploration; it's about optimizing your experience in relatively accessible wilderness canoe areas. And to a large degree, that means getting the portages, where you haul your boat and gear around rapids or between two lakes, right. Here are the key steps.
Seek Out the Toughest Portages
It's amazing how small a barrier it takes to filter out the crowds. Even with car camping, I've found that sites with, say, a quarter-mile walk-in tend to be dramatically less crowded than ones you can drive up to. The same applies in the backcountry, though on a different scale. On the map, look for areas that can only be accessed via a significant portage, ideally a mile or more. That's where you'll find solitude.
Last year, I took a mid-August trip with three friends to Algonquin Park, one of the most popular canoe areas in the world, just a few hours from Toronto, a city of three million at the heart of a larger urban area of about nine million, at the absolute peak of its high season. We only had four nights to get away, which meant we couldn't simply outdistance the crowds. The solution: a 3.3-mile portage (5,305 meters) between Bonfield and Dickson Lakes, one of the longest in the park. We didn't merely accept the mega portage as a necessary evil; we planned our whole trip around getting to it. In doing so, we put a more or less insurmountable barrier between us and pretty much everyone else. We didn't see another soul for three of the days.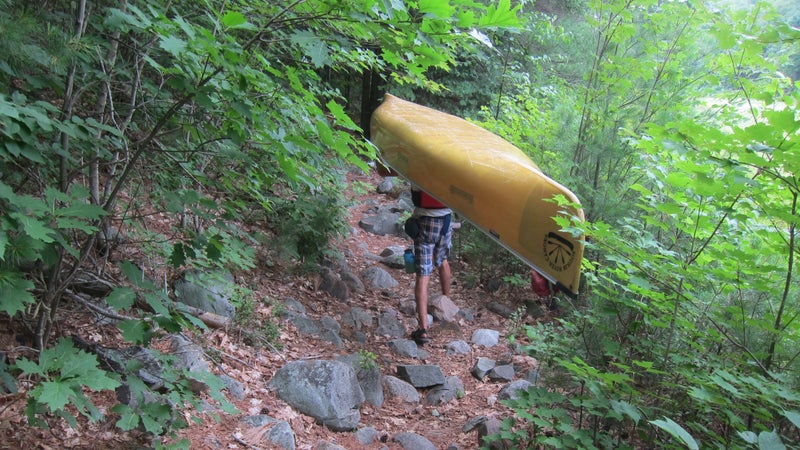 Go Three to a Canoe
Here's where things get controversial. Almost no one I know trips with three people to a canoe. It's definitely not the way to go for whitewater, and even on flatwater it requires a slightly larger boat than the usual tandem craft. But if you're going to follow rule number one and seek out tough portages, having three to a canoe can be a huge advantage. Hear me out.
In my experience, if you pack light, you can fit everything you need for three people into two big, roughly 100-liter portage packs. SealLine's biggest drybags ($250) are a good call for keeping clothes and sleeping bags safe, while traditional portage packs from companies like Granite Gear ($137 and up) or even cheap options like the Chinook Chemun ($81) are fine for food (more on that below). This means that on portages, two people each grab a bag and some paddles, and the third person hoists the canoe. Nobody has to double back for an extra load (which is a complete nonstarter if you want to cover ground quickly), and nobody has to carry a pack and a canoe at the same time (which is feasible but not a lot of fun, particularly if you're a wiry—OK, scrawny—endurance athlete like me). If you go two to a canoe, you'll be picking from one of those lesser options.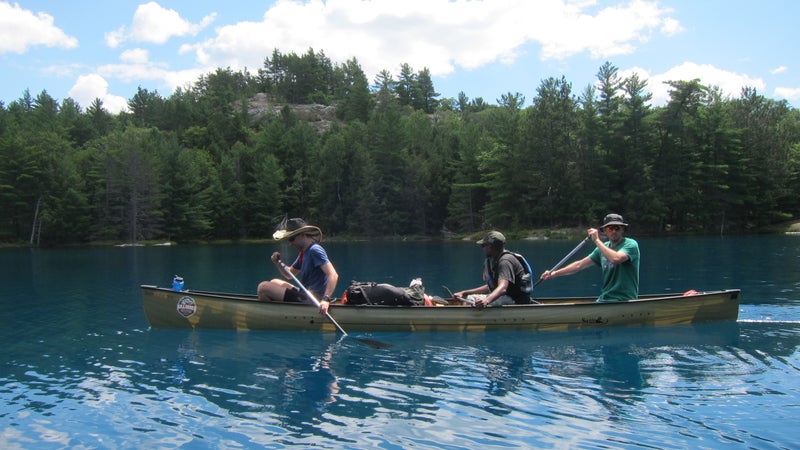 As an added bonus, with three decent paddlers in a boat, you can absolutely fly across the water. And just as importantly, if one paddler is weak or inexperienced, it's less of a problem than with just two paddlers.
For the trip I did this summer in Killarney Provincial Park, also in Ontario, we had six adults in two rented canoes. The ultralight Kevlar models we used, one from Souris River ($3,145) and one from Swift ($3,595), were 18.5 feet long, with three comfortable seats and plenty of room for two big packs, and weighed 48 pounds. That's about nine pounds heavier than the 16-footers we would have rented for two people but still way lighter than most canoes you come across.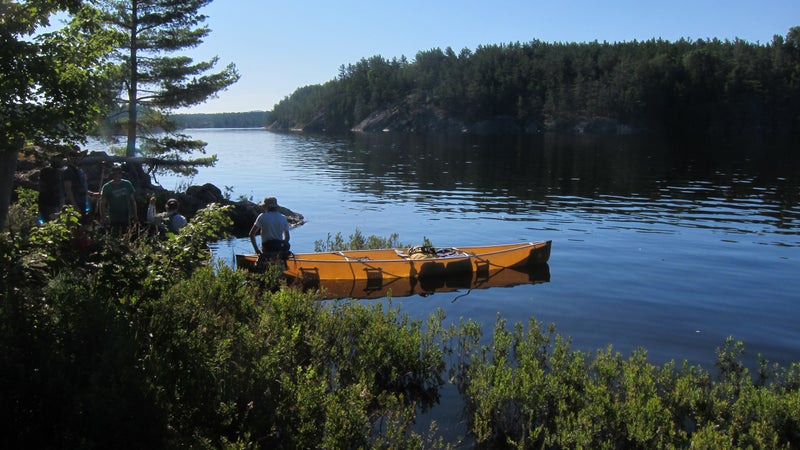 Don't Let the Packs Touch the Ground
Here's the platonic ideal of the portage: as you drift toward the landing, everyone stows loose gear, clips on water bottles, and so on. The moment you land, two paddlers hop out, hoist the two packs and paddles, and hit the trail. The remaining paddler then hoists the canoe and follows. At the other end, the person carrying the canoe walks right into the water and sets it down, so the two pack carriers can lay their packs right into the boat. Everyone hops in, and you're back on the water, at which point it's a good (and less buggy) time to snack.
Most of the time, portages will not (and probably should not) work out exactly like this. Sometimes you need a snack before the portage. Sometimes you need to pee. Sometimes there's great scenery or wildlife you want to check out. Sometimes—if you're embarking on a three-mile haul, say—you need a break or a change of shoes. And I'm all in favor of short breaks and load switches as needed during portages, as long as they're done deliberately.
Otherwise, it's really, really easy to spend 10 or 15 minutes milling around at the start and finish of every portage, and there are two problems with this. One: even if you only have a half dozen portages in a given day, you're still spending a couple of hours unloading and reloading. Two: this is low-quality, unintentional time. Often the start and finish of portages happen in dank, mosquito-infested wetlands that no one enjoys. So you want to aim by default for the perfect portage in order to minimize wasted time, then deviate from it deliberately only when hunger or scenery or whatever calls for it.
And it's not just about time. Picking up and putting down canoes and heavy packs are the hardest parts of the portage. Why lift and deposit everything three or four times when you can do it once?
Pack Your Food in Empty Olive Tubs
To be totally honest, all that stuff you've just read was merely a preamble for my most important and mind-blowing piece of advice. I initially pitched my editor an article entirely about olive tubs, but she (rightly) figured it might be a little too niche. Buckle up.
A little over a decade ago, I started going on trips organized by a friend of a friend named Mike Wilson. Mike is a consummate organizer, and I emulate a whole bunch of elements from his playbook. But the single most important innovation he's come up with is to pack food in empty plastic olive tubs from a Greek deli. The tubs are made of a strong, lightweight plastic, much like the standard food barrels you get from outfitters, only smaller. They're waterproof, which makes them good for whitewater trips, too. And here's the part that proves the cosmos intends canoeists to use olive tubs: four of them, stacked two by two, fit perfectly in a standard, roughly 100-plus-liter portage pack. There is absolutely no wasted space. It was meant to be.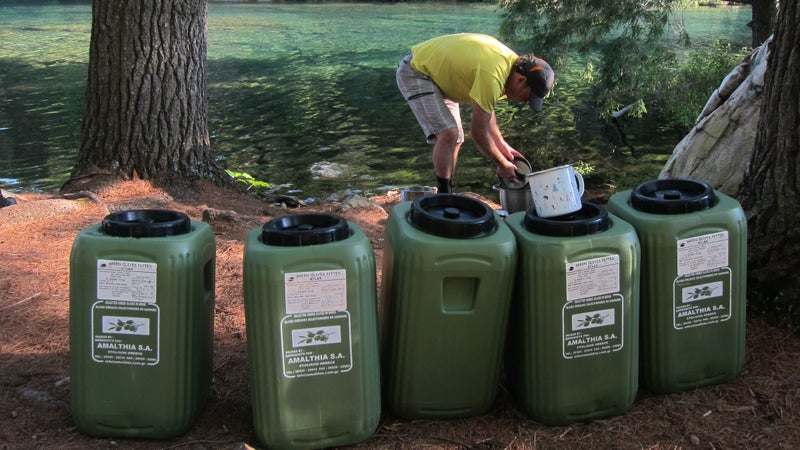 Mike's method for packing four tubs, which can easily fit food for three people for a week, is to label them B (for breakfast), L (for lunch), D (for dinner), and S (for snacks). There's some flexibility, of course. If you're packing light, you can fit a stove, fuel, and some other gear in one of the tubs, especially once you've eaten a bit of the food. And by the end of a trip, one tub will likely be reserved for garbage. For this year's trip, with six people for five nights, I took six tubs, with the upper half of the second food pack reserved for bulkier equipment, like a big cooking pot.
I love that everything isn't just thrown in willy-nilly. It's easier to find what you're looking for when you only have to hunt through one olive tub. I no longer have to worry about squashing softer foods. I also don't worry about rodents gnawing through a pack to get at food at more heavily traveled campsites. And once they're in that portage pack, the tubs are way more comfortable to carry than food barrels or a soft pack with everything tossed in haphazardly.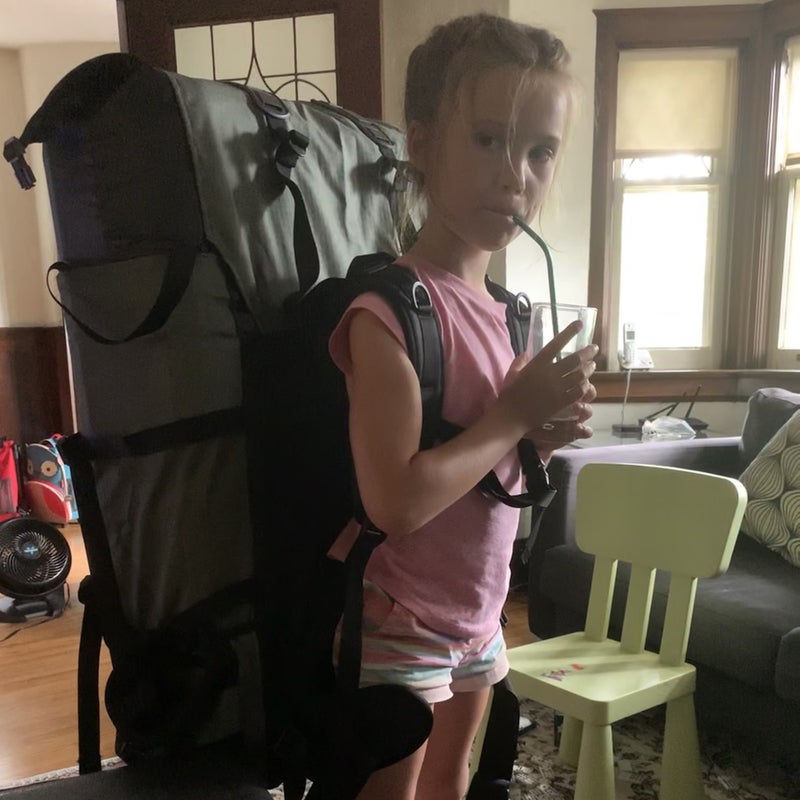 One of the reasons I'm so excited about this is that, after years of borrowing Mike's tubs, I finally got my own this summer. And from the same place Mike did: Scheffler's Deli in Toronto's St. Lawrence Market. I don't have any specific sources in other cities, but I've noticed several other Greek delis using them, and another friend of mine got some from a Greek restaurant. They're out there if you look. I happened to email Scheffler's right before they were going to be disposing of some, and they put aside eight empties for me. It took some work to wash out the olive smell (one round of dish detergent, one round of baking soda), but I got it done, and I'm thrilled.
The details: my tubs held 10 kilograms (22 pounds) of olives in brine. I've also seen the same tubs advertised as 12 kilograms (about 26.5 pounds), so it may depend on the type of olive. They have a square base, which is important for optimal packing. Some of the ones my other friend got were round, which wastes space. I'll finish by saying this: when I was searching for empty tubs, I saw that Costco was selling full tubs of Kalamatas for 67 Canadian dollars ($50). If Scheffler's hadn't hooked me up with empties, I'd be eating three meals of olives a day right now—and for the rest of the year—with no regrets.
So there you have it. You might look at these tips and think, Man, a canoe trip with that guy sounds like a complete nightmare. It's supposed to be a vacation! Or you might not. If it's the latter, I hope this advice helps you get a little farther from the madding crowd. Good luck, and (don't take this personally) let's hope we don't see each out there.
---
For more Sweat Science, join me on Twitter and Facebook, sign up for the email newsletter, and check out my book Endure: Mind, Body, and the Curiously Elastic Limits of Human Performance.
Lead Photo: Gabrielle Mustapich/Unsplash
Trending on Outside Online