The Same River Twice
We can boat the same backyard river with our family a dozen or more times, and it will never get old—because rivers, like our children, are constantly changing.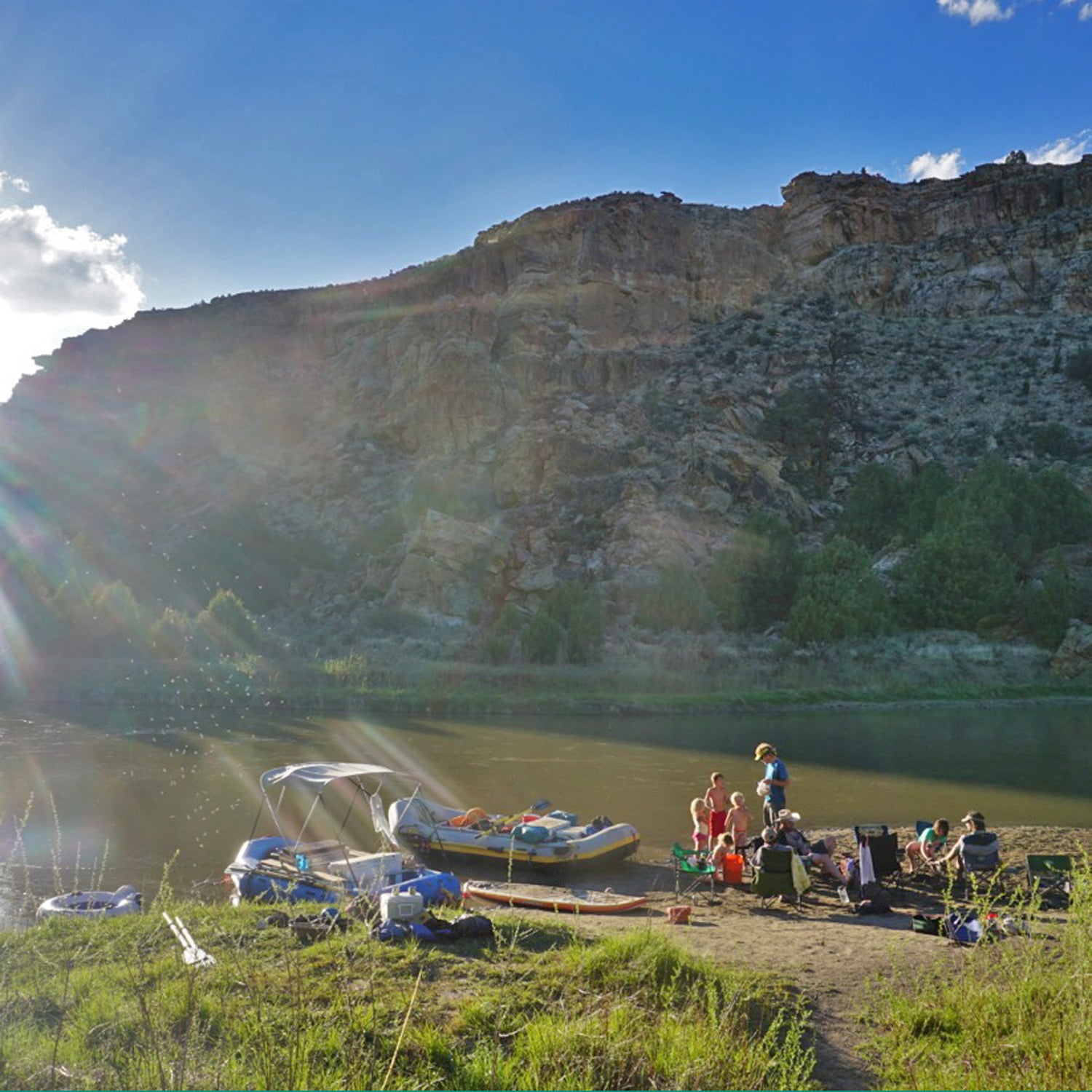 Courtesy of Katie Arnold(Photo)
Heading out the door? Read this article on the new Outside+ app available now on iOS devices for members! Download the app.
Every family has a favorite place. One of ours is the Rio Chama, a 31-mile stretch of wilderness whitewater that slices through the red-rock canyons of northern New Mexico. I've rafted, kayaked, or otherwise floated the Chama nearly every summer since I moved to Santa Fe 19 years ago, for what was supposed to be a three-month internship. My husband and I have camped and run and biked along the river, and when our daughters were born, we started bringing them, too.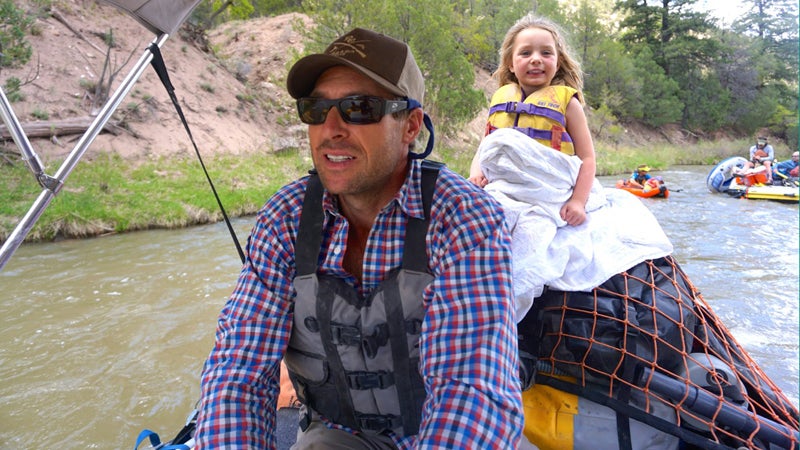 It's not hard to love the Rio Chama. Its banks are lined with 100-foot-tall ponderosas, peachy cliffs that Georgia O'Keefe used to paint, and striated, 700-foot sandstone walls with the faintest outlines of arches beginning to form. Nearly 25 miles have been designated a Wild & Scenic River, flowing through Class II-III rapids and a roadless wilderness that's one of the few places left in the country where you're guaranteed not to get cell service. Floating the canyon—for one day or three—is the ultimate mental reset.
This year, we scored a permit to raft the Chama for three days in the end of May. The first call we made was to our boating friends from Durango, Rob and Amy, and their two adolescent kids. They'd accompanied us on our first multiday float with our then 10-month-old daughter, on the remote San Juan River, in southern Utah, reassuring us the whole way that we weren't insane for bringing an infant. On that trip, they became our de facto family rafting mentors, and we've done a trip with them, sometimes two, nearly every year since.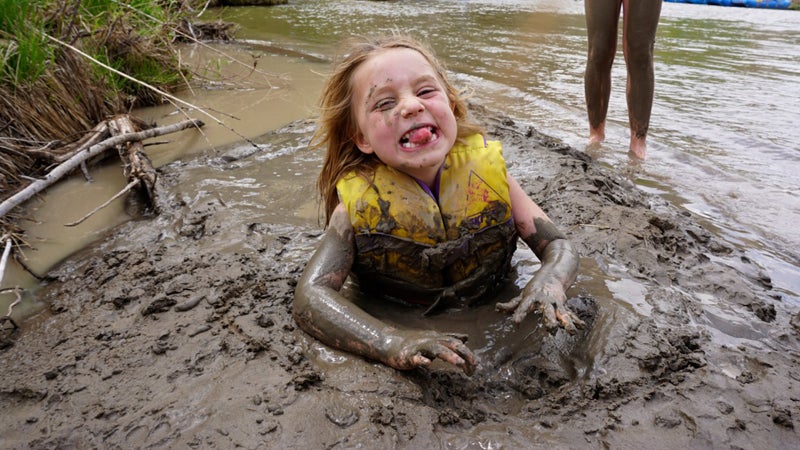 Amy and their son, Henry, couldn't come, but Rob and his 11-year-old daughter, Ainsley, and her 10-year-old cousin, Max jumped at the chance to raft the Chama for the first time. They invited their friend Kevin, and his four-year-old-daughter, Sage, whom we'd met two years ago on the San Juan with Rob. From Santa Fe, we enlisted our friend Win, a Grand Canyon river guide who would have brought his wife and their two-year-old daughter if they hadn't been out of town.
Our group of ten launched from just below El Vado Dam, almost exactly a year to the date that Steve and I and the girls set off last year. After late-spring snow, it felt like the first real weekend of summer, and we drifted downstream, through the first small riffles and into the wilder, deeper canyon. So much was the same, and yet even more was different. We had Pete now, our black Lab puppy, who like our daughters, was making his maiden raft voyage at ten months old. Our three-year-old, Maisy, had broken her foot jumping off a wall a month ago and was wearing a walking cast that seemed destined to be destroyed by three days of mud and river water.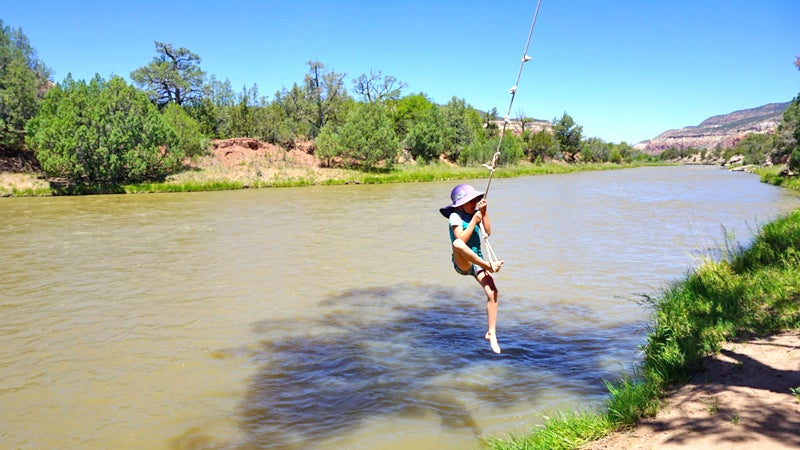 Like children, rivers mark time. No matter how familiar and dear to us they may be, they are constantly in flux, never the same from one week to the next. River levels rise and fall, revealing sand bar camps at low water and then reclaiming them at high water, swollen by spring runoff or summer flash floods. Side canyons disgorge boulders, altering rapids, making them bigger or smaller or more technical or less, and sometimes completely unrecognizable. Logs and branches sail downstream on the current, forming snags that catch more flotsam, stray fishing bobbers and tangled tree stumps, soggy old baseball caps. Someone's wrapped a canoe around a rock in the middle of a long and bony Class III rapid; it will stay there until it gets pushed off or its owner comes to claim it.
Children on river trips only underscore the water's natural fluctuations. They are a month older, or a year older. They have a broken foot. They've started reading. They are stronger swimmers. They can get by, but barely, without their afternoon nap. They've figured out how to reach the zippers on the tent and crawl out on their own. They demand S'Mores, not bottles, before bed. They jump from one raft to another, ride with the big kids in the inflatable kayaks, and are strong enough to paddle the SUP standing up through tiny wave trains.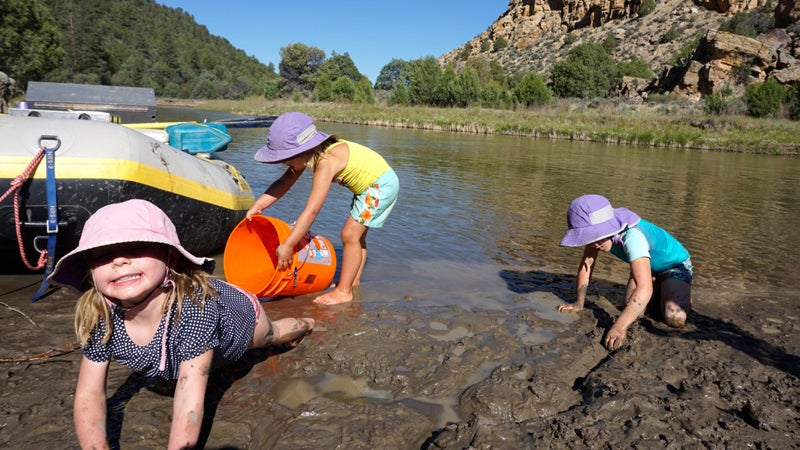 At the first night's camp—by coincidence, the same wedge of beach on a wide bend where we camped last year—we set up our chairs in the sand and watched the stars come out. I marveled about how much had changed since our first family river trip. Putting Pippa to bed in a Pack 'n Play in the tent, swaddled in a sleep sack and soothed by pacifiers—a small army of them, invariably sandy and all too often misplaced. Nursing her in the middle of the night, hoping her hungry bleats wouldn't wake the whole camp. The season when we wedged not one, but two portable cribs into our massive two-room tent, pacing outside in the fading light to make sure all was quiet. The fall trip on the San Juan when 14-month-old Maisy weaned herself, too busy to bother with the distraction of nursing and unimpressed with breast milk that tasted suspiciously like muddy desert river water. And now this trip, when both girls lie side by side in sleeping bags in their own tent (attached to ours), one reading to the other until, exhausted, there's only silence.
In a good summer, we might take three or, if we're lucky, four river trips. That's maybe 12 nights sleeping outside under gnarled old junipers, among the sage, sheltered beneath canyon walls, deep in the backcountry. In the scheme of things, this is not much time. You could argue, and people have, that young children and babies, as ours were when we began, don't belong in the backcountry and are too young to appreciate wilderness rivers; that it's selfish to bring them, that they won't remember the few days they spent bobbing through gentle rapids, held in arms, sleeping against our chests, soft toddler arms taking a turn at the oars. That the risks far outweigh the benefits of those few days.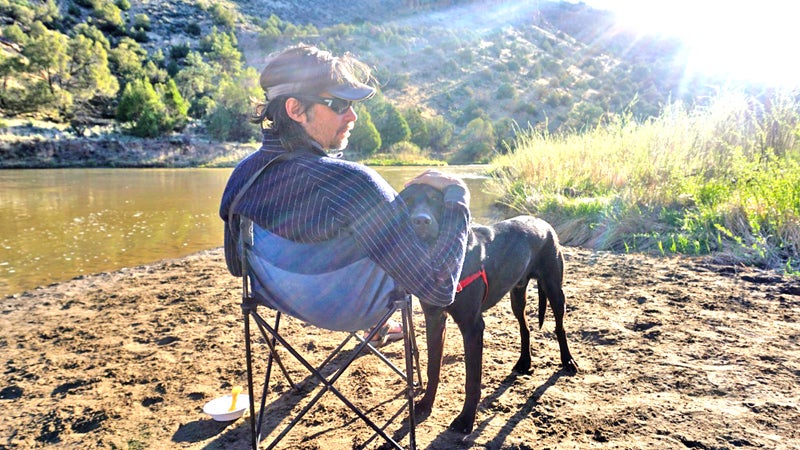 But as we sat under layers and layers of stars, and the thinnest wisp a moon hung above the canyon rim, with Saturn beaming beside it, I knew these trips, those few fleeting days, add up to so much more. Our girls are growing up on the river. With each year, the Chama and the San Juan, the Green and the Rio Grande, are becoming familiar to them, known and beloved, like the rafting friends we see year after year. The rivers—like all favorite places and family traditions—hold our memories and mark our milestones. They release us from the busy clutches of routine life, the overstimulation, the schedules, the screens, and offer us deep comfort within ourselves and the world.
Our days on the Rio Chama blended one to the next as the river miles slid by. Maisy crawled barefoot in the mud at the edge of the water, rafted Class III Aragon for the first time, and managed not to trash her boot cast after all. We inched past a rattlesnake, its tail going clackety-clack from its safe haven under a rock ledge, and hiked a slot canyon, the youngest among us clamoring up the pour-overs. And Pete, after desperately flinging himself from the raft into the very first rapid and coming up bobbing like a little black mink, learned to sit stoically at Steve's feet while he rowed. He's becoming a river dog now. 
We can boat the same backyard river twice, three times, a dozen or more, and it will never get old. No two trips on the Rio Chama will ever be the same, because the river is always changing, just as we are. This is why we keep going back—why wilderness will always be a constant in our life—to be reminded that nothing stays at it is, the beautiful impermanence of it all, and to be glad for what we have right now.
No, 12 days is not nearly enough.
---
Three Perfect Family "Lightwater" Raft Trips
Rio Chama, New Mexico
Do-it-yourself with a lottery permit from the BLM, or hook up with Los Rios Riverrunners, which provides luxury walled safari tents for the two-night, three-day Class III trip.
San Juan River, Four Corners
Like the Rio Chama, the 84-mile stretch of San Juan from Bluff to Clay Hills requires a private-boater permit. Class II-III rapids make this a fun, splashy river for families. Break the distance into the Upper or Lower trips, or float the entire length in seven days. O.A.R.S and Wild River Expeditions offer family trips.
Labyrinth and Stillwater Canyons, Green River, Utah
There's not a single rapid in 100 river miles between Ruby Ranch, through Canyonlands National Park, to the confluence with the Colorado River, making this the most mellow of family flat-water floats. As on other desert rivers, summer heat can be intense. DIY in rental canoes or rafts (permits required through Canyonlands or contact Tex's Riverways for guided trips. 
Lead Photo: Courtesy of Katie Arnold