Scull Crushers
On wind-blasted San Fran­cisco Bay, a crew of hardcore rowers dodges freighters and fog banks for kicks. They are mostly women over 40. And they will destroy you.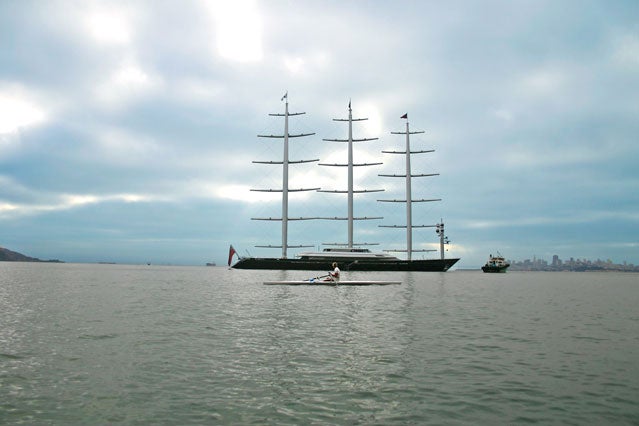 Melanie Rovens
Heading out the door? Read this article on the new Outside+ app available now on iOS devices for members! Download the app.
THIS IS A STORY OF ADVENTURE that ends with a gold medal and glory. Along the way there is the hubris of youth, friendly porpoises, and a moment of true terror.
It begins on a commuter ferry one morning last summer in the middle of San Francisco Bay, where I spotted two rowers gliding past Alcatraz in what looked like collegiate racing shells. My first reaction: Holy crap! The bay is a wicked place for boating, with swirling currents, menacing fog banks, and winds that regularly blow 20 to 30 knots. The water temperature hovers around 55 ­degrees. There are great white sharks. It's not a place for small open-cockpit craft—or so I wrongly assumed. A minute of smartphone Googling led me to the site of the Open ­Water Rowing Center (OWRC) in Sausalito, just north of the city. Apparently, folks there have been charging around in modified shells for 25 years.
Really, I shouldn't have been so surprised. The Bay Area has long been a magnet for adven­ture-sports pioneers. America's oldest trail-running race, the Dipsea, has been held on Marin County's Mount Tamalpais since 1905. Gary Fisher and crew invented mountain biking on the same slopes in the 1970s. Today, San Francisco and its surround­ing burbs are loaded with kitesurfers, paragliders, and big-wave surfers. Growing up here, I'd often felt insufficiently gnarly.
Rowing struck me as an easier pathway into the local fraternity of badasses, especially when I discovered that many of the 100-plus OWRC regulars were at least 50 years old and a good number qualified for ­Social Security. They were at that stage in life—kids grown up, wealth accumulated—where they had the time to row and the ­resources to buy a boat ($4,000 and up) and pay for storage ($1,500 per year). Plus, most of the really serious mem­bers were women.
For about $475, I signed up for two novice lessons and a three-month fall membership, which included unlimited use of the 11 club shells. Once I got the basics down, I could join group workouts. There was also a three-hour rough-water clinic involving a row under the Golden Gate Bridge. In November, I'd be welcome to race in the annual 8.4-nautical-mile regatta around Angel Island. The way I saw it, at just 36 years old and moderately fit, I'd be the club stud by Thanksgiving.
Then I met the two Marys.
LIKE CROSS-COUNTRY SKIING, rowing is 95 percent technique—a series of sequential ­motions, each critically important. Imagine trying to shoot a basketball using giant chop­sticks while running backward. Unlike, say, learning to ride a bicycle, you never just "get it." Even veterans work on the ­mechanics constantly.
And so it was that I found myself bobbing nervously among eight other rowers at the start of a group row on a clear September morning. Since my lessons, I'd completed a handful of frustrating solo outings. I was so eager for speed that I was constantly digging my oars too deep or barely skimming the surface. Several times, I'd nearly pitched headlong into the drink.
Our coach for the day was Chris Dadd, a mustachioed fortysomething former col­le­giate racer who runs the rowing program at Berkeley High School.
"All right," he bellowed into a bullhorn from his aluminum outboard skiff. "Let's do some work!"
That's when the six women in our group promptly left me and two other guys in their wake. We did a series of two-mile intervals, each ending with the women sitting patiently in their boats chatting as the dudes suffered our way to the finish. The fastest rower by far was Mary McLachlan, a lanky 53-year-old South African expat who would lay back in her boat after sprints with such ­tranquility that I was sure she was napping. Then she'd pop up and set off again, her lean limbs crank­ing in precision like some superpowered pray­ing mantis.
"Lying down stretches everything out," she later explained while downing a thermos of iced nonfat milk. "I sit up and feel great."
When we finally returned to the dock, both my hands were bleeding. At home in the shower, I felt a nasty sting below my tailbone and reached back to extract what appeared to be a silver-dollar-size jellyfish. Upon further inspection, it turned out to be the skin cap from a hideous butt-crack blister.
According to Shirwin Smith, who founded OWRC in 1985 by plopping four boats on the beach in Sausalito and offering lessons, men tend to have a harder time with rowing. "You want to solve problems with strength," she told me. She recalled two exceptions among her students: an Air Force fighter pilot and Yosemite speed-climber Hans Florine.
Like other leading-edge open-water rowers of her day, who were making strokes on Washington State's Puget Sound and off the coast of Massachusetts, Smith started out using heavy boats designed for stability. But in the mid-eighties, a boat builder named Chris Maas began crafting open-water shells in Richmond, in the East Bay, with the idea that getting wet might be OK. His sleek, lightweight boats—39 pounds or less—helped Smith attract a number of ­adventurous athletes, but the old-school flat-water racing establishment still considered "recreational rowing" its bastard offspring. Maas played along, showing up at the Head of the Estuary, a prestigious Bay Area flat-water race, in an open-­water boat he'd painted jet black with bright ­orange flames. Later, in the early nineties, he showed some of his boats at the U.S. Rowing Association's annual convention. One highly regarded coach walking by the display turned to a companion and said, "I just don't get the point."
Today's open-water rowers remain outliers. At the OWRC, I got used to impromptu lectures from Mary number two, Mary Elizabeth Stone, age 82, who loaded me up with handouts on ­proper technique. I found out from other rowers that Liz, as she's called, has been the oldest competitor at Boston's prestigious Head of the Charles for several years running. At the 2009 event, which included a snowstorm, she got so cold she had to be pulled from her boat at the finish, but she keeps going back. A. T. Lynne, a fiftysomething rower who helps out with office ­duties and dropped several f-bombs in our first conversation, had published a book titled 21 Games for the Mind that Won't Shut the @#&* Up! Off the deep end, literally, was 46-year-old Art Bruzzone, a.k.a. Storm ­Rider, ­notorious because he likes to row alone out to the ­Pacific and prefers nasty weather. One OWRC coach told me she'd seen him trying to surf the wake of freighters passing under the Golden Gate Bridge.
That stunt seemed all the more absurd during my rough-water clinic, when I endured a mild panic attack while stroking through heavy fog into a cauldron of currents at the base of the bridge's north tower. The 21-foot-long fiberglass Maas Aero under my command was just two feet across at its widest point, and my lap was full of frigid seawater because I'd forgotten to open the ­self-bailer. A cacophony of alarming sounds—cars honk­ing overhead, a foghorn wailing on-shore, a Coast Guard cutter growling by—had me so disoriented that I thought I was flying along when I was actually losing my battle with the incoming tide. Eventually, I gave up entirely. I just wanted to go home.
MY MEDAL WAS GOLD in the aesthetic sense: polished tin. And I didn't technically "win" anything. I finished eighth out of 14 singles in the November regatta, which was held on an altered six-plus-mile course in mostly sheltered waters due to a storm. At the awards ceremony, I was celebrated as the Newest Rower (one notch above Best Sports­man­ship!). The overall winner was a 21-year-old kid from the University of California at Santa Cruz rowing team, which became the first collegiate open-water program when it was formed in 2008. He'd finished in 55:31, about eight minutes ahead of me and exactly four seconds faster than Mary McLachlan.
Not that I cared. I'd found my glory a couple of weeks earlier. After the rough-water clinic, my standard rows started to feel easy and the speed I'd longed for was materializing. I'd jump into a shell, decide where I wanted to go, and turn on the ­afterburners. To hold a straight line, I'd take an angle off the summit of Mount Tamalpais, often capped in a wispy yarmulke of fog, or the top of San Francisco's Transamerica Pyramid. I whip­ped past bumbling stand-up paddleboarders and kept pace with motoring sailboats. Then, during a group practice lap around Angel Island on the kind of fall day when calm waters and warm offshore ­breezes turn the Bay Area into an 85-degree Mediterranean paradise, I found myself circled by a dozen porpoises.
I hadn't become the stud of the OWRC. But in that moment, alongside the women who would politely wait for me on the far side of the island, I was ecstatic to be its bitch.