When Surfing Is Literally Therapy
Tim Conibear started a surf therapy program in Cape Town that's helping thousands of kids discover both surfing and a sense of community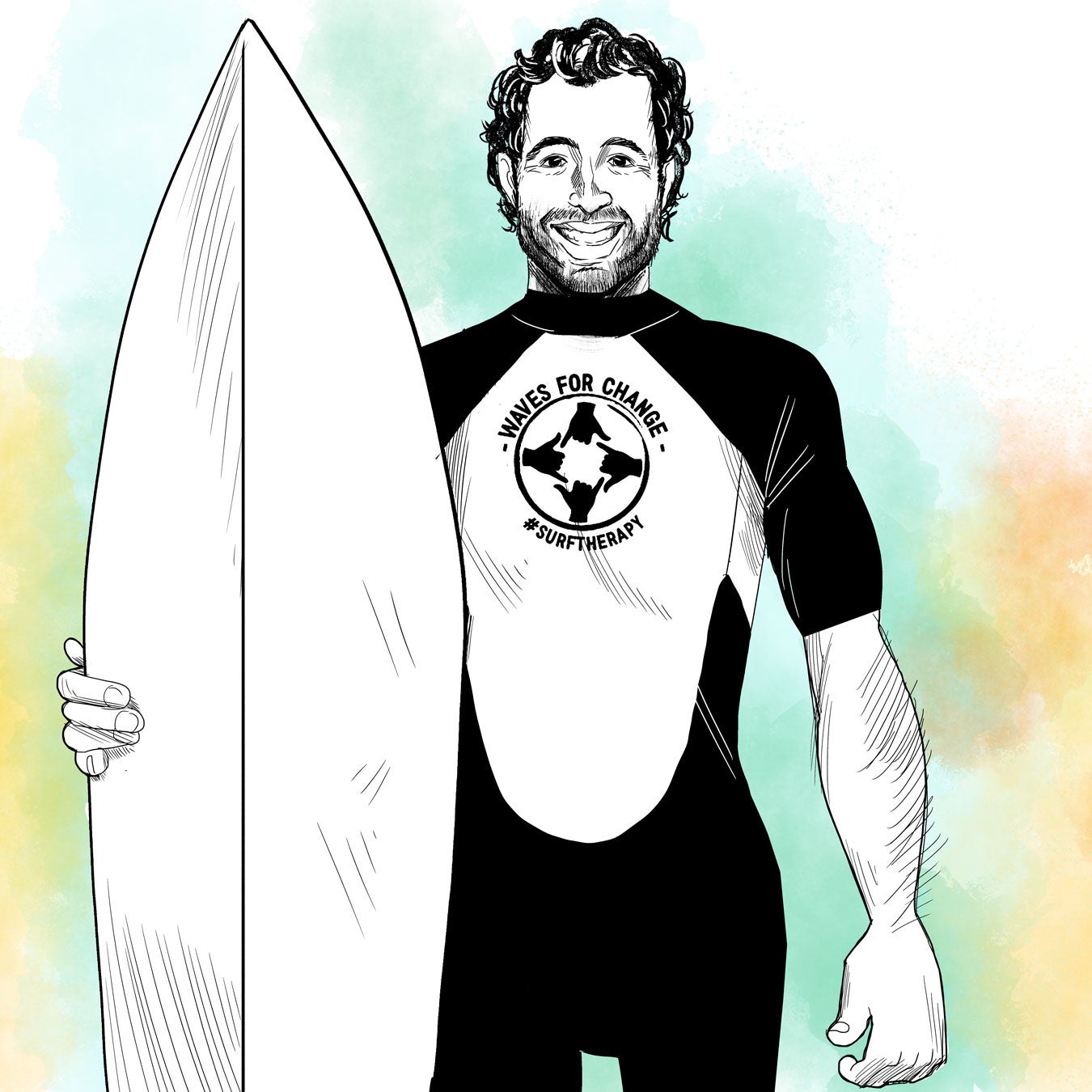 Erin Wilson(Photo)
Heading out the door? Read this article on the new Outside+ app available now on iOS devices for members! Download the app.
Name: Tim Conibear
Job: Founder, Waves for Change
Home Base: Lives in Cape Town, South Africa; originally from Oxford, England
Age: 36
Education: Studied French at the UK's University of Bristol
When Tim Conibear launched a surf club for kids in the Cape Town, South Africa, township of Masiphumelele in 2009, he realized the local children were showing up for more than the opportunity to ride waves. "The surfing was fun and different for them, but they were really coming for a chance to speak to an adult about the challenges they faced," Conibear says. "Social services and counseling and psychology infrastructure in Cape Town is poor, so having a chance to be heard was very important."
Conibear grew up in Oxford, England, and learned to surf as a kid while on vacation with his family. After university, he ended up in Cape Town, working for a vineyard and then a surf travel company called Ticket to Ride. Then he realized he wanted to do more to help local children, many of whom suffer regular exposure to violence and trauma due to the high crime rates and gang violence in surrounding townships.
In 2011, Conibear launched a nonprofit organization called Waves for Change, which has since provided surf lessons for several thousand kids and young adults. Surf therapy—using surfing plus therapy sessions to combat issues like post-traumatic stress disorder—is becoming a more widely adopted practice around the world, including in the U.S. military. We called up Conibear during a recent surf trip to Jeffreys Bay to talk about what the ocean can do for all of us.
On the Initial Idea for Waves for Change: "A few friends of mine worked with the NGO Grassroot Soccer, where they use soccer as a way to educate children about HIV. So, I thought, why can't we turn our surfing sessions into something more educational? That's how it all started."
On the Impacts of Childhood Trauma: "A lot of the kids we work with have witnessed community violence, drug abuse, physical abuse, or they have a lack of basic resources around food. If you have a lot of trauma in youth, it affects the way you behave and learn. We're just starting to do research on the impact trauma has on physiology. These kids are in a heightened state of alert, which can be very bad for long-term health."
On How Surfing Can Help: "We use surfing as a way to integrate children into a community. Surfing is fun and addictive, but it's also very difficult. When you go out into the depths for the first time or when you catch a wave for the first time, you get this huge sense of accomplishment. So you integrate them into a space that's supportive, a space where they feel they belong. The research shows that if you have an environment where you feel you belong, you're more resistant to trauma. The idea is to use surfing to help build a sense of confidence and strength."
On What Happens to Kids After the Program: "Once they've completed the after-school program, they become part of a weekend surf club. That keeps them close to the ocean, but there are also lots of other opportunities. The kids get into sailing, they become lifeguards. A lot of these kids have gotten jobs through this network. Our oldest programs are mostly run by kids who used to be participants. There's a full-circle thing going on."
On the Most Fulfilling Part of His Job: "Watching the communities take full ownership of the project. It used to be that I'd walk down to Masiphumelele Club and I'd be the center of everything. It revolved around me picking kids up. But now there are people who work for Waves for Change who I haven't even met. I'm way less central than I used to be, and that feels good."
On What Keeps Him Awake at Night: "Losing control. I'm a bit of a control freak. It's a weird double-edged sword. It's great letting things go, but it's hard, too. What's the saying? Control the chaos—let things go, and then try to keep it roughly on course. Maybe I'm more afraid of losing direction. I want Waves for Change to further community health—that's where our time and investment is—so getting distracted from that would be a major concern."
On His Vision for the Future: "One of the things we really want to start pushing is that exercise needs to be integrated into health systems. We're having conversations with policymakers and working with universities on several different research projects. I hope that, someday, exercise will be incorporated into educational systems and that exercise will be prescribed instead of medication in some cases. So much evidence says if you're physically active, your risk of pulmonary issues and mental health issues drops significantly."
On the Best Thing the Ocean Can Do for All of Us: "Surfing connects you to a new community very quickly. As soon as you learn to surf or even go to the beach, you become part of a community that's not obsessed with cellphones. They're obsessed with having fun. The idea of human connection is really important in healing."
On the Career He'd Have Chosen if He Weren't Doing His Current Job: "I tried to be a winemaker, a journalist, a surf tour operator. I have no idea what else I'd be doing. My interest in Waves for Change is the role that exercise can play in promoting health. Illness in the world is starting to change because lifestyle is becoming way more sedentary. Anxiety and depression are on the rise, and the health care system isn't set up to prevent people from getting sick; it's set up to treat people when they're ill. I'm very interested in how we can increase exercise programs and prevent illness."
On His Perfect Day: "A morning walk on the mountain with my wife and my dog. A fun day in the office. A surf at lunch. A run in the evening. I get to do that a couple of days a week."
On Who Inspires Him: "We train community members to deliver the Waves for Change program, and they're amazing. They live in really difficult circumstances. A lot of them live in basically war zones, but they commit themselves to volunteering. Through us, they get training and receive a stipend. On completion, about 90 percent of them get onward employment. They've overcome massive adversity to do what they do. Seeing them keeps me grounded."
Lead Photo: Erin Wilson