The Volcano Tour
Roaming the Northwest's fiery mountains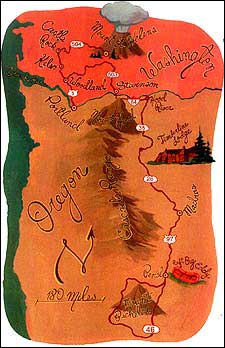 Heading out the door? Read this article on the new Outside+ app available now on iOS devices for members! Download the app.
MY FAMILY LIVES IN THE PACIFIC NORTHWEST, a region forged by fire. The course of our rivers, the yield of our soil, and the thrust of our mountains are all the products of past eruptions—prehistoric, ancient, and modern—from the volcanic peaks forming the Cascades. Living under the shadow of this phenomenon, we tend to take it for granted. So we toured among the range's flagship massifs, considering them both close-up and from a clarifying distance. We started with Mount St. Helens in Washington State, traveled through the Columbia River Gorge to Mount Hood, and drove down to Mount Bachelor in central Oregon: 300 volcano-graced miles.

Assuage that red-hot wanderlust: Washington's Mt. St. Helens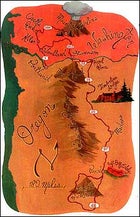 Illustration by Zohar Lazar

Day 1Portland, Oregon-Kelso, Washington
Ahead lies Mount St. Helens, the peak cloud-hidden from I-5. We pull off the freeway at Castle Rock, get our bearings at the National Volcanic Monument Visitor Center, and then work our way up Washington 504. My wife, Patricia, and I first drove this way when our son, Tom, was six, our daughter, Mary, was three, and the mountain was still a sere, cinder-black wasteland. Now Tom is 13, Mary is 10, and St. Helens has undergone a remarkable rebirth.

At the Coldwater Ridge Visitor Center, hillsides bloom with heather, and huckleberry bushes soften the lava shoals. We visit Johnston Ridge Observatory for a 16-minute film spotlighting the eruption. Afterward, curtains draw back to reveal a picture window and what ought to be a view into the crater, four miles away. Today, however, all we see is gray. Undaunted, we climb the Eruption Trail, which leads to the highest observation point along Johnston Ridge. At the top, we spend ten cold but exhilarating minutes identifying neighboring mountains that Tom and Mary, who've grown up in the Northwest, know by heart. Patricia and I, California transplants, still have to go by the map.

Doubling back on I-5, we stop in Kelso and economize at the Comfort Inn, knowing we'll have plush accommodations later.

Day 2 Kelso-Stevenson
We leave I-5 in Woodland, where Washington 503 takes us east along the southern slope of St. Helens. A few miles from the crater, we stop at Ape Cave, a 3.25-mile lava tube tucked into the mountainside. We put on fleece, grab four flashlights, and proceed underground into the black heart of the volcano. We wind our way through the narrow cavern before emerging into the sweet, pure light of the High Cascades.

"Guess we can't get any closer to a mountain than that," Tom says with satisfaction as we climb into the car.

We overnight at Dolce Skamania Lodge, where Patricia and I soak in the hot tub, gazing into the Columbia Gorge, while the kids play in the pool. We have dinner on the patio—the sun warming our faces, local microbrews in our glasses, the kids goofing on the lawn as the salmon grills.


Day 3Stevenson-Timberline Lodge, Oregon
The day begins with a jog west on Washington 14 to Beacon Rock, the second-highest freestanding rock in the world. The 848-foot-high plug of volcanic basalt was noted with awe in the journals of Lewis and Clark. In 1918, a gentleman from Philadelphia, Henry J. Biddle, finished a 4,500-foot trail with sections of cast-iron railing up its sheer cliffs. We climb it, dizzy and laughing at its 53 switchbacks.

We cross into Oregon on the Bridge of the Gods—a name without hyperbole. I-84 takes us east to Hood River to savor muffins at Bette's Place and to the port where we watch windsurfers whip in the pellucid late afternoon. We follow the clear light up the valley to the pearly year-round snowfields of Mount Hood and Timberline Lodge, where FDR slept and Stanley Kubrick filmed some outdoor scenes in The Shining.
Day 4Timberline Lodge-Bend
The kids want to try summer skiing on the Mount Hood glaciers but settle for building a snowman beside the parking lot. Then it's into the car and southeast on U.S. 26, crossing the watershed dividing the rainforest from the high desert. Douglas fir gives way to ponderosa pine. The air turns hot, and toothy peaks—Mount Jefferson, Three Sisters, and Mount Bachelor—loom on the otherwise open horizon. We shoot south on U.S. 97 along the tumbling Deschutes River, filled with blue-ribbon trout. At Smith Rock State Park, which draws rock climbers the way Hood River attracts windsurfers, we stop for a picnic lunch and then hike the canyon with its rock walls made of compressed volcanic ash.

By 6 p.m. we're watching the ducks on Mirror Pond (it reflects Mount Bachelor) in downtown Bend. After dinner at the redoubtable Deschutes Brewery, with its friendly atmosphere, hearty fare like barbecue ribs, and splendid Black Butte Porter ale, we retire to the River House Resort, where you can fish behind your room and listen to the gurgling Deschutes all night.

Day 5Bend
We're up early for a raft trip over the Big Eddy rapids. The popular family excursion includes a stretch of the Deschutes River five miles southwest of Bend, flowing through black lava fields in the Lava Lands National Monument. A third of a mile of continuous Class III rapids crowns the trip. Building the suspense, and modeling responsible rivercraft, our guide has us beach in a wide eddy and walk up the bank to scout our route through the rocks. Mary and Tom are enthralled; their mother is nervous.

We crash through the rapids, gasping at snowmelt flooding over the bow and paddling ecstatically. When we reach the calm water at the end, Mary leaps in for a swim and is quickly joined by Tom. After a moment, Patricia and I are in the river too.

Late afternoon brings a jaunt west on the Cascade Lakes Highway to the Mount Bachelor ski resort. We ride the lift to the 9,065-foot summit for a staggering view of peaks soaring above lava-gouged lakes. We can take in the entire length of Oregon from Mount Shasta in northern California to Mount Hood, which shadows Portland, our hometown. From this mountaintop, home seems close enough to touch.


DAY ONE (Portland, OR-Kelso, WA)
MILEAGE: 180.
DRIVE TIME: 3.5 hours.
DIRECTIONS: I-5 north from Portland; east on Washington 504 at Castle Rock; I-5 south to Kelso.
STOPS: Mount St. Helens Visitor Center (360-274-2100) for volcano history; Hoffstadt Bluffs Visitor Center (360-274-7750) for lunch; Coldwater Ridge Visitor Center (360-274-2131) to get close to the crater.
STAY AT: Kelso Comfort Inn ($75; 800-228-5150).

DAY TWO (Kelso-Stevenson)
MILEAGE: 120.
DRIVE TIME: 2 hours.
DIRECTIONS: I-5 south to Woodland; Washington 503 to Washington 14 west.
STOPS: Get oriented at the visitor center in Woodland and stock up on fuel, water, and picnic items.
STAY AT: Dolce Skamania Lodge (800-221-7117; www.dolce.com/skamania): oversize double rooms with a living area start at $199.
DAY THREE (Stevenson-Timberline Lodge, OR)
MILEAGE: 50.
DRIVE TIME: 1.5 hours.
DIRECTIONS: Washington 14 east to Beacon Rock; then back to Bridge of the Gods; I-84 east to Hood River; U.S. 35 south.
STOPS: Beacon Rock State Park (509-427-8265). Try the eggs Benedict at Bette's Place (541-386-1880) in Hood River for an inexpensive breakfast or the three-meat barge burger for lunch.
STAY AT: Timberline Lodge (800-547-1406; www.timberlinelodge.com): doubles, $170-$225 per night.

DAYS FOUR AND FIVE (Timberline Lodge-Bend)
MILEAGE: 170.
DRIVE TIME: 4 hours.
DIRECTIONS: U.S. 26 east to U.S. 97 south (at Madras).
STOPS: Follow signs off U.S. 97 in Terrebone to Smith Rock State Park (800-551-6949; www.smithrock.com). Dinner at the Deschutes Brewery (541-382-9242). Raft Big Eddy with Sun Country Tours (800-770-2161). Mount Bachelor ski resort (800-829-2442, www.mtbachelor.com).
STAY AT: Riverhouse Resort (800-547-3928; www.riverhouse.com); ask for a river-view room ($105-$152).