Watership Down
Dallas Trombley spent about $200,000 on six failed attempts to build and float a raft down the Hudson River. He's not sure why, but he's back for more.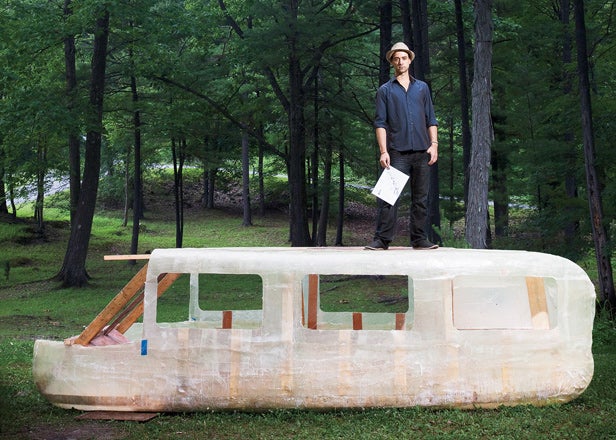 Heading out the door? Read this article on the new Outside+ app available now on iOS devices for members! Download the app.
Dallas Trombley can't stop himself.He can't stop building rafts and boats, and he can't stop trying to take them down the great river. Six times over the past four summers, he and a shifting array of friends have launched homemade watercraft onto the mighty Hudson and attempted to ride from Albany, New York, to Manhattan—147 scenic miles in all.
Rafting

Trombley at work: "I have a hard time," he says, "letting some things drop."
rafting

Trombley with his friend and first mate, Rob Babcock-Ellis
Sunk Illustration

Six times they've failed, often spectacularly. Only a few miles into his first voyage, in June 2006, Dallas hit a river buoy and sank. The second time out, he was washed overboard. Once while he was docking, a trolling-motor propeller came loose and plopped into the Hudson's chocolate-milk waters. Dallas, who isn't much for swimming, had to splash for shore with a mooring rope gripped in his teeth. In pursuit of his Huck Finn dream, he's been shipwrecked, fly-bitten, sunburned, starved, reduced to penury, nearly drowned, and ticketed by the marine police.
Still, he can't stop. During his quest, he's built rafts with a junkyard's worth of materials—rotten fence posts, discarded pallets, fugitive chunks of dock, plastic barrels from a tomato-sauce factory, a motorcycle exhaust pipe, rare-earth magnets, a Katchakid pool safety net, a rowing machine, cement blocks (used as anchors), three citronella candles (for running lights), and deep-cycle batteries, among much else.
Here's the really odd thing, though: Dallas doesn't like building rafts all that much. He just wants to float to New York on one. But even that's not exactly right: He has to do it. The incompleteness is like a sickness Dallas can't get over. He wishes this need didn't consume him so totally. He dreams of a time without rafts—a day, perhaps soon, when he can pack up the tools and the life preservers and do other things. Find a girl. Write a novel. Backpack through Europe.
But for now, he can't think about much else. So he keeps trying. Because this year … this year will definitely be the year he makes it.
"IF THERE ARE A thousand steps to this, then we're on step three," Dallas is saying, "and I'm hoping to accomplish steps four through 27 this weekend."
It's a Friday in early April, quitting time, and Dallas is sitting on an Albany barstool, thinking about the weekend construction schedule for his latest raft, Assembly Required, the seventh he'll put in the water. Cool weather is in the forecast. He's worried that the epoxy he's planning to slather on the boat's twin hulls won't dry fast enough.
"Everyone keeps telling me I'm wrong about this," he says, swigging from a Coors Light. "But why can't we just set a number of small fires around the outside of the raft while the epoxy hardens? I mean, it's flammable, but it's not like … well, it's extremely flammable. But if we do it right, I think we should be OK."
Dallas is a slim, handsome 26-year-old with sleepy eyes, a hairline deep in retreat, and a tattoo on his right biceps that reads live free or die. He works for the state government, as a legislative analyst for the Labor Committee of the New York State Assembly. The job, he says, is "like a mixture of reading Milton and VCR instructions." Still, he enjoys it and he's good at it. He has a love of language and a philosophical bent. Sometimes he'll quote John Locke or George S. Patton out of the blue. Today, he came into the bar with a fedora set far back on his head—like a gambler at the racetrack—and a copy of Washington: The Indispensable Man.
Between more gulps of Coors, a confession: This year's raft is a little behind schedule, and he's worried that he won't make his hoped-for launch date of July 29. As Dallas sketches the boat on a bar napkin for me, it's obvious why he's running behind. This craft is no simple log platform lashed together with rope. Over time, Dallas's designs have become increasingly lavish in their complexity and aesthetic. This year, he's drawn up plans for a sleek, catamaran-like boat, with two enclosed fiberglass hulls joined by a center cockpit. Building it, he estimates, will take 500 hours and cost around $8,000.
"The idea in my head was a '69 GTO," he says. "I don't want there to be any square angles on it. I want it to be all curves." Propulsive power will come from humans (rowing) and from a pair of four-foot wind turbines, spinning on poles, that will supply juice to a trolling motor. As far as Dallas is concerned, this raft—the ne plus ultra of all previous hard lessons learned—is missing only one thing. "If we didn't think we'd get in trouble," he says, "we'd build a PVC-pipe cannon filled with confetti to fire when we got to New York City."
Why this obsession? It began with an offhand comment. In the fall of 2005, at the start of Dallas's senior year in college at SUNY Albany, he and a few friends were sitting on the shores of the Wallkill River in New Paltz, shooting the breeze. Somebody said, "Wouldn't it be awesome to take a boat all the way down to New York? Get some good friends, some beer, and just float with the rhythms of the big river—no gas engines allowed!"
Everybody laughed. But in Dallas something clicked. "All you'd need is some wood and a bunch of, like, you know, floaty shit," he said. "We'll say we're protesting America's reliance on fossil fuels." Everybody laughed again.
"You guys are full of shit," Dallas's girlfriend at the time said, "but I hope you do it." "Oh, we will," he and a friend said at the same time.
Five years later, at the home of Dallas's parents in the town of New Baltimore—where the raft's shell awaits—Dallas and Rob Babcock-Ellis, his friend since the fifth grade and a frequent first mate, are eating Saturday-morning breakfast before getting down to work. A framed sign in the den reads, welcome to the nut house.
Over bacon and eggs, the rafters discuss their epoxy-drying problem. Dallas asks his mom, Sandra, if he can use her hair dryer.
"If you burn it out, you'll buy me another," she says.
"We've gone through more tools from these boat-building expeditions," barks Dallas's dad, Kirk. "My father had a whole garageful of tools we can't find anymore."
"We can find 'em," says Dallas, standing to get to work. "We just need sonar."
Outside, the guys apply strips of fiberglass fabric to the hull they've started, brushing on epoxy that they've warmed in an empty paint can that sits on a hot plate (also belonging to Mom). The epoxy smokes, overheats, turns rock-hard in the can. The guys have to start over, and it occurs to the uninitiated observer that there are unforeseen problems here that might have been foreseen.
Rob, who's 26, is the duo's laconic half, a sales-tax auditor for the state. Unlike Dallas, who finds raft construction onerous—like having to build your own car before racing in the Indy 500—Rob looks forward to the puzzle of it. "I do thoroughly enjoy the building process, and being on the river is a lot of fun, too," he says. "I guess I just really like the whole spectacle of it." What Rob doesn't say is that he's the pragmatic one. Sometimes it seems that his role in the raft-building process has been to make sure Dallas doesn't build his own coffin.
Meanwhile, they plod on, nobly—or perhaps mulishly. Strands of fiberglass drift in the perfumed April air like dandelion fluff, sticking to shirts, to faces.
"Wow, I wonder if we should use safety goggles," says Dallas. Then, like the breeze that carries the strands, the thought passes, and he bends again to his work.
FROM ITS SOURCE at Lake Tear of the Clouds, in the Adirondacks, all the way down to Battery Park, where Vietnamese immigrants cast for stripers, the Hudson is only 315 miles long, but the imprint it's made on American history and culture is so large that it's hard to put your arms around it. An enormous finger of the Atlantic, the tidal river rolls past Revolutionary War battlefields, vistas painted by Thomas Cole, and the Sleepy Hollow countryside where the Headless Horseman galloped. It rolls past other things, too: past a Superfund site where for years General Electric pumped PCBs straight into the river, and past a sewage plant where an alarm sounds just before scrubbed wastewater boils up beneath you. A drift down the Hudson would treat anyone to a panopticon view of the whole messy beauty and tragedy that is America.
Dallas knew little of the river growing up. Though he was raised just a mile from its banks, the closest he came to nautical experience was eating soft-serve down at the Muddy Rudder. Still, the June after his college graduation, in 2006, Dallas and three friends finished building their first raft. It was square, fashioned from rotting plywood, pallets, and fenceposts, and buoyed by plastic barrels. The finished product flexed like a piece of Velveeta. They dubbed it USS Crablegs and provisioned it with five cans of beef stew, a jar of peanut butter, mixed nuts, and a 30-pack of Keystone Light. On launch day, Dallas wore a wide-brimmed leather hat and a canvas jacket with epaulets. Before weighing anchor, he had his comrades load a broken wooden filing cabinet onto the deck.
"Why the fuck are we bringing this cabinet?" Rob complained.
"For effect," Dallas said. "You know, it's like a strongbox."
"The door doesn't shut, the lock doesn't work, and we have nothing of value to put inside it."
"That's why I said 'for effect' and 'it's like a strongbox.'"
At the dock in Coeymans, a few miles south of Albany, Dallas's mother swung a bottle of champagne against the hull. It didn't break. She swung again. It still didn't break. The wood was too soft.
That first trip went … poorly. The raft hit a navigation buoy. The crew was nearly killed by a tanker coming upriver and, soon after that, by a barge. By noon the next day, the raft had begun to tilt and sink. The crew beached against another navigation marker in the middle of the river and, within sight of the Rip Van Winkle Bridge, called the police for a rescue. They'd floated only 15 miles.
Dallas wanted to try again. His crew didn't. At a party in Vermont that summer, he met two strangers who were hiking south on the Appalachian Trail and recruited them to man the second raft. Crablegs 2.0 would be unsinkable: an old piece of dock yanked out of the weeds behind the Boat House restaurant, in New Baltimore, with a homemade, bicycle-powered paddle wheel in the stern.
If the first raft trip was a farce, the second one was a debacle. The paddle wheel broke. Dallas fell overboard and lost his cell phone and binoculars. Storm waves washed away the tide chart and map. The crew ran out of food. The horseflies were biblical; to elude them, the crewmen held on to the sides and floated in the river. And then there was the wind. Come summer, the prevailing winds on the Hudson blow north, upriver. (This was news to Dallas.) They blew so relentlessly that the raft moved backwards.
"And, God, we ran out of beer," recalls Dallas. "That was really a disaster." After ten days—starving, welted, sunburned, and thirsty—they gave up. Dallas called his parents from a pay phone to get a ride. The next day he dropped the hikers off at the AT. Dallas thought he was through with his riverman phase. But within several months the urge came back again—with force. In the interim, he'd lost his car, his computer had broken, his girlfriend had dumped him. He had the post-college blues, and it seemed to him that, somehow, rafting to Manhattan would give him purpose. It would be a middle finger to adulthood and its pissant responsibilities; to the ex-girlfriend who was already dating someone else; to the naysayers who couldn't imagine the possibility of success.
It would also be the sort of thing that made a few friends and relatives wonder: Has Dallas lost his mind? No. The way he saw it, he'd found the perfect way to put it to use.
DALLAS HAS A MEMORY from when he was a child. "There'd be a coaster on a table, and it wasn't aligned with the grain of the table," he says. "I'd be watching TV by myself, and I'd just be annoyed by it, and keep lining it up, and having to keep touching it." Later, there were rituals he had to perform before bedtime, and noises he had to make, or a shirtsleeve in the laundry pile he had to fold until it was just so. By 19, the tics had gotten so disruptive that he went to see a doctor. The doc's conclusion: Dallas had obsessive-compulsive disorder.
With OCD, researchers believe, the part of the brain that handles emotional processing is overactive. Sufferers are tortured with anxiety—anxiety about the rumple of a shirt, or germs, or sin. People with OCD try to control their anxiety with rituals, but the rituals themselves become compulsive as they try to keep chaos at bay, like the boy who scrubs his hands raw because he's obsessed about dirt. Sufferers become trapped by the very remedies that are supposed to help. Time vanishes beneath the obsessions and compulsions.
Medications helped Dallas, but he hated the way he felt—nearly too sluggish to move. "Fuck doctors and side effects," he told himself. "I can do it myself." He went off the meds and relabeled his condition "obsessive-compulsive advantage," a signal that he was in control. The self-therapy has worked—mostly. Though Dallas still has OCD, he likes what his mind can do. "I can focus in on something and obsess on it, and work on it all day without doing anything else. So why don't I accept that and try to use it as much as I can?"
Dallas acknowledges that his OCD probably channels into a rather outsize perseverance in the face of poor odds. (He once lost 66 games of darts in a row to Rob but kept playing until he won.) "I really have a hard time letting some things drop," he says. "I want to do something else, but I just can't. It's like an annoying feeling when I haven't mastered something"—he pauses here—"like the Hudson." He laughs. Then his voice lowers. "You fucking river," he says, no longer laughing.
That kind of determination led, in June 2007, to raft three. The Manhattan Project consisted of two old dock remnants donated by New Baltimore's Shady Harbor Marina, with a homemade cabin nailed on top. It was the most ambitious raft yet—20 feet long, with a 15-foot mast sporting a tarp sail and a big American flag, and a solar-powered trolling motor at the stern. It looked like a patriotic garage.
It lasted less than a day. The night of castoff, Dallas and three crew members went ashore for provisions. Vandals discovered the raft, snapped the oars, ripped the sail, tossed the motor and batteries overboard, and cut the mooring lines. The marine patrol found it floating, abandoned, and towed it back to the scene of the crime. A quick repair was impossible. Worse, the cops said the guys couldn't leave the raft where it was. Dallas & Co. had spent five months building The Manhattan Project; now they had to disassemble it plank by plank and burn it in a bonfire. "So much for helping out the environment with our raft trips," Rob said as black smoke lifted into the sky.
Nature's indifference was one thing; human cruelty was another. Dallas was defeated. Then a story ran in the local paper about the vandalized boat. Soon after that, a letter arrived from an old couple urging him onward. Then came a letter from a father with a leukemia-stricken son, who had said, "He can't quit now, Dad, he's got to try again." The letters nagged at Dallas. So did the obsession chewing inside.
The fourth raft was a two-man, stitch-and-glue-construction trimaran that cost nearly $4,500 and took six months to build. When finished, it looked like a handsome little toy boat, riding high in the water, with a comically oversize captain's wheel for steering. Dallas christened it Excelsior, the motto of the state of New York.
With each raft, Dallas was learning—about carpentry, marine navigation, knots. If he was failing, he was failing better, as Samuel Beckett said. But still he failed. Floridly. The July 2008 voyage of Excelsior redefined "fiasco." The crew forgot sunscreen; fair-skinned Rob blistered horribly. At one point the raft grounded, which bent the keel, making it hard to steer.
Mostly, though, the high-riding raft couldn't beat the southerly winds. Finally, on day seven, dry-heaving and exhausted, Rob said he needed to leave. Dallas put him ashore. A few hours later, Dallas was also fed up. He came ashore and started the six-mile walk along the railroad tracks back to civilization, weighed down with everything he could salvage. Little by little, as he staggered along the tracks, he jettisoned items into the woods until, finally, he hoisted the captain's wheel. Howling and shaking with frustration, he threw it into the bushes.
THAT DID IT, Dallas thought. He recognized defeat when he saw it. Then, one night that fall, he dreamed about a new raft. It was big. It had two paddle wheels. "And the waves were going with us, and we were moving, like, ten miles an hour and there was this feeling: 'Yes! We're going to make it!'" Dallas says. "And then I woke up that morning and I just started researching all this stuff on electricity."
All through autumn, in secret, Dallas studied and drew up plans. On New Year's Day he presented them to Rob. They would call it, appropriately, Assiduity—the motto of the city of Albany.
The previous rafts had been relatively cramped affairs. Not Assiduity. This would be the Queen Mary of homemade rafts: 24 feet long, 12 feet abeam, with a flying bridge rigged for steering, a biodiesel-powered paddle wheel attached to flea-market bike rims, and a screened cabin with a little hunter's stove that the construction crew anointed by frying up a batch of cheese dogs. The raft bobbed atop 50-gallon barrels.
The crew of three spent nearly every weekend for seven months making it. By the time it was completed, in July 2009, it weighed 3,500 pounds, had cost nearly $10,000, and had to be licensed by the state as a marine vehicle.
But the raft's grandiosity would be its undoing. Even before setting sail, the rudder broke. The paddle wheel's $50, special-order belts melted. Dallas switched the propulsion to a propeller turned by a biodiesel engine. In mid-July he took it for a shakedown dash across the river. The setup shook so horribly that all the bolts worked loose. The exhaust pipe fell into the river. The cabin filled with black smoke. Then the prop and shaft dropped off. Assiduity was a golden turd.
Dallas decided that he'd lost his simple dream with this pattern of building ever-bigger boats. But there was still some summer remaining to salvage a win. In just three days, he and Rob cobbled together a new raft, a trimaran, from two aluminum canoes and a battered Sunfish sailboat bought from a riverman. He dubbed the new craft The Mother of Inventions. Last August, he and Rob made it the farthest yet, 91 miles, before the unrelenting southerly winds finally forced them to give up a mile shy of West Point.
It was the best trip yet, says Dallas. Finally, they'd found the romance of being out on a big river: drifting under the steel webwork of the Hudson's bridges as they growled with car traffic, lying back under the sugar-spill of stars at night as waves licked at the sides of the canoes. "Out on the river at night," says Dallas, "you can't tell where the fireflies end and the stars begin."
It was all too good. They knew they had to try one more time.
THE HUDSON at New Baltimore is calm and not so wide, and it twinkles in the April sunshine. Trees and pocket parks line its shores. Far downstream, a barge appears from around a bend and thrums slowly upriver. Sitting on the deck of the Shady Harbor Marina, drinking a beer with the raft builders, you can understand the urge to climb aboard something "floaty" on that twinkling river and see what lies beyond the bend.
Sometime during the first week of August—if all goes according to plan—Dallas and Rob will drift south into New York Harbor, take a left at the Statue of Liberty after dodging a few fast-moving ferries, and finally nose up to a park at the base of the Brooklyn Bridge to find expectant friends and family waiting with beer and hugs.
And then what? "The plan is to just enjoy the success there, then turn around and head back," says Dallas, drinking his beer in the sunshine. "I would love to have enough time to get back to Albany." Then he'll be free. Free to write that novel. Free to go to Europe. Free to find that new girlfriend. Just … free. At least until the next obsession comes along. Later, back at home, his mother whispers, "I hope it works this time."
"We're pushing for Tarrytown this year," says his father.
But the rafters, beers in hand, feel good about their chances. "I don't see anything that could possibly go wrong," says Dallas.