And Nau for Something Completely Different
A new apparel maker opening for business in January is chasing a revolutionary concept: that customers actually give a damn about sustainable products. Will anyone buy their good intentions?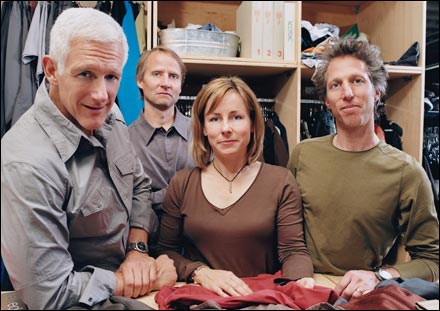 Heading out the door? Read this article on the new Outside+ app available now on iOS devices for members! Download the app.
ON A DAY filled with optimistic sunshine, Chris Van Dyke and Ian Yolles walk into Bay Partners, a $1 billion venture-capital firm in Cupertino, California. It's May 2006, and they've come with the usual trappings of entrepreneurs looking for money: a PowerPoint presentation, financial documents, and tired legs. But Van Dyke, 56, and Yolles, 49, have brought something else: a huge suitcase full of extraordinary new clothes.
Nau's Quintessenshell

Nau's Quintessenshell
Urbane Jackets

Nau's Urbane Jacket
Nau's Pony Up long-sleeve shirt

Nau's Pony Up long-sleeve shirt
They shake hands with Dino Vendetti, a partner at Bay. Van Dyke opens the suitcase, which is packed with outdoor apparel from his new company, Nau, a Portland, Oregon–based clothing maker set to open for business in January. Many of the startup's 45 staffers came from important jobs at some of the biggest names in retail, like Starbucks and Adidas. Van Dyke, Nau's president, worked at both Nike and Patagonia, as did Yolles, the vice president of marketing. Nau's high-profile employees took pay cuts as high as 70 percent to gamble on a socially responsible company that intends to take a notably upright stance toward the environment. Starting with its chic, logo-free, high-end garments.
"This is three-layer polyester, made out of recycled pop bottles," says Van Dyke, picking up an elegant black mountaineering jacket.
"You're kidding," says Vendetti, an athletically built 45-year-old who's leaving tomorrow to kitesurf in Hawaii.
"We're only using polyester that's recycled," Van Dyke says. "Nobody else is doing this in a completely sustainable fabrication."
"OK, so I need one of these," says Vendetti, throwing the jacket's hood over his head.
Van Dyke pulls out a long-sleeved burgundy top and lays it on the conference table. It's as inviting as silk. "This is a base layer," he says. "It's made out of corn."
"Out of what?" says Vendetti.
"Corn," Van Dyke says with a smile.
After the fashion show, Van Dyke explains Nau's business model. Instead of taking the usual route of wholesaling its stuff to third-party retailers, Nau will sell directly to consumers through its own retail stores and Web site. By cutting out the middleman, Nau hopes to save enough money for the company to be profitable and distribute a whopping 5 percent of its revenues among multiple nonprofit organizations. (In an unusual twist, customers will be able to choose which charity to support when they make a purchase.) Van Dyke says this novel approach will leave people feeling good about shopping, in more ways than one.
"Does the world need another outdoor-clothing company?" he says to Vendetti, crossing his arms. "No, it's a crowded marketplace. But a new company with a different point of view? Yes."
The business proposition tempers Vendetti's enthusiasm, though. Bay is accustomed to funding low-overhead tech startups. Why get involved with a staffed-up company that wants to give away piles of money and open dozens of capital-intensive stores? "There's not a lot of positive venture experiences that you can point to in bricks and mortar," Vendetti says. "Tough, tough road to plow." Without uttering the word no, the VC makes his rejection clear.
Minutes after the meeting, Van Dyke and Yolles regroup over lunch. The lanky Van Dyke, who bears more than a passing resemblance to his famous dad, actor Dick Van Dyke, knows better than to get down on himself. He's already raised $14 million for Nau. He chooses not to dwell on the fact that, if he doesn't secure another $17 million in the next eight months, the company could go belly-up before a single crushed-corn shirt lands on a customer's back.
"We just need to pursue all leads," he says between bites of salad.
Yolles, wild-haired and sporting an earring, is a tad more cynical. Nau may be an eye-opening proposition, but judging by Vendetti's uncharitable response, the funding battle has just begun.
"We thought venture capital was about venture," says Yolles, staring into his ice water. "Apparently, that's not how it works."
NAU IS A GREETING from New Zealand's Maori language that means "Come to me." The name also neatly implies that the time for such a business has arrived. "That was then, this is Nau," Van Dyke told me a month before his pitch at Bay. "It describes the company as an agent for change."
But what kind of change, exactly? That's been a hot topic in the outdoor industry since the news of Nau's formation broke in May 2005. Why were some of the industry's most talented people flocking to Portland? What would Nau make? What little was known about Nau's direct-to-customer approach sent out shock waves—from mom-and-pop backpacking shops all the way up to REI. Was Nau aiming to become the outdoor Amazon?
I first interviewed Van Dyke in January 2006, and he agreed to give me a year's worth of exclusive access to Nau's inner workings as the company found its way. "Sure, come and hang for a while," he said. "See us yell."
No doubt, fostering an enterprise like this is stressful—especially an operation with Nau's ambitions. By the time I'd made contact with Van Dyke, the original hope of opening 60 stores nationwide in 2007 had already been scaled back. Instead, Nau would debut with four stores (in Boulder, Portland, San Francisco, and Chicago), aim to add another 20 in 2008, and grow to more than 100 by 2010. Ultimately the company wants to have a presence in every major urban center, from San Francisco to Austin to Manhattan.
Van Dyke calculated that Nau would require $57 million in funding, with $31 million of that needed for the launch and the first year. As is often true with startups, the money would be raised in rounds. Contributions for the first two, which totaled $14 million and closed by the spring of last year, had come with relative ease. Investors ranged from wealthy individuals like Steve Luczo—chairman at computer-hard-drive giant Seagate Technology—to outdoor-industry executives like Peter Metcalf, Black Diamond's CEO. By last summer, Van Dyke was hoping he could tap other deep pockets for the remaining $17 million he needed in 2006.
His pitch—to individual and institutional investors—was that, within a few years, Nau would become a sales machine, with $250 million in annual revenues. He played down the big question marks, like the unorthodox retail concept and consumer willingness to embrace a philanthropy-themed brand. But seasoned moneymen have a sixth sense for weaknesses, and they knew that any sizable setback might cause Nau to collapse. Van Dyke was pitching nothing less than a radical business experiment that promised to be a hairy ride.
"It will either succeed brilliantly or fail spectacularly," predicts Michael Hodgson, president of Specialty News, a leading outdoor-industry trade publication. "There's no middle ground."
Appropriately, Nau was founded on extreme principles. Eric Reynolds, a mercurial 54-year-old mountaineer and entrepreneur, came up with the idea long before Van Dyke was recruited to help make it happen. Reynolds, who cofounded the outerwear brand Marmot in 1974, later went on to head a water-purifier company and then become an outdoor-industry consultant. But he never found his work fulfilling, and he says that society's destructive behaviors and the abuse of natural resources were a source of constant personal frustration. Reynolds, who grew up in Davis, California, reveres the teachings of humanitarian icons like Mahatma Gandhi, which were drilled into him by his parents from a young age.
"A family doctrine was that every person could change the world," Reynolds told me when I met him last summer in Davis. He lives in Boulder but was coming through on his way to Yosemite. "I kept thinking, How can I create something that will magnify my desire to give?"
Reynolds, unfortunately, had grappled for decades with depression. This could make day-to-day functioning hard, and he had a reputation as a big thinker who didn't always execute. In 1997, he entered into a six-year battle with the disease. In the summer of 2003, Reynolds vacationed in Yosemite with family and friends, where they discussed the world's "increasingly troubling times" and what had to be done. Not long after, he was walking the aisles at the Outdoor Retailer trade show, in Salt Lake City, when the idea for Nau came to him, complete with the charitable element.
"During the transaction, the customer gets asked to look into his heart," said Reynolds. "I believe that experience will be so out of character that most people will have to mention it to someone else."
He honed his concept for 12 months and bounced the idea off some peers, who loved it. And though there's no way to know if consumers care enough about good deeds to influence their shopping patterns, there's a sense among experts that the time is right. According to LOHAS Journal, a magazine that tracks business trends, there's a growing $229 billion consumer marketplace focused on "conscious commerce." Companies from organic-cotton-clothing brand Loomstate to Whole Foods have successfully built brands that are considered cool partly because of their regard for the planet.
Reynolds registered his company's working name in Colorado as UTW. The acronym stands for "Unfuck the World," a phrase coined by Michael Franti, the cause-oriented lead singer for the band Spearhead.
Reynolds also set out to hire a management team, and the first place he looked was Patagonia. The 33-year-old Ventura, California–based gear-and-outdoor-clothing company enjoys iconic status as a top-notch apparel maker that's both an environmental and philanthropic leader, pioneering the development of recycled performance fabrics and setting the industry's gold standard by giving 1 percent of its sales to charity. Reynolds didn't have a dime to pay anyone, but he believed he could win people over by offering stock options and packaging the business as a sort of next-gen Patagonia.
In July 2004, Reynolds sat down for lunch in a Santa Monica restaurant with Mark Galbraith, 46, who at the time was one of Patagonia's top designers. The two discussed music and philanthropy before Reynolds excused himself from the table. He reappeared wearing a gray T-shirt that read unfuck the world. Reynolds broke out his business plan and the two men pored over it until 11 p.m. Galbraith was sold.
"I told Eric that if he got the funding and the team together, I was in," Galbraith would later say. "It was a killer idea."
FOR 16 YEARS after World War II, Dick Van Dyke was just another starving performer. Then, in 1961, he hit it big with The Dick Van Dyke Show and moved his family into a Southern California estate. He's never forgotten the contrast between lean times and wealth, and he's devoted a lot of energy to charitable causes that help children and the homeless. During a phone interview from his home in Malibu, he said his oldest son seemed to absorb the same lesson early on.
"Chris had a strange sense of fairness right from the very beginning," he said. "For such a young man, he had this sense of what was reasonable."
Chris Van Dyke spent summers as a teenager doing volunteer work for a church group and considered entering the seminary. Instead he became a lawyer and, at 29, was elected district attorney in Marion County, Oregon. In 1981, in his first murder trial, he convicted the I-5 Killer, whose serial crimes extended up and down that western-states highway.
Van Dyke always enjoyed sports. He skydived during law school and later took up open-water sailing and mountain biking. He went to work at Nike in 1983 as a lawyer but ended up wearing various hats. During 16 years of employment, he served as company founder Phil Knight's speechwriter, as a public-relations director, and as an inventor, co-developing the highly successful Aqua Sock watersports shoe. In 1999 he started a three-year stint as Patagonia's vice president of branding and marketing. Patagonia founder Yvon Chouinard taught Van Dyke to surf and drove home the notion that the world's oceans and landscapes required stewardship if they were to be preserved.
Van Dyke temporarily retired in 2002 to surf and sail. Then, in September 2004, he met Reynolds, who'd heard about him from Patagonia staffers.
"I thought, Here's this huge opportunity to do well by doing good," Van Dyke says. "Make money for shareholders, find better ways to build product, and create our own corporate culture? It was like getting a whiteboard to design a business from the ground up."
In December 2004, he signed on. Six months later, Reynolds would move to Portland, where the company could continue to mine experienced help from northwestern brands like Nike and Starbucks. Galbraith, Yolles, and other past and present Patagonia employees signed up, too; before it was over, 55 percent of Nau's senior management could boast of having worked at Patagonia.
The transfer of power caused a fuss in the outdoor industry. Was something seriously wrong with Patagonia?
No, but according to one former Patagonia employee, who requested anonymity and is not affiliated with either company, Nau was attractive because everything about it was still a work in progress: "At Patagonia, you get to this point where you want the work to be about your vision, and it isn't going to happen. It's always about the Chouinards' values [Yvon runs the company with his wife, Malinda]. If you have a vision you want to implement, you have to leave."
Nau wouldn't be confined by institutional ideologies. And while its clothing line and charitable side invite direct comparisons to Patagonia, Van Dyke believes that Nau, with its extremely ambitious retail plans, will reach a wider audience.
"We'll take what we've learned and spread the word," says Van Dyke. "If we're successful, I think our company will be one of the greatest sources of pride for Patagonia."
The reactions emanating from Ventura don't quite sound like parental joy, however. It's more like sibling rivalry.
"When all those people left it was a blow," says Rick Ridgeway, a Patagonia VP. "They were friends, and they still are. But let's think of the business part. They're going to be our competitors."
"We're hoping they live and prosper," says Casey Sheahan, Patagonia's CEO. "We also have a 30-year head start, and we're not resting comfortably, by any means."
Quarter-billion-dollar Patagonia has plenty of advantages. Nau will come out of the gate fully formed, which is both expensive and risky. The Chouinards and Knight grew their brands organically. A full-bodied startup is thrilling, but there's little room for error, and the actions of its many decision makers can create uproar, if not catastrophe.
Van Dyke discovered Nau's potential combustibility shortly after taking the helm. In May 2005, he and Yolles went to Manhattan, met with a guy running a billion-dollar hedge fund, and persuaded him to take a $5 million flier. Before any money changed hands, one of the fund manager's lawyers called Van Dyke. The attorney took exception to some language in Nau's charter, which states that Nau has an obligation to address the needs of society—not just its shareholders. The lawyer complained that such a demand would increase his client's risk.
"There were about ten of us working for the company at that point," Van Dyke recalls. "We voted on whether or not to remove that language in order to get the money, and the vote was a unanimous no. The lawyers ended up caving and we got the $5 million. It was the company's first crux moment."
By the summer of 2006, Nau was enduring another test. Reynolds had recently left Portland and moved back to Boulder, distancing himself from Nau's day-to-day operations while remaining one of the company's largest stockholders. He'd gone to Oregon as chairman of the board and felt that he'd done enough to establish the business. But in reality, the startup was still struggling.
Was Reynolds's depression dragging him down? He later insisted that wasn't the case.
"I never felt I was qualified to run something this important," he told me. "I know what my talents are: to dream big."
Meanwhile, for Van Dyke, the business of raising money for the dream still wasn't going well. After making dozens of additional pitches since visiting Bay Partners, he'd netted zero additional investment dollars. As of early July 2006, with his confidence eroding, he had six months to raise $17 million.
NAU IS HEADQUARTERED in 6,000-square-foot, ground-floor offices near Portland's gentrifying Pearl District. It's a showcase space, filled with sustainable-design features like bamboo door frames. Nau swung a 50 percent reduction in rent by giving the landlord equity in the company and, essentially, a promise that it's going to pay off.
Inside, the rosy future doesn't seem inevitable. It's late September 2006, and in his open-space work area, Van Dyke is tied to his desk, making yet another "begging for bucks" phone call. The next day, he'll tell me, "I've lost more sleep over the last year and a half than I ever have in my life."
There's plenty to be excited about, though. Back in the company's design area, where the walls are covered with clippings of models and obscure inspirations like a wooden bathtub, Mark Galbraith—Nau's vice president of product design—is still jazzed by the reception he received last month in New York. He was there to preview Nau's spring 2007 lineup with fashion editors from publications like Esquire and Men's Vogue, which usually aren't interested in outdoor apparel. He left having heard raves and comparisons to Helmut Lang.
"What stands out now is design that's beautifully integrated," says the goateed Galbraith, holding up a rich, rust-colored fleece sweater with a smooth, faintly patterned face fabric. It's slick. "These days, bling is way more about understatement and a sophisticated approach. Take modern architecture. Or the iPod."
In creating Nau's clothing lineup—which consists of technical outerwear and sportswear—Galbraith, along with Nau designers Peter Kallen and Lisa Street, used keywords like movement and blur to make comfortable and functional garments that work, whether they're worn at Starbucks or on Mount Rainier. Something as simple as a Nau rain shell looks great because of subtle touches, like the artfully executed cuffs that hug your wrists. A Nau winter jacket becomes unique thanks to an Edwardian-style, off-center row of decorative but sturdy buttons.
Galbraith insists that his sleek designs are outdoor couture and shouldn't be gummed up by any Nau logos. The prices are pretty standard for a higher-end company, ranging from $45 for a base-layer top to $248 for a jacket. But Galbraith believes any sticker shock will be forgotten when customers enter Nau's dressing rooms, which he likens to "orgasmatrons"—in his view, the clothing will be that pleasurable to try on.
This being Nau, the company's 120-piece spring line also had to meet strict environmental standards. The third-party textile makers that supply most outdoor-clothing companies with yarns and fabrics couldn't just tap into their existing inventories. Traditional nylon, polyester, and waterproof-breathable membranes are petroleum-based, and Nau wants only materials that come from renewable resources or don't consume "new oil." As a result, 27 of the 30 fabrics going into the company's spring line were developed specifically for Nau.
The downside? All this takes time to perfect, and with only four months left before the company launches, a couple of key fabric technologies are still lagging behind.
One such innovation is made using a combination of high-end, mostly recycled polyesters, which are available only from a few cutting-edge textile companies around the world. Nau is working with a Japanese manufacturer that regenerates its polyester yarns from industrial waste, plastic bottles, and worn-out government-worker uniforms. Problem is, nobody has ever used such material to make what Nau is after: a mostly recycled version of the three-layer jacket, which incorporates a shell, waterproof-breathable laminate, and lining.
"Such a jacket has to have a soft hand and a certain weight," says Galbraith. "It has to meet specifications for tear strength."
Over the past 16 months—twice the time usually spent creating a fabric—Galbraith and Nau's Japanese partner have been hammering out the jacket's kinks. One prototype was too crackly. Another ripped too easily.
Galbraith believes the jacket's biggest snags are behind it and that Nau's three-layer storm shell will go on sale this year. Unfortunately, it might not be available until the heat of summer.
Another laggard is the corn-fabric base layer. Past attempts to beautify the tricky but fast-wicking material, which is made by fermenting corn and then extruding fiber from a resulting polymer generically referred to as PLA, have failed. That's because PLA fibers often emerge from the factory in the wrong color—or with the cheesy sheen of a vinyl purse. Galbraith is determined to make the fabric as presentable as it is sustainable. But even after a year of work, he hasn't succeeded yet, and time is running out.
To get PLA garments in Nau's opening lineup, Galbraith will place a production order within the next few weeks. He and his team will do it without seeing a sample that meets their standards—which means taking a 4,000-yard leap of faith that most outdoor-clothing companies wouldn't risk. Then again, most outdoor-clothing companies are introducing sustainable fabrics into the market at a gradual pace. Nau has staked its reputation on planet-saving duds, and it's swinging for the fences.
NIKE HAS LANCE ARMSTRONG. Mountain Hardwear has Ed Viesturs. Nau has Dee Williams, a 44-year-old face in the crowd from Olympia, Washington, who sold her house and built a tiny, charming bungalow on wheels that fits in a friend's yard. A five-minute video on nau.com profiles Williams's commitment to making a smaller planetary footprint. She also happens to be attractive and toned (she rock-climbs), making her a perfect emblem of Nau's desired demographic: someone who's artistic and/or athletic and/or hyperconscious of humankind's effect on the earth. The company's Web site, which also features a Nau blog, is where Nau portrays itself as not just a business but a concept. "We're trying to celebrate the notion of positive change," says Yolles.
But in an era when the Bill & Melinda Gates Foundation has $30 billion to spend on charity and there's a wind-powered Wal-Mart, how unique is Nau's message?
"Honestly, I don't know if Timberland's social agenda helps them get customers," says Jim Duffy, an investment-bank vice president who watches sports and lifestyle companies for Thomas Weisel Partners. "I got on Nau's Web site. I was bored."
Nau's unique retail stores won't leave shoppers yawning. Walk in and you'll find a minimalist boutique where REI meets Armani meets the Enterprise: toxin-free fiberboard shelving, uncluttered displays, and four 19-inch computer touchscreens.
Two of those screens are dedicated to product information. The other two, at the back of each store, offer details on the 12 nonprofits (both national and regional) that each Nau retailer features as benefactors of the company's largesse: charitable organizations like Mercy Corps and the Oregon Natural Desert Association that address either humanitarian or environmental issues. The groups were selected from an original field of approximately 225 candidates, in part by Jil Zilligen, former vice president of environmental initiatives at Patagonia. Should the company ultimately reach its projected sales goals, Zilligen will oversee the giveaway of $13 million annually. By comparison, Patagonia and REI each donate $2.5 to $4 million per year.
Customers making a Nau purchase will be asked if they want to walk out of the store with their new clothing or enjoy a 10 percent savings by having the garment shipped free to their front door. The latter idea, Van Dyke believes, feeds American consumers' growing habit of visiting retailers to size up merchandise and then going online to buy it at the best possible price.
But there's also a fiscal upside for Nau: Retailer-based online sales mean the company can stock its stores with less inventory, which means the stores can be small (approximately 2,000 square feet), require fewer employees, and consume less energy. Van Dyke estimates that so many Nau customers will ultimately shop this way—30 percent—that Nau's stores are known internally as "Webfronts."
Sounds ingenious, but last summer's plans to build a prototype Webfront in a Portland warehouse and test it on consumers were scotched because the company didn't have the bandwidth to execute it. In the larger outdoor industry, opinions about the concept range from dubious to bitter.
"My money is on Chris, but he's going to have a million and one problems," says Perry Klebahn, the CEO of messenger-bag company Timbuk2 and a former colleague of Van Dyke's at Patagonia. "The square footage is too small. Consumers expect to take products home."
"It's definitely a stick in the eye of the retailers," says Rich Hill, an 18-year outdoor-industry veteran and currently the president of Ibex clothing. "Nau is saying it doesn't need them to create a brand."
If that's not enough tension, Nau has struggled to win over landlords leery of renting to a startup with an unusual business model. By early last fall, Nau was months behind on its leasing schedule, without a single signed deal on the four stores it hoped to open in 2007. Making matters worse was the far-from-unanimous decision to open stores in malls. Such venues don't seem like places where Dee Williams would shop. "Our designers were going crazy," says Van Dyke. "'We're in a mall! Jesus!' But if we take a flier on some emerging street location and don't generate enough revenue? We're fucked."
Before leaving Nau's offices last September, I sat in on a pitch given by Van Dyke, Yolles, Galbraith, and other Nau senior staffers to Jeff Dodd, who oversees leasing for Fashion Island, a successful mall in Southern California's Newport Beach.
Van Dyke was compelling, and Galbraith showed off beautiful clothes. But Dodd left poker-faced. He wanted another real estate manager to serve as Nau's guinea pig.
"I hope they have fantastic success," Dodd told me later. "If so, it would be great to have them down here."
ON A RAINY DAY in October, Van Dyke shows up to address dozens of venture capitalists assembled at a Hilton Hotel in Portland for Venture Northwest, a forum for entrepreneurs interested in reaching many potential backers at once. Unfortunately, Van Dyke already talked to—and got shot down by—most of the invited VCs. But he's arrived with fresh energy and a strange urge to tell these folks that he needs them about as much as they apparently need him.
Just days ago, he had an epiphany. "I was trying so hard to fit a model that I lost sight of what I had," Van Dyke will tell me later. "Our Web site, our product, our team, our infrastructure—let someone else try to reproduce all that for $14 million. Those elements are exactly why people should invest in us."
When he takes the stage at Venture Northwest, Van Dyke skips the PowerPoint and wings it with a speech he's written on index cards, "The Top 10 Reasons Why You Don't Want to Invest in My Company." It's a jab at the people who've refused him.
"You could've heard a pin drop," Van Dyke will recall later. After reading from the cards—which include reasons like "Executive compensation is limited to 12 times payment of the lowest employee"—Van Dyke flings them into the audience.
Soon he's back in his office, calling people who've already put money in, investors who understand Nau's virtues and warts and still feel the magic. Within days, he'll get new commitments from investors like Luczo that total $10 million, and he's confident another $7 million will soon follow.
"I spent close to 20 months beating my head against the wall, and if I'd only thought about it and not been so naïve, I would've realized the financing world is not designed to respond to our business," Van Dyke says. "Now I know that Nau is going to happen."
Around the same time comes other good news. Nau has nailed down solid commitments from landlords in four cities. The first Nau store is slated to open in January in Boulder, in a retail district called Twenty Ninth Street; the others will open by April. Yes, three of those stores will be in mall-type settings, but Nau's designers still have plenty of reason to be cheerful: The PLA fabric they've gambled on came out of the factory mill exactly right. The corn-based clothes will be in the company's debut lineup.
As this issue hits stands, Nau has been up and running only a matter of days. No doubt there are myriad questions swirling through Van Dyke's head: Are the stores going to be ready on time? Will the charities receive their donations? Where am I going to come up with another $26 million? But, believe it or not, he's grappling with even bigger issues.
"With Nau, I'd love to be proven right—and not just for business reasons," Van Dyke once told me. "That the confidence we have in people's basic optimism and generous spirit is well-founded. I want to know: Are there enough people out there who care about more than good stuff at good prices, who care about where the stuff comes from? Or where their money is going?"
Looks like now is the time to find out.
Trending on Outside Online