Answer Accelerator Mountain Biking Gloves
Clothing / Apparel / Gloves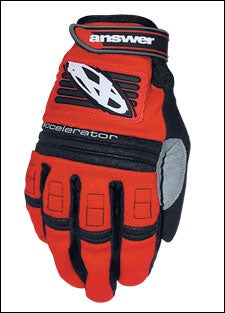 Heading out the door? Read this article on the new Outside+ app available now on iOS devices for members! Download the app.
You might wonder why a daily bike commuter who lives mere blocks from his office, in a flat city, would need to wear a pair of gloves for his ride. I hardly see anyone wearing helmets, let alone gloves, and it's not as if I'm doing any off-roading on the streets of D.C. But I ultimately decided that wearing gloves was imperative for one reason: job security.
Answer Accelerator Mountain Biking Gloves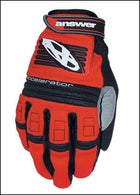 Answer Accelerator Mountain Biking Gloves
Since I make my living using my fingers—as a "Web dude" and musician—I need to be extra careful with my hands. Some laugh at the idea that I would take this so seriously, but it only takes one taxi veering off to the right before I'm facedown on the pavement with sliced-up hands and no work for a month. So when I recently starting wearing Answer's Accelerator bike gloves, my aim was to continue protecting my precious fingers while also looking pretty sharp and getting a better grip on my handles.
Answer Products' Accelerator gloves come with four-way stretch Expandex on the hands and fingers, which makes for flexible movement and quality comfort. The Velcro band allows you to wear the gloves as tight or loose as you like, while the breathable mesh prevents excessive sweating. Though I tend to feel like I'm wearing Sammy Sosa's batting gloves, the gray-and-black pair I have blend nicely with most any clothing I might throw on. The skintight fit also makes for easy access to small items such as keys in your pocket or numbers on your cell phone.
While the Accelerators probably won't help you during a massive downhill slide—or enable you to hit a 420-foot home run—they do offer comfortable and affordable protection for those of us who cherish our breakable digits. I just hope none of those cabbies are Cubs fans. $30, www.answerproducts.com