Cycling's Biggest Race Organizer Needs to Support Women
The largest promoter in road-bike racing is backing away from what may be the sport's future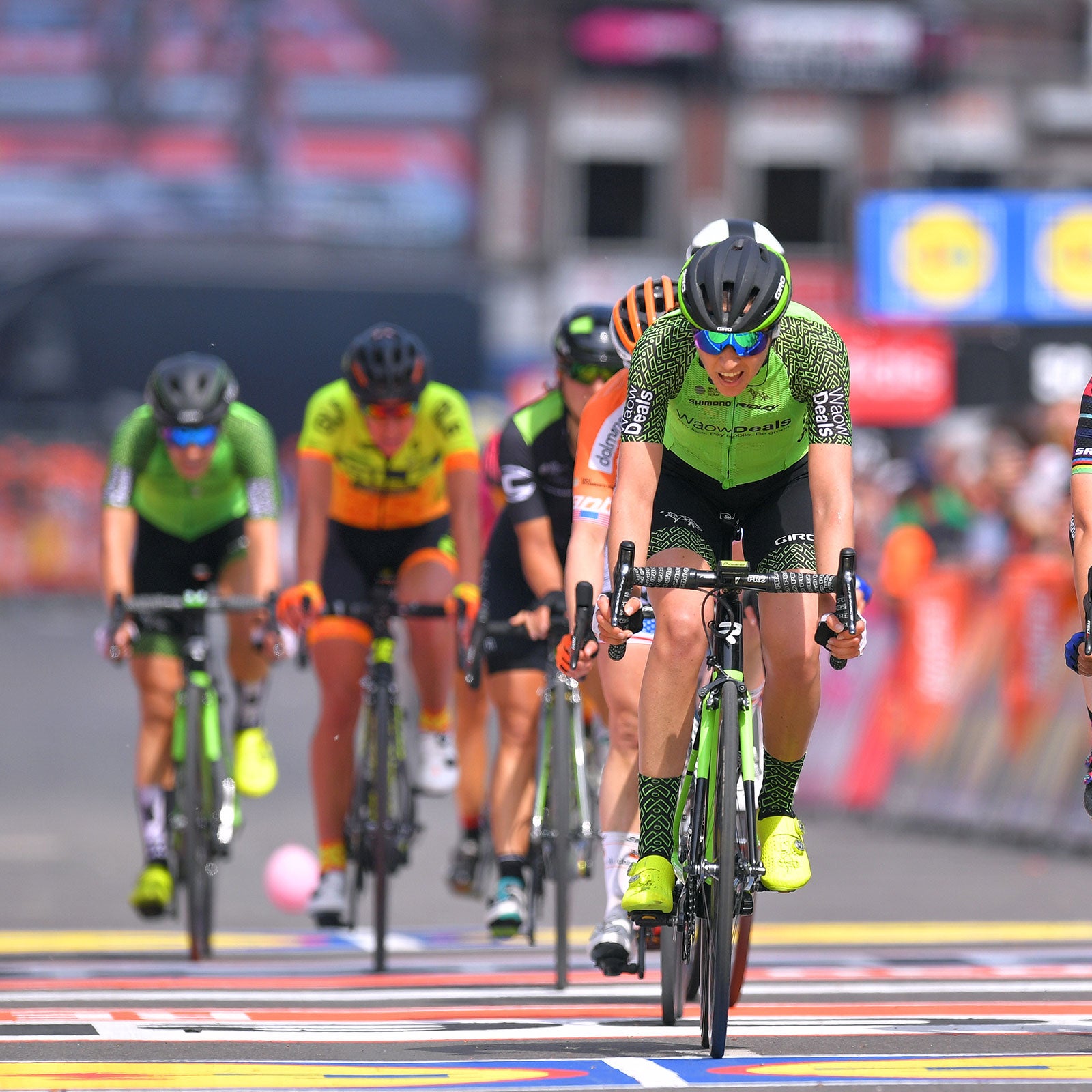 Luc Claessen/Getty(Photo)
Heading out the door? Read this article on the new Outside+ app available now on iOS devices for members! Download the app.
Last week the Amaury Sports Organization (ASO) decided to essentially pull the women's Flèche Wallonne and Liège-Bastogne-Liège races that it promotes from pro racing's top circuit rather than try to meet minimum TV-coverage requirements. The reaction to that decision—outrage, disappointment, and criticism, all deftly summed up in this tweet from mountain-bike world champion and Swiss national road champion Jolanda Neff—said it all.
But no one was exactly shocked. "It wasn't a surprise to me," says Iris Slappendel, a longtime professional who retired after 2016 and is now executive director of The Cyclists' Alliance, a riders' union for professional women cyclists. 
The move had been rumored for weeks. The UCI instituted new rules in 2017 on minimum TV coverage for UCI Women's WorldTour sanctioning. This year the requirement was a video recap and online information in French and English. For 2020, it will increase to at least 45 minutes of live coverage. According to Slappendel, race directors had been discussing how difficult it would be to meet next year's requirements.
Now the ASO has decided not to try; instead, the two races will be held in 2020 at a lower level on the calendar. The ASO didn't respond to a request for comment, but the general sense is that it was a financial decision. Extra TV coverage requires more costs, like additional production staff, and the ASO and its main broadcast partner, RTBF, appear to have decided that it simply wasn't worth the money.
Perhaps what's most stinging about the move is that no other promoter has the wealth and power that the ASO does, and yet they all seem to be making it work. (No other race promoter has so far taken the step that the ASO did last week.) "They're the richest race organizer in the world," Slappendel says. "I believe it that they don't make any profit on women's cycling, and it certainly costs money to organize the race. But they should see it as an investment in the future like other organizers do."
Historically, the ASO's commitment to women's racing has been up and down. On the one hand, it runs more top-tier women's events than almost any other race promoter: of the 16 events on the 2019 Women's WorldTour calendar, the ASO promotes four, as well as the lower-tier Tour de Yorkshire. On the other hand, the ASO has largely declined to invest much money in the events or grow them. After briefly expanding its marquee La Course event—which runs during a Tour de France stage—from one day to two in 2017, the ASO reverted it to a single-day event in 2018. At last October's annual Tour-route-announcement gala event, La Course was essentially a sideshow.
Tour director Christian Prudhomme said last February that it would be "impossible" to organize a women's stage race during the men's Tour de France. "I would not know how to organize a second event," he told a Eurosport interviewer. He also claimed that the ASO couldn't get permission, although he didn't say from whom.
That's specious. The ASO runs 90 events a year in 25 countries, ranging from cycling and golf to the Dakar Rally. Its entire business model of running for-profit events on public property revolves around getting permission. If Prudhomme can't run two bike races on the same already-closed roads with the same media partners and logistics teams, maybe he's not the right guy for the job?
As for finances, in 2017, the ASO (itself a division of the larger Éditions Philippe Amaury media conglomerate) made the equivalent of roughly $49.7 million on $252,610,379 million in revenue, a rather tidy 20 percent profit margin. Although profits have declined slightly since 2015, revenue is growing modestly. The ASO doesn't break out its revenue figures, but big events like the Tour and Dakar and the Paris Marathon are said to be the company's rainmakers, while most of the other events are at best break-even affairs. The ASO appears to have no qualms about investing in long-running events like Paris-Nice, whether they make a profit or not. So is it really too much to ask to invest a small slice of that in women's racing?
But you don't have to rely only on the equity argument that the ASO should find a way to fully support its women's events. While women's races have been around for decades, the modern pro sport is comparatively young, yet growing fast. Daam Van Reeth, a professor of economics at Katholieke Universiteit Leuven in Belgium, tracks broadcast ratings for various sports, including men's and women's cycling. In figures published on his Twitter account, Van Reeth says that women's cycling audiences are growing. The women's Ghent-Wevelgem race increased its Belgian viewership 25 percent from 2018 to 2019 to 516,000 viewers. That was 74 percent of the audience size for the men's race. The Amstel Gold women's race drew 1.2 million viewers in the Netherlands alone (63 percent of the men's audience size). After several years of consistent television coverage, audiences for the women's cyclocross events this past season passed 90 percent of the men's viewership.
It's possible that the ASO doesn't see those kinds of numbers. But Slappendel says it's not merely a matter of checking the box on having a women's race; it's how the event is organized and timed to the men's finish. "In Liège, the riders finish three to four hours before the men, and there's no circuit," she says, referring to course designs that let spectators see the racers pass multiple times. "There are almost no fans on the course. At the women's Het Nieuwsblad or Amstel, they finish one to two hours before the men, there's a circuit for the final part of the race, fans are on the course, and they're part of the teams presentation."
Even among the women's races that are getting good audience numbers, there's still lots of work to do. So far, prize money is one area that lags behind, although in cyclocross, promoters like bike maker Trek have committed to prize-list parity, and at the World Cup round it promoted last season, the elite women's race was held in the final, marquee time slot traditionally reserved for men.
The ASO's decision isn't yet final. David Lappartient, the new UCI president, campaigned and won partly on a platform of increasing equity for women's cycling. He may be French, and a nominal ally of the ASO, but he's also challenged the promoter to increase its commitment to women's cycling, particularly in terms of TV coverage.
Dutch paper de Telegraaf reported last week that UCI Road Commission chair Tom Van Damme was trying to put together a solution that would allow the ASO and its regional broadcast partner, RTBF, to meet the requirements and keep WorldTour status. Reached for comment, the UCI's press officer, Louis Chenaille, declined to address specifics but offered a short statement affirming that the minimum broadcast requirements were "in line with our strategy to develop women's professional road cycling" and were a condition of women's WorldTour status. The statement also said that "discussions with organizers are ongoing as the UCI draws up the 2020 Women's WorldTour calendar" and that an official communication would be made after a management-committee meeting in June.
Slappendel was encouraged that the news was such a hot topic, including on social media. "A few years ago, no one would have bothered, and now it's like, This is ridiculous," she says. "To me that feels already like a small victory, to change that mentality about women's sports." She doesn't expect that criticism alone will change the ASO's decision, and she's most concerned that, as the most powerful entity in bike racing, the ASO could flex its muscle to get some kind of exception to the live-coverage rules.
But Slappendel also suspects that, in the long run, the ASO's decision to back away from women's cycling may hurt it more than the sport. "Women's cycling will develop anyway," says Slappendel. "It's growing with or without the ASO." While some women's races that are run alongside men's events are enjoying popularity, Slappendel also pointed to new stand-alone women's races, like the just-announced Battle of the North, a ten-stage women's event in Scandinavia that's planned for 2021. There's also the Colorado Classic, a four-day women's-only stage race in the U.S.
In many bike races, there's a crucial moment where the field stretches and splits as riders at the front lift the pace at key spots like a climb. This moment is called the selection; some riders make the elite front group that will produce the winner, while many don't. It's impossible to say where women's racing will go from here. But in a few years, we may look back at this decision as the moment when the ASO missed the big move.
Lead Photo: Luc Claessen/Getty
Trending on Outside Online