Cake Is Making Electric Motorcycles for the Masses
With his new company, Cake, the mastermind behind POC is out to prove that "electric" and "bike" are meant to go together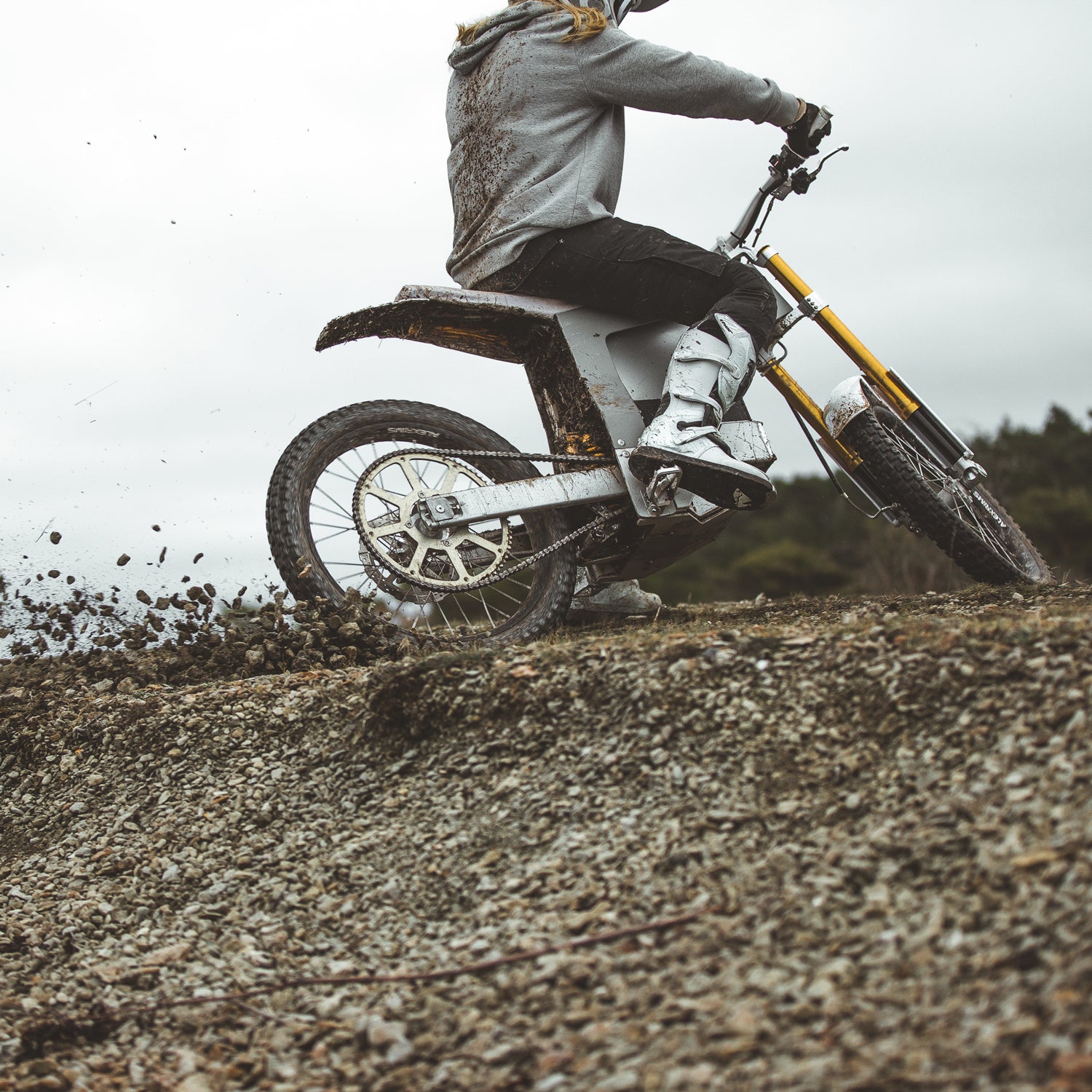 Courtesy Cake(Photo)
Heading out the door? Read this article on the new Outside+ app available now on iOS devices for members! Download the app.
Stefan Ytterborn doesn't have a background in motorcycles—or any real affinity for them. "When there's a guy passing me in the street, roaring by on his Ducati, I'm like, 'Don't. Get off my back. Don't disturb me,'" he says. The Swedish-born entrepreneur, best known for founding safety-gear innovator POC Sports, is drawn more to surfing the bone-tingling waters of the Baltic Sea and tending to his rose garden.
This would seem to be a liability for someone starting a new motorcycle company, as Ytterborn is doing. In January, his startup, Cake, introduced a new electric off-road motorcycle at the Outdoor Retailer trade show in Denver. Called the Kalk, it's half as hefty as a regular motorcycle, weighing just under 155 pounds, and it can travel—silently—up to 50 miles on a battery charge.
With Cake, Ytterborn is attempting to create a new category of product, à la the iPad, the SUP, and, of course, the mountain bike. Whether a new type of motorcycle rider will emerge, drawn to the diminutive frame and lighter environmental impact, remains to be seen. And whether women, who are riding motorcycles in increasing numbers, will flock to the Kalk is also an open question.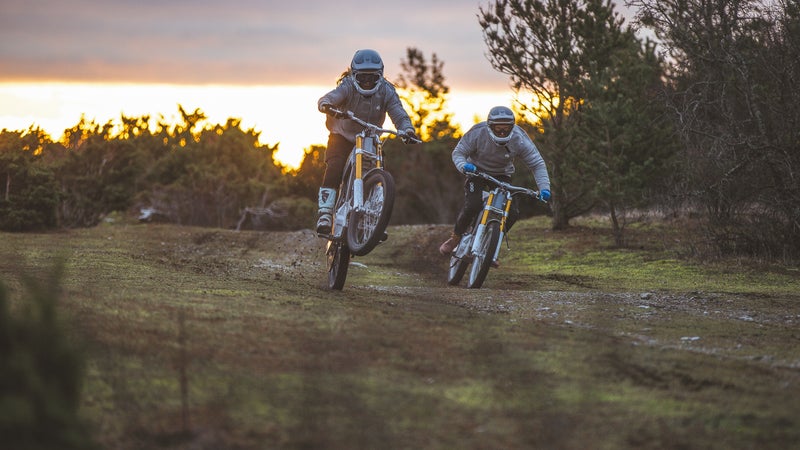 Despite the rise in female ridership, there's been a decline in efforts to market motorcycles to women, says Genevieve Schmitt, founder of female-focused motorcycle site WomenRidersNow.com. That may be in part because women still comprise just 14 percent of the motorcycling population. The industry's sales overall have plummeted by half in the past ten years, according to the Motorcycle Industry Council.
And, in fact, Cake is not explicitly trying to woo female riders. The bike is for "anybody who's attracted to it," Ytterborn says. "I don't believe in genders. I don't believe in age. I believe in neutrality." But the Kalk's slight stature and a marketing approach that's female-friendly—though inadvertently so—might just help recruit women riders.
The Kalk looks like the love child of a mountain bike and a motocross bike that was conceived at an Ikea store (a former Ytterborn client from his pre-POC career in design and branding). The frame, body, and chainstays are metallic; the stanchions are golden; and the saddle, fork, and fenders are white. The bike is noticeably sleeker and less burly than its moto predecessors but not as svelte as its mountain forebears. Whereas Alta Motors' Redshift bike, perhaps the closest counterpart, has distinctly motocross DNA, Ytterborn considers the Kalk to be 70 percent downhill or enduro mountain bike and 30 percent motorbike.
The Kalk was designed to minimize environmental impact, with its carbon fiber body, alloy frame, lightweight suspension system, and tires that are fatter than a mountain bike's but without the sharp, soil-shredding edges of a motorbike's. The electric motor shaves off weight, further reducing the Kalk's impression on the trail and making for a simpler ride. Instead of changing gears and clutching, you choose from three driving modes—for easy riding, long-distance cruising, and, well, going bananas. "If you want to do double flips, you go for button number three," Ytterborn says.
He compares riding the Kalk to the sensation of skiing (he's a former racer) and says others have likened it to surfing between trees. Since the Kalk is noiseless, a couple riders can, for instance, negotiate singletrack at a relatively high speed while carrying on a conversation or accelerate to 50 mph (the bike's maximum speed) without disrupting the peace at all.
Since the Kalk does have a motor, it won't be welcome on trails that ban motorized vehicles—a fact that makes the bike more appealing to anti-e-bike stalwarts like Mike Kazimer. Conflicts arise when electric mountain bikes show up on trails designated just for hiking and mountain biking, says Kazimer, technical editor of the mountain biking news site Pinkbike. "People say, 'I can pedal this, it's not motorized,'" he says. But with an electric motorcycle, there shouldn't be ambiguity or misunderstandings. "It can go where motorcycles go, end of story."
In fact, Ytterborn foresees entirely new trail systems for the Cake breed. "The bikes will need their own trails, unless there is unlimited access to the backcountry and no crowds," he says. "It's not our ambition to promote the use of noisy combustion engines in the wild. We are against disturbance and pollution."
Ytterborn's interest in motorized two-wheel off-road vehicles was sparked several years ago at a sports trade show, where he discovered an innovative new Swiss bike. "I could see myself quietly exploring the Outback" with it, he says. Then, in 2015, he became fixated on lightweight electric motorbikes and started buying up every such bike he could find, amassing a collection of about 14. They were composed of a homemade part here, a manufactured part there, as he remembers it, welded together by young entrepreneurial companies "in love with the idea of taking electric to a new level," Ytterborn says. (He declined to name the companies.)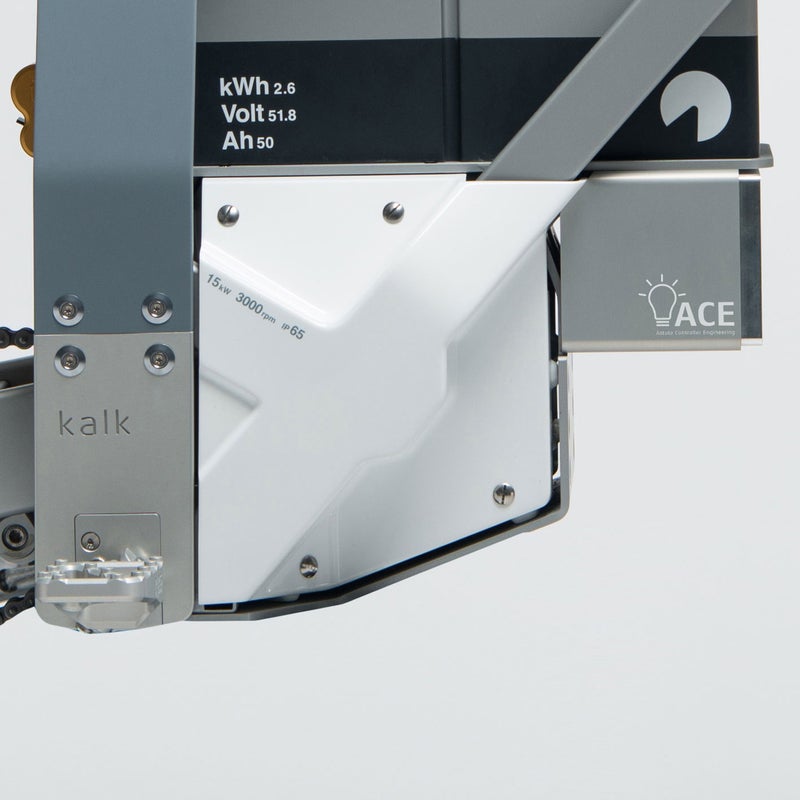 Ytterborn took these bikes on meditative, solitude-filled journeys that helped fuel his growing conviction that the days of the combustion engine are numbered—as in, he thinks it will be obsolete in just ten to 14 years. "It's not my belief or my dogma," Ytterborn says. "It's going to happen."
(For context, legislation is pending in European countries that would ban cars and combustion engines by 2025 to 2030. But in 2017, just 200,000 electric vehicles were sold in the United States, according to the electric vehicle news site InsideEVs. And California Governor Jerry Brown's new plan to get 5 million zero-emissions vehicles onto roads by 2030 is roundly considered ambitious.)
These electric-bike rambles coincided with the end of Ytterborn's 12-year run at POC Sports, the company he founded out of concern for his sons' safety during their ski-racing days. Investment management firm Investcorp bought POC for a reported $65 million in 2015. Ytterborn had stayed on as CEO, but quickly "everything became a little too corporate and too political for my personal agenda," he says.
When his involvement in POC came to an end, in September 2016, Ytterborn threw himself into zero-emissions worldwide domination. Since existing mountain bike parts weren't sturdy enough and moto parts were too heavy, he decided to have the Kalk designed and manufactured from the ground up. The drivetrain is made from European parts, the lithium-ion batteries are from the Czech Republic, and all other parts are manufactured in China.
Ytterborn used nearly $1 million of his own money to finance Cake for the first year; he then raised an additional $3 million from outside investors. He is now in the midst of raising another $9 million to $12 million (also from third parties) and says he'll also continue investing his own money. Ytterborn predicts the company will be profitable by 2022.
An initial crop of 50 limited-edition Kalk bikes, priced at $14,000, sold out last week and will be delivered to customers beginning in June 2018. Cake is now going into full production of the bike. Street-legal versions of the Kalk are expected to roll out in fall 2019.
The Kalk's price tag is significantly higher than most electric bikes—and even many motorcycles. Ytterborn points to the technology in the motor, battery, and controller to explain the expense. That said, the Kalk is only slightly more expensive than Alta's Redshift ($10,495 to $13,495) and the off-road offerings from Santa Cruz–based electric motorcycle maker Zero Motorcycles ($8,495 to $13,995).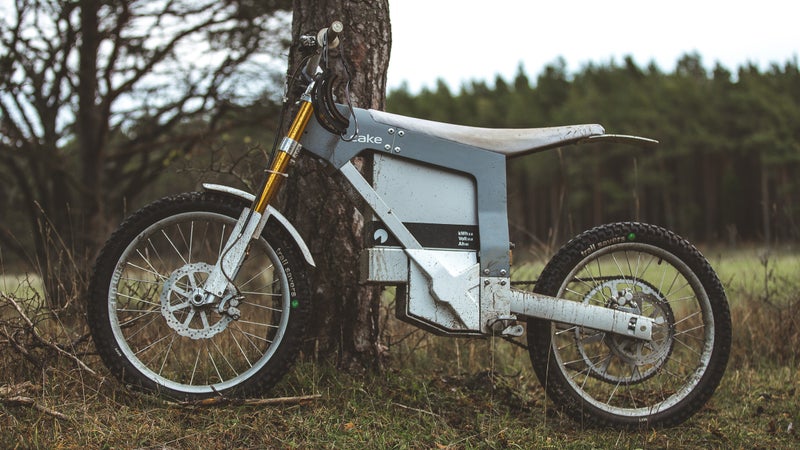 To help spread the word about the Kalk and get butts in saddles, Ytterborn says he's in discussions with ski resorts to set up off-season rental programs—akin to downhill mountain bike rentals but with the added capacity for long-distance forays into adjacent swaths of wilderness.
The company also plans to establish "hubs" in several suburban areas of the United States and Europe, where prospective customers can visit showrooms and take bikes for spins on practice tracks. California, Tennessee, Munich, and London are all possible sites, Ytterborn says. The hubs will send "satellite" trucks—rolling showrooms loaded with bikes for the public to try out—to cycling shows, music festivals, and sporting events.
It's possible that marketing the Kalk as a new category of product could hasten Cake's success. In this era when we're hit with hundreds, if not thousands of marketing messages each day, "the need for categories is more important than it ever has been," says Al Ramadan, co-founder and partner of Silicon Valley–based category design firm Play Bigger and co-author of Play Bigger: How Pirates, Dreamers, and Innovators Create and Dominate Markets. (Ramadan also co-founded the now-defunct online adventure sports site Quokka.)
To succeed in pioneering a new category, an entrepreneur must identify a problem that plagues people, Ramadan says. Our advertising-addled brains filter out the noise by asking, "Do I have this problem?" If the answer is no, we move on. If it's yes, and the entrepreneur can anchor the conversation around that issue and offer a solution, "the category takes off," he says.
Language is also key to luring customers to a new product category, Ramadan says. Names should be buzzy, like iPad or smartphone or 5-Hour Energy. Here, Ytterborn might run into trouble. The goal should be: "'I don't even know what it is, but it sounds so cool that I've got to have one,'" Ramadan says. Electric off-road motorcycle? Not so much.
And the problem Cake is tackling—emissions reduction—could prove too broad and too popular among other entrepreneurs. Several companies are aiming to take on the same issue, among them Zero Motorcycles, which takes its name from the zero-emissions concept. On its website, Zero touts its bikes' ability to reduce "CO2 and noxious fumes emissions while also saving oil reserves." (Alta, on the other hand, insists it created an electric motorbike purely for performance reasons.)
But fortunately for Cake, there's another pressing concern it holds a unique solution for: "Getting 30 miles away from society without having a 50-pound backpack and three days' time," as Ramadan puts it. "That is a legitimate problem people have."
An additional conundrum for women is that off-road motorcycles are typically more difficult for them to ride because the bikes have longer suspensions and higher seats. Since women are, on average, 5.5 inches shorter than men, according to the CDC, they often can't comfortably keep both feet on the ground when their off-road bike is stopped, says Schmitt of WomenRidersNow.com. At 36 inches of standover height (the distance from the ground to the top of the top tube), the Kalk's seat is notably high—perhaps even intimidatingly so for women, she says. (Women's pants inseams typically range from 30 to 34 inches.) But the bike's slight profile and weight could offset the height issue. Experienced female riders, in particular, would likely be able to keep one foot on the ground for balance when the Kalk is stationary, Schmitt says.
The Kalk might be poised to cultivate a broader female ridership as well. The company's website prominently features video of a pair of riders zipping along the Swedish coastline, one of them a woman with blonde wisps tumbling from her helmet. This bodes well, Schmitt says. "Women come to the sport when they see other women doing it." The image of a petite woman on a bike, for instance, is more likely to help recruit smaller women. "If she's petite, I might be able to handle the bike, too," is how Schmitt describes the effect.
Despite Ytterborn's gender-neutral bent, he is convinced women will be drawn to the Kalk partly because it happens to be less overtly masculine. Whereas traditional motorcycle are "loud, aggressive, macho, dirty," as he puts it, Ytterborn believes the Kalk is more approachable. "It's light, it's clean, it's not complicated to ride, and it's totally silent. It doesn't have that roaring, don't touch me, get off my back vibe."
These same qualities may well lure a surprising contingent of men. Kazimer of Pinkbike is open to the Kalk despite his aversion both to e-bikes and off-road motorbikes, which he finds too noisy and full of hassles. "An electric motorcycle like this, it'd be pretty fun," he says. "It's quiet. You can zip around. I totally understand the appeal of it."
Lead Photo: Courtesy Cake