Giant's Trance X 29 Hits the Sweet Spot
It provides climbing and descending performance in equal parts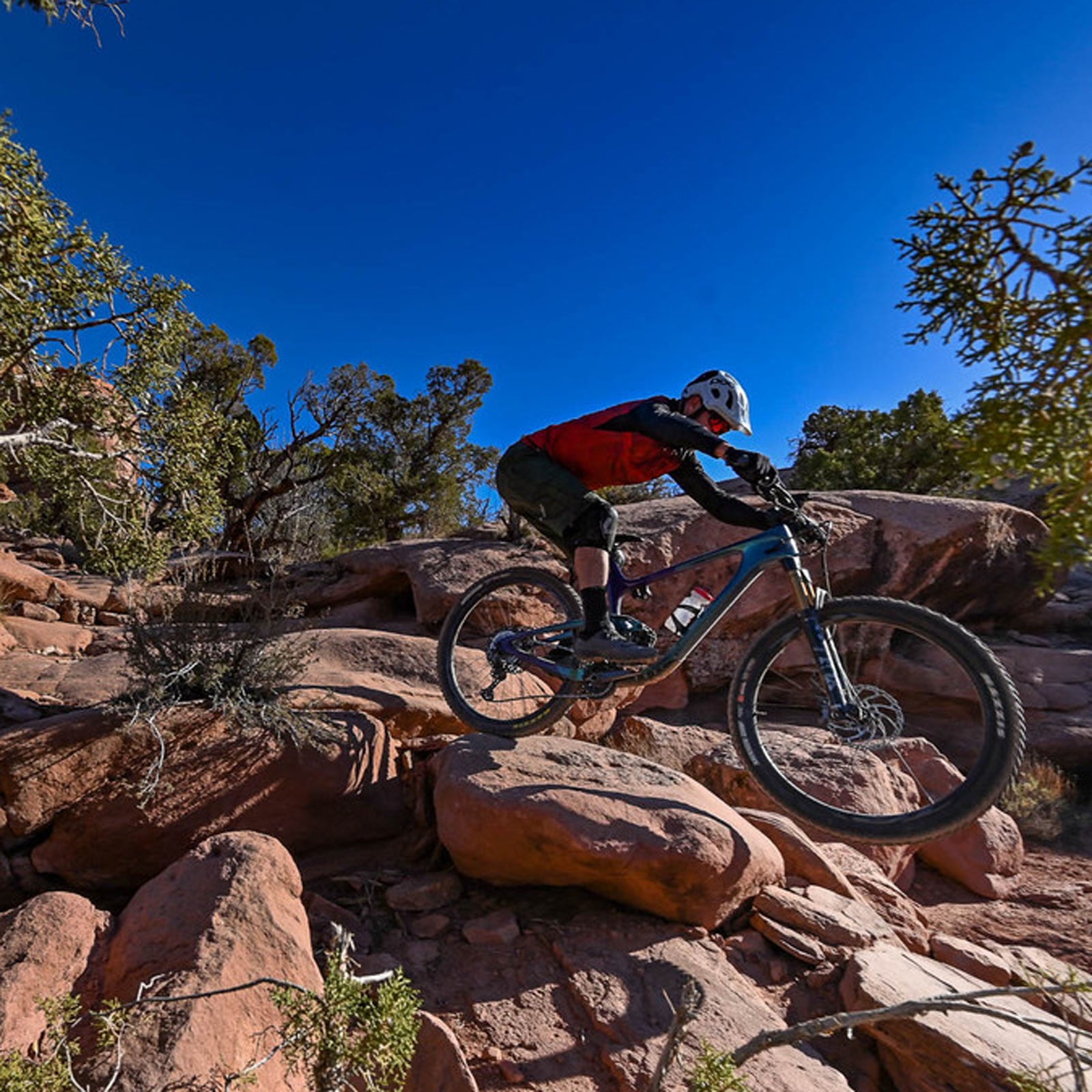 Rebecca Gross(Photo)
Heading out the door? Read this article on the new Outside+ app available now on iOS devices for members! Download the app.
Giant's Trance model has been the go-to trail bike in its lineup for well over a decade, and regular updates to both its Maestro suspension platform and accompanying geometry have kept it a competitive option in the broadly defined category. The Trance X versions, then, have always been for riders that appreciate the Trance but want just a bit more bike: a little more travel here, a little slacker geometry there. After spending a few weeks riding the redesigned Trance X 29, we found that this X marks the spot for modern trail bikes.
The Builds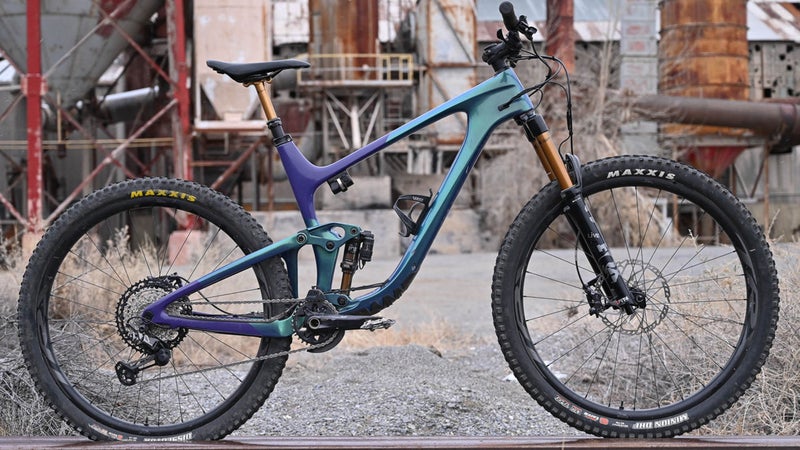 The 2021 Trance X 29, released in August 2020, is available in five builds, with the least expensive of two aluminum-frame versions starting at $3,200. Pricing for the three complete carbon bikes starts at $4,300 and runs up to $8,500 for the top-tier bike we reviewed, the Advanced Pro 0. All versions feature 135 millimeters of Maestro dual-linkage rear travel matched with a 150-millimeter travel fork; they also come with new-to-Giant flip chips that let riders quickly adjust the headtube angle, seat-tube angle, and bottom-bracket drop. These aren't minor geometry adjustments either. With a 0.7-degree variation in angles and a ten-millimeter change in bottom-bracket height, the Trance X 29 offers one of the biggest geometry variations in the realm of bikes with flip chip designs.
The Trance Advanced Pro 29 frames are almost entirely carbon fiber composite, save an alloy lower link, and claim to weigh in at a mere 2,100 grams—shock included. Giant's proprietary Advanced composite results in a durable, more compliant frame than the alloy version, with a weight savings of 25 percent. An integrated, rubberized chainstay and down-tube protection were added to reduce potential damage in these usual spots, and a clear 3M strip keeps the upper down tube safe from tailgate scuffs. Pricing throughout the Trance Advanced Pro 29 model range reflects the variation in components, but the frames are otherwise the same. (The Pro 0 is the only one to feature Fox's Live Valve, which we discuss in detail below.)
The Ride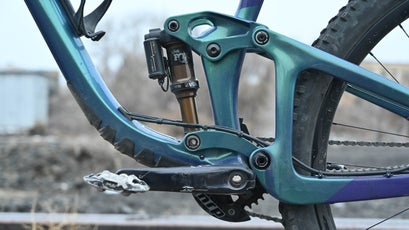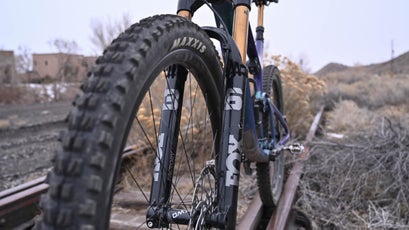 We spent several weeks aboard the Trance X on Colorado and Utah trails, gaining an instant appreciation for this well-rounded bike. In fact, its maiden voyage on familiar trails netted a series of both uphill and downhill PRs. This would turn out to be a trend throughout our testing. Climbing performance paralleled that of lighter, shorter-travel cross-country bikes, thanks in part to Fox's Live Valve system, which adjusts suspension performance automatically. Once at the top, there were no switches that needed to be toggled—the Trance X 29 was ready to drop. Those descents were met with a stable, predictable, and responsive ride, thanks to 150 millimeters of Fox Factory 36 suspension and Giant's 135 millimeters of rear travel. The Trance X 29 got all the stars on fast, flowy trails. Relentless chunder and chunky technical sections? The bike generally fought above its weight class but would occasionally pull a punch or two when it was thrown into fights more appropriate for enduro bikes.
The Trance X 29 displays two distinct sets of trail manners, courtesy of the flip chip swap, which takes roughly two minutes with one five-millimeter Allen wrench. The high setting gives steeper 66.2-degree headtube and 77.7-degree seat-tube angles, with 30 millimeters of bottom-bracket drop. This setting excelled on tighter, more technical trail, with the steeper headtube angle catering to lower-speed handling, while the higher bottom bracket provided more pedal clearance through rock gardens. In the low setting, the slacker 65.5-degree headtube angle and lower bottom bracket improved stability at higher speeds and down precipitous descents, but the 40-millimeter bottom-bracket drop did create a noticeable decrease in pedal clearance through rough sections. Our review bike settled into high mode, but if we had this bike for the summer, low mode would see plenty of use for long, speedy alpine rides.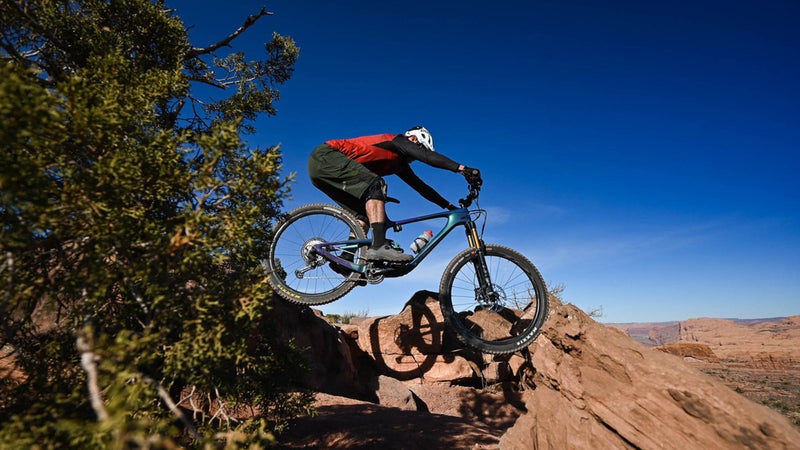 The Advanced Pro 29 0 is the only bike in Giant's lineup with Fox's Live Valve. Basically, it's an integrated suspension system consisting of two accelerometers telling a microprocessor what the bike is experiencing 1,000 times per second and adjusting the shocks' magnet-actuated valves accordingly. The simplest example: when the fork hits a bump, the fork-mounted accelerometer tells the microprocessor in a mere three milliseconds to keep the valve open to absorb it. When the system detects that the bike is pointed uphill or that the rider is pedaling, valving restricts oil flow independently in both the fork and shock to create a more stable pedaling platform. In the Trance X 29, Live Valve adds even more pedaling efficiency to an already efficient Maestro suspension platform. It also adds a noticeable improvement to ride height by drastically reducing wallowing, and makes jump or drop landings noticeably smoother. The only real trade-off, other than price and a negligible weight penalty of roughly 150 grams, is that Live Valve skims a bit of plushness out of the suspension. The feel is racier and sometimes a bit firmer than desired through never-ending rock gardens, but considering the fact that I was faster on more than a few favorite trails, these minor quibbles seem worth the performance benefits.
Furthermore, the Advanced Pro 0's build kit is impressive, leaving little to be desired. Even Giant's notoriously horrid saddles have been updated to a surprisingly tolerable Romero SL perch. Thirty-millimeter-wide Giant carbon rims took plenty of abuse in places like Moab, as did the Maxxis Minion DHF/Dissector tire combo. Shimano XT brakes afforded excellent modulation with only an occasional squeak when they got wet, and the XT/XTR drivetrain never faltered. Fox's Transition dropper post, paired with a Shimano remote shifter, worked flawlessly, as did the aforementioned Live Valve system. As expensive as $8,500 is, the Trance X 29 Advanced Pro 0 is reasonably priced for how well it's outfitted.
The Upshot
Put simply: the Trance X 29 was a pleasure to ride. Its adjustable geometry offers a better adaptation to various styles of riding and trails than most, and toggling between the two settings is about as simple as it gets. As with any trail bike with a 150-millimeter fork, it won't be an ideal choice for cross-country racer types, and the Trance X isn't going to be appropriate for regular bike park use. But it lends itself nicely to almost everything in between. As a rider with a quiver of bikes spanning from lightweight carbon hardtails to enduro sleds, the Trance X was my choice for riding smooth and pedally trails with Lycra-clad friends, smashing through Moab rocks with former pro downhillers, and cruising the trails out my back door.
Lead Photo: Rebecca Gross
Trending on Outside Online