Buying Your First Mountain Bike
So you want to start mountain biking? Bravo! Whether you're a roadie looking to play in the dirt or just upgrading a daily commuter, the decision to ride on trails could be the best one you've ever made.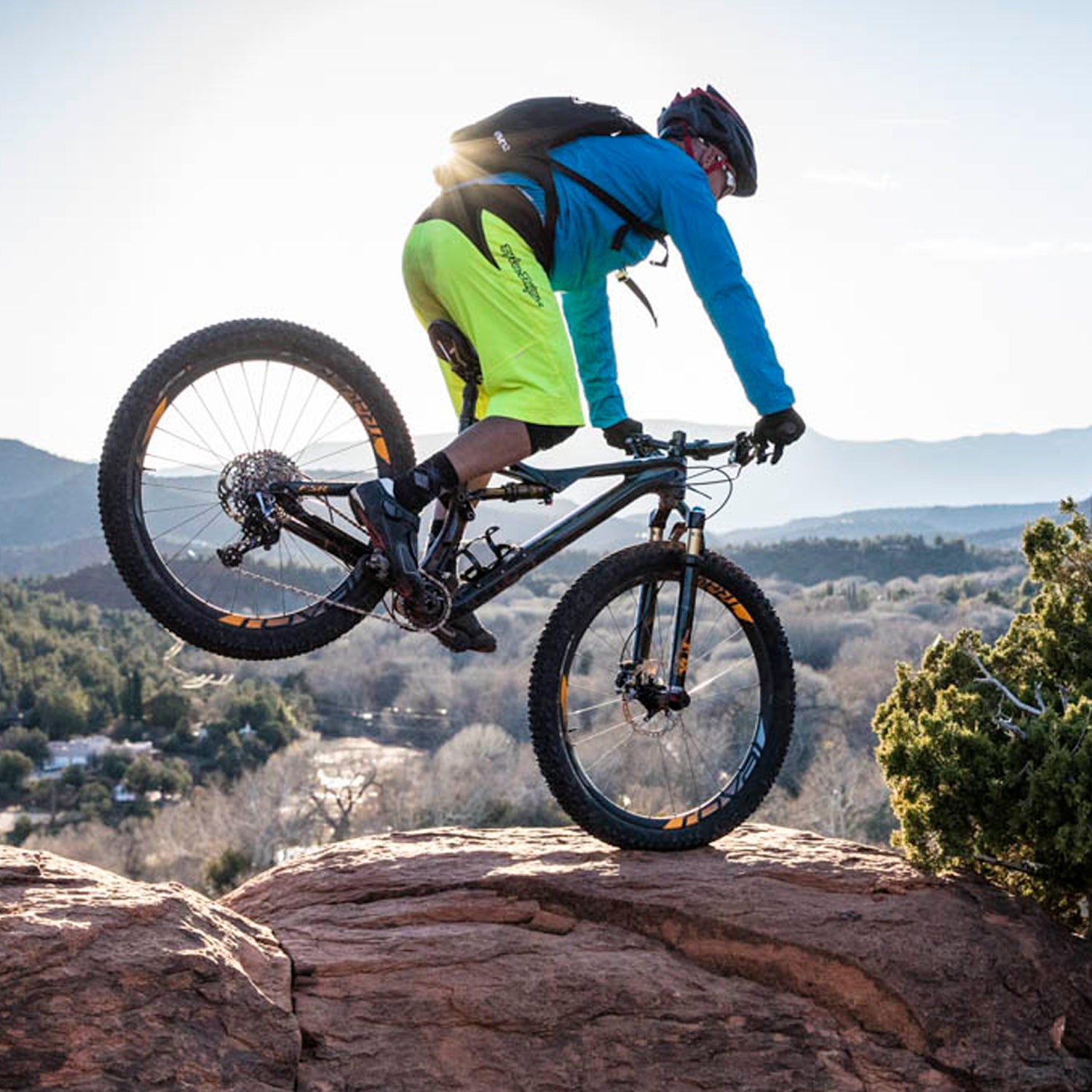 Heading out the door? Read this article on the new Outside+ app available now on iOS devices for members! Download the app.
Delving into any new activity isn't easy, and mountain bikes—with their newfangled suspension designs, high-tech parts, and myriad accessories—can be seriously intimidating. We've broken it down for you, from how to pick your first bike, including a primer on designs, components, and prices, to a roundup of all the other gear you'll need. We also have pointers on trail etiquette and places to ride. In short, this is a one-stop shop for everything you need to know to go from total noob to trail regular.
One thing: It's not going to be inexpensive. High-quality, intro-level bikes start around $2,000 to $2,500, depending on what features you want, and prices climb dramatically from there. You can get a good bike for less than that (see our tips below), but you'll need to spend money on pedals, riding shoes, helmet, and a pump, at the very least. 
The good news: After the initial investment, mountain biking is pretty cheap. Bikes can last for years, and almost everywhere has dirt roads and trails you can ride for free. Once you're set up and shredding on dirt, we pretty much guarantee you're never going to want to go back to pavement.
---
How Much Should I Spend on My First Mountain Bike?
The answer comes down to your economic situation and how much you ride and value cycling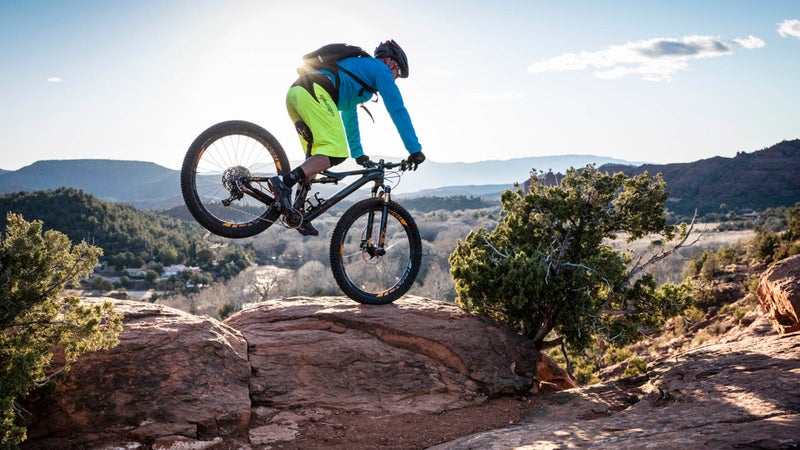 Many people complain about the excessive cost of cycling these days, and with premium bikes hovering around $10,000 and more, they have a point. But remember that while those top-shelf bikes are incredible examples of engineering and technology, they are not necessary to enjoy the sport. In fact, those halo bikes help the average consumer, because the R&D that goes into them makes its way down to the everyday machines. So while a top-of-the-line bike 25 years ago would have cost you $2,000—which is barely entry level these days—the components, suspension, wheels, and complete package you get today far outperforms its 1991 counterpart.
At the bare minimum, we recommend looking at hardtails for no less than $1,500 and full suspension at $2,000 to $2,500. You can certainly purchase bikes for less, especially if you get away from the name brands or are willing to take inferior parts. But you'll probably end up spending more in the long run because those bikes will break, need replacement parts sooner, or just be so unpleasant to ride that, in the long term, you'll upgrade anyway.
The question should also be asked on the other end of the scale: How much is too much? Obviously, the answer comes down to your economic situation and how much you ride and value cycling. If you spend hours on your bike, suddenly the refinement and comfort you get for $10,000 might not seem like so much. Still, if you don't demand the absolute best, you can find amazing bicycles that are only incrementally heavier or outperformed by the stratospheric top end for between $4,500 and $6,000.
Don't Pay Full Retail
In late fall or winter, bike shops make room for new inventory by clearing out their stock for as much as 30 to 50 percent below MSRP. 
It's also worth perusing consignment racks at your local bike shop, as well as its used rental fleet, which can come through a season in good condition if the mechanics are vigilant. 
Craigslist is an excellent resource and preferable to eBay because if the seller is local, you can (and should) take the bike to a shop for a prepurchase inspection. 
And yes, you can find closeouts and used inventory online, but you'll have to either know exactly what you're looking for or hassle with possible problems when the bike arrives. Bike-specific e-retailers such as the Pro's Closet and Pink Bike help mitigate that risk.
---
What to Look for in a Mountain Bike Frame
The heart of a good bike is its frame. With dozens of brands to choose from, each with lots of models in different styles, knowing where to start can be a quandary. The good news: All that competition makes for a lot of great bikes.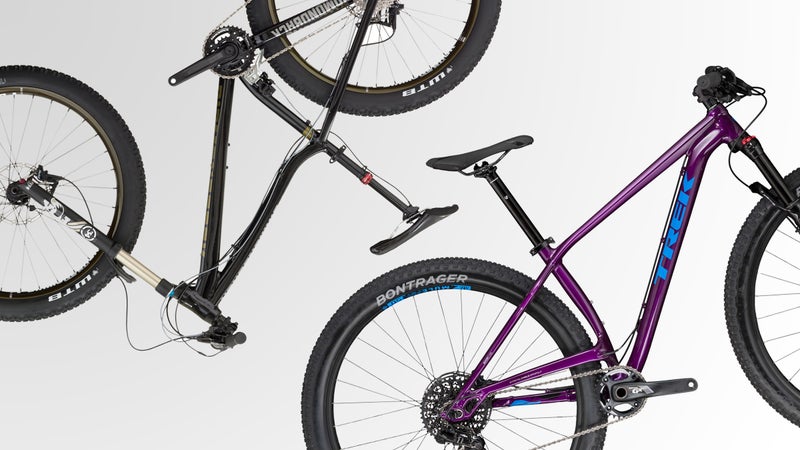 Mountain bikes can be broken down into a few broad categories: cross-country (XC) for racing and going fast, trail bikes for general use and all-around mountain riding, all-mountain or enduro for more technical trails, and downhill (DH) for flat-out descending. Don't get caught up in the labels—everyone has their own definitions. What's important to understand is that all bikes fit somewhere on this continuum, and choosing the right style means balancing a handful of considerations, including frame geometry, design and amount of suspension, and weight.
The 4 Categories 
XC bikes are typically the lightest, have the least amount of suspension, and are built with steeper geometries that favor pedaling. They're often rigid (no suspension), hardtails (suspension up front only), or, if they have dual suspension, have around four inches (100 millimeters) of travel. 
On the other end of the spectrum, DH bikes are always full suspension and built with extremely slack geometries that are great for tearing down hills but not great at pedaling. They're also heavy so they can take a lot of abuse and tend to have around eight inches (200 millimeters) of travel. 
Here's an important note to remember: unless you live in a place with very particular trails (extremely smooth or unusually rocky and technical) or have a specific desire to race either downhill or XC, neither of these specialized bikes are for you. You'll be better served by something in the middle of the spectrum that does a lot of things well. 
Consider a trail bike. These can be hardtails, which keep the complication factor and cost down. (We do not recommend fully rigid designs for your first mountain bike—the lack of suspension will probably make you miserable.) More often, trail bikes have full suspension, with somewhere between 4.7 inches (120 millimeters) to 5.5 inches (140 millimeters) of travel. The general rule of thumb is the more travel your bike has, the easier and more comfortable it is to negotiate obstacles. The additional suspension also adds weight, however, which makes pedaling and climbing tougher.
Enduro bikes sit closer to the DH end of the spectrum with six or seven inches of travel. If you live around rocky trails or want to focus on big-hit riding, this is a good category to look at. But for the most part, a beginner rider will be best served by a trail bike. 
Suspension 
A handful of companies build their own suspension systems; designs and configurations vary between each brand. While each will tell you why their iteration is the best around—and there are indeed nuanced differences—the truth is that most designs from reputable brands (the ones at your local shop) work pretty damn well. So our recommendation for a beginner is to not worry too much about suspension and instead focus on the category of bike that's best for you. 
Materials 
You also have a choice between frame materials. Aluminum or alloy frames are generally the least expensive. Steel, titanium, and carbon fiber are lighter and more damping—they cut vibration better—but are more expensive. 
Those latter materials can all be excellent. If you can afford the upgrade, they're worth considering, especially for the weight savings. That said, aluminum engineering and forming has come a long way, and if price is a consideration, going alloy is your best bet.
Our Picks 
On the hardtail side, one of the best, most affordable models we've found is the Niner EMD, which leans toward the XC side of the game but also gets you into a nice, boutique company with excellent detailing and support for just $1,500. 
The Diamond Back Mason Comp is built for more aggressive riding and not generally marketed to beginners, but we find the slack angles and dropper seatpost actually work well for learning. 
Trek's Stache 7 29+, with its wide three-inch tires and oversized wheels, is a bit different than most bikes out there, but its stability and comfort can't be beat (and might be the only fully rigid bike we'd suggest for starters). It rides so fast and hard that you're abilities won't outgrow it anytime soon.
In full suspension, the Specialized Camber cuts a really nice middle ground between cross-country and all-mountain machines, with 120mm of travel, a relatively slack head angle that's good for both climbing and descending, and an overall feel that's comfy on everything from dead-easy dirt roads to steep, technical trails. 
The Trek Fuel EX, revised for 2016, is a similar machine, and so good at everything that it very nearly won our Gear of the Year award. Both bikes are available in two wheel sizes, which we'll go into greater detail below, but unless you are very small or have fit issues that make it difficult to ride a bigger bike, we definitely recommend the 29er versions. The Camber and Fuel EX come in multiple build levels and part specs, but even the least expensive iterations (both under $2,000) offer great value.
---
What to Look for in Mountain Bike Wheels
The bottom line: Don't stress out over size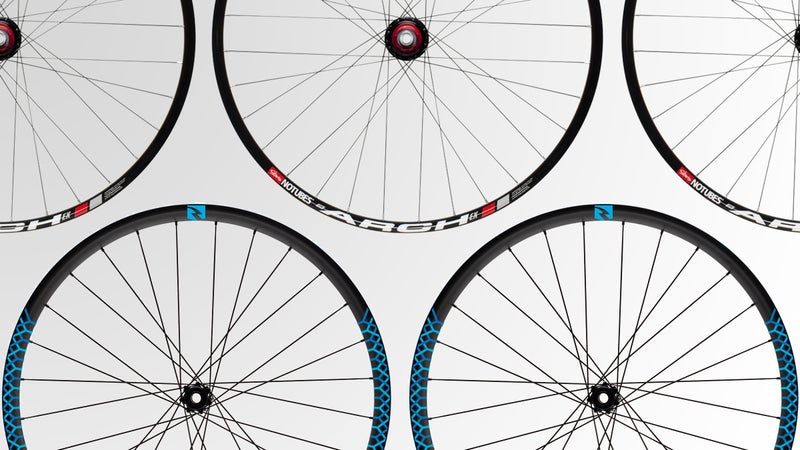 Bike nerds like to spin out over wheel size debates, but the truth is this: no matter what wheel size you buy, it will work great and you'll have tons of fun. Don't stress out over it.
27.5 vs. 29
Mountain bikes today come built around one of two wheel sizes: 27.5 inch (still also commonly referred to as 650B) and 29 inch. These have largely replaced the 26 inch, which was the standard for years and can still be found, especially on budget bikes. We'd suggest avoiding 26, not out of any dislike for it, but simply because the industry has mostly moved on, making parts and tires for the size becoming difficult to find.
The difference between 27.5 and 29 is subtle. The 29er's additional circumference means it takes more energy to get up to speed, but it carries momentum better and rolls over obstacles easier. The size also provides a larger contact patch of rubber, which equates to more traction. On the other side, 27.5ers tend to be a bit more nimble because there's less rotating mass to move around. 
In our experience, new riders benefit more from the additional confidence, ease, and traction afforded by 29ers. But the bottom line is that either size works fine, and the best reason to choose one over the other is fit. If you have the choice, try both options and go for the one that feels better.  
Plus-Size (27.5+ and 29+) 
The other big conversation in wheels right now is plus-size, which refers to using wider tires to get some of the same rollover, traction, and momentum benefits that 29 offers over 27.5. 
On a 27.5+ setup, three-inch-wide tires mounted on 27.5-inch diameter rims give you the same effective size as a 29er with 2.3-inch tires, but you get broader contact with the ground for better grip, as well as the ability to run lower tire pressures. Specialized nailed this design with its Fuse. 
Even bigger is the 29+, like the Trek Stache, the Surly Krampus, and the Niner ROS9+, with three-inch tires on 29-inch rims for even more bulldozing and traction. 
The downside to the plus-size movement is that the added tire weight can make for heavy rides, especially in the budget models, where wheels tend to be heavy. We do feel that new riders benefit from the increased tire size, and we like the versatility of extra clearance, but it's also worth realizing that we're just at the front of this trend and designs are certain to change and evolve in the next few years.
Upgrade
No matter what size wheel you choose, one of the single best improvements you can make to any bike is a wheel upgrade. That's especially true on budget bikes, where manufacturers save expense by spec'ing heavy hoops. Since rotating weight is some of the most noticeable heft on a bike, lightening up your wheelset can make a dramatic improvement in how a bike rides and feels. 
Carbon wheels, such as the Reynolds Black Label models, are the epitome of performance, but a good set of aluminum rims like the Stan's Arch EX save nearly as much weight and cost a quarter of the price. 
One last note: No matter what wheels you are running, take the time to set them up tubeless. The lower pressures this allows makes for a much better ride.
---
What to Look for in Mountain Bike Components
It's all in the details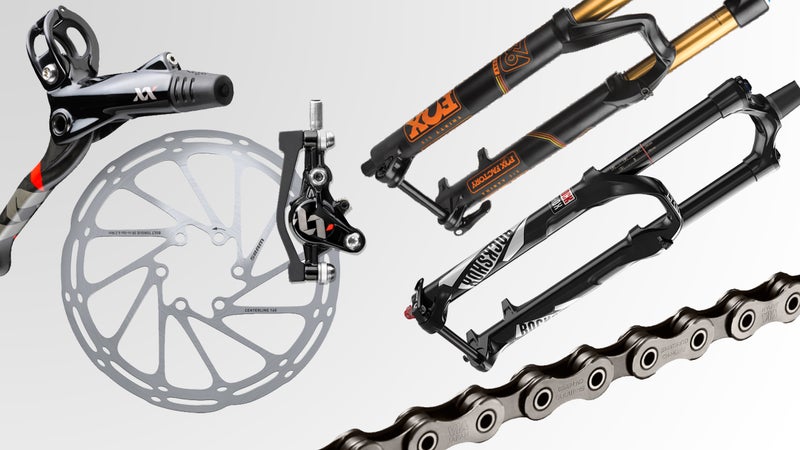 When it comes to drivetrain and brakes, you really have only two brands to choose from: SRAM and Shimano. 
The differences between the two companies come down to feel, finish, and engineering. Everyone has their preferences, but the truth is that components from both manufacturers work somewhere between relatively well and perfectly. They've sunk a lot of money into engineering and R&D at the top level, and while those parts are pricey, all that technology continues to trickle down to budget gear: Shimano SLX and Deore or SRAM X5 are both better than the premium components of just a few years ago.
1x
The biggest decision you'll face is whether to go with two gears in front or just one. Single-ring setups—which use a wider range of gears in the rear cassette to make up for the single gear up front—are new and extremely popular at the moment for their simplicity and light weight. But what you gain in ease you lose in gear range: no 1×11 setup currently has the same extent of gears as 2x configurations. If you live somewhere mountainous or aren't extremely fit, it's worth sticking with the double ring up front. If you opt for a 1x drivetrain, a small front chainring (say, 28-tooth) will ease the gearing.
Fork and Shock 
The other big variable on bikes is the quality of the fork and shock (or front and rear suspension). As with drivetrains, two big players, RockShox and Fox, dominate the offerings, though there are reputable smaller manufacturers, such as Manitou, X Fusion, Marzocchi, and Bos. 
At the budget end, the safest and most common bet will be from one of the two big brands. That'll work just fine. The more you spend, the lighter and more fine-tuned the suspension will become, with additional controls for damping, rebound (how quickly the suspension returns), low-speed adjustments, lockouts, and remote levers to control it all. The higher spec'd bikes tend to translate into a plusher, more tunable ride.
---
The Only Mountain Bike Accessories You Need
11 essentials to get you started on the dirt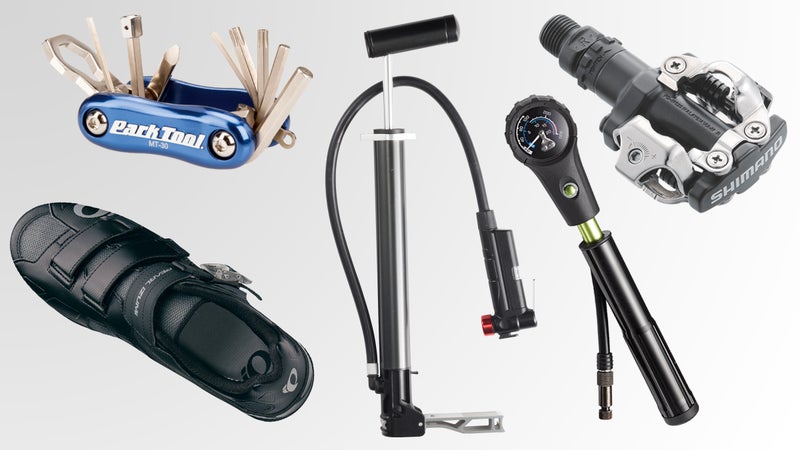 You'll need a few essentials when you purchase your bike. A pump is an absolute necessity. If you can afford only one, we suggest a midsize compact model like the Bontrager Mini Charger, which generates quite a bit of volume so you won't be pumping all day, but it's small enough to pack along when you ride. 
Ideally, you'll also get a floor pump for home use. Something like the Lezyne Classic Overdrive might cost a bit more than others, but the steel barrel and quality construction will ensure it lasts a lot longer. If you buy a floor pump, you might consider the Cannondale Airspeed Dually for your portable since it can air up both tires and suspension. 
Also grab a multitool, such as the Park Tool MT-30, for making adjustments or repairs in the field.
Pedals are another key item. We strongly favor clipless pedals, which basically connect you to the bike for improved efficiency, though they take some practice. Shimano SPDs are the oldest and most reliable standard. We generally go for something like the M520, with clip options on both sides, though the M324 is great for starting out since it has a clip on one side and a platform on the other in case you want to ride without being attached.
Then there's the cycling shoe, which is stiff enough to act as a platform when pedaling and accommodates the cleats that clip into the pedals. The biggest thing to look for when starting out is a soft rubber outsole that's durable and easy to walk in yet rigid enough for comfortable pedaling. We like the more lifestyle-oriented designs, such as the Five Ten Maltese Falcon and the Pearl Izumi X-Alp Enduro IV.
Finally, the helmet. You can spend $500 or more on head protection, but we say start simple, because the safety ratings are all the same. Giro is possibly the biggest name in the game. The company's Revel is good looking and well ventilated and offers the option of MIPS, a technology Giro says mitigates rotational force in a crash to help prevent concussions.
Beyond those necessities, you can spend lots of money on additional gear: apparel, sunglasses, tools, new tires, and electronics such as GPS, heart rate monitors, and power meters. The list goes on. 
Skip all that stuff if you're on a budget, with one big exception: padded shorts. You can spend a fortune—the Assos T.Rallyshorts_S7s are some of the finest and most comfortable on the market and cost a wallet-lashing $420—but the most important things are a good pad and form fit, which can be had in something like the Pearl Izumi Men's Attack short for a fifth of the cost. The chamois will save your soft parts. Your baggies, tops, jackets, and everything else from running, skiing, or other activities will pull double duty on the bike just fine. 
---
Proper Mountain Biking Trail Etiquette
Use some common sense and be a good sport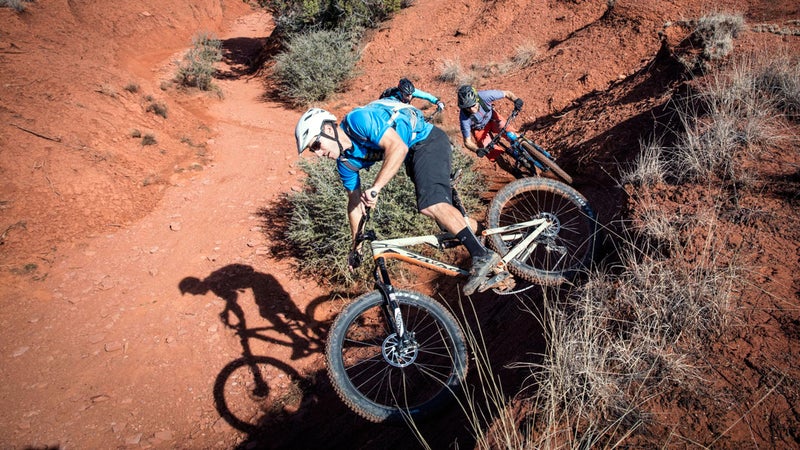 You have your new bike and are ready to roll. Before you go blasting off, it's worth brushing up on some basic points of etiquette. The International Mountain Bike Association has a pretty simple list for good mountain bike decorum. If you like following rules (or just need a good chuckle), Velominati's 95 dictates are worth a gander.
Mostly, though, this is commonsense stuff, so just a few reminders:
Be Nice
Seriously. We have no inalienable right to ride on trails. Recognize the privilege and work to preserve it. A quick hello and friendly wave goes a long way to disarming those who don't like cyclists and building relationships that will keep trails open.
Yield
Somehow this has been forgotten, but in the pecking order of trail users, bikes are last. That means when you see a hiker, slow down or stop and let them pass. When you see horses, which are easily spooked by bikes, come to a complete stop, get off your bike and off the trail, and communicate with the equestrian about how best to proceed. 
Yield Some More 
Uphill traffic always has right of way. If you're blazing down at high speed and come upon another rider, it's your responsibility to slow or stop and make plenty of room for that person to continue on their way. It will be easy for you to restart (thanks to gravity), but if the person climbing has to stop, he or she may be unable to get going again.
Control Yourself 
If you're going so fast that you can't stop in time for uphill traffic (see Rule #3), then you're not in control. Ride at the limit of what's good for everyone, not just you. 
Don't Trespass
If a sign says a road or trail is closed, don't poach it. The fastest way to ruin our access is to not abide by the rules. Oh, and a corollary: if you decide to trespass, which you should not do, please don't record the trespassing and put it on social media, Strava, Garmin Connect, YouTube, or anywhere else where it can be used as evidence. Trails have been closed retroactively because of such blockheaded ignorance.
Stay on the Trail
The "single" in singletrack means there should be just one path. Inching off the trail or going around something spoils the experience and turns the trail into a doubletrack and, eventually, a road. That also means that if the trail is muddy or filled with puddles, either ride straight down the middle and get wet or stay off the trail entirely. There's nothing worse than a braided mess of trails because people didn't let the dirt dry out and then decided to ride around the water.
In short, use some common sense out there. Be a good sport, don't act like you're more important than anyone else (you're not), preserve the land, and have a good attitude. It's pretty simple.
---
The Best Destinations for Mountain Bikers
Our favorite domestic mountain-biking getaways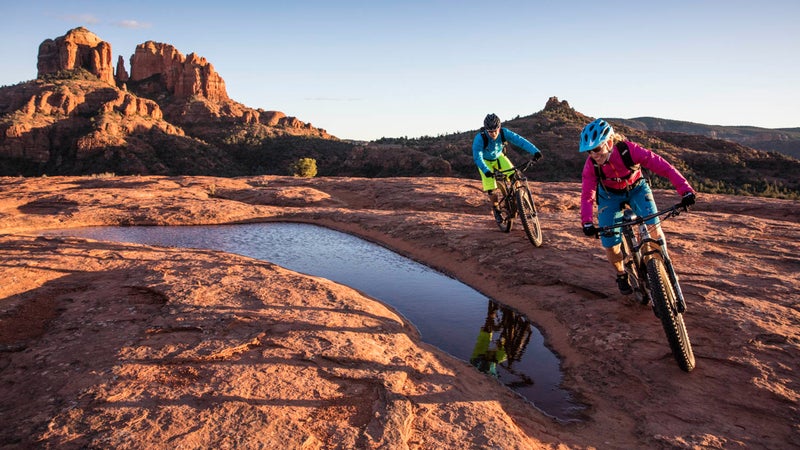 Local rides are great, but once you've bought the gear and mastered how to use it, you might want to travel to see the big world of trail design and riding styles. Here are some of our favorite domestic getaways. 
Sedona, Arizona
Used to be that Moab, Utah, had the corner on the red-rock desert riding experience, but this northern Arizona enclave, about halfway between Phoenix and Flagstaff, now has more singletrack, better access, and equally good views. There's everything from scenic slickrock cruises, such as the Mescal, to proper flow trails like Canyon of Fools and Slim Shady, as well as committed technical desert lines like Hangover, which has to rank as one of the most interesting and unique rides on the planet. For the best beta and service, stop off at Over the Edge, the friendliest bike shop in town.
Crested Butte, Colorado
As far as big-mountain riding goes, the Rockies surrounding central Colorado's quaint Crested Butte simply cannot be beat. The dirt is grippy and loamy, the trails in summer are lined with head-high wildflowers, there are rides well over 13,000 feet, and the town loves cyclists. It's impossible to single out any one trail as CB's finest, but visitors should definitely not miss either the 401 or the 403, which wend high into the peaks and then swish back down through Sound of Music–worthy meadows.
Brevard, North Carolina
The western finger of North Carolina, butting up against Pisgah National Forest, which wraps the Blue Ridge Mountains in a cloak of constant green, is what might just be the country's best-kept mountain biking secret. The trails are shady and technical and laugh-out-loud fun, with everything from groomed flow runs to long passages on glassy granite. The Bike Farm, a mountain biking guide service and base camp, offers accommodation, rentals, clinics, its own bike park, and one of the most convivial cycling hangs in the entire eastern United States. 
Sun Valley, Idaho
If you want fast, flowing, open trails in a big scenery, you can't do worse than Sun Valley, with more than 400 miles of buffed-out singletrack lacing the town and a top-notch downhill bike park at the ski area. The farther you get from town, the higher the trails climb into the alpine, taking in rockier terrain, interesting technical features, and alpine views. Riding aside, including one of the most entertaining annual bike festivals around, we love that Sun Valley isn't just a dirtbag cycling town, but instead has luxe hotels (try the Knob Hill Inn), five-star dining, and a laid-back high-end vibe.
Fruita, Colorado
Once little more than a dusty ranching town on the western slope of Colorado, Fruita has become a riding institution. The trails crisscross barren desert hills like pretty threads, climb over broken sandstone in fits and starts, and tumble haphazardly through towering cliffs all the way down to the Colorado River. They're wildly varying and provide massive plateau views at every turn. This is the jumping-off point for the Kokopelli Trail, a 150-mile odyssey that connects Fruita to Moab. That's another great thing about riding here: Not only is there enough excellent trail to command a weeklong or more stay, but down the road in either direction is even more destination riding, both on the desert rippers around Grand Junction and the iconic red rocks at Moab.
Lead Photo: Jen Judge