Bikepacking.com Is Revolutionizing the Sport
It's easier than ever for cyclists to pick a route and get out the door. Is that a good thing?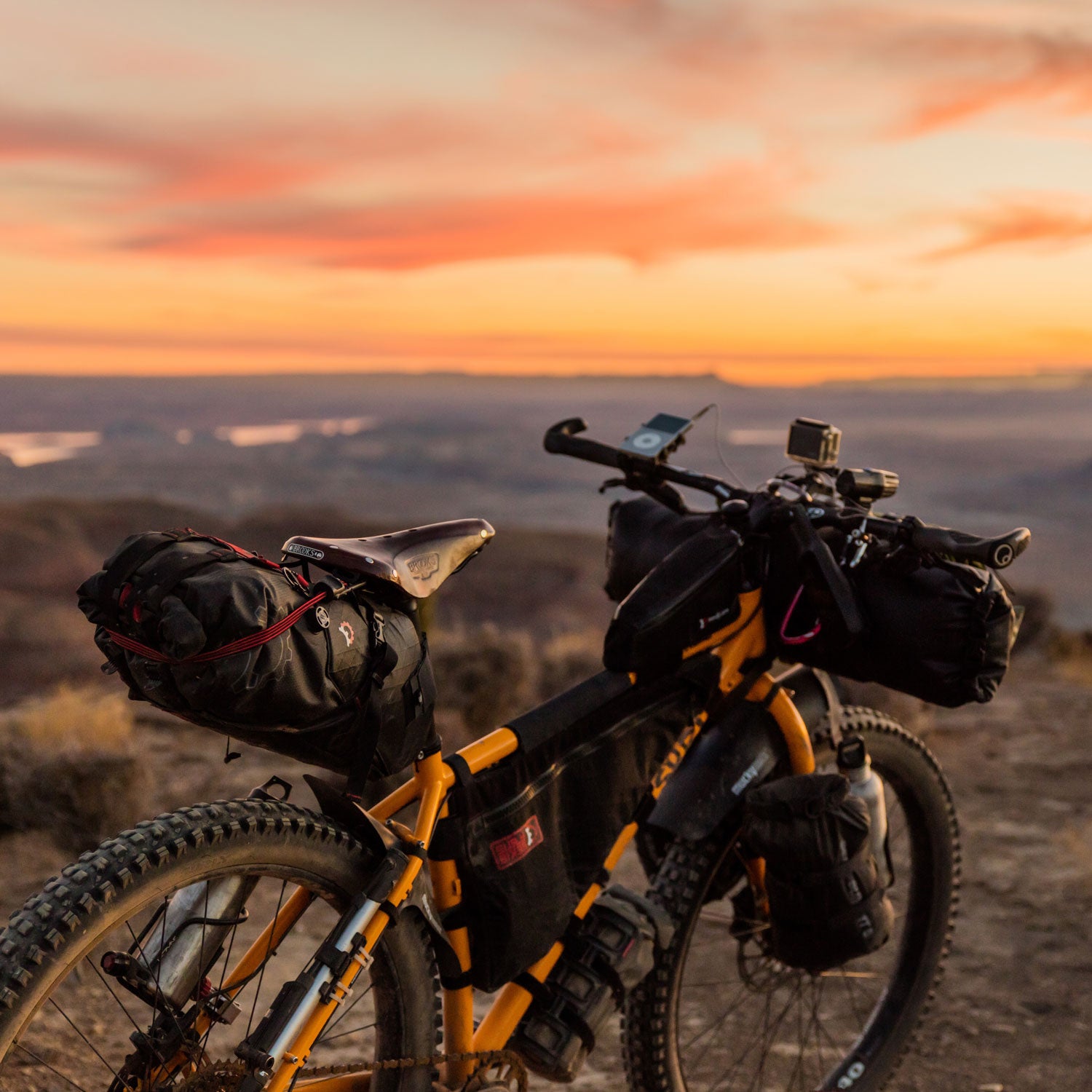 Patrick Hendry/Unsplash(Photo)
Heading out the door? Read this article on the new Outside+ app available now on iOS devices for members! Download the app.
When Logan Watts started getting into long mountain bike rides in the mid-2000s, he didn't call it bikepacking. That term hadn't really taken hold yet. But now, little more than a decade later, bikepacking is a thriving segment in cycling, with major manufacturers building bikes (like the Salsa Blackborow or the Trek 1120) and packs dedicated to it. The sport is almost as widely accepted as its better-known namesake, backpacking.
Thanks to that growth—and perhaps as a source of it—Watts has built his personal blog, originally constructed so he and some friends could trade insights and routes, into Bikepacking.com, a preeminent resource for adventurous cyclists that garners more than a million page views a month.
The site offers gear reviews, advice on how to pack your bike and travel efficiently, and dispatches from the field. Perhaps Bikepacking.com's biggest asset is its bank of some 165 routes worldwide, all mapped, indexed, and fleshed out with details including water sources, food resupplies, potential campsites, and points of interest. This means it's easy to pick a trip, get inspired by the photos, download the GPX course, and set off. "We see part of our goal and responsibility as providing more opportunities for getting people out on their bikes," Watts writes on the site's manifesto.
I never wanted to like Bikepacking.com. I felt that it was commercializing something that shouldn't be monetized. (I've long struggled with such misgivings whenever I write about the sport.) Bikepacking, which partly traces its roots to Mike Curiak's 2003 individual time trial on the Great Divide Mountain Bike Route, has long been the realm of iconoclasts and hermits trying to escape alone into the woods. To sell out bikepacking is to sell out the essence of the experience, I thought.
When I started in the sport, about the same time as Watts, there was very little information. Finding your way—piecing together a route, figuring out which bike would work and how to load it before there were purpose-built packs, and how to manage the variable conditions and terrain—was a big part of the challenge. Handing over routes as Bikepacking.com does, I feared, would bleed the sport of some of its adventure and put unprepared cyclists in harm's way. It would be like giving someone the keys to a car but not teaching them to drive.
"I don't really see that happening," Watts said, when I put my concerns to him. "There are so many places to go. We're not going to fill them up." Watts added that he is making an effort to address the safety component through how-to tutorials and blog posts on best practices. "And on the courses side, we really strive to find a good balance between providing the right information without dictating peoples' experiences."
Still, I was skeptical. So, in April, wanting to get out on a trip but short on time to plan my own, I decided to put one of Bikepacking.com's routes to the test. I chose the New Mexico Off-Road Runner, from Santa Fe to Las Cruces. The guide called for nine days, but I could spare only four, which I thought would be enough since I hoped to log long days as a base for some big rides later in the summer.
I didn't bother to read the route description or download the suggested camping spots, which wouldn't apply to my expedited ride. Instead, I downloaded a pared-down version of the route map: just the red course line and the waypoints for water, which left plenty to discover along the way. I pedaled across dusty mesas and through narrow canyons and sheer mountains. I slept in a field of Dr. Seussian cholla cactus, fought 30 mph headwinds for three straight days, and startled herds of deer, elk, and pronghorn. I nearly ran out of water when I arrived at a village I'd counted on for resupply to find the vendor boarded up. And, except for towns, I didn't see a single other human.
"Overcrowding is very relative," says Cass Gilbert, the rider who created the NMORR route. "It's what happens in our cities and on highways and trails that everyone drives to. There's plenty of space in the backcountry for everyone, as long as we treat it with respect. I don't believe the development of routes takes away from the adventure. Rather, it creates more opportunities to get out there."
Gilbert is right—at least for now. It's still early days for bikepacking, and the landscapes are so vast and route possibilities so endless that congestion won't be an issue anytime soon. The sport is also somewhat self-selecting—pedaling 40 to 50 pounds of bike and gear over mountains and through the desert isn't easy—so it's unlikely many people will get themselves in trouble
On the other hand, there's a cautionary note in the trajectory of mountain biking as a whole. The sport began with a few hippies modifying road bikes to pedal around on their local fire roads and has ballooned into a sport of its own—in the process, engendering conflicts with hikers and other users, overcrowding at popular destinations, and debate over trail modifications and damage. As bikepacking becomes popular, overcrowding and use disputes could follow, too.
Still, being on the back roads of New Mexico reminded me how little of our open space gets used. Spots close to high-population areas may attract steady traffic, but if you're willing to turn away from well-known destinations and head where most people do not, there's still solitude to be found. Bikepacking.com is shining a light on some of those lesser-known backwoods—I wouldn't have had the wherewithal to plan my NMORR trip without the site. But I suppose if the site's routes ever get too congested, which seems unlikely, I can always head out on my own as I've been doing for years.
Lead Photo: Patrick Hendry/Unsplash
Trending on Outside Online