Buying a Bike From a Shop Versus Buying Online
There can be advantages to both, so what is right for you?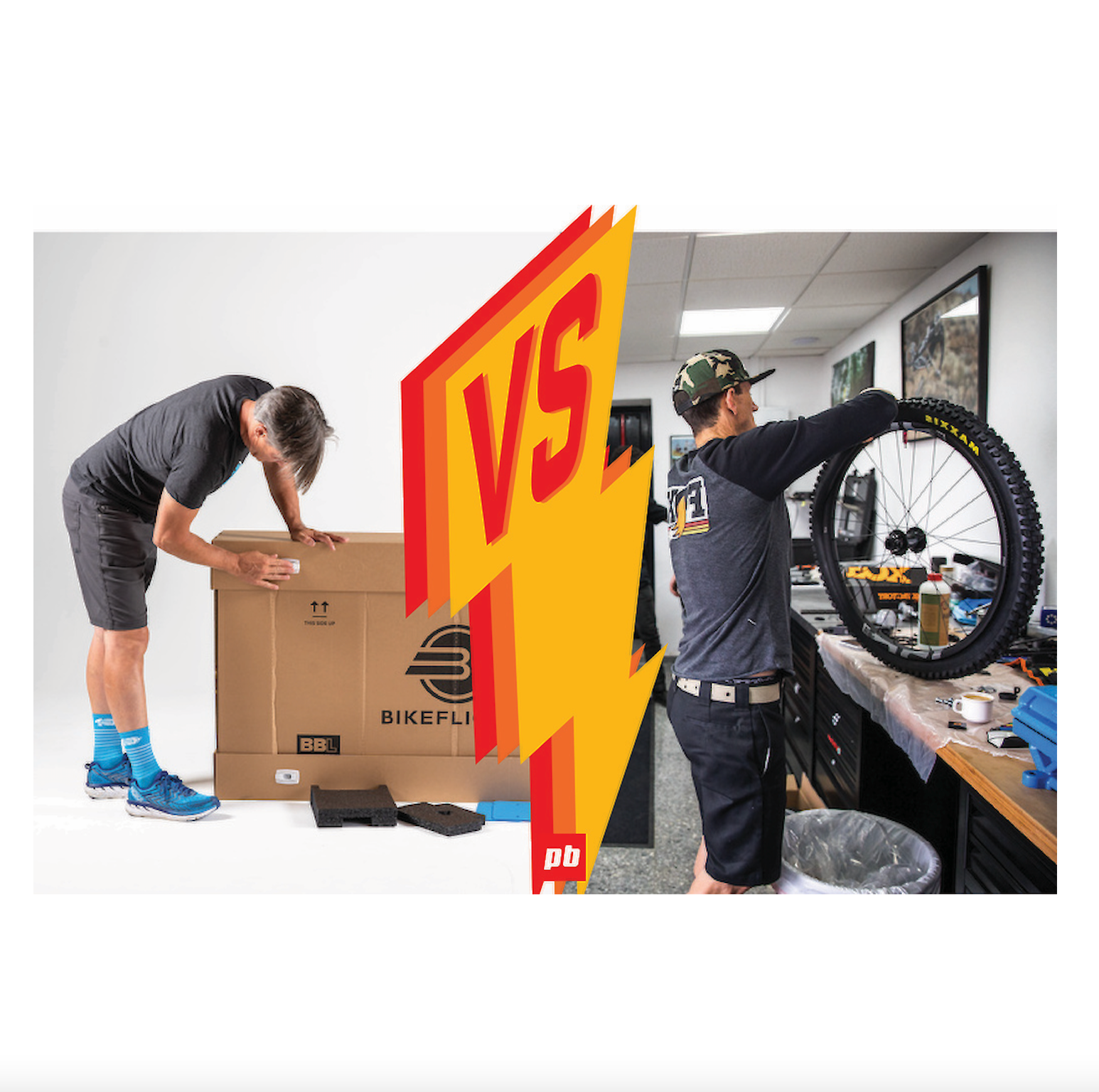 PInkbike
Heading out the door? Read this article on the new Outside+ app available now on iOS devices for members! Download the app.
So you've decided to buy a new bike. Congratulations! You're certainly making the right decision—your kids don't need that trip to Disneyland, and your car definitely isn't making a weird noise. Validation aside, once your sights are set on a new ride, figuring out where to buy it can be pretty tricky.
It's one of the more hotly contested debates in the cycling industry because folks are often personally or financially invested in the matter. The rising trend of direct-to-consumer bike brands may feel brand new, but has actually been around for some time, starting as far back as 1996 with Canyon's first foray into online bike sales. With the rise of online shopping in general, though, the direct sales model has started to eat up more and more of the traditional brick-and-mortar bike-shop business. Retail bike sales are a critical line item for many shops, with service and smaller non-bike sales filling in the rest of the coffer. For the sake of transparency, I worked for years as a mechanic at a small, local bike shop, and hold a lot of love for the culture and community that a good one can create for customers and employees. Call it bias, call it experience, just something to consider as you read on.
I have too many thoughts on this topic, so in the interest of simplicity, I broke it down to a few critical parts: quality/value, test riding, and service.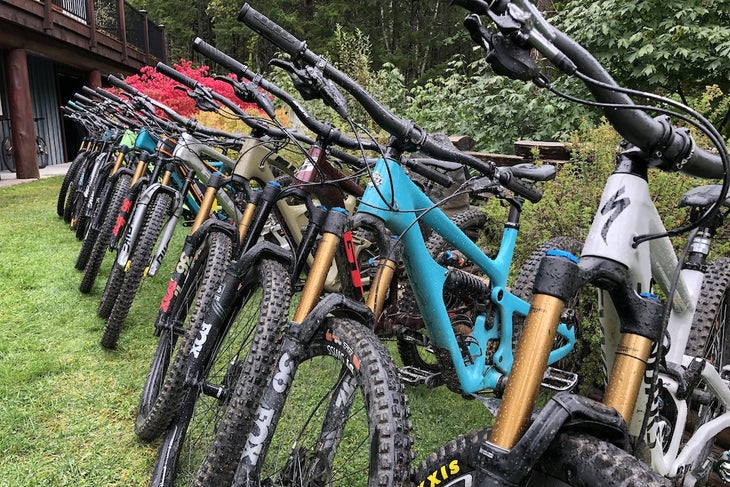 Quality and Value
One of the main reasons that drives people to online retailers is the price. Compared to the traditional bike shop model, the overhead and distribution costs are relatively small for consumer-direct brands. This leads to a lower overall cost, even when comparing two bikes with very similar spec kits.
That said, as the online retail market heats up like has for a few years now, that value proposition starts to wane. Prices haven't quite equalled out, but online brands have started to work a heavier profit into their pricing, similar to the trajectory many tech startups follow—start low, and slowly raise prices to the target point.
It's no mystery that many local bike shops have struggled with the competition posed by online retailers, but that's only half the picture. In order to keep their retail bikes selling, companies that don't sell online have had to work quite a bit harder to get people to make the effort to get into the shop and pick up the newest model. This means more competitive pricing, incentives for in-shop buying, and harder marketing pushes.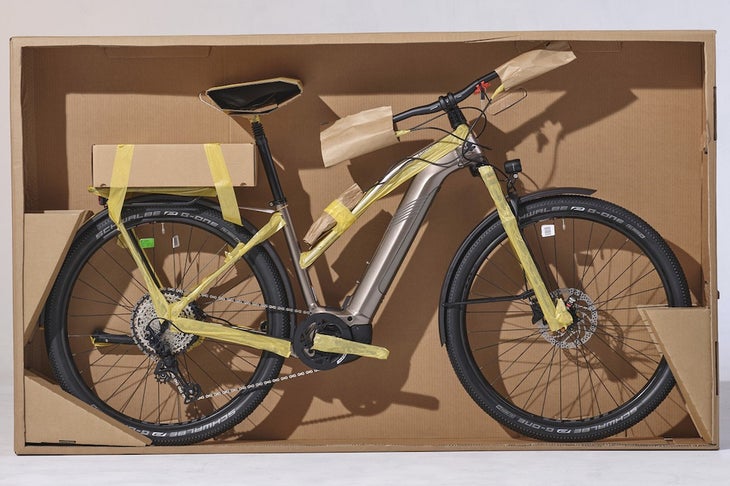 Somewhere between those two options are the brands taking the omnichannel approach. Notably, some massive industry players like Specialized and Trek have made this shift, to very mixed reactions. Alicia Leggett wrote about the change at Specialized last year in a well-considered piece showing the value of both sides. Essentially, this shift results in the brand being able to sell both online and in-store, a win-win for the big companies. This can also be a more convenient experience for the customer, as their online purchase can be delivered to their local dealer, with the mechanics there assembling and prepping the bike.
Price is tight, but quality is even tighter. Many direct-to-consumer brands used to have a bad rap for producing low-quality frames, with solid components slapped on to dress things up. That's far from the case now, with some of the higher-end, retail-only brands now being matched in quality by the online competition. Thankfully you have us at Pinkbike to be the arbiters of quality, so stay tuned to our reviews when you need some guidance.
Test Riding
In my mind, this is the single biggest argument for going to a bike shop, as opposed to shopping online. It's the same as trying on a pair of shoes: you really should hop on a bike to at least check the general fit before making a hefty purchase. Many online retailers do offer some sort of return policy, but the hassle of that is immense when compared to the guidance and ease of pedaling a few options at your local shop.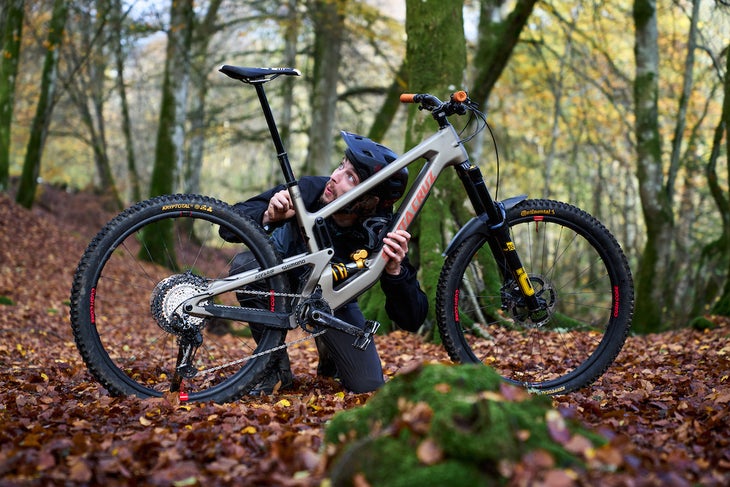 To be fair, all brands have sizing tables that tend to include rider height, but that's a pretty vague starting point for something that matters a lot to your ride experience. I've seen far too many people on bikes that don't fit them, even though they might've been in the height bracket provided by a given manufacturer.
I'll use myself as an example: I'm six-foot, three-inches tall, and according to just about every sizing table out there I should ride either an XL or XXL, depending on the brand. However, I really like bikes with around 485 millimeters of reach, which ends up being most brands' size L, given the trend of ever-lengthening frames. I'd probably get along well enough with the bike recommended to me by the size charts, but I know for certain that I'm riding better and having more fun on the bikes I have a chance to feel out first.
Service
For the longest time, service was the main argument for buying a bike at a traditional shop, as online sellers simply couldn't offer the long-term care that a local shop provides. However, with the new omnichannel *shudder* approach some brands are taking, there's more follow-up available to folks who buy their bikes directly from the brand.
Operationally, this is no different for the consumer, as they simply go to the bike shop in question and pick up their Trek, Specialized, etc. after it's been built up by one of the mechanics there. On the shop's end of things, they still make a cut of the sale, but without much say on what their profit margin is, and without being able to control their inventory. This also removes one of the nice elements of buying a model off the floor of a shop, which I'll call the pre-sale parts swap. Say you want that hot new downcountry whip, but you don't like the cockpit it comes with. Many shops will offer an upgrade to something more in line with your preference, and discount you some for the replacement of the original parts—also meaning you won't have to try to sell those bars afterwards. A small detail, but those things can add up, and often result in a bike that better suits you and your needs.
As a response to this practice, many consumer-direct brands have worked some sort of a-la-carte approach into their builds, with varying levels of parts selections available. Commencal and Fezzari seem to be leading the charge on this front, with the full gamut of options available to the consumer, down to the seatpost clamp and headset. One of my local shops, Fanatik Bike Co., built an online custom bike builder that allows people to create the ride of their dreams from a variety of brands that don't typically sell online in this fashion. It's a very clever system if you ask me, and I could see more local shops offering a similar service to compete with consumer-direct options.
Some Conclusions
In the end, you have to make the decision that's right for you, depending on your wants and needs. If you're looking for the all-out cheapest option, it's still hard to beat the online sellers—the prices are too low if you're simply trying to get into the sport. For people who want a bike that's best suited for them, and who value the experience and service of a local bike shop, the in-person experience is the best move. No amount of slick packaging can replace the care of a seasoned bike mechanic, even as consumer-direct brands start to flesh out their service channels, through mobile and permanent shops. There are plenty of companies and stores out there to choose from these days, it's just a matter of finding the one that feels right to you.
Happy buying, and happy trails!
---
Every spring there is an influx of riders keen to get into mountain biking, and at Pinkbike and Outside, we know that these newcomers are often overwhelmed with information and opinions. So, we're launching a seven-part series called MTB Explained, where we help new riders navigate some of the basics of our sport. If you're new, welcome to the best damn sport in the world, and if you're a long-time rider let's welcome these folks to the club.
Lead Photo: PInkbike