What Type of Mountain Bike Should You Buy in 2023?
Choosing a mountain bike is more complicated than ever, but the good news is we're here to help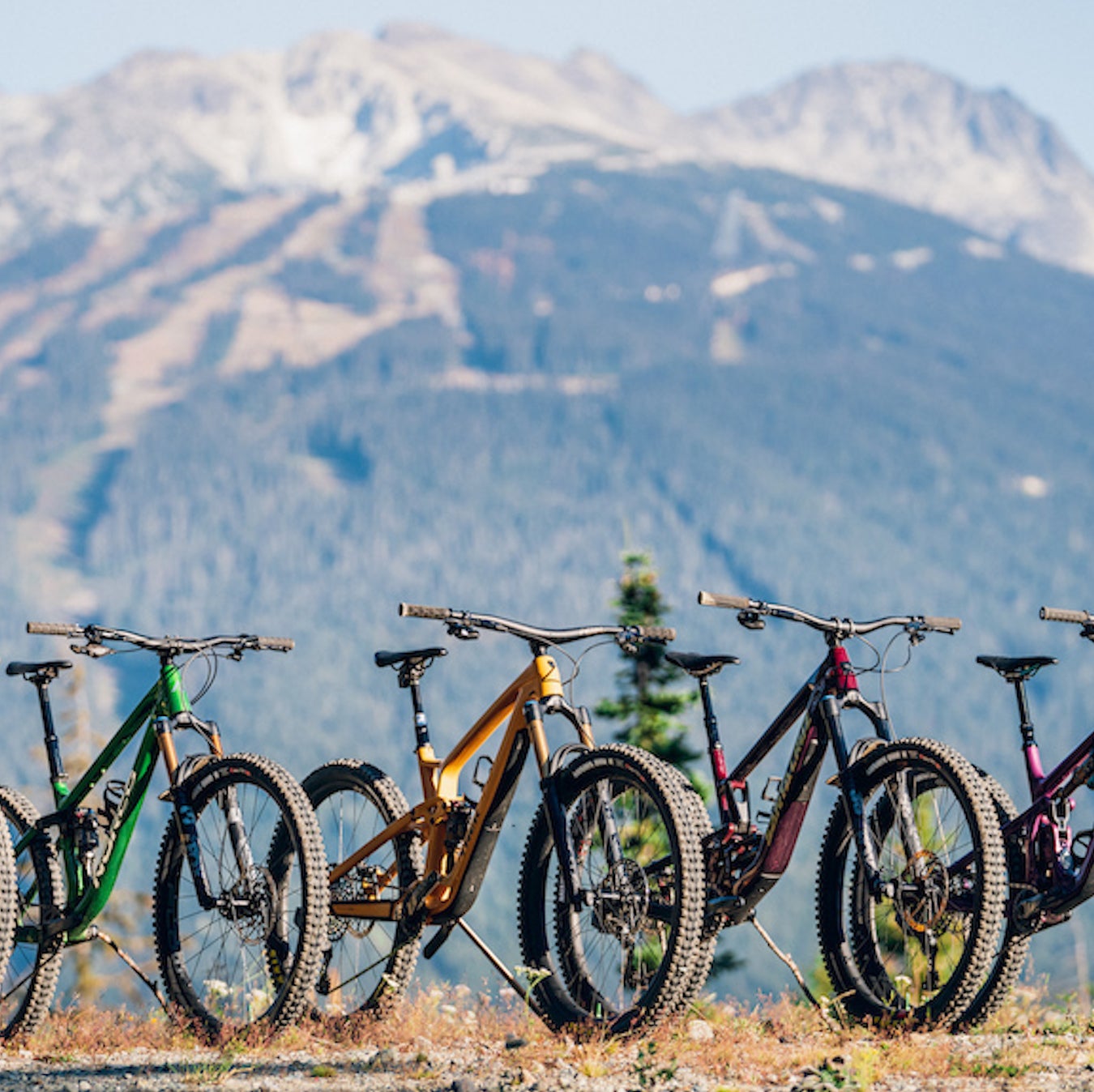 Heading out the door? Read this article on the new Outside+ app available now on iOS devices for members! Download the app.
You've decided to take the plunge and dive into the world of mountain biking. How complicated could it be? A mountain bike's a mountain bike, right? Unfortunately, it's not that simple any more. When the sport first started rolling in the 1970s there was pretty much only one type of bike, but now, after nearly a half-century, there are bikes to suit almost every riding style imaginable.
It can be intimidating trying to sort through all of the choices, and the ever-expanding list of categories and sub-categories can make it even more difficult. Just like in the ski or snowboard world, there are different bikes for different conditions, and it's a matter of picking the right tool for the job. But we're here to help. Let's start with the easiest two categories to differentiate.
Hardtails versus Full-Suspension Bikes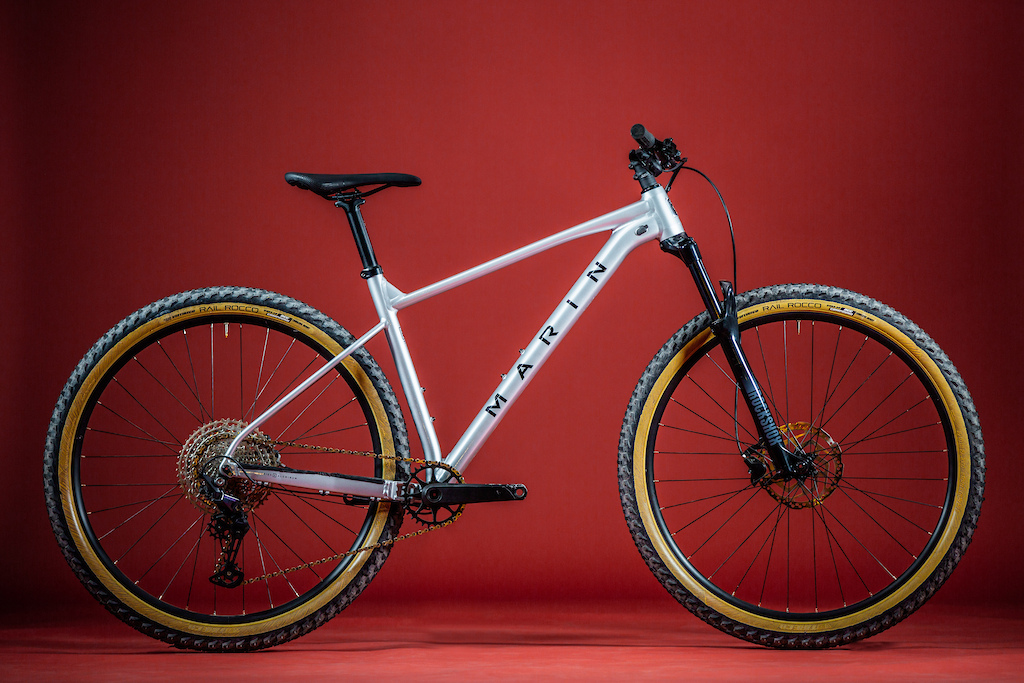 Hardtail
A hardtail is just like it sounds – a bike with no rear suspension. The vast majority of new hardtails have a suspension fork, although there are still a few options out there without suspension of any kind, for those riders looking for the simplest (and roughest) ride.
Hardtails can be a great way to save some money, since the lack of a shock and a less complicated frame design helps keep the cost down. Hardtails can be designed for any of the riding categories that we'll go over shortly, although they are best suited to slightly mellower terrain. It is possible to get down very rough, technical trails on a hardtail—and have a lot of fun doing it—but there's no getting around the fact that a full-suspension bike makes navigating those harder trails much easier.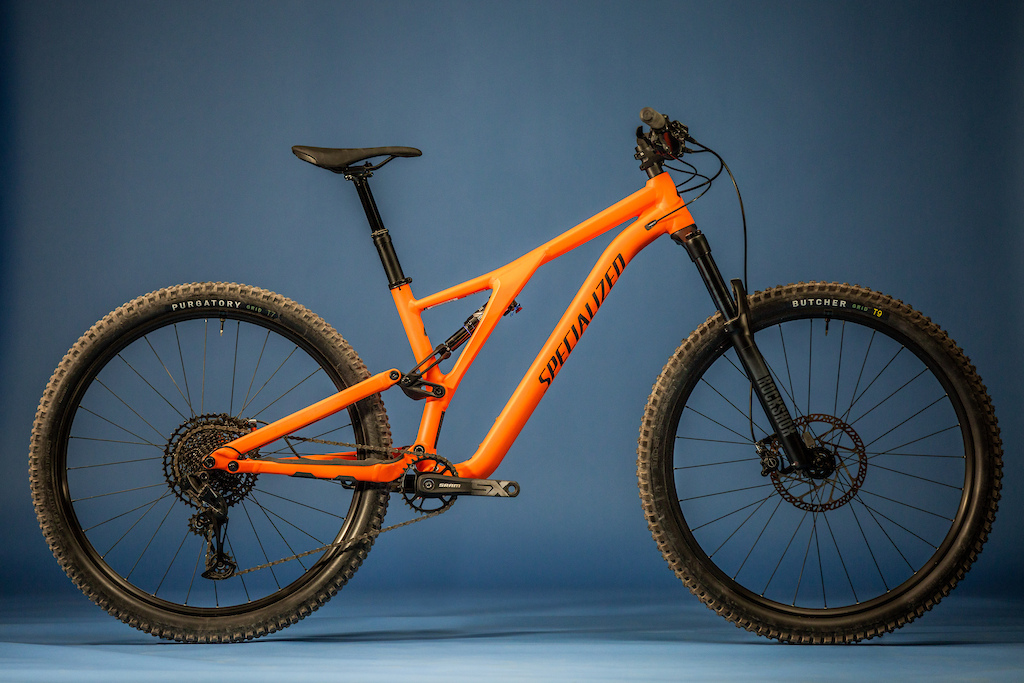 Full-Suspension
Again, it's all in the name. A full-suspension bike has a suspension fork and a rear shock to help take the edge off rougher trails, which means the frame (and rider) is fully suspended above the wheels. The amount of travel (how much the suspension moves) will vary depending on the bike's intended purpose, ranging from 80-100 millimeters of rear travel for more cross-country oriented bikes all the way up to over 200 millimeters of travel for pure downhill machines.
---
Mountain Bike Category Definitions
Moving on from the basic frame configuration of a mountain bike brings us to the more convoluted part of the equation—deciding what type of riding the bike is for.
We'll start with the basic categories, and then touch on some of the other terms you might hear floating around a bike shop or see mentioned online. You'll also see that each category has a 'climbing / descending split'. This is intended to illustrate where a bike's performance is focused. For example, climbing takes a higher priority on a cross-country bike, so the split is 70 / 30, compared to a DH bike, where it's a 0 / 100 split—climbing performance isn't even part of the downhill bike equation.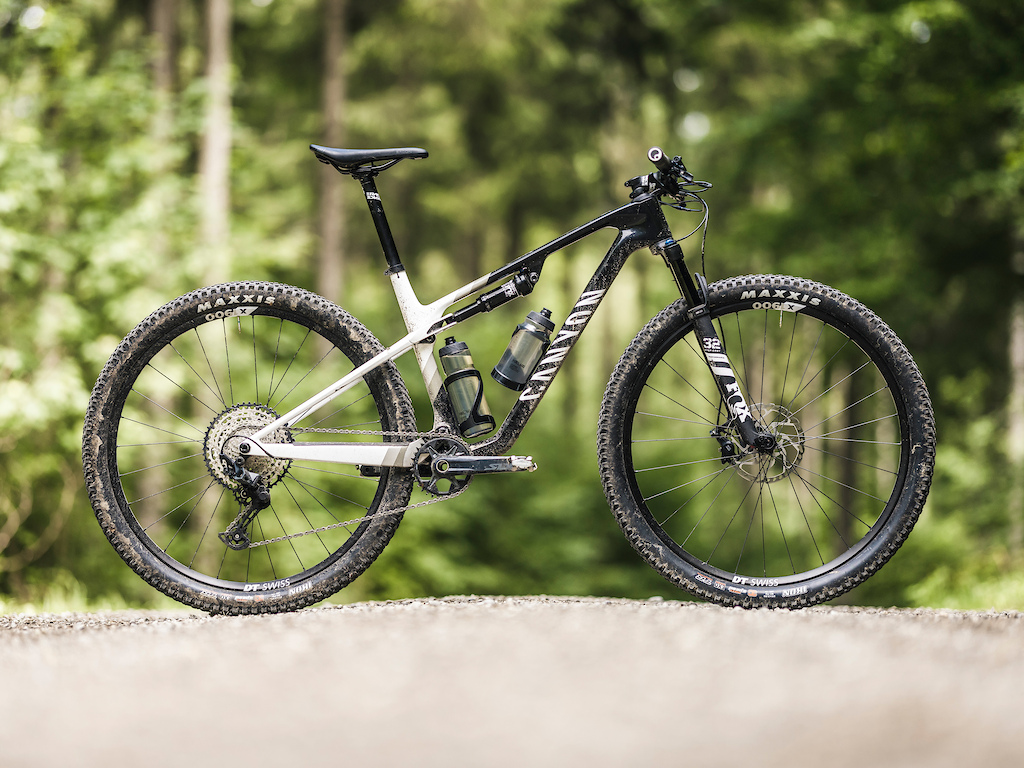 Cross-Country (XC)
These are the speed machines, the lightest and quickest handling mountain bikes around. They're designed for covering lots of ground as efficiently as possible, and typically have around 100 millimeters of rear travel paired with a 100-120 millimeter fork.
Ideal Terrain
XC bikes are a great option for riders in areas with rolling terrain that isn't super rough—this much travel helps take the edge off chattery sections of trail, but when things get really chunky an XC bike won't be the best option.
Rider Type
You don't need to be a racer, or even harbor any dreams of racing, to enjoy a cross-country bike—for riders that want their bikes to feel fast, light, and efficient, this is the category to consider. It's also the category where a hardtail makes the most sense, since the lack of a shock saves weight, and the most efficient suspension is none at all.
This is good bike type to consider for riders who prefer the challenge of conquering a long, strenuous climb over seeking out the gnarliest descent, those who prefer to zip along with both wheels on the ground versus hitting every jump around.
Examples: Specialized Epic, Canyon Lux
Climbing / Descending Split
70 / 30
XC Sub-Category: Downcountry
Downcountry is a term whose origins aren't totally clear, although some of the credit and/or blame rests on Pinkbike tech editor Mike Levy's shoulders. It was originally more of a tongue-in-cheek description for an imaginary category, but the term stuck, and more than one bike manufacturer has used it in their marketing campaigns. The idea is to take a lightweight cross-country-ish bike and make it more downhill oriented via things like wider handlebars, a dropper post, and longer, slacker geometry.
The travel and overall light weight remains, but the bikes in this category aren't as uphill-focused as their more race-oriented siblings. Bikes like the Transition Spur, Specialized Epic EVO, and Allied BC40 are all examples of this concept. More advanced riders can push these bikes hard in terrain they might not be expected to excel in, and beginners will appreciate the extra confidence that the more relaxed geometry provides on steeper trails.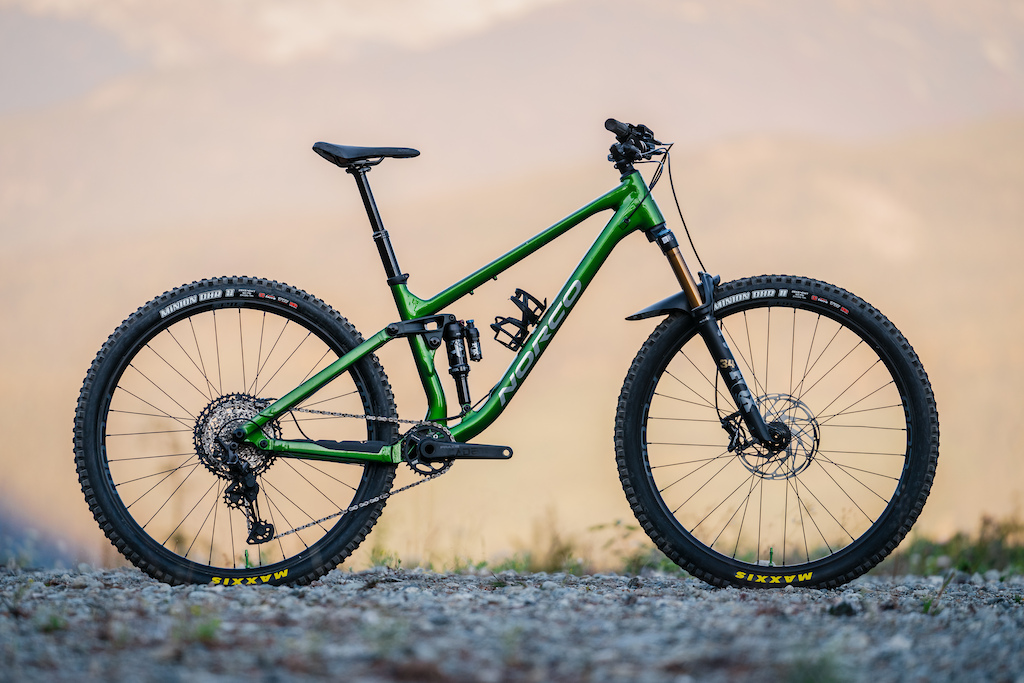 Trail Bike
This is arguably the largest category of mountain bike, and for good reason. Trail bikes are intended to handle a huge variety of terrain—these are the generalists, the all-rounders that can take on just about anything. Rear travel amounts range from 125 up to 150 millimeters, and typically, the longer travel options tend to be a bit more downhill focused.
Ideal Terrain
Almost anywhere. We recently finished conducting a round of trail bike testing in Whistler, BC, and the biggest takeaway was just how capable modern trail bikes have become. The idea of using the same bike for long backcountry rides and lift-served laps in a bike park used to be a fantasy, but now there are numerous options that can do just that.
Rider Type
For someone who wants one bike that can handle just about anything, this is the place to look. Modern geometry makes the bikes in this category more confidence inspiring on the descents than ever, and they're still very manageable while climbing or riding on more rolling terrain. Tires can play a big role in how one of these bikes feels—lighter tires can make it better suited for big, pedal heavy rides, while beefier, more aggressive tires can help provide more traction and better handling in steeper terrain.
Examples: Trek Fuel EX, Norco Fluid
Climbing / Descending Split

 
40 / 60 or 60 / 40 (depends on model)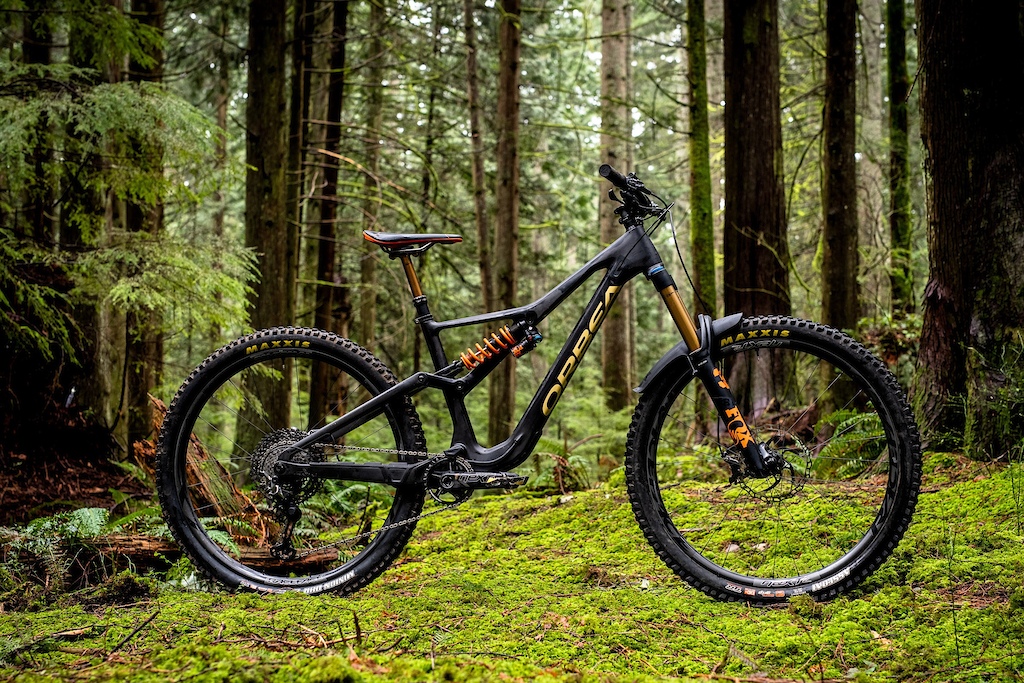 Enduro Bike
Technically, enduro is a mountain bike race format, where multiple timed downhill sections are connected by untimed transfer stages. The term has evolved to describe longer travel bikes with a clear focus on downhill performance that can still be pedaled to the top of a climb. Travel amounts range from 150-170 millimeters, and in some cases the bike's geometry isn't far off from what you'd find on a downhill bike.
Ideal Terrain
About as rough and steep as it gets, just short of a full-blown downhill track. Enduro bikes are a great option for riding in lift-served bike parks, since they can handle bigger drops and jumps, and when the lifts stop spinning, they can be pedaled on other trails without being too much of a hindrance. Descending is the main focus of this style of bike, which means they don't feel quite as quick or efficient as their shorter-travel siblings. Still, many modern enduro bikes have impressive pedaling performance, and if there's terrain to warrant the extra travel they can certainly be taken out on extra-long missions.
Rider Type
The ideal candidate for an enduro bike is someone that's interested in challenging themselves on steep, rough terrain. There's no minimum ability level to have fun on a bike with this much suspension, although many of the bikes in this category do ride better at the higher speeds they were designed around.
Examples: Orbea Rallon, Yeti SB160
Climbing / descending split: 30 / 70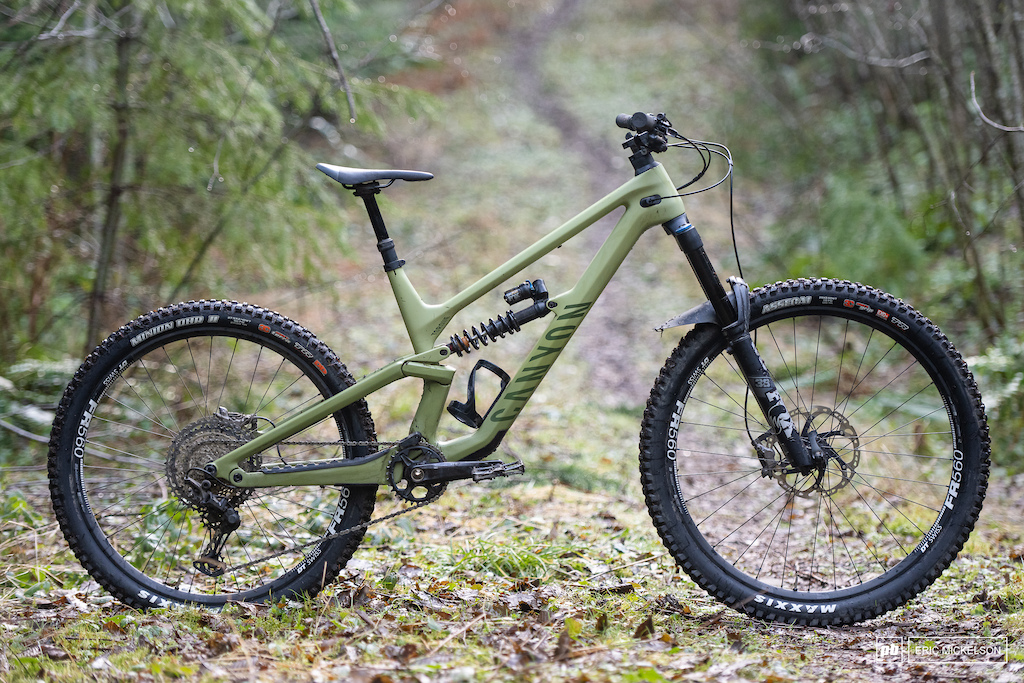 Sub-Category: Super-Enduro/Freeride
There's a small niche that exists between enduro bikes and downhill bikes, which is where you'll find long-travel machines that are even more downhill focused, bikes where weight and efficiency aren't as much or a priority as durability and stability as speed. These are the models that benefit from the use of a chairlift of shuttle truck, but they're still able to be pedaled to the top when those options aren't available.
Examples: Canyon Torque, Norco Shore

Downhill Bike
Do you want to go downhill, fast? This is the place to look. The downhill (DH) market has grown smaller as the capabilities of trail and enduro bikes have increased, but those bikes still can't beat a dedicated DH bike when it comes to outright speed. If you've never ridden a downhill bike before, renting one from a bike park can be a good way to see if the handling and overall characteristics are something you'd like to invest in. This is the mountain bike equivalent of a pair of extra-fat powder skis, and if you don't live somewhere with the right terrain, it's likely going to be overkill.
Ideal Terrain
DH bikes are purpose-built for descending, which means that they require a chairlift, shuttle truck, or a long stint of pushing to get them to the top of the hill. Once gravity takes over these long-travel machines make a lot more sense, with geometry and suspension designed to take on the gnarliest terrain and the biggest jumps around. They're well suited to bike-park usage, where the overbuilt frames and components typically do a better job of withstanding the abuse that weeks or months of lift-served laps can dole out.
Rider Type
You don't need to be a racer to appreciate a downhill bike – they're great options for bike park usage, or on extra-rugged terrain where no pedaling is required. The way they carry speed and soak up bumps is something that all riders should experience at least once in their riding career. If you're only riding the lifts a few times a year renting may be the way to go, rather than shelling out thousands of dollars for a bike that doesn't get ridden all that much.
Examples: Santa Cruz V10, Trek Session
Climbing / Descending Split
0 / 100
---
How Much Do These Bikes Cost?
So you've figured out the style and type of mountain bike you want. How much will that cost? Well, that depends. Along with the wide variety of bike models and designs comes a wide variety of prices, so there's no easy answer. In addition, bike prices have jumped dramatically over the last few years, so going the used route is the best method to save money. Prices also vary depending on if a company is solely direct to consumer or if they're sold in brick-and-mortar bike shops, although the price difference between those two sales models isn't as great as it once was (we have a post coming on this later this week!).
In general, expect to spend around $3,500 for an entry-level full-suspension bike. At that price range there are multiple options that'll serve as great entries to the sport, with hydraulic disc brakes, wide-range drivetrains, and basic suspension components.
Around the $6,000 is where you find bikes that don't really need any upgrades, even for more advanced riders. Going even higher up the line, many companies have their highest-end models priced in the neighborhood of $10,000 – $12,000. Bikes at the price point come with carbon fiber frames and wheels, and typically have electronic shifting or a very high-end drivetrains.
---
There you have it: a quick primer on the various different types of mountain bikes that are on the market in 2023. Instead of getting bogged down in spreadsheets or internet forums, get out there and try a few options. Find a demo event, borrow a buddy's bike, whatever it takes to gain more familiarity with what's available and what will work best for you. After all, the best bike for someone in Des Moine, Iowa is going to be different than what's best for someone in Whistler, BC.
And finally, don't forget that at the end of the day they're all just bikes, and mountain biking is supposed to be fun. Good luck!
---
Every spring there is an influx of riders keen to get into mountain biking, and at Pinkbike and Outside, we know that these newcomers are often overwhelmed with information and opinions. So, we're launching a seven-part series called MTB Explained, where we help new riders navigate some of the basics of our sport. If you're new, welcome to the best damn sport in the world, and if you're a long-time rider let's welcome these folks to the club.
Trending on Outside Online