No, Pros Won't Ruin Gravel Racing
Probably. The good news is the culture of the sport—lauded for its grassroots, oddball vibe—will be defined by its community.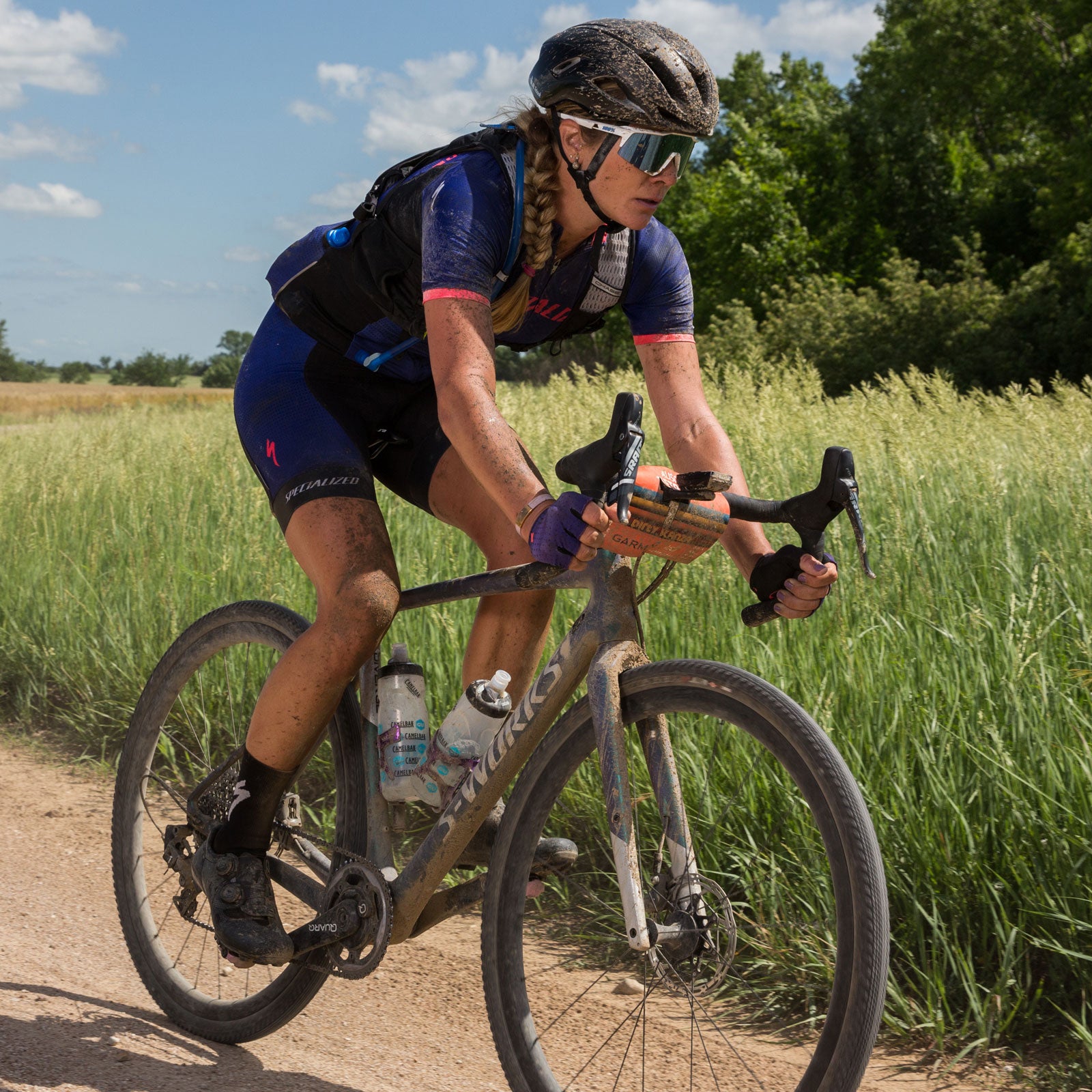 Heading out the door? Read this article on the new Outside+ app available now on iOS devices for members! Download the app.
Roadies ruin everything.
Just take mountain bike racing. Cross-country racing in the 1980s and early '90s was a pretty fun, freewheeling affair until the money arrived and, with it, refugees from the Eurocentric pro road scene. Courses changed, tactics changed, and the whole sport got More Serious. You could argue that the roadification was complete not long after the sport gained Olympic status in 1996.
Then cross-country racing began to falter. The pro-roadie-to-mountain magnetic field reversed polarity as riders like Cadel Evans and Michael Rasmussen switched to pavement and amateur racers went hunting low-key fun, first with 24-hour racing and then enduro. Only in the past few years has cross-country started to shake off the hangover of becoming an Olympic discipline.
So you'll forgive the concern some gravel racers felt last week when WorldTour pro team EF Education First announced it would send some select riders to nontraditional events, notably gravel racing's marquee classic, the Dirty Kanza, a 200-mile race in the Flint Hills of Kansas. (The Dirty Kanza has several event distances, ranging from a 25-miler to the invitation-only DKXL, a 350-mile monster, but the main event is the DK200.)
Had we hit peak gravel?
The roadie invasion of gravel has been underway for some time. Ex-pros like Ted King, Alison Tetrick, and Neil Shirley began entering the DK and other events several years ago. Road-inspired developments, like aerobars and team tactics, have crept in and subsequently sparked debate. And gravel racing even has the occasional formal team, like Panaracer-Stan's NoTubes. But the entrance of EF Education First (and, likely, riders from the new Continental-class pro team Floyd's Pro Cycling) changes things in several ways.
Pacing, tactics, and nutrition for the DK are different from road racing in degree, not type, but they're different enough that even experienced road pros seek out riders like 2017 winner Alison Tetrick for advice.
Teams like EF and Floyd's have markedly better support than most gravel racers, who are largely privateers even if they make a living from their sport. Don't expect a Formula 1–style "race hub" like Team Sky's at the Dirty Kanza anytime soon, but it's easy to envision pro-team mechanics and soigneurs making a difference over a 200-mile event. The entrance of teams strongly suggests more overt team tactics, which put solo entrants at a disadvantage. Finally, what about, uh, talent?
"A WorldTour racer's fitness is considerably better than even other pros," says two-time DK200 winner King, who notes that the Kanza's June 1 date is propitious timing for a European-based pro coming off a block of spring classics and the May 12 to 18 Tour of California.
TL;DR: Expect, say, Taylor Phinney or Alex Howes to crush the race. Unless they don't.
Sven Nys is one of the best bike handlers alive, but the cyclocross legend still suffered two early flats at the 2018 Kanza. Sure, a teammate could swap wheels for a leader. But the DK's rules—including no radios, riders can only accept outside support at three mid-race checkpoints, and riders must start and finish on the same frame—level some of the support advantages a pro team might otherwise have.
The effort is different as well. The DK200 is only slightly longer than Milan-San Remo, the longest one-day event on the WorldTour calendar, but the total saddle time for the winner (10:44 last year for King) is almost 50 percent higher. There are strong headwinds, summer storms, long sections of mud, creek crossings, and 10,000 feet of climbing. Pacing, tactics, and nutrition for the DK are different from road racing in degree, not type, but they're different enough that even experienced road pros seek out riders like 2017 winner Tetrick for advice. (That said, King still thinks WorldTour racers have a major advantage.)
Those challenges are what draw people to the Dirty Kanza, which has a single mass start and categories separated by age groups and gender—not ability. While the presence of top pros has a significant effect on those at the front of the race, for most of the DK200's 1,100 entrants and those in the other events, it's a nonissue, or even an attraction. (Across all categories, the DK sees close to 3,000 competitors, but the main event, the DK200, has a field limit of 1,100.)
"I think it's great," says 2015 DK200 winner Yuri Hauswald, acknowledging it'll make his own race a lot harder. "What other sport can you ride the same course shoulder to shoulder with a WorldTour rider? That's really cool." The other riders I spoke with were at least cautiously optimistic about the influx of pros. On Twitter, King asked for others' opinions about pros in gravel races, and most, if not all, of the responses were positive.
It's also important to note that the pro presence is an effect, not a cause, of gravel racing's sharp rise in interest. The DK, for instance, is one of the granddads of the sport at just 13 years old. Its first edition, in 2006, had just 34 entrants. Gravel riding and racing is a pretty broad term today, but most similar events that predate the DK, like England's Three Peaks Cyclocross (started in 1961) and Pennsylvania's Iron Cross, were originally conceived as variations on cyclocross—gravel racing by another name.
Heightened interest might make competition fiercer for the DK200's entrance lottery, but it won't make the event bigger.
Today, there are dozens of true gravel races across the country, and top events like the DK200, Barry Roubaix, Rebecca's Private Idaho, and others see 1,000 or more entrants in the main field. (As with the DK, there are often shorter-distance events as well.)
"When you see the coverage that Alison or Ted or Rebecca Rusch receives from winning these events, it's easy to see a team looking at that and wanting to steal some of that thunder," says Nick Legan, author of the book Gravel Cycling and a longtime gravel racer. That's even as the Kanza, at least, has no direct prize purse—instead, it donates significantly to nonprofit causes in the Emporia area.
Heightened interest might make competition fiercer for the DK200's entrance lottery, but it won't make the event bigger. "We are close to the ceiling" for entrants, says co-founder and promoter Jim Cummins. The main factor is simply rural Kansas's capacity—a town of 250 residents serving as a checkpoint can fit only so many support cars, for instance. Cummins also notes that pro entries come from discretionary and sponsor exemptions above the field limit. "Those never come at the expense of entry spots for the average racer," he says.
It's easy to envision that a mass migration of pros could park some changes. The DK, for instance, prizes a level playing field and explicitly supports the WADA anti-doping code, but it doesn't drug test and has no formal association with anti-doping bodies. Cummins says he hasn't yet seen a need, but as the competitive level increases, that could change. And the discussion of team tactics—like leaders drafting a teammate who intends to drop out and can sustain a higher effort for that shorter period, or whether it's fair for male domestiques to work for female teammates—will likely only get sharper. If gravel becomes more of a team sport, it may spur some current top riders to make a choice: join a team, or simply seek out other events where being a privateer isn't a disadvantage.
Cummins notes that even though the rules prohibit things like course-cutting, "We can't have eyes everywhere. We rely on self-policing. You do the right thing because it's the right thing to do." Ultimately, these questions mostly come down to culture. Rebecca Rusch's SHARK acronym (Safe, Honest, Accountable, Responsible, and Kind) is a pretty fair guide to the gravel community's ethos. And so the community has to decide what it wants gravel to be. Because even if the changes at the front of the race don't affect most riders, the discussion about those in context of the sport's culture absolutely does.
If the DK turns you off because it lost its grassroots feel—with a dry chuckle, Cummins notes he's heard accusations of that even before pros began to show up—then there are dozens of small, funky events around the country. Everyone I spoke with had questions, and even concerns, about how road pros would change the sport, but they also felt that pros could become part of the fabric of it, absorbed in its vibe rather than harshing it. The heart of gravel racing is the personal challenge and shared experience, which runs through events of all sizes. Whether you're a pro or pack fodder, Tetrick says, "We did the same race, and we can have a beer afterwards or eat pizza or doughnuts and share our stories about the day, and we really connect."
As long as pro roadies embrace that and the foundation doesn't change? Gravel racing will be just fine.
Lead Photo: Wil Matthews