Omata One Analog Speedometer
Meet the world's first GPS-enabled analog cycling computer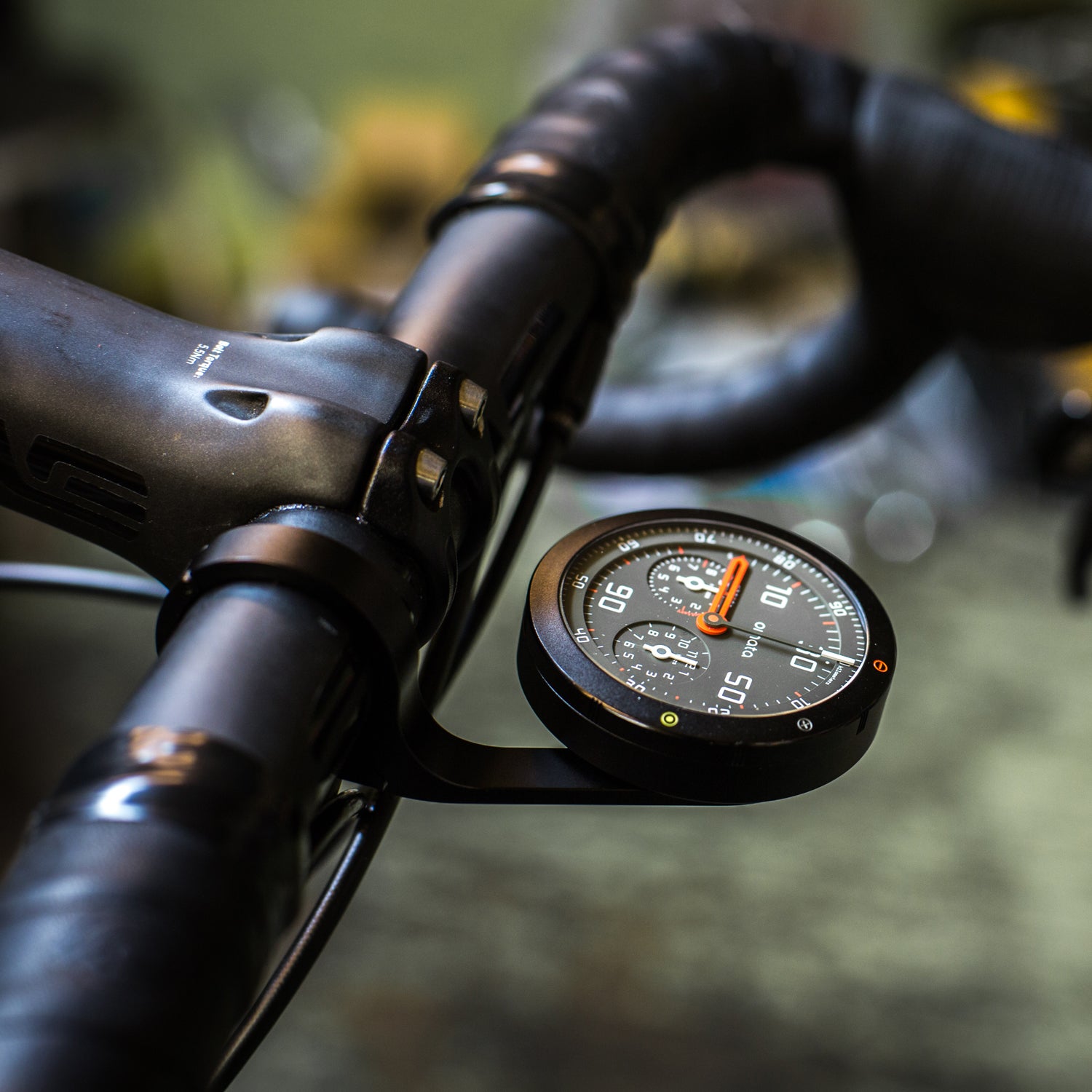 Heading out the door? Read this article on the new Outside+ app available now on iOS devices for members! Download the app.
Spin a few miles with any crew of roadies and you'll no doubt hear plenty of talk about data. Cycling computers are capable of measuring everything from power output and heart rate to calories burned and cadence, and they're cheaper and more ubiquitous than ever.  
But even as our rides get more wired, a Los Angeles–based company wants to go analog. Last week, Omata released the world's first GPS-enabled bike computer that displays speed, distance, vert, and time on a classic analog face. 
"Our belief in modern analog comes from a very strong position that technology can be great, but current design sensibilities make it such that it demands more of our attention than is often appropriate, or even necessary," says Rhys Newman, co-founder and CEO of Omata. "Oftentimes, technology distracts from the experiences right in front of us."
Newman and Julian Bleecker, fellow co-founder and company CTO, are both passionate roadies who set out to design an instrument that would rival its competitors in terms of precision—while being much prettier. 
The Omata One is built around a GPS sensor that tracks and records all the metrics. "Our R&D team are all ex-Nokia engineers with world-class expertise in precisely the technologies we are using," says Bleecker. 
Once the GPS data is captured, it's converted to an analog readout. Here, the Omata design team went custom. Bleecker collaborated with the renowned machinists at Japan's Seiko Precision, known for its watches, to create a unique mechanism for job. 
The Seiko mechanism translates the data into a series of analog dial readouts. "We have done everything we can to base design decisions on performance, legibility, robustness, and quality," says Newman. "There are no purely aesthetic choices made simply for the sake of aesthetics." 
Every design detail, from dial proportions to fonts, was chosen with "glanceability" in mind—the idea that when you're maxing out on a descent, a quick look at your instrument tells you everything you need to know as quickly as possible.
"We are very aware that for some people, things like power, cadence, and heart rate are important. They are for us when we're training for a race," explains Newman. "That's why we've engineered ANT+ and BTLE into our product, so that in the future we could create a training edition." It's also part of why Omata brought in highly decorated Swiss rider Fabian Cancellara as an ambassador and product adviser. 
After the ride, users can port data into apps like Strava via the device's USB-C port. An in-house app is in development for even easier syncing with third-party platforms, but for now, Omata is focused on its hardware.
Omata One is currently funding on Kickstarter, where the early backer price is set at $499; MSRP is estimated at $599.
Lead Photo: Brian Vernor/Courtesy of Omata