The Orbea Gain Is the Future of E-Bikes
Basque bike manufacturer Orbea could show the way forward for the pedal-assist market with its new e-roadie, the Gain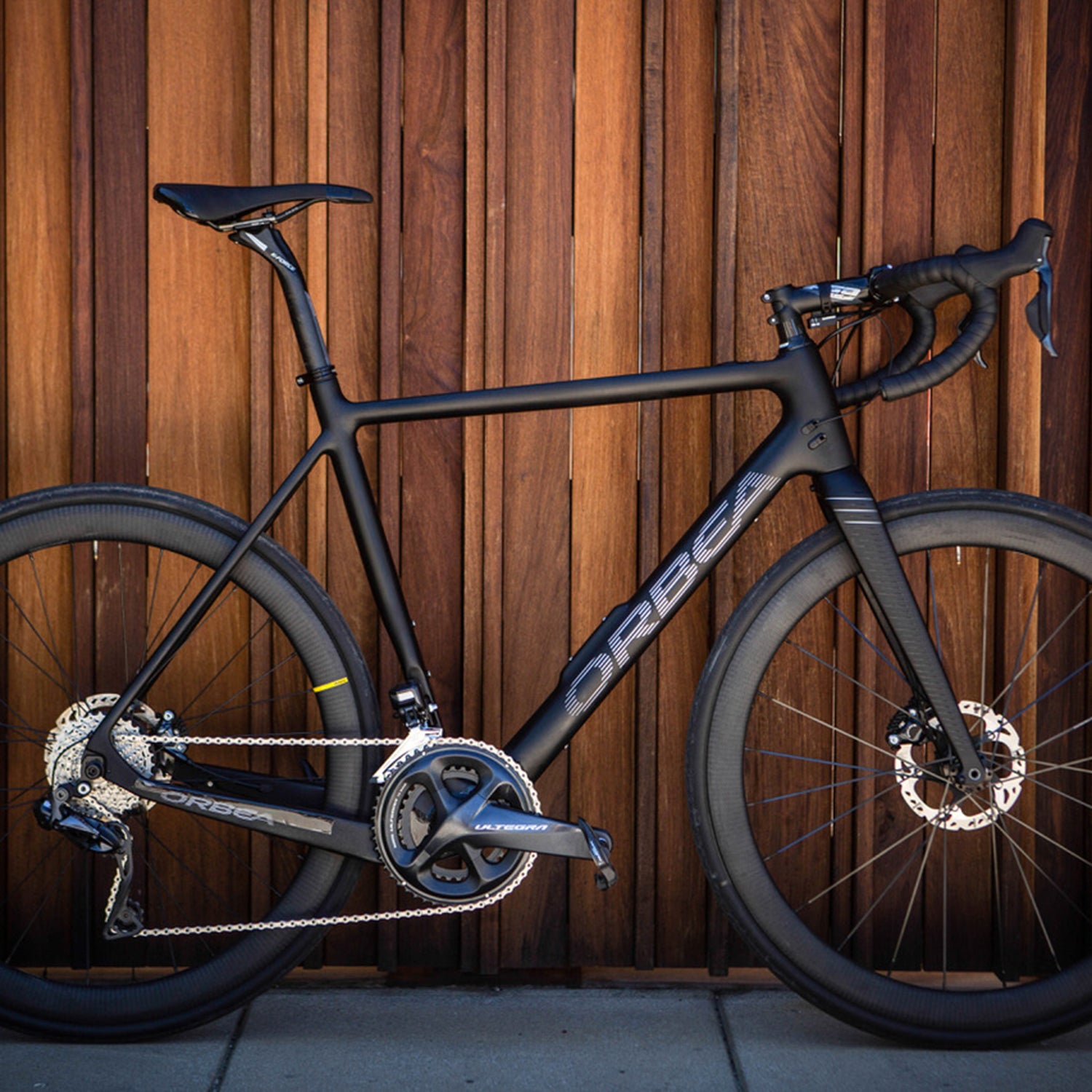 Courtesy Orbea(Photo)
Heading out the door? Read this article on the new Outside+ app available now on iOS devices for members! Download the app.
Electric bikes have become one of the most contentious subjects in cycling in recent years. Many cyclists resist the spread of e-bikes, concerned that they could cause conflict with other trail users and lead to closures, as well as fears that motors on bikes could fuel the growing crisis over inactivity.
Despite those reservations, the industry has thrown its weight behind pedal-assist bikes, and rightly so, as demand is booming. In 2017, the U.S. market grew to 263,000 units, a 25 percent gain from the previous year. Some estimate global sales could increase by as much as 60 percent in the next seven years.
The growth of the e-bike market came into clear focus at Impact Sun Valley, a conference last month in Idaho exploring developing technologies in pedal-assist bikes and the range of issues they present. For three days, a group of industry veterans, advocates, influencers, and journalists (including myself) descended on Ketchum to look at the latest products, discuss how land-use conflicts between e-bikers and other users can be mitigated, and ride some of the newest bikes on the market.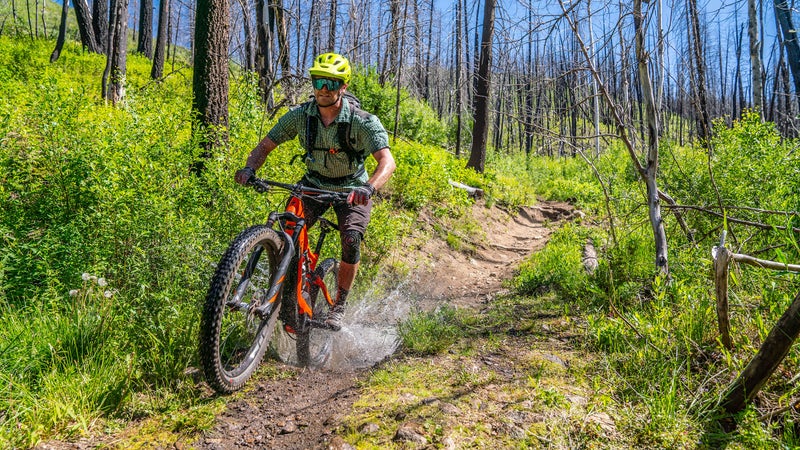 Compared with some of the early iterations I've tried, which felt as clunky and ponderous as Sherman tanks, today's models are lighter and nimbler, have improved ranges, and feel more and more like everyday bicycles. On the dirt side, we rode the new BMC Trailfox AMP (from $7,500), a 27.5+ model with 150 millimeters of travel running on the Shimano STEPS E-8000 drive unit. We also tried the second generation of the Specialized Turbo Levo FSR 6Fattie (from $4,600), which is mostly unchanged from the debut except for an improved Brose motor with a claimed 15 percent increase in power and efficiency, as well as a higher-volume battery for 25 percent more range. Both of these bikes are startlingly capable, and the ride quality resembles their analog counterparts more than ever. But they feel more evolutionary than revolutionary.
The bike that truly stood out was the Orbea Gain Carbon (from $4,400), which the Basque manufacturer launched in Idaho. Thanks to a small hub-drive motor and a battery that's completely concealed in the down tube, the Gain Carbon is pretty much unidentifiable as an e-bike. You charge via a tiny port in the bottom bracket and toggle among four power settings—no assist, eco (about 100 extra watts), sport (around 150), and boost (200-ish)—using an LED button on the top tube behind the stem. That's a far smaller assist than many current e-bikes deliver, which means the motor is a true aid, akin to a tailwind, as opposed to the kind of powerhouse of sudden bursts common on more powerful bikes.
The M20i model that I rode matched the carbon frame to an Ultegra Di2 group set, including hydraulic disc brakes, carbon cockpit bits from FSA, and Mavic Cosmic Pro Carbon wheels with 28c tires—all the parts you'd expect on a high-end road bike. Orbea claims the bike will get up to 60 miles on a charge, depending on the power setting and terrain, but I spent half my test ride with the motor off and was pleased that it didn't feel too heavy and overwhelming, as most e-bikes do without juice. (It weighs 24.9 pounds, which is close to performance weight.)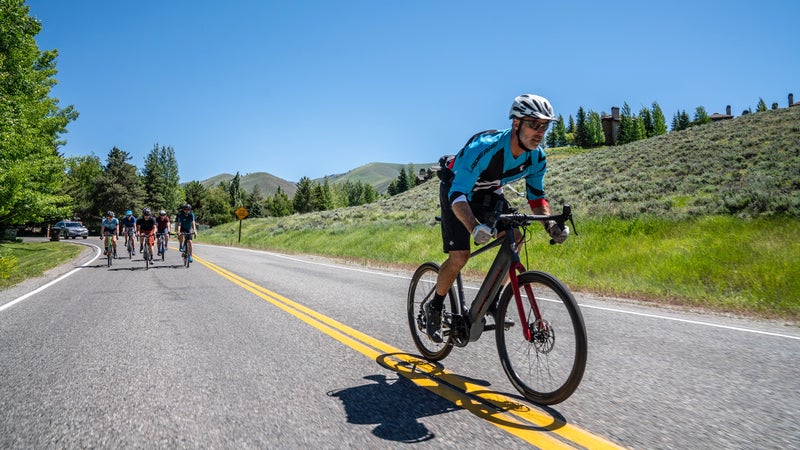 In my opinion, this makes the Gain the most cutting-edge concept in e-bikes right now: it's the closest thing I've seen to a single bike that can be ridden enjoyably with or without electric assist. While much e-bike development has become an arms race, with manufacturers chasing bigger, faster, more powerful machines, Orbea's work toward lighter, smaller, and more inconspicuous e-bikes—in terms of both looks and assistance—is a model more companies should pursue. By becoming less conspicuous, more refined, and easier for the layman to handle, bikes like this could help shake the stigma surrounding pedal-assist and increase its appeal to more people than ever.
Of course, models like the Gain, as well as the soon-to-be-released Focus Paralane and Bianchi Aria e-Road bike, are like gasoline on the fire for some roadies, who disapprove of pedal-assist in performance machines. There are fears that such bikes will lead to a rise in motorized doping, though I suspect at least part of the objection also has to do with egos and the fear of getting beat.
I think those objections are misguided. As long as people aren't trying to cheat in competition, cyclists should be able to benefit from the technology if they want to, no matter whether they ride road or trails. And even for dedicated cyclists, e-bikes have tangible benefits. In Ketchum, I covered a ten-mile loop with 1,700 feet of elevation in a little over half the time it took me previously on an unassisted bike. I still pedaled hard the whole way, maxed my heart rate, and was pretty wiped at the finish. The promise of quicker workouts—or better ones because the e-assist lets you get to more choice terrain quicker—is one that many won't ignore. For me that day, the faster ride simply meant I could squeeze in another lap and really cement the burn in my legs.
I'm not arguing there aren't potential downsides to the growth of e-biking in the U.S. At the conference, as I watched once devout e-bike naysayers get excited about the new pedal-assist whips, I realized that because e-bikes are becoming so much fun to ride, the day could soon arrive when they completely supplant pedal bikes, much the way digital cameras have made film virtually obsolete. The sheer ease and pleasure of pedal-assist bikes make them hard to resist, and despite a recent study showing that you can get just as fit on an e-bike as on a non-electric, I'd hate to see our society's addiction to convenience turn people away from the physical rewards of human-powered pedaling.
For the moment, there's still plenty to sort through: categorizing the bikes to define where they can be ridden; how the categories hold up as technologies change; rule enforcement, including what to do if riders take e-bikes on non-motorized trails; and response from other user groups, such as motorcyclists. "To me, we have a piece of technology that can get more people out there and enjoying our public lands, and that's good," says John Kurtz, the outdoor recreation planner for the BLM in the Ketchum area. "But there are a lot of considerations."
Those issues will eventually be resolved, and, like it or not, e-bikes will be part of the market moving forward. We can't make them go away any more than we can turn our backs on electric cars or digital cameras. And we should be glad about that, especially with new concepts such as the Gain, which have the potential to maximize the technology while still easing the transition and conflicts over adoption. Pedal-assist technology will get more of the population out on bikes—road, gravel, mountain, commuter or otherwise—and that means healthier people, fewer cars on the road, and a bigger constituency to fight for our rights as cyclists. Who cares if some of those people ride on e-bikes and others don't?
Lead Photo: Courtesy Orbea