A Taste of Italian Cycling Comes to California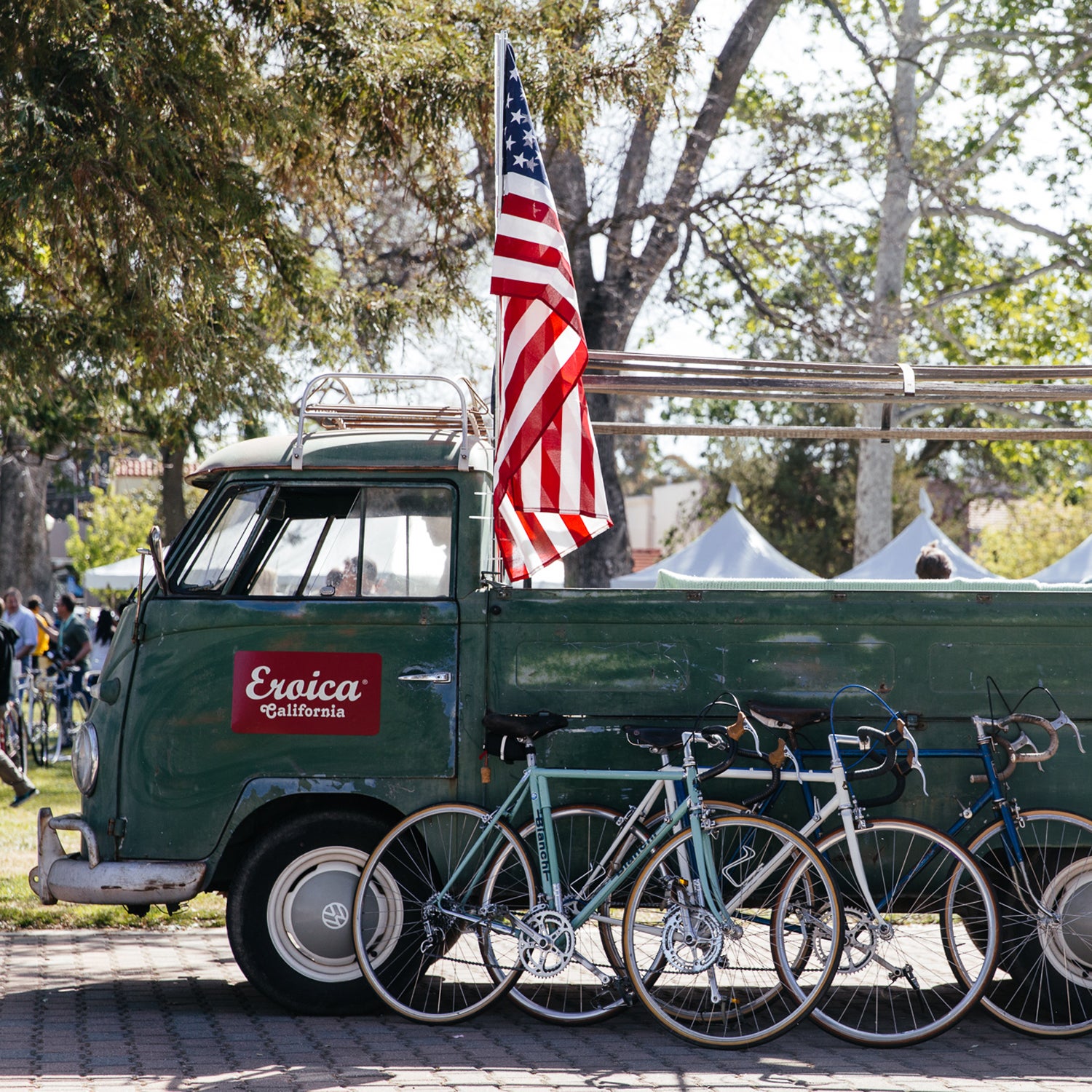 Heading out the door? Read this article on the new Outside+ app available now on iOS devices for members! Download the app.
Each year, in the rolling hills and strade bianche of Tuscany, thousands of riders set out to conquer challenging climbs and tricky descents on pre-1987 equipment (drop-tube shifters, non-aero brake hoods, toe cages).
L'Eroica is intended to be a celebration of the "golden age" of Italian cycling, when stalwart riders tested the outer bounds of suffering, when races, rather than the carefully micromanaged affairs of today, were unpredictable quests of individual tribulation.
Two years ago, I rode that course. This year, the event came, for the first time, to California. Here they drop the 'L' and call it, simply: Eroica. I wasn't going to miss it.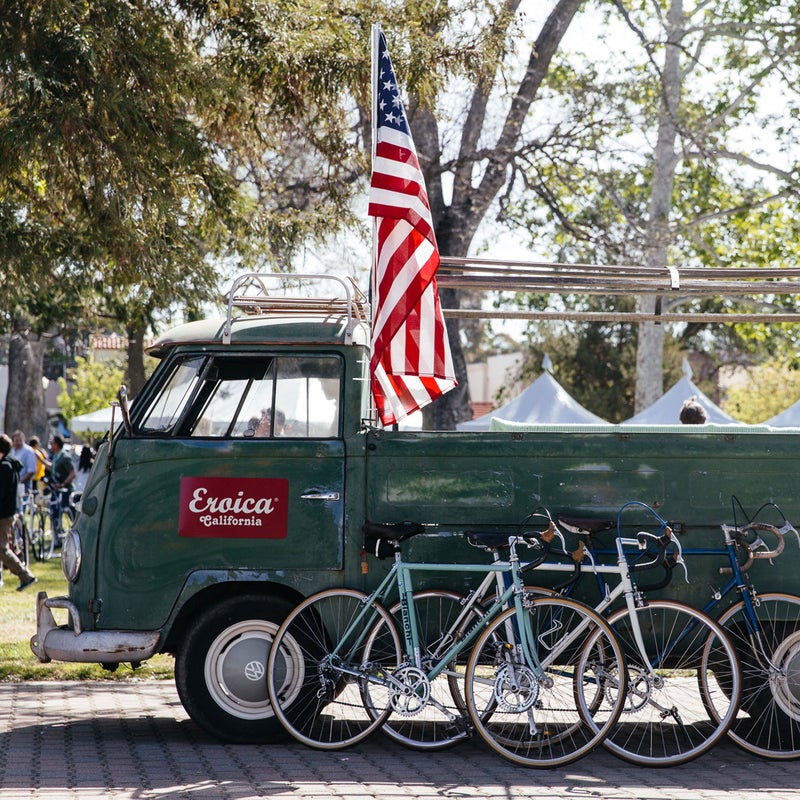 ---
As much as for the ride itself, people come for the wider sense of pageantry, like the contest for best vintage bike. On Saturday afternoon, in a park in the center of Paso Robles, where the ride would begin and end, scores of seminal rides were on display, each accompanied by lovingly assembled historical documentation. People crouched down to ogle chainstays and dropouts. Conversational openers were on the order of: "Check out the brazing on those lugs." An announcer tested attendees with trivia questions like: "What's the first name of the builder of De Rosa bikes?" (It's Ugo).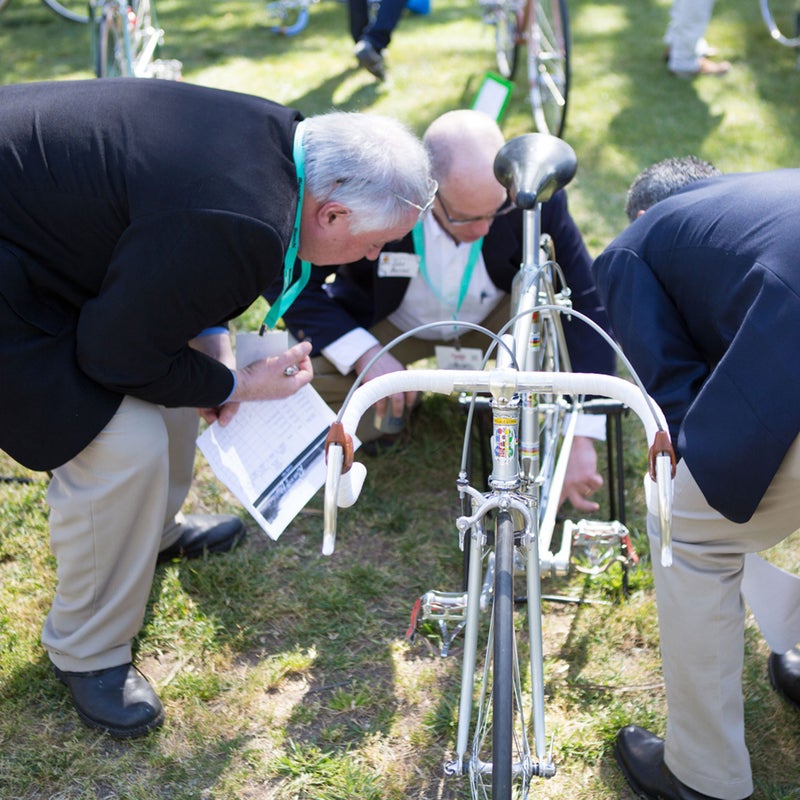 ---
Full period costume is generally welcomed, in addition to the required period equipment. As I overhead a spectator note, "It's kind of like a Civil War reenactment." Wool is embraced, spandex is suspect. Garmins, if carried, are kept hidden out of sight.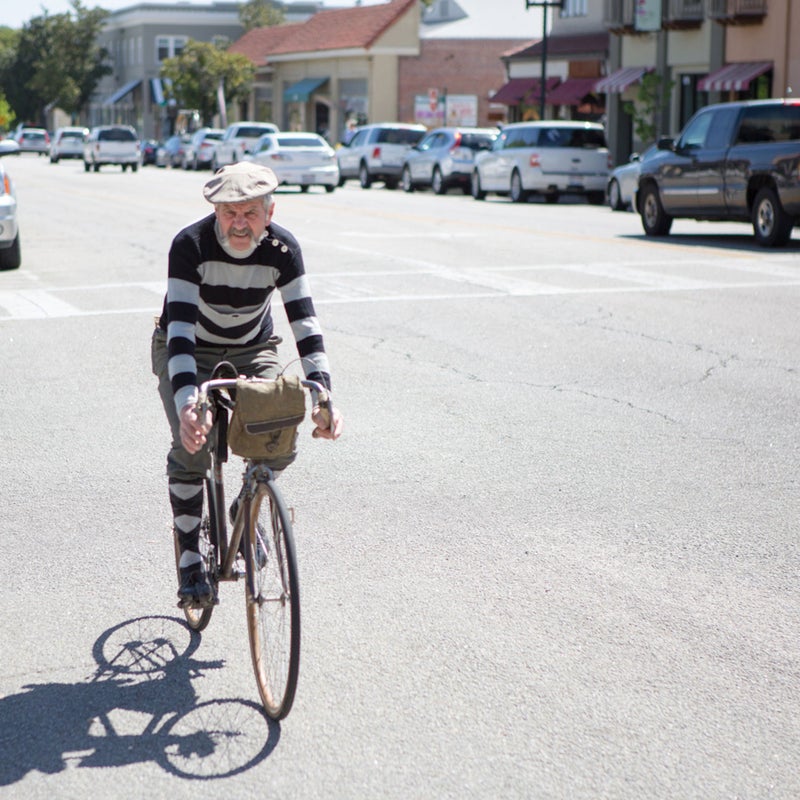 ---
L'Eroica was founded in 1997 by Giancarlo Brocci, an Italian doctor-cum-journalist enamored of the mythos of riders like Gino Bartali and Fausti Coppi. It was not meant to be competitive per se. Indeed, the only competition, noted Brocci, was for "best outfit." These days, the event is sponsored by Brooks, which began making saddles in the late 19th century and whose product adorned many bikes at the California ride.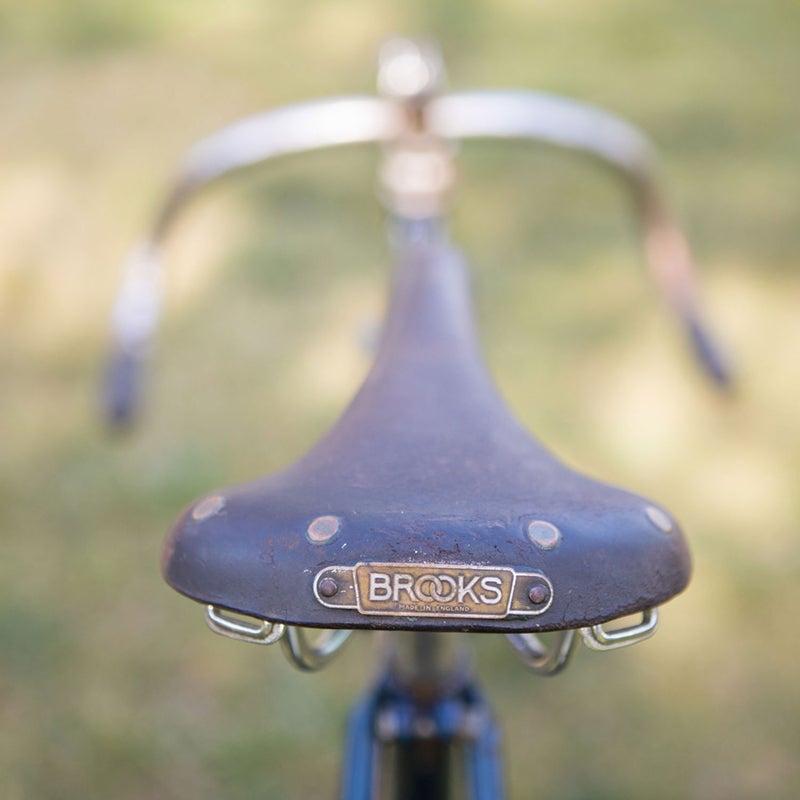 ---
For lazy journalists like me, who don't ride a pre-1987 bike every day and never get around to buying one, just getting to Eroica is bit of a scramble, a last-dash quest to find a bike that will more or less fit (and never quite does). I borrowed a friend's Diamond Jubilee-edition Bob Jackson, special lugs, and 753 tubing. The paint job, by Joe Bell, may have been worth more than the bike itself. I thought back to my downhill gravel crash in Italy and tried to envision what that would do the pearlescent white finish. I felt like I was riding on eggshells.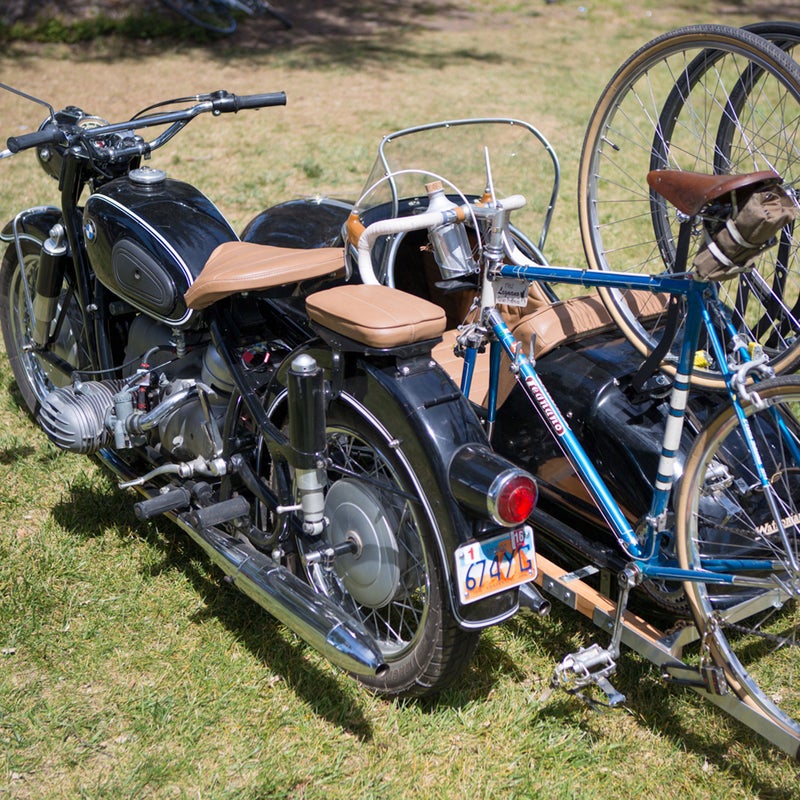 ---
The conditions were perfect as we pushed off Sunday morning (only the Californians thought it was particularly chilly). With 130 miles and some 9,000 feet of climbing, much of it on gravel, sensible pacing was key. This included not lingering too long over the wine, olive oil, and other refreshments lavishly arrayed at the rest stations.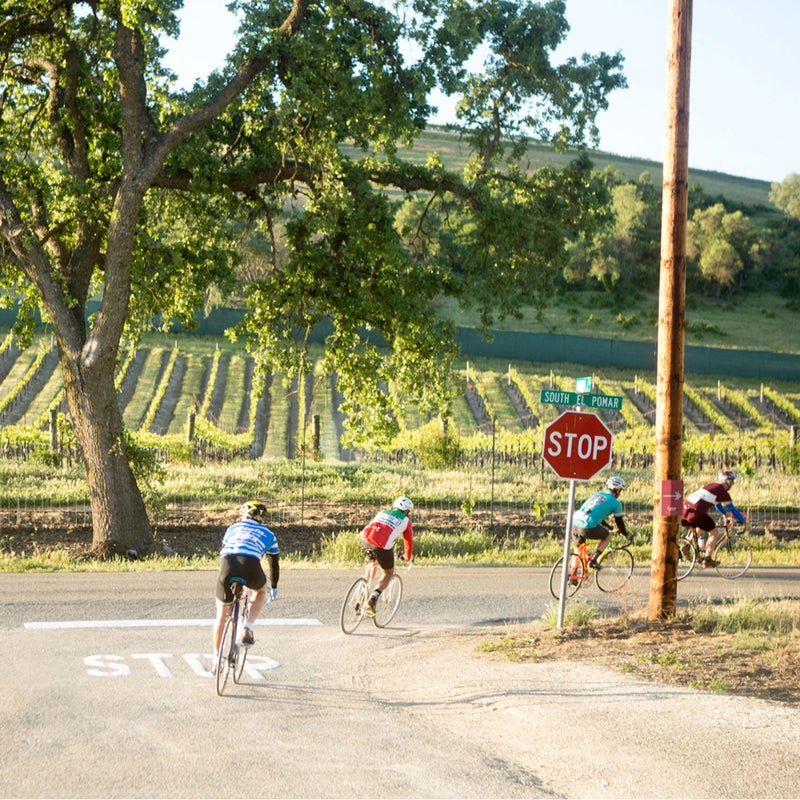 ---
Older equipment and rutted gravel roads mean one thing: mechanicals. Punctures are as a common a site at Eroica as Vittoria shoes and Campy drivetrains. My borrowed bike had ancient, though well-preserved, tubulars. When I sheepishly confessed to my friend I didn't really know how to change tubulars, and worried about being stranded alone on some back road near dusk, he said "That's the spirit of L'Eroica."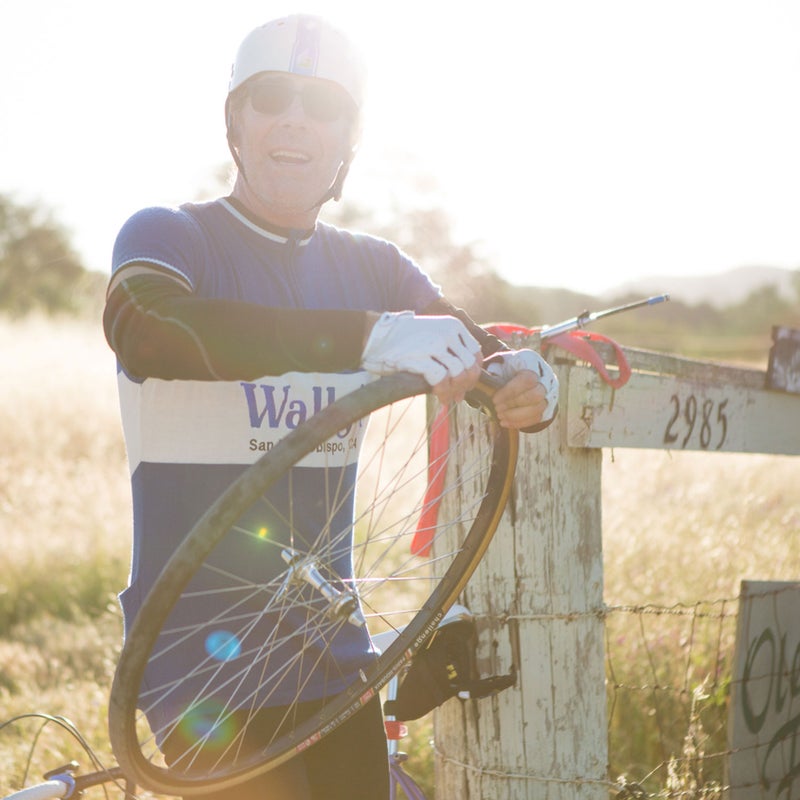 ---
Helmets are a tricky detail at Eroica. Most riders didn't wear them then, and many didn't now. Some go for the most retro-looking modern helmet, while some, through some flea-market serendipity, acquire rare vintage contrivances.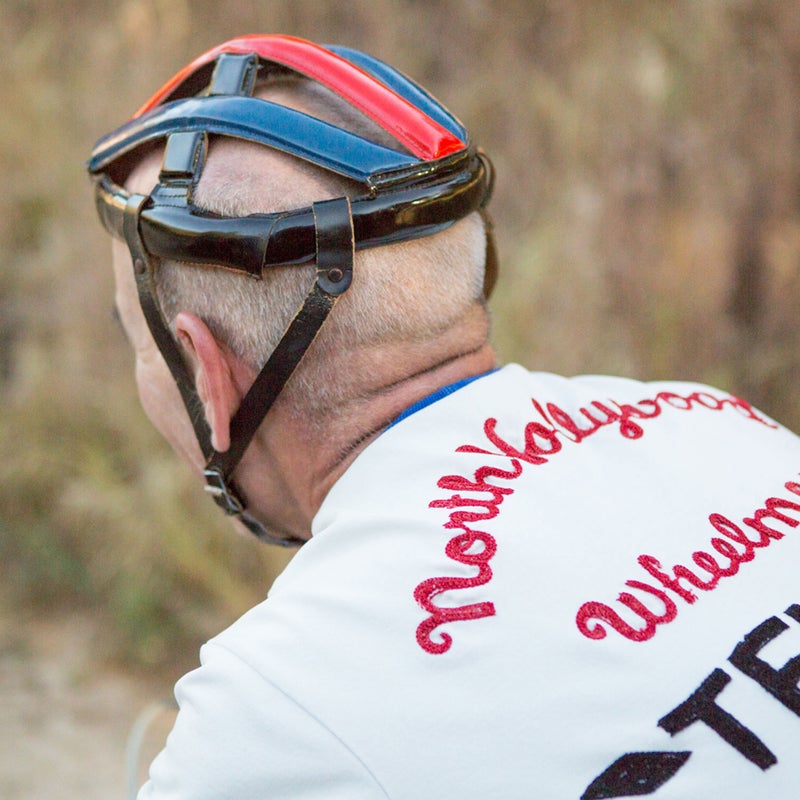 ---
Paso Robles is known for wine and for horses, and the course snaked through an eerily Tuscan-looking landscape of vineyards and ranches. In Italy, L'Eroica was in part founded as an attempt to save the famous gravel "white roads," many of which were being converted to pavement.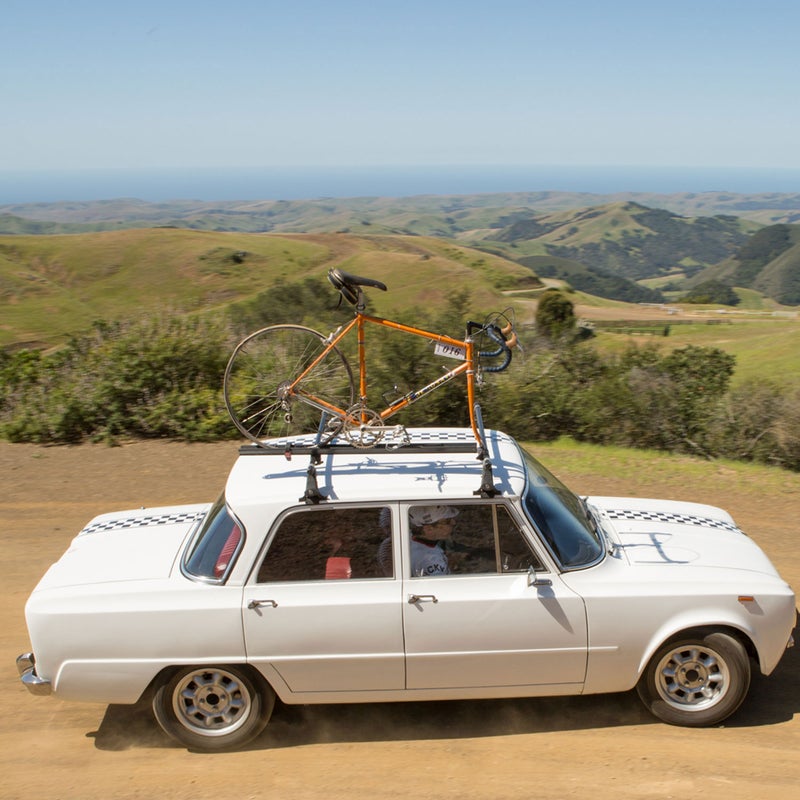 ---
Bonus style points for vintage bidons with corks.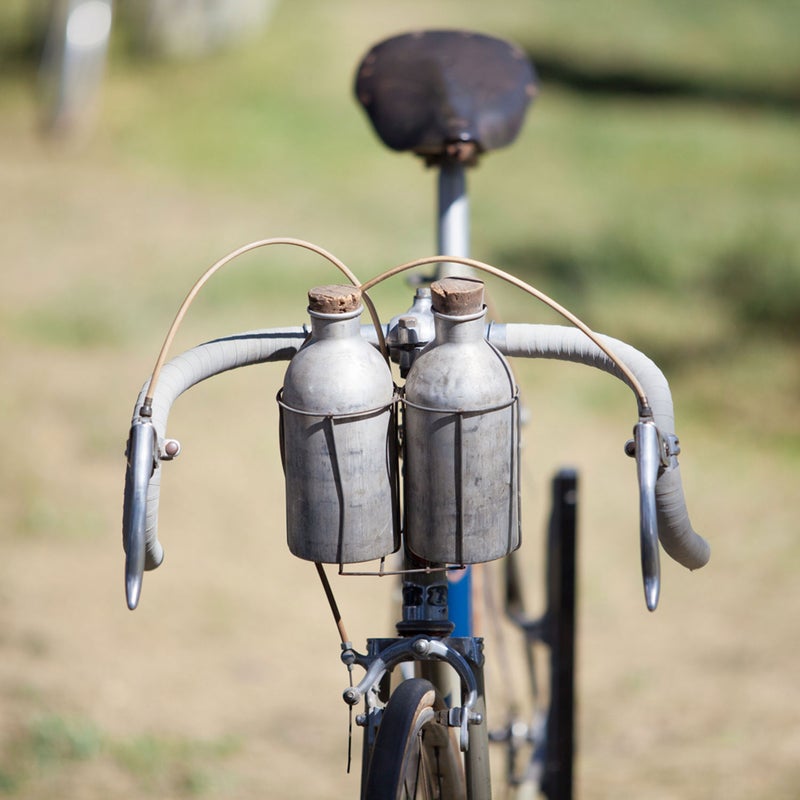 ---
It's all about the bike. Except when it's also about the car.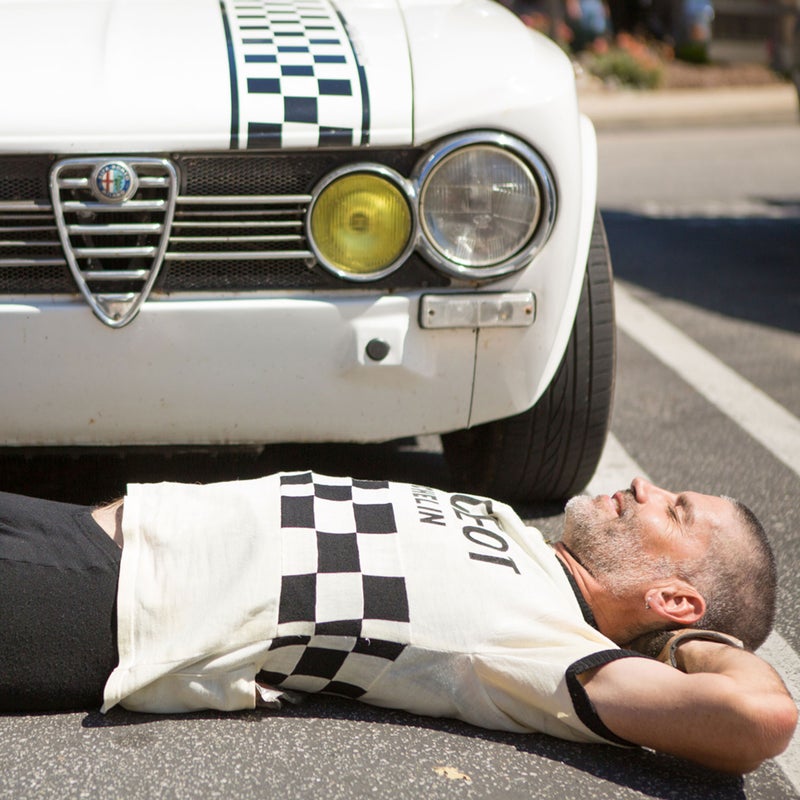 ---
More than a race, Eroica is like one long, rolling social outing. New friends are made, bike builds are observed and commented upon, alliances made at mile 30 are long gone at mile 110, replaced by some other group of compatriots to share the hardships. I climbed the hill with a pediatric anesthesiologist, descended with the founder of a bike clothing company.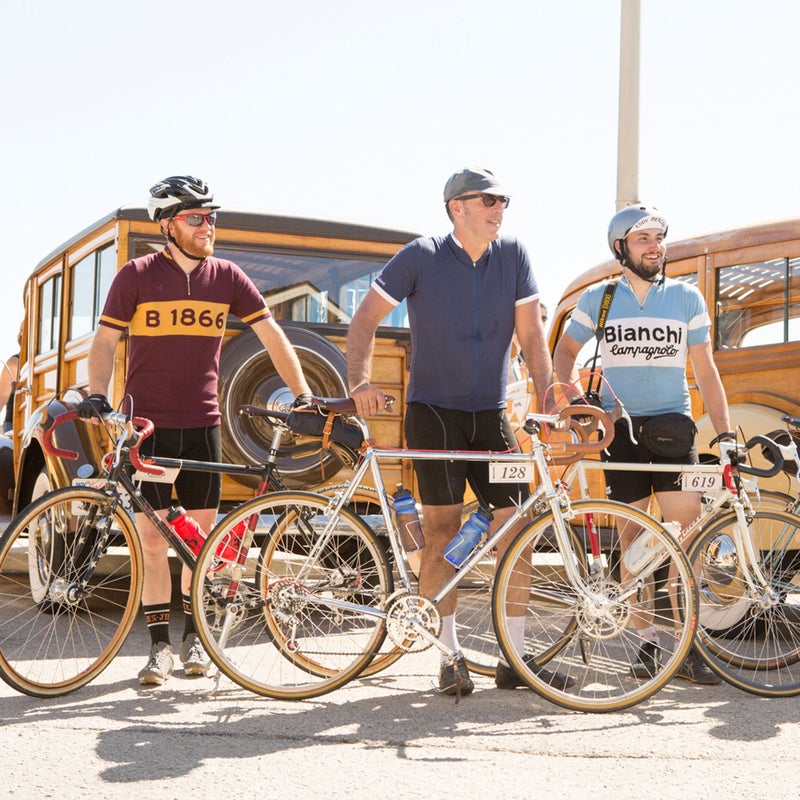 ---
The Italian L'Eroica finishes in the town of Giaole in Chianti. The mayor of Giaole was actually present in Paso Robles, to attend the event and sign a "sister city" pact between the two cities. In Chianti, you get a bottle of wine at the finish. In Paso, it was a bottle of olive oil (and a cold can of Tecate).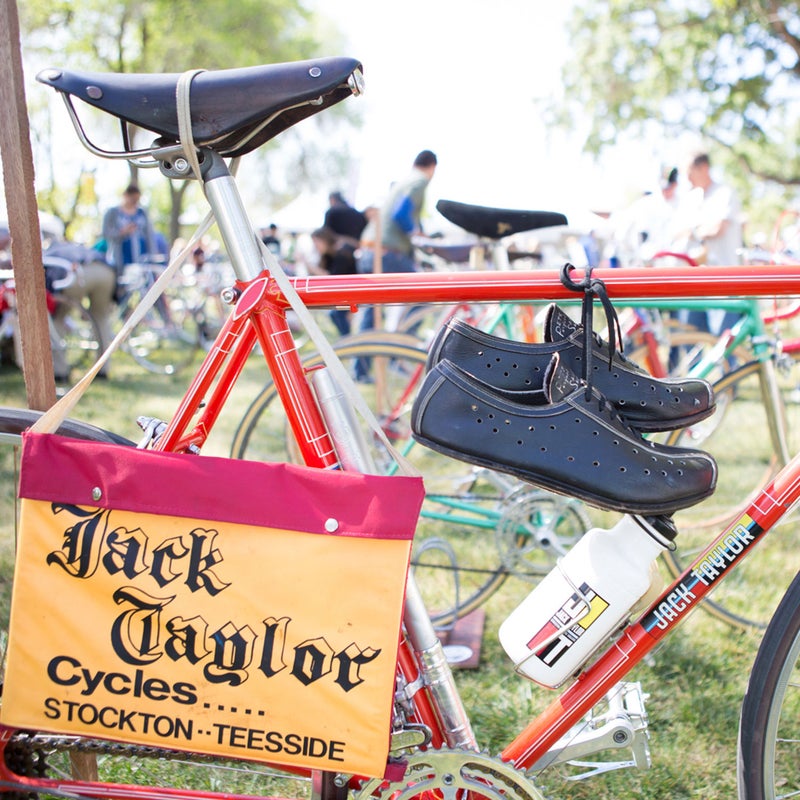 ---
The morning's first serious gravel ascent, through picture perfect rows of grapevines, found me struggling to stay in gear. Combined with toe cages that were too small for my feet, I had trouble staying in the pedals. Remounting on a gravel ascent, I would learn more than once, is heroic in itself. Until I got the problem sorted out by a mechanic at a rest stop (thanks, Art's Cyclery!), I was in the unfortunate position of escorting my bike up the hill on foot.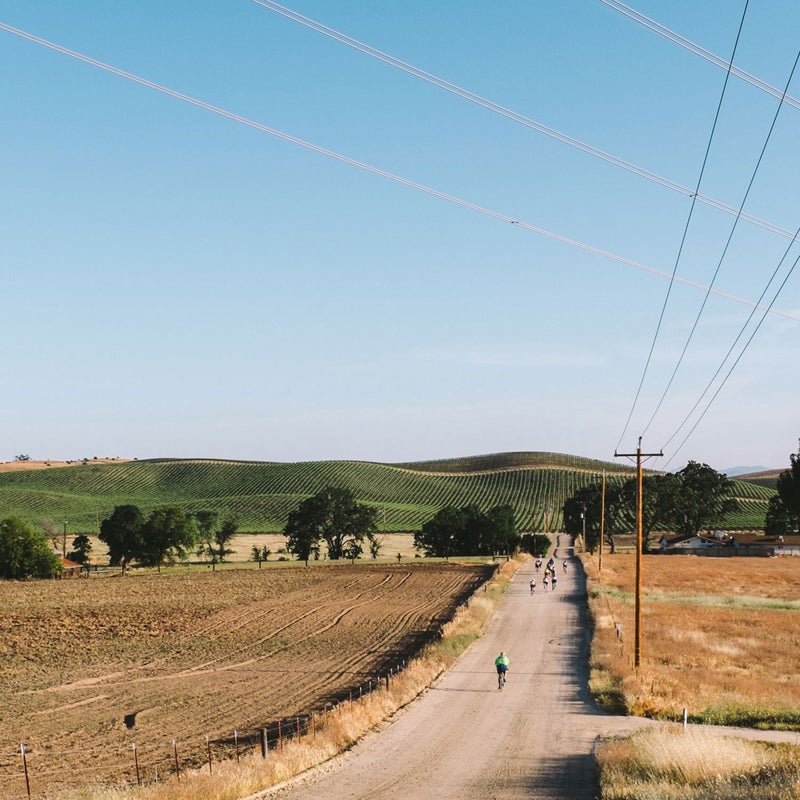 ---
Like a mirage, this Pacific gopher snake shimmered, unbelievably, on the road ahead. It was real, and alive, somehow, as a mini-peloton whisked past (snakes, along with deer and squirrels, must surely rank near the top of a list of "animals most likely to cause harm to a cyclist"). It provided a handy excuse for a moment's respite in the shade.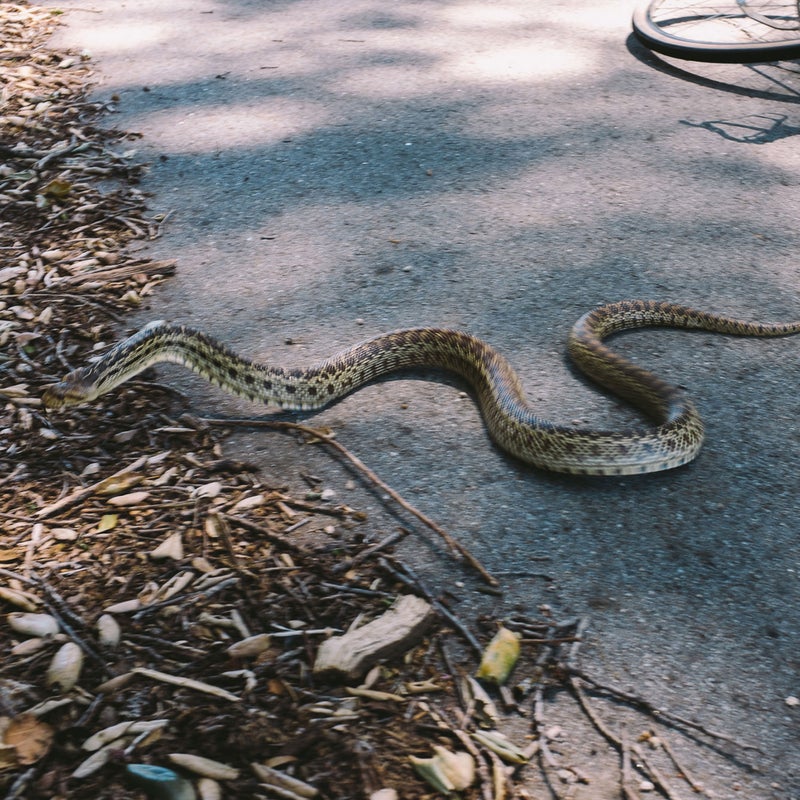 ---
At the top of a long, mostly gravel, ascent, roughly halfway through the ride, we were rewarded with panoramic views and a cooler of cold Cokes. There are probably better, more scientifically engineered mid-ride recovery drinks, but to my mind, nothing quite so dances on the tongue, so helps flicker the heat-and-vibration-addled brain back to life, than the trusty trifecta (sugar, caffeine, carbonation) of Coke.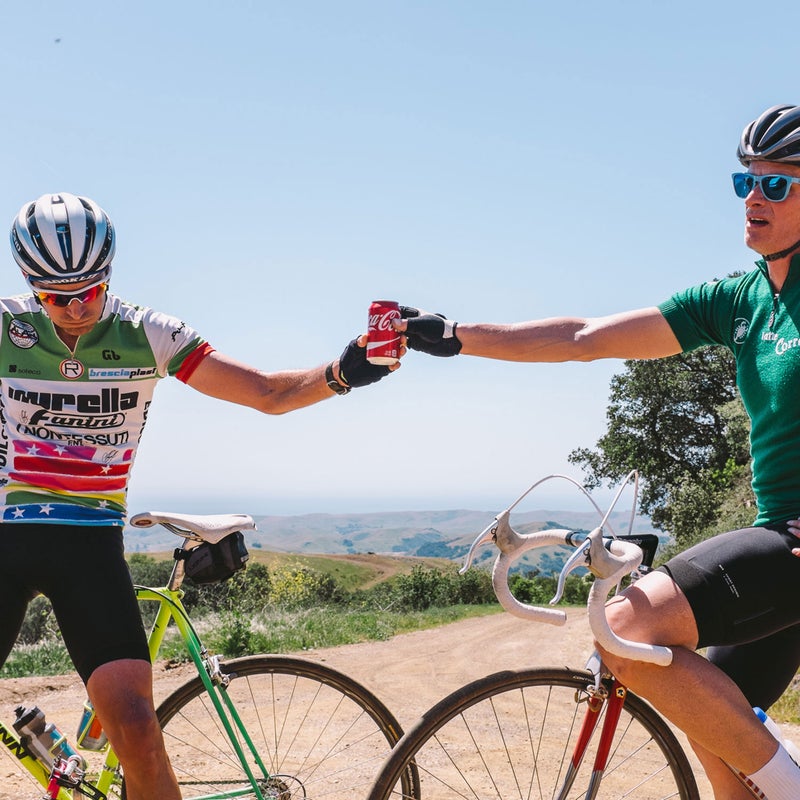 ---
Climbing on gravel is pure physical exertion. There is no skill required, simply a brute determination to keep turning the pedals over, no matter how slowly. Descending on patchy, pothole-ridden asphalt roads, however, is another matter. This is a purely mental exercise. How fast can I take that corner? Are there potholes in that pool of shade cast by that tree? How much loose gravel has collected on this curve? Ascending tests what is physically possible of you, descending tests what is physically possible of the bike.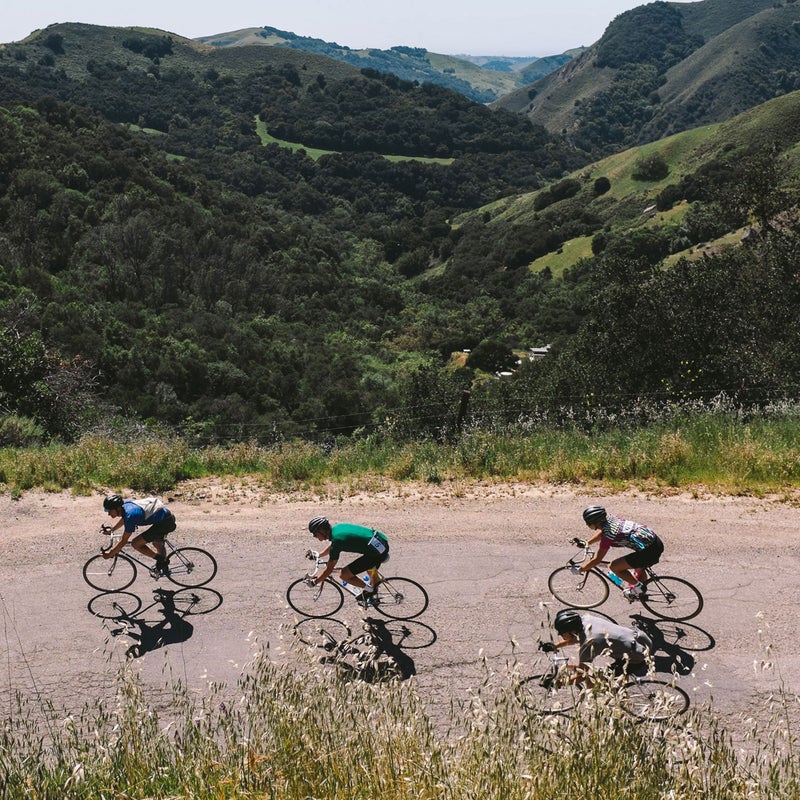 ---
No two words bring more excitement at the beginning of the ride; no two words are more dreaded at the end. Riding in gravel unleashes an inner demon in some, while turning others into quavering wrecks. Where asphalt tends to be binary (it's either wet or dry), gravel presents a more analogue spectrum—it can be hard and unyielding, soft and slippery, or anywhere in between. There is the always the counterintuitive lesson at the back of the head: Relax your grip on the bars.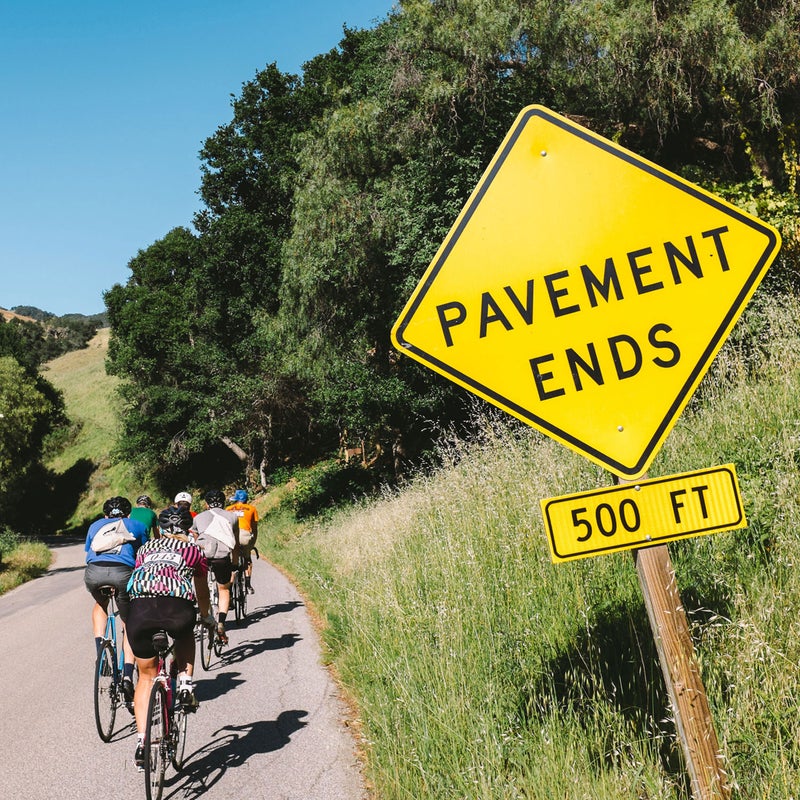 ---
One Eroica staple are the rest stops. Rather than exotic drink mixes and strange energy gels, "real" food—everything from ribbolita stew to figs and cheese—is on the menu. California put its own twist on things, with breakfast burritos, smoothies, and pizza.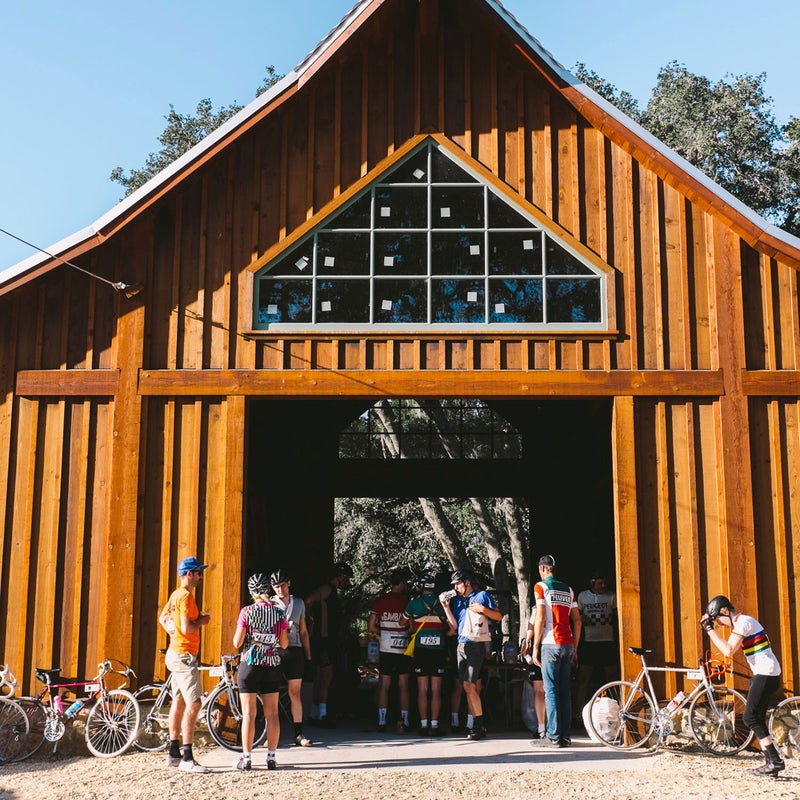 ---
Many of the riders I rode with admitted that the bikes they were on were older than they were. But even I, having grown up with down-tube shifting, kept feeling my fingers twitch, like phantom limbs, for the shifters near the brake hoods. Muscle memory dies hard.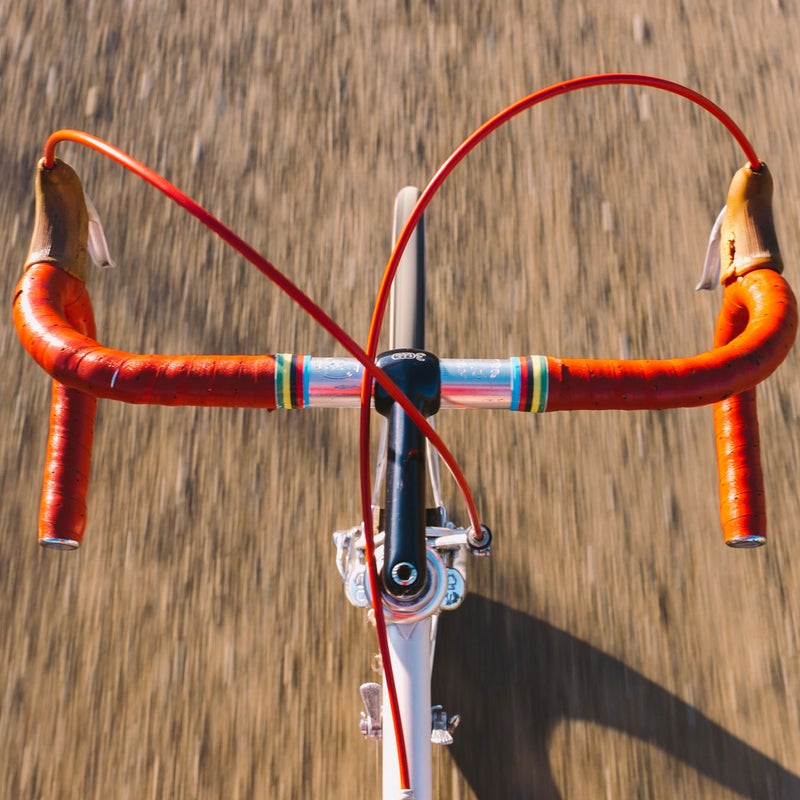 ---
When things got really desperate out on the road, I would find myself chanting mantras like, "WWEMD?" (What would Eddy Mercx do?). Singing Johnny Cash "Hurt" also helped ("I focus on the pain/The only thing that's real"). One friend told me that on the drive home afterward, his hamstrings were twitching so hard he had to use cruise control the whole way.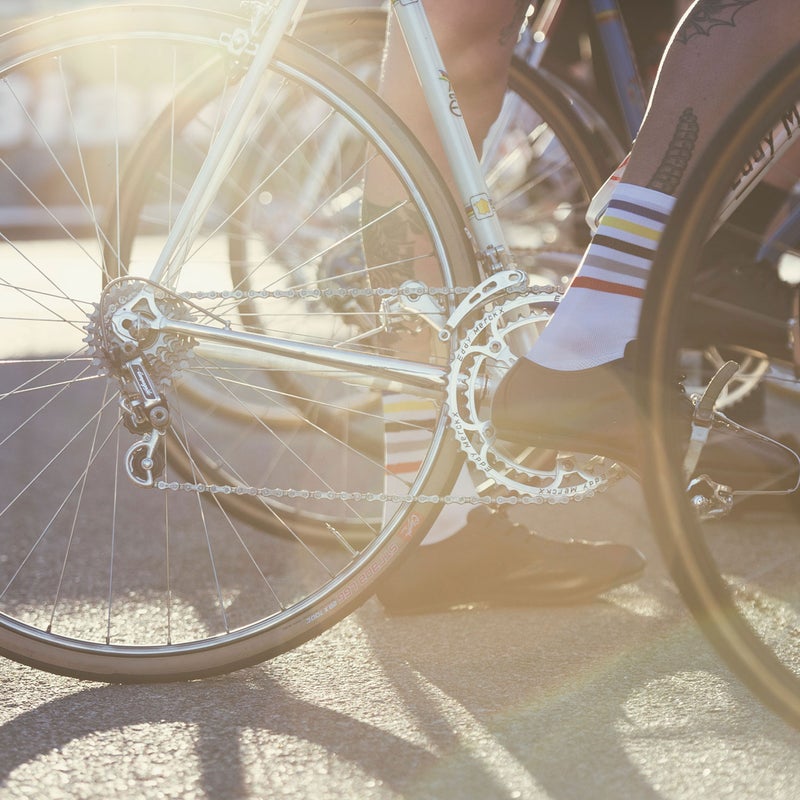 ---
A fine choice for thousand-yard stares down dusty gravel roads.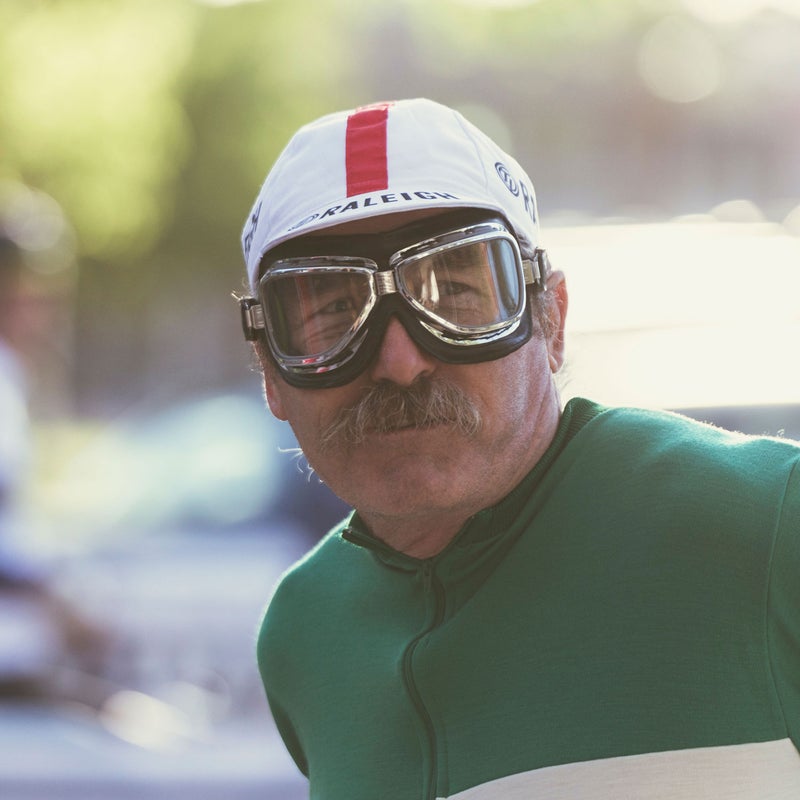 ---
L'Eroica is one of the few bike events where you'll see octogenarians freely mixing it up with twentysomethings.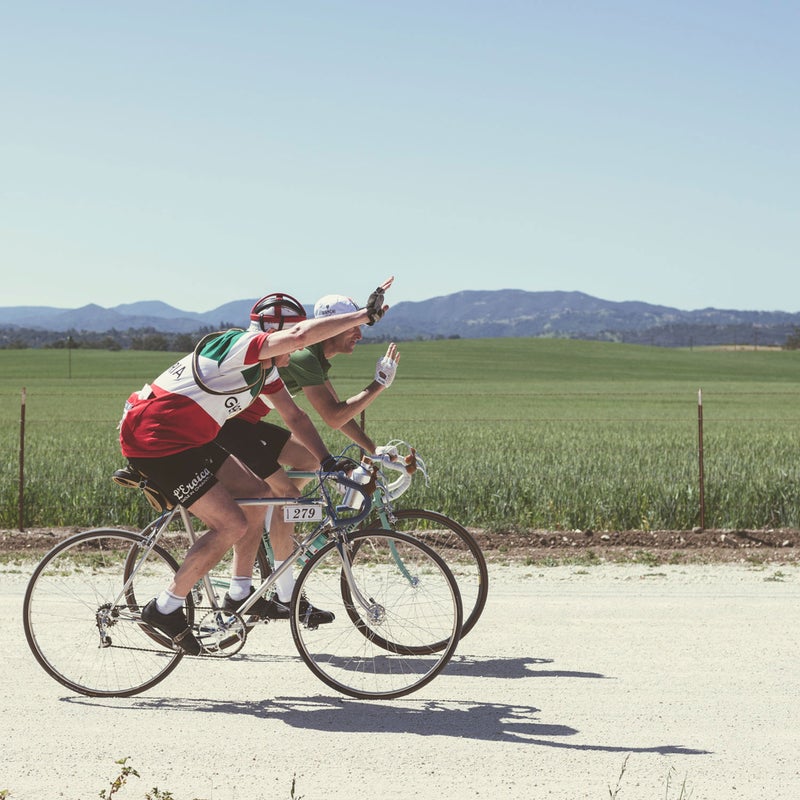 ---
By the end, I felt as battle-scarred as this fellow's bike. In a haze, I tried to play back all the sun-dappled vineyard climbs, all the exotic bikes and their fastidiously festooned riders, all the small dramas. The windblown coastal sweep down into Cayucos. The successive false plateaus of Kiler Canyon. The 7 a.m. glass of wine at Cass Winery. By the grace of God, and Continental, my tubulars held. We rolled through the finishing arch in Paso Robles like heroes, if only to ourselves and each other.
Next up: Eroica Brittania. Anyone got a spare bike?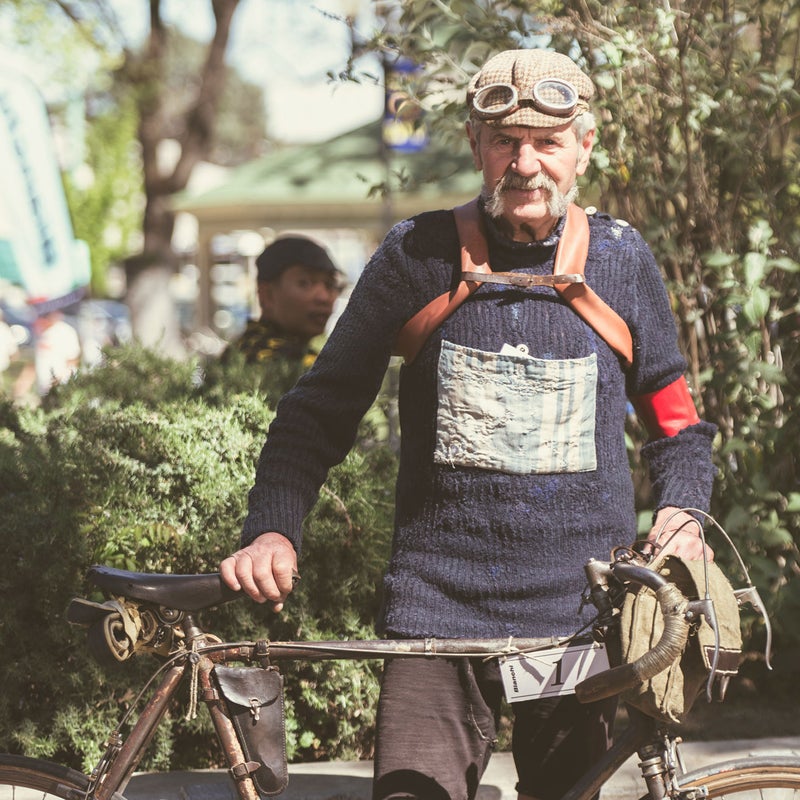 Trending on Outside Online