Viathon Is Walmart's New High-End Bike Brand
The big-box retailer is trying to cater to cycling enthusiasts with a line of three new carbon rides. Will people buy them?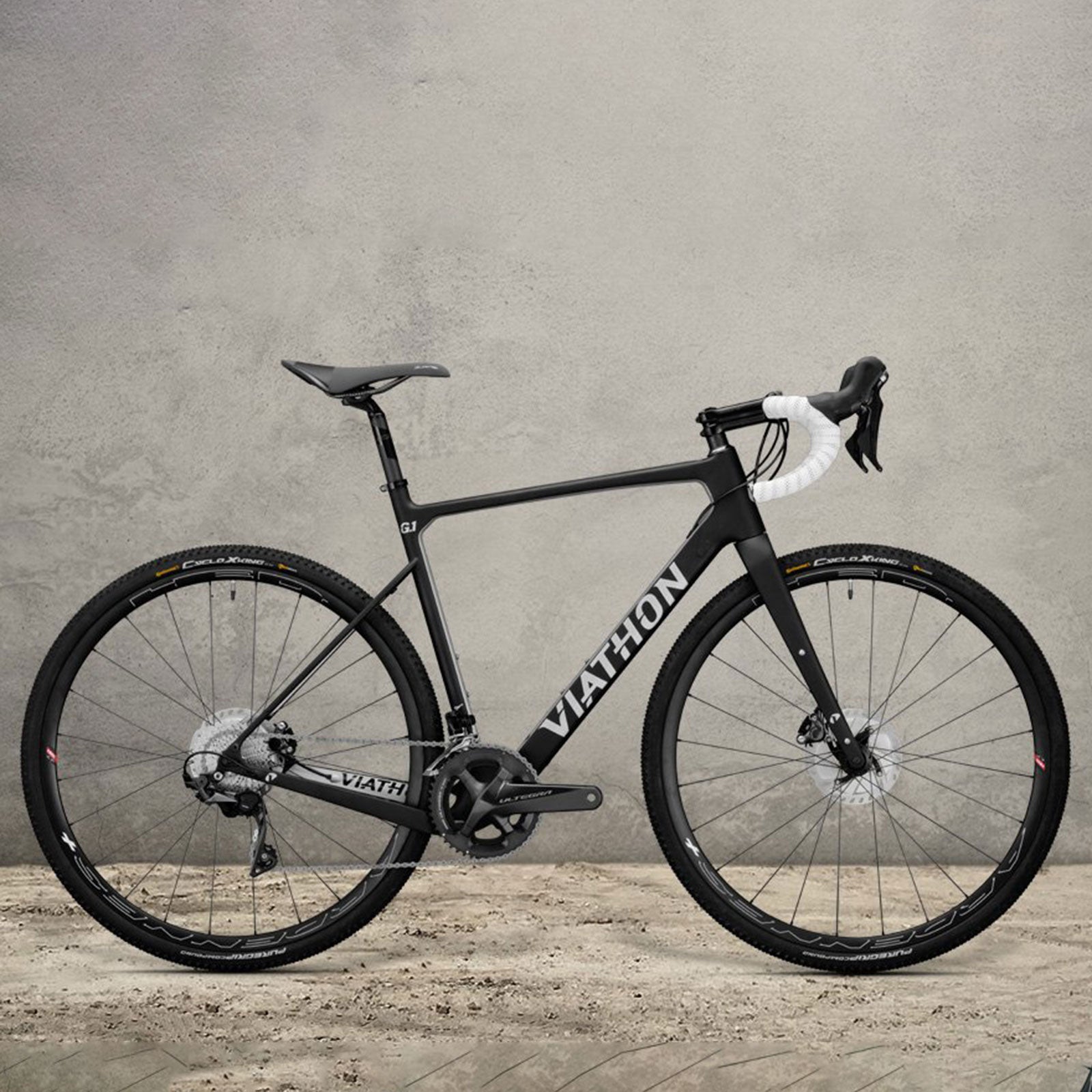 Courtesy Viathon(Photo)
Heading out the door? Read this article on the new Outside+ app available now on iOS devices for members! Download the app.
New bike brands come and go, but it's rare that one makes as big of a splash with its debut as Viathon, a new direct-to-consumer marquee that launched this week. Did Viathon offer some bold new technology, jaw-dropping value, or an irresistible brand story? Nope: while the bikes it's offering look to be good quality and competitively priced, the reason that Viathon's entry turned heads is who's behind it: Walmart.
That bit of information, incidentally, is not something you'll find on Viathon's website. It appears the news was first mentioned in a Pinkbike story. The writer, Sarah Moore, found the connection when looking up the trademark on the name, which is registered to Walmart.
Still, Viathon is getting a fair bit of press, with stories on a number of cycling-enthusiast and outdoor sites. And every single article, including this one, focuses on the Walmart ownership. A Viathon representative told me that Walmart simply wanted the story to be more about the bikes than the company behind them. Well, so much for that.
Two Walmart heirs, Tom and Steuart Walton, are themselves highly enthusiastic riders who have invested in cycling companies like Allied Cycle Works and Rapha, and they directed the trailbuilding grants that have helped transform Walmart's home base of Bentonville, Arkansas, into a world-class mountain-biking destination. But Viathon is a Walmart corporate—not Walton—project, intended to expand Walmart's current bike offerings to the specialty market.
I'm guessing that without the connection to the largest retailer in the world, Viathon wouldn't be getting nearly this level of attention. Another new direct-to-consumer brand, Remot, also launched this week with far less buzz, despite being owned by American Bicycle Group, the holding company for established high-end brands Litespeed and Quintana Roo.
Like Remot, Viathon debuts with three offerings: one frame each in road, gravel, and mountain, with three levels of build kit. The bikes look… fine. All the frames are carbon fiber, and the gravel and road models fit solidly within current design trends that prize features like disc brakes and clearance for wider tires. Complete builds start at $2,300, and top out at $3,500 for the gravel models and around $6,000 for the road and mountain bikes. The parts kits feature quality components from premium suppliers like Fizik, Hed, and Zipp, and the pricing is competitive with a number of brands. The bikes will be available to order within weeks.
But I'm a little mystified that the mountain bike is a cross-country hardtail 29er, a style of bike that's pretty out of fashion at the moment. Plus, Viathon's graphics are a little bland, in my opinion, the pricing isn't so aggressive that it's clearly better than bikes from established brands like Canyon or Giant (or Remot, for that matter), and the product marketing so far feels spare to the point that it's pro forma. Some of that is a function of the homogeneity of the modern bike-enthusiast business. Almost all carbon frames come from Asia, and different brands often subcontract with the same large producers. When everyone's selling a $3,500-ish Shimano Ultegra disc-equipped carbon gravel bike with an oversize headtube, asymmetric rear triangle, and scads of tire clearance, it's a little hard to stand apart from the crowd even when there are real differences.
So far, Viathon isn't saying much about what makes its bikes different, nor is it telling much of a brand story. The frames are engineered and designed in partnership with Kevin Quan, a longtime designer who's responsible for well-known bikes from well-known brands like Cervelo, Parlee, and Pivot. But Quan is the only person mentioned in a "team of top bicycle industry veterans with decades of collective experience." The only other real face behind Viathon is brand manager Zach Spinhirne-Martin, who spent nine years with the online retailer Competitive Cyclist before joining Walmart as its bike category manager. Both are well-qualified bike industry veterans, but it's not a riveting founder story like, for instance, that of Allied. And I suspect Viathon isn't relying on a deep tech story to market its bikes for a simple reason: the frames don't seem to offer clear innovation in design or materials.  
Some cyclists are extremely brand-loyal, willing to pay a premium for pride in heritage brands like Bianchi or Pinarello. Others seek innovation above all, eager to check out the latest suspension tech from Trust Performance or Yeti. Still others are simply doing their best to sort through the marketing-speak to make a performance-to-value calculation on the best tool to get on the road or into the woods. Right now, Viathon sits on the value end of the spectrum, alongside other house brands like Scattante or the now-closed Foundry: perfectly fine, but not particularly compelling.
Viathon says it wants to bridge Walmart's current low-price offerings to the bike-enthusiast business. That's a fine goal, but let's not kid ourselves: $2,300 is both a lot of money and also not appreciably cheaper than the pricing offered by a number of other brands. And while the bikes may be sold on Walmart's website at some point, there's no mention of selling in stores, which would put the bikes in front of a broader audience. It's also important to note what's not in the current lineup: women's bikes, utility bikes, and e-bikes. On its own, Viathon strikes me as a modestly interesting enthusiast brand with some solid, value-oriented bikes that feature industry-standard design and technology. That won't set it apart in a highly competitive market or bring high-end tech to a new market of people.
Without the curiousness of the Walmart link, I wouldn't even be writing about Viathon. And other direct-to-consumer brands like Canyon have a big head start on Viathon in terms of reputation. That's a challenge. Certainly, Walmart has the resources to overcome that, if it chooses, and it also has a reach like few other companies—Walmart sells more bicycles in North America than any other retailer, according to industry analyst Jay Townley. Now it has a toe in the high-end market and the chance to show that it's capable of making quality stuff. But if Viathon is going to have any real impact, it's the next set of new bikes that will matter most.
Lead Photo: Courtesy Viathon