Indefinitely Wild
When Is an Electric Mountain Bike No Longer a Bicycle?
We found that line with the 60 mph HPC Revolution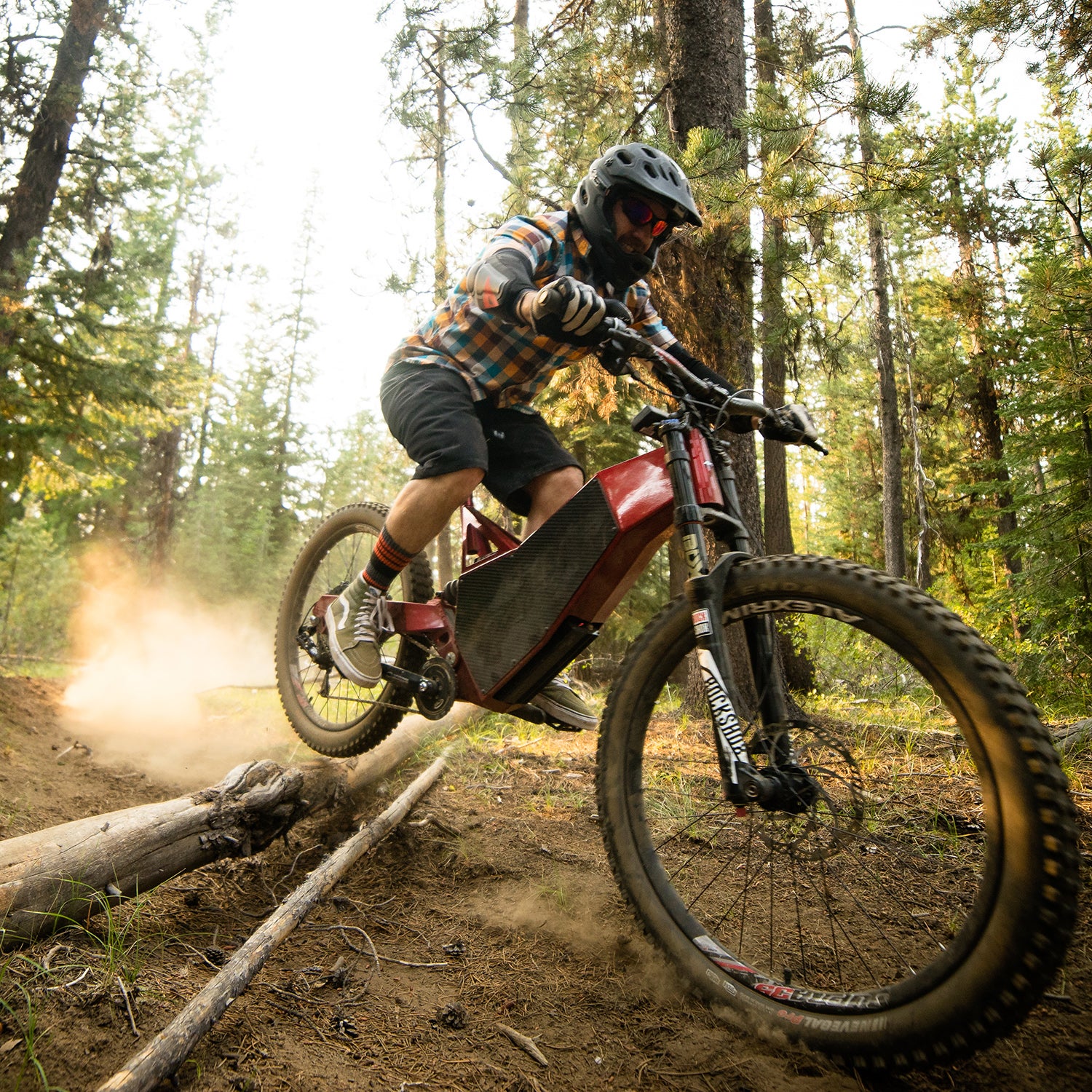 Heading out the door? Read this article on the new Outside+ app available now on iOS devices for members! Download the app.
Electric bicycles can fill an important need. Low-power electric-assist mountain bikes, like the Specialized Turbo Levo FSR we tested last year, can make riding more accessible to more people, making up for gaps in fitness and training or helping people pedal through injuries. But electric bikes can also exist solely to exploit legal loopholes. This HPC Revolution can reach speeds in excess of 60 miles per hour on level ground, putting motorcycle performance in places where it doesn't belong.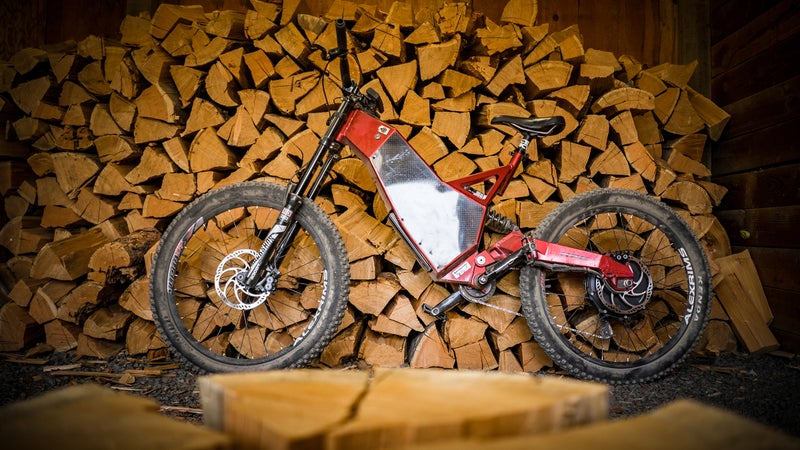 What Is It?
Hi-Power Cycles is a small Southern California company founded in 2008 by brothers Chris and Derek Hunt. They started selling electric retrofit kits for existing platforms but now design and manufacture very fast electric bicycles from the ground up.
The Revolution we tested starts at $9,999 and is based on the slack geometry of a downhill bike. Like a normal downhill bike, it uses high-end RockShox suspension with eight inches of travel up front and nine inches at the rear, plus a 10-speed SRAM derailleur. Unlike a normal downhill bike, its rear wheel contains a 7.3 horsepower motor, the frame is built around a 1,800 watt-hour battery pack, and you can kick the bottom bracket to select a second speed on the single-ring front crank. The 85-tooth-equivalent gearing allows you to provide assistance to the motor, achieving a combined top speed of 60 mph.
Of course, that's only after you reprogram it. The bike ships with a power and speed limiter that caps it at 20 mph to achieve legal classification as a pedal-assist bicycle. It also ships with instructions that enable the owner to remove these restrictions.
Because no one is going to buy an 82-pound bicycle, that essentially means HPC is selling a very light electric motorcycle that, thanks to pedals and post-sale programming, is legally considered a bicycle.
The model we tested has a twist throttle and a 75-mile electric-only range.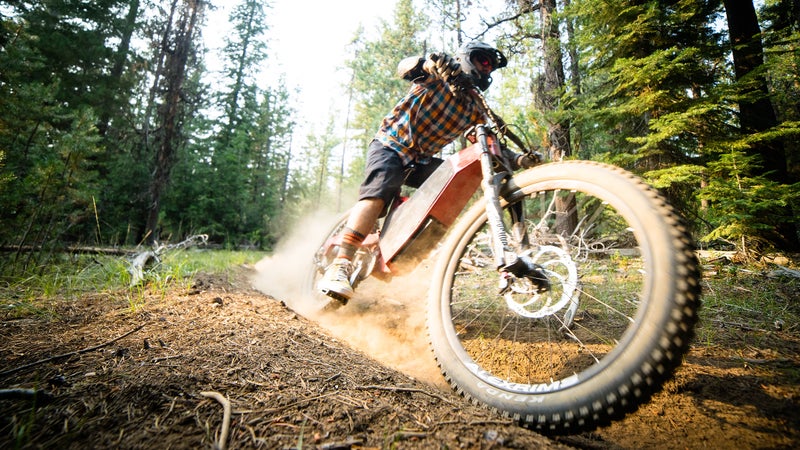 Riding It
Adding a small battery pack and motor to a bike takes the weight up to around 50 pounds, which makes most pedal-assist electric mountain bikes feel cumbersome on the trail. Their makers extend a lot of effort to try to make the assisted pedal stroke feel natural and predictable and do their best to minimize the packaging compromises of the electric components.
But with the Revolution's much more robust power output and twist throttle, you don't need to ride it like a mountain bike. It has a lot more weight in the wheels, battery, and frame than a bicycle would, which makes pedaling through low-speed, technical climbs virtually impossible. On the Revolution, though, you don't have to pedal through an obstacle—you can just grab a handful of throttle and power through it. Stuff you'd pedal through at 2 mph becomes stuff you take at 20 mph. On the bike, the uphill start to feel like downhill.
Having said that, the Revolution doesn't actually feel like other electric motorcycles. The Alta Motors Redshift MX makes 42 horsepower and 120 pound-feet of torque and weighs 265 pounds. The KTM Freeride E-XC makes 25 horsepower and 31 pound-feet and weighs 238 pounds. Where those bikes are designed to please seasoned motorcyclists and perform on a motocross track, the 82-pound Revolution is nearly as easy to ride as a normal bicycle and simply flies along tight singletrack with the sort of confidence that the bigger bikes could never give you. With only the noise of wind and tires, it feels like you're actually flying through the woods.
You will feel the weight when it comes time to load up the bike and take it somewhere. Most people will need to treat it like a motorcycle and use a ramp to load it into the back of a pickup. Roof racks are simply out of the question.
On the road, where the unlocked bike is technically illegal, the Revolution is stable and safe up to its combined top speed of 60 mph. That's highway speed, so bad stuff can happen very fast, and crashing would likely hurt you very badly. We didn't feel comfortable riding at those speeds without at least a full-face helmet, gloves, and pads, at a minimum.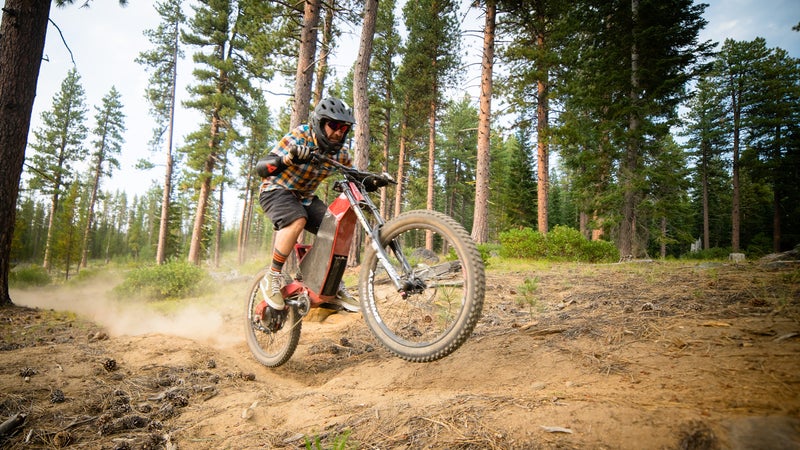 Likes
Lightest dirt bike out there.
Quieter than pedal-assist bikes.
Elegant packaging and quality build.
High-quality components.
Proven downhill geometry feels instantly familiar.
Dislikes
Heavy for a bicycle.
Charge time exceeds ride time.
No dropper post—really?!
Illegal on bike trails, illegal on the road.
No headlight or taillight.
Expensive AF. $11,500 as tested.
Who's It For?
That's the biggest question when it comes to this thing. Using it on both roads and bike trails will mostly be illegal, so it's definitely not for cyclists. Does that mean it's for motorcyclists? Well, it's not going to win any motocross races or even keep up with your buddies at the OHV park. This thing is going to be best enjoyed if you have a big patch of private land, and that essentially makes it a toy for the rich. It's a very well-built, cleverly designed, extremely fun toy that you can't, or at least shouldn't, use virtually everywhere.
To us, the value in testing this thing and doing this review lies in defining the line between e-bike and motorcycle. A good electric bicycle makes riding a little easier, but you still need to work to ride an e-bike. A motorcycle is designed to be ridden with the throttle and is capable of speeds far in excess of anything a machine with pedals should be capable of.
Why does the distinction matter? Riding this thing, it wasn't so much the greater potential for trail erosion or some tribal identity for those with bulging quadriceps that mattered. It was simply a case of relative speed. Sharing a trail with other cyclists, as well as horses and hikers, just isn't safe, smart, or considerate when you have a 30 mph difference in speed.
Trending on Outside Online